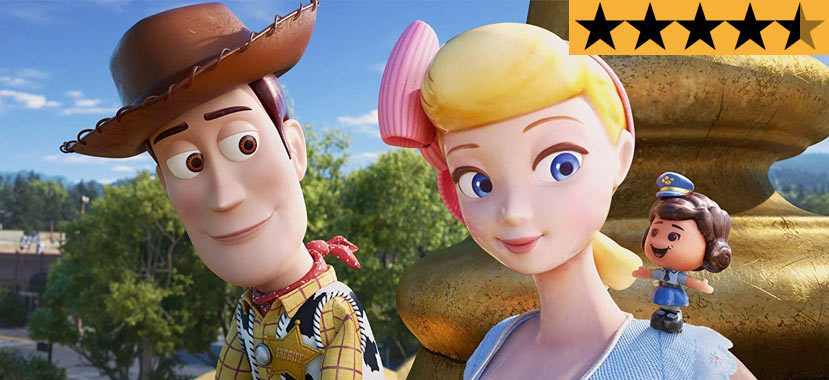 18 Jun

REVIEW – 'Toy Story 4' is a worthy addition to Pixar's golden franchise

When Pixar brought their Toy Story franchise to an emotional close in 2010, they did so in truly remarkable fashion. Both critically-acclaimed (it remains the last animated film to be nominated for Best Picture) and universally adored (it was the first animated film in history to gross a billion dollars), Toy Story 3 was the perfect farewell to a perfect trilogy. Few truly wanted a fourth film. It wasn't needed. We'd said goodbye. We'd closed that door. We all suspiciously sneered at the announcement of another instalment as a cheap grab for box office dollars, as it simply wasn't possible to keep the magic going. We were wrong. So very, very wrong.

With Toy Story 4, Pixar have deftly proven the absolute necessity of a fourth film and obliterated any apprehension over this film's existence with a worthy addition to their golden franchise. As with all their greatest achievements (particularly the previous three Toy Story chapters), the film wisely satisfies both young audiences who may be enjoying their first cinema experience with the franchise and adults who have genuinely grown up with these films in their lives. With the addition of a whole host of new wonderful characters, a terrifically fun narrative that's endlessly entertaining, and an emotional core that will ultimately leave you in a mess of tears, it's another triumph from a studio who've rarely missed a beat in 24 years.

Beginning with a surprisingly thrilling flashback sequence to fill us in on how Bo Peep (Annie Potts) unceremoniously vanished from the franchise (yes, you'll likely be crying within the first five damn minutes of this film), we rejoin Woody (Tom Hanks), Buzz Lightyear (Tim Allen), Jessie (Joan Cusack), and the dozen other lovable toys, as they enjoy life with their new "kid" Bonnie (Madeleine McGraw). Despite being the choice du jour of his former "kid" Andy, Woody is far from Bonnie's favourite and now finds himself collecting dust bunnies inside her closet in favour of cowgirl Jessie. After everything he's been through, Woody attempts to think philosophically about the changing of the guard, remaining steadfastly determined to still be there for Bonnie when she eventually needs him.

That opportunity arrives with Bonnie's kindergarten orientation day, which she's naturally quite terrified by, especially at the news she has to leave her beloved toys at home. Seizing his moment, Woody stashes away in Bonnie's backpack to keep a watchful eye over her. Upon their return, Woody is thrilled to inform the other toys Bonnie made a new friend at school…literally. Using items Woody finds in the garbage including a used plastic spork, some pipe-cleaners, and a pair of googly eyes, Bonnie crafts her new best friend Forky (Tony Hale), who now unwittingly takes life as a toy, despite his exacerbated protestations that he belongs back in the rubbish bin. While Forky immediately becomes Bonnie's safety blanket and new sleeping companion, he's desperate to flee her side, making a dash for the trash every chance he gets.

Knowing how much the new "toy" means to Bonnie, an exhausted Woody is forced to constantly chase Forky down and return him back to where he belongs. That responsibility becomes more complicated when the family head off on a road trip in a rented RV to old western town Grand Basin, where a huge local carnival is already underway. When Forky finally makes his escape just before the family arrives at their destination, Woody embarks on a recovery mission that will ultimately reunite our favourite cowboy with his long-lost love.

Another example of Pixar's knack for creating wonderful original characters, Toy Story 4 also takes a detour through the Grand Basin carnival, where we meet two adorably fluffy but strangely sadistic plush toys Ducky (Keegan-Michael Key) and Bunny (Jordan Peele), and a creepy secondhand antique store, overseen by a neglected 1950s string-pull doll named Gabby Gabby (Christina Hendricks) and her gang of unsettling ventriloquist dummy henchmen. Throw in teeny but plucky Polly Pocket-esque policewoman Giggle McDimples (Ally Maki) as Bo Peep's faithful sidekick and Duke Caboom (another scene-stealing supporting turn from Keanu Reeves), an egotistical Canadian motorcycle daredevil toy with a crushing history, and it's a delicious smorgasbord of new friends who bring this film to life.

And therein lies a factor which may prove somewhat of a minor drawback for fans who have been with this franchise for over 20 years. By separating Woody from Buzz and the rest of the gang and instead introduce a variety of fresh players on his adventure, the narrative loses focus on several former major characters who aren't given much to do but wait back at the RV for his return, particularly Jessie, who's surprisingly almost an afterthought in this chapter. There's a concerted effort to provide Buzz with his own quirky storyline involving using his voicebox Space Ranger catchphrases to guide his every move, but it's a gag that starts to wear a little thin.

In saying that, we've already devoured three Toy Story films with a calamitous plot involving the entire toy room and Woody and Buzz's buddy cop routine, so you have to admire Pixar for daring to shake the franchise up and travel a fresh path. Thankfully, that path proves wonderfully fruitful. From Forky's existential crisis ("I was made for soup, salad, maybe chilli and then trash!") and rejection at his unwanted newfound status as a sentient being to Gabby Gabby's desperate longing for love after years of rejection have left her feeling hopelessly inadequate to Duke Caboom's poignant backstory that's caused him to be full of crippling insecurities and self-doubt, the new characters provide a wondrous plethora of narrative opportunities which first-time director Josh Cooley and screenwriters Stephany Folsom and Pixar legend Andrew Stanton handle with deft skill.

Just the fact Pixar have somehow given an emotional arc to a character that's nothing more than a plastic spork highlights their incomparable genius. It's true Forky is a little abrasive and grating initially, but Hale's terrific voiceover work gives him the heart he needs to win you over. Yes, Pixar will now have you never looking at a piece of disposable plastic cutlery the same again. But the real shining achievement of Toy Story 4 is the unexpected re-emergence of Bo Peep, who was a character so inconsequential to this franchise, she was booted from the third film without any semblance of a farewell. Her entire persona has been re-imagined as a scrappy, resourceful heroine whose life as a "lost toy" has given her newfound independence and vigour, spectacularly brought to life by Potts' lively and engaging voice performance.

Bo ultimately challenges Woody's mantra of undying loyalty to his owner and genuinely shakes up his entire world by presenting a lifestyle toys simply aren't meant to actively chase. Witnessing the reignition of their love is a gorgeous delight, proving to be a romantic piece of the Toy Story puzzle we never realised was missing. But Toy Story 4 is ultimately Woody's film, providing Hanks with the chance to push the character further, as the cowboy questions his future and place in the world. Hanks' energy and passion for a character he's voiced for over two decades never fails to shine through, and Woody is every bit the loveable hero he's always been. Even if a few beloved characters are not quite as highlighted as before, the entire voice cast is still in fine form.

These narrative layers will mostly go unnoticed by younger viewers, with Pixar offering plenty of wildly entertaining sequences and hilarious slapstick comedy to keep the kids endlessly happy. Every bit as dazzlingly colourful and superbly animated as the previous films, Toy Story 4 is a visually stunning film. From the meticulous detail of the natural environment to the spectacular character designs, every frame bursts off the screen. There is one astounding visual moment within the antique shop that genuinely took my breath away. As the sun shines through the windows, it hits a vintage chandelier, spreading sparkling light across the entire store. Sublime is an understatement. Pixar magic at its finest.

It should come as no surprise this all leads to a typically Pixar emotional climax which left the entire cinema in tears. An earnest and genuine conclusion that could serve as a definitive end or the start of something else entirely, it's as richly satisfying as the finale of the previous film, especially for those of us who've been with this franchise from the very beginning. It's unfathomable Pixar have delivered something so joyous, devastating, and downright beautiful for the fourth time in a row. Against the long-presumed insurmountable odds, Toy Story 4 proves the fourth time can still be the charm. How foolish we were to ever doubt them.





Distributor: Walt Disney
Cast: Tom Hanks, Tim Allen, Annie Potts, Tony Hale, Keegan-Michael Key, Jordan Peele, Madeleine McGraw, Christina Hendricks, Keanu Reeves, Ally Maki, Joan Cusack, Jay Hernandez, Lori Alan, Bonnie Hunt, Kristen Schaal, Wallace Shawn
Director: Josh Cooley
Producers: Mark Nielsen, Jonas Rivera
Screenplay: Andrew Stanton, Stephany Folsom
Music: Randy Newman
Editor: Axel Geddes
Running Time: 101 minutes
Release Date: 20th June 2019 (Australia)