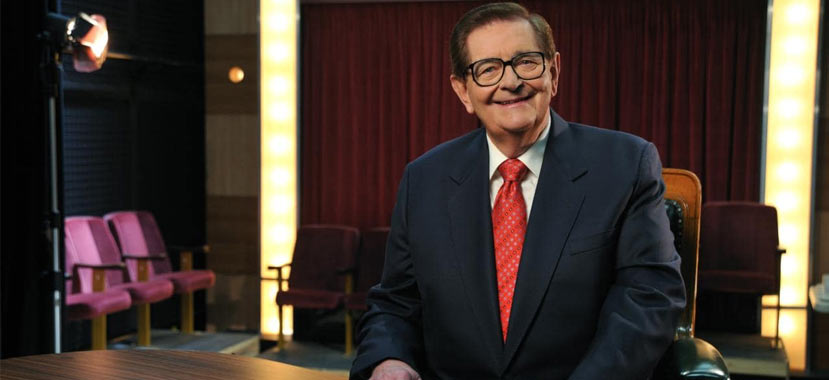 22 Jun

Goodbye, Mr Movies; A tribute to the incomparable Bill Collins

Not to sound like a grumpy old movie buff, but, when it comes to film accessibility, youngsters these days have no idea how easy they have it. With the plethora of streaming services available (not to mention digital downloads, Blu-rays, and, ahem, other less scrupulous methods of procurement), a world of films is literally at the fingertips of every impressionable wannabe film aficionado. For those of us who grew up in the 1980s and early 1990s, we weren't so lucky.

Sure, we were on the cusp of the VHS revolution, but even the largest video rental store didn't hold a candle to the gargantuan catalogue of movies on offer these days. Outside of the occasional cinema re-release, television was the main point of access for those of us desperate to fill our lives with the films of yesteryear. In Australia, there was one man steadfastly determined to deliver a treasure trove of classic cinema to us all. His death leaves an unimaginable hole in the film industry and in our hearts.

Bill Collins and his iconic Golden Years of Hollywood program graced our television screens for over five decades, in the process becoming part of the fabric of most Australians' lives. A film critic and historian, Collins worked across four of the five major free-to-air Australian TV networks (ABC, Seven, Nine, and 10) and, more recently, Foxtel, earning him an induction into the TV Week Logie Awards Hall of Fame in 2009. Collins' retirement in October 2018 brought to a close an illustrious career, the likes of which we simply may never see again.

Known for his lengthy and loving introductions to classic Hollywood films (always meticulously presented in one continuous take without a script or autocue), Bill Collins was a man whose passion was movies. With every fibre of his being, Collins adored films. Every time he graced our television screens and began to introduce a cherished classic, his face genuinely lit up. He spoke right from the heart. His words were evocative and warm. His enthusiasm was truly unrivalled. His love for the world of cinema was genuinely infectious, and, as a young child, it made an indelible impact on my life.

As is often the case, you don't quite realise the effect someone had on your life until they're gone. With Bill's passing, it was staggering to realise just how many films he had personally introduced into my life. Every kid loves going to the movies, but there was always something in me which yearned for more than just a cutesy animated film or a bombastic blockbuster. But what to watch and where to find it was all but impossible without someone to lead the way. There was simply no better guide than Bill Collins.

If Bill was recommending a piece of cinema, that was all you needed to know. It was required viewing. Many often sneered that he loved everything and could never find fault with the golden era of Hollywood. If you've seen his work away from the television, you know that's not true. Sure, his introductions were always gushingly full of praise, but Bill simply looked for the great in any picture, seeking to highlight what made a film wonderful rather than belittle its flaws. As he once said, "With a lot of films I present, I don't want to say nasty things because I don't think nasty things are worth saying."

Many films don't age well, but Bill refused to buy into that notion. He saw them as eternal and their power neverending. He celebrated them and likely kept the memory of dozens of films alive. Long-forgotten gems were given new life from a recommendation by Bill. Beloved classics were presented to generations of new viewers for the very first time. My very first viewing of The Wizard of Oz began with a glowing introduction from Bill, which, by the end of his words, somehow made the film even more magical.

His glorious adoration for cinema had the power to inspire you to love films as much as he did. The impact that had on me personally is hard to put into words. Bill ultimately helped me understand being passionate about something as seemingly frivolous as the world of movies was perfectly acceptable. Actually, it was a passion one should actively chase. Cinema was (and always will be ) an art form with boundless gifts to share. Bill simply wanted to share in the joy he always elicited from watching a film. Bill truly inspired me to embrace that passion, instead of keeping it hidden. Bill Collins made it okay to be a film buff.

Bill's exhaustive knowledge of cinema was simply stunning and practically unrivalled in Australia. He truly knew it all. By imparting that wisdom onto us all, he made wannabe film buffs desperate to also learn all they could. Bill made me want to watch every damn film I could get my hands on. More than that, he made me desperate to uncover more about those films and the nature of the industry. In an age before Google, he was our own personal IMDb. Quirky tidbits and fascinating facts about a film's production or its glittering stars rolled off his tongue like it was second nature, and I lapped up every single word.

People often ask where my love of films started. In some ways, it was always there. But the inspiration and education provided by Bill Collins allowed it to flourish and grow. He played an incomparable role in shaping who I am today. He made me love cinema even more than I already did. He gave me access to a wealth of films I simply may never have seen. He taught me to embrace my passion. He changed my life. And I am forever in his debt.

Thanks for the memories, Bill Collins. Vale, Mr Movies.