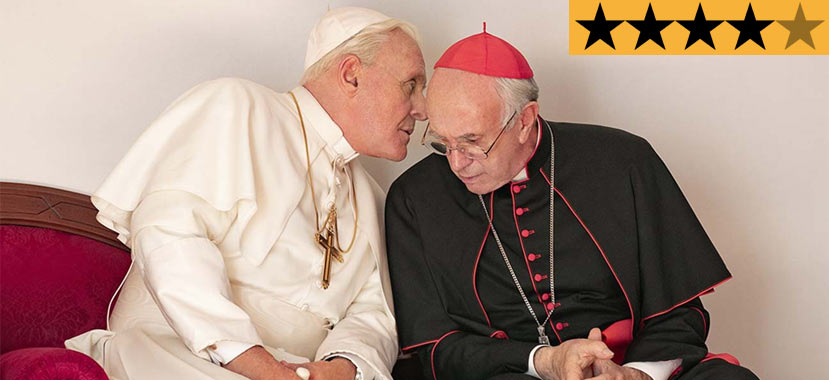 08 Dec

TIFF REVIEW – 'The Two Popes' is a spectacular showcase for two master actors

You're likely assuming you need to be fairly religious to find any pleasure in a film entitled The Two Popes. Of course, those who trundle off to church every Sunday will likely connect with this film on an entirely different level. However, speaking as someone who hasn't paid any attention to religion since mandatory scripture lessons at the age of seven, it's rather unfathomable that I found such tremendous joy within this surprisingly humorous and giddily enjoyable little gem.

With one of the year's finest screenplays and starring two preeminent actors playing off each other in perfect harmony, The Two Popes proves to be something completely unexpected. Somehow, director Fernando Meirelles has found a way to make a topic as limitedly accessible as religion completely captivating, endearing, and bizarrely fun for any audience. This has to be some form of a cinematic miracle. Can I get an amen?

The film begins back in 2005 as the world mourns the passing of beloved Pope John Paul II, who had held the position for more than 25 years. After the College of Cardinals of the Catholic Church gathers for the papal conclave, German-born Joseph Ratzinger (Anthony Hopkins) is elected the new Pope, choosing the pontifical name of Benedict XVI. In a surprise result, the second-placed competitor was the little-known Cardinal Jorge Bergoglio (Jonathan Pryce) of Argentina, who had little interest in the position and actively campaigned against himself.

Jumping forward to 2013, the Church and the Vatican are struggling through one scandal after another, particularly the seemingly neverending revelations of their shameful cover-ups of habitual sexual abuse involving members of the clergy. When Bergoglio receives a surprise call summoning him to join Benedict at the Palace of Castel Gandolfo, the Pope's summer retreat in the south of Rome, the unassuming Cardinal has no idea what lies in store.

Exhausted by the burden of the papacy in such a trying time, Benedict has made the unfathomable decision to resign his position, becoming the first Pope to step down since 1415. With the Church in genuine crisis, the conservative Benedict believes a more progressive Cardinal should be his successor and has called Bergoglio to his side to assess whether he's the right man for the job. There's just one slight issue; Bergoglio had actually travelled to Rome to resign, desperate to return to his life as a humble parish priest.

What follows is ultimately pure fiction, as screenwriter Anthony McCarten speculates on a series of fabricated intimate conversations between the two men where the Pop refuses to accept Bergoglio's resignation and instead begins his secret interview process to ascertain whether the Cardinal may just be his worthy successor. On paper, this likely sounds unbelievably dull and stuffy, but McCarten's spectacular writing elevates The Two Popes into a wickedly entertaining sparring match between two wildly different individuals.

McCarten gifts the two leads with incredibly sharply written dialogue that feels entirely authentic, despite the fact their meetings are entirely fictional. In reality, Bergoglio and Benedict never met to discuss the future of the papacy. Nor was Bergoglio informed of Benedict's retirement prior to the public announcement. But it's clear McCarten has put in his research on the two men to create conversations that feel completely credible. At its heart, The Two Popes is an imaginary tale, but one that never feels anything but genuine.

From Benedict's bizarre love of Orange Fanta (apparently he drinks at least four cans a day) and German crime drama Kommissar Rex to Bergoglio's unrelenting devotion to his beloved San Lorenzo football club and his apparent love of ABBA music, McCarten provides intimate details of each man few would know prior to seeing the film. Again, it's hard to know if these are fabrications or not (a quick Google search states Bergoglio's adoration of ABBA is totally fictional), but they certainly paint each figure as entirely human and completely relatable; something you rarely expect from religious figures.

But a brilliant screenplay is nothing without the talent to bring the words to life and Meirelles has two of the industry's greatest thespians at his disposal. While Hopkins is the bigger name and audience drawcard, The Two Popes ultimately belongs to Pryce, given the story is mostly told from Bergoglio's perspective. In a performance which should finally net him the overdue acclaim he's long deserved and even potentially an Oscar nom, Pryce is astonishingly great with a turn overflowing with boundless charisma.

While the physical resemblance is rather uncanny, it's Pryce's charm that truly shines through, making you truly believe Bergoglio is indeed the man to save an institution in freefall. But Bergoglio is a character masking deep-seated pain, as witnessed by a series of flashback sequences to a difficult moment in his past during Argentina's Dirty War. It provides Pryce with the layers to deliver a resonant performance that's equal parts glorious and tragic. Last year, Pryce held his own against perennial Oscar runner-up Glenn Close in The Wife, and this year he proves more than up to the challenge of facing off against a heavyweight like Hopkins. If that isn't worthy of awards season consideration, nothing is.

Matching Pryce at every turn is the ever-reliable Hopkins, who adds another remarkable performance to his iconic career. Benedict is essentially the flashier role with Hopkins required to consistently flip between fierce intensity and crippling fragility, as he plays the Pope as a far more complex individual than many may assume. At one point, Benedict confesses, "Whenever I try to be myself, people don't seem to like me very much," and you can't help but feel immense sympathy for the beleaguered figure. That's a testament to Hopkins who finds the pathos in a character history has perhaps unfairly maligned. It's just a shame Benedict isn't also given a few flashback moments to acknowledge his chequered past and flesh out his character further.

In one of the year's best double acts, it is a true joy to watch Pryce and Hopkins play opposite one another for two hours. Whether they're sparring at each other in heated exchanges or in more congenial moments where the two men find common ground, the chemistry between the pair is earnest and captivating. The men are complete opposites with Benedict seemingly stuck in the past and Bergoglio striving towards the future. Yet it's their faith and dedication to the saving future of the Church that ultimately binds them together.

The elephant in the room is the topic of religion and its standing in modern society. Thankfully, The Two Popes never seeks to portray the Church as a flawless institution or that these two men aren't also deeply flawed individuals. McCarten wisely highlights the shameful failures of the handling of the accusations of sexual abuse within the priesthood and the long-lasting ramifications the scandal has had on the reputation of Catholicism as a whole. There's no absolution here for Benedict, who woefully mishandled the entire saga and rightfully decided to step aside. While the film showcases his guilt over his actions, it refuses to allow him any sympathy for these mistakes.

While The Two Popes is, in essence, a very simple film that could almost be staged as a play, Meirelles shows his flair for spectacular visuals, captured by cinematographer César Charlone. The meticulous recreation of the papal conclave is a glorious sequence, with Charlone using close-ups to capture the flurry of activity involved in the historical process. When the action moves to the Palace of Castel Gandolfo, it's a sumptuous feast for the eyes, particularly a gargantuan hedge maze where the two men take one of their many conversations.

But the crowning glory of The Two Popes is a stunning full-scale recreation of the Sistine Chapel, which was built from scratch inside a studio in Rome. The fact the production team, headed by production designer Mark Tildesley, somehow recreated Michaelangelo's iconic ceiling painting is simply astonishing. It's unfathomable to learn these scenes weren't actually filmed on location, as you truly believe Pryce and Hopkins are standing in these hallowed halls. If you are curious how this was even accomplished, take a look at this fascinating article from Architectural Digest.

Standing as a spectacular showcase for two master actors, The Two Popes is a supremely enjoyable feast. Elevated by extraordinary writing, this unassuming film delivers a surprising dose of levity in an otherwise melancholy story. There's not a shred of conversion therapy or preachy pontification. This is a simple portrait of two men from wildly different backgrounds with opposing approaches to their religion finding common ground for the greater good.

A film like The Two Popes has no business being this much fun, touching, and endearing, especially to those of us with significant issues with religion. But thanks to Meirelles' ingenious direction, McCarten's sublime screenplay, and two of the year's best performances, it proves to be one of the most surprising films of the year. Amen.





Distributor: Netflix
Cast: Anthony Hopkins, Jonathan Pryce, Juan Minujin, Sidney Cole, Lisandro Fiks
Director: Fernando Meirelles
Producers: Dan Lin, Jonathan Eirich, Tracey  Seaward
Screenplay: Anthony McCarten
Cinematography: Cesar Charlone
Production Design: Mark Tildesley
Music: Bryce Dessner
Editing: Fernando Stutz
Running Time: 126 minutes
Release Date: 5th December 2019 (limited Australian engagement), 20th December 2019 (streaming on Netflix)