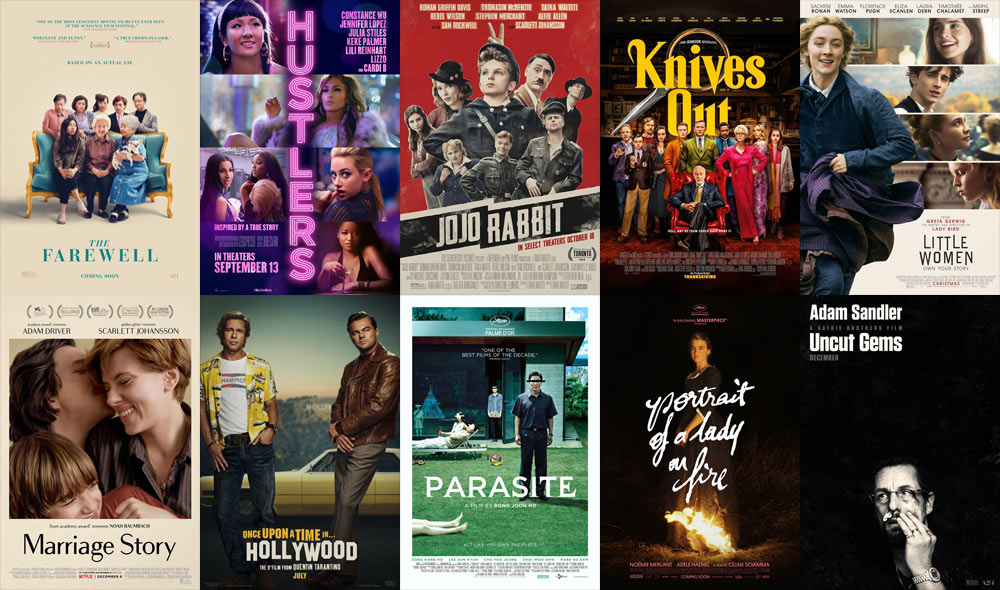 03 Jan

The Jam Report's top ten films of 2019

Oh, what a year in cinema we had. While the world continued to burn (quite literally in Australia), we film buffs seeking escapism were blessed with a terrific plethora of movies to make us laugh, make us cry, make us wince in terror, make us cheer with delight, and, most importantly, make us feel. From spectacular blockbusters to independent wonders and everything else in between, it's been a magnificent 12 months of movie watching.

But it hasn't been all smooth sailing. From Scorsese "criticising" Marvel films as not being real cinema to Spielberg putting the boot into Netflix and potentially damaging the Best Picture chances of Roma, the very notion of what constitutes a film has been under fire this year. The streaming wars continue to rage and it seems everyone has their own opinion on whether the rise of streaming services is merely an evolution of film watching or the end of cinema as we know it.

For what it's worth, this film critic is erring somewhere in the middle. Every film should absolutely be seen inside a cinema. Every. Single. Film. It's a viewing experience that's been the cornerstone of an art form which has existed for over 100 years now. There is nothing like seeing a movie for the first time on the big screen. It's always magic, even if the movie is terrible but especially if the film is terrific. However, it's a fool's hope to think this is either logistically or financially possible for the majority of the general public.

Since the rise of television in the 1950s, audiences have been experiencing films in the comfort and privacy of their own homes, be it recent releases or classics from years gone by. This is not a new fad. It didn't kill cinemagoing back then. Nor did the advent of VHS in the 80s, DVD in the 90s, and Blu-ray in the 00s. Yes, streaming services are an entirely different beast, given you now have an entire catalogue of hundreds of movies at your disposal for $10 a month. But shouldn't we all be seeing this as a wonderful thing?

As long as people are legally watching movies, it shouldn't matter how, where, and why they're doing so. Of course, the idea of someone viewing a sprawling visual epic like 1917 on their iPhone makes me want to gag. But if that's how someone is choosing to consume that film, that's entirely their choice. If the rise of streaming services means more people are watching more movies, surely that's nothing but a huge victory for cinema itself.

These services are giving millions of people access to a litany of titles they previously may likely have never seen. It's accessibility on a scale never before seen. You can argue against Netflix's unique release strategy that sees their titles drop onto the streaming platform mere weeks after a small theatrical run. You can say it encourages audiences to just stay home and wait. But it's impossible to truly know if they would have rushed out to see it anyway. Or if it would have even arrived at their local cinema at all.

Now as for what's happening within your local cinema (and the real crux of what Scorsese was getting at with his Marvel comments), the multiplexes are continuing to be dominated by mainstream blockbuster fare, making it difficult for those seeking to consume alternative films. Personally, I don't see this as something new, but, yes, it certainly appears to be getting worse.

According to statistics, the average person attends the cinema around seven times a year. This year, there was every chance at least five or six of those films came from the one studio. And almost certainly all of them were tentpole releases. Naturally, that's rather alarming, even if Disney's unfathomable domination of the box office this year is likely just an anomaly never to be seen again. But the notion that smaller releases are being smothered by huge studio titles should cause alarm.

It is incredibly disheartening to hear stories of independent studios struggling to find space for their titles at cinemas overrun by major studio releases. Again, this isn't something particularly new. Independent studios have always faced difficulty convincing the major cinema chains to give their titles the wide releases they so desperately need. But the success of independent films like Parasite, Hustlers, and Uncut Gems prove there is a market out there for these titles. Perhaps there is hope on the horizon.

Regardless of what people watch on their television, laptop, or smartphone, there will always be a place for the old fashioned cinema. One lives in fear it will soon become a place screening only the latest bombastic blockbusters or tentpole franchise titles. For now, there are still cinemas committed to offering a variety of choice. And if it's left to the streaming services to pick up the slack and provide the accessibility to brilliant titles shamefully ignored by your local cinema, so be it.

On a personal note, 2019 saw The Jam Report double its total annual visitor number from last year, achieving a figure I never thought possible. There are no words to express my gratitude and thanks for anyone who stopped by to read what this little Australian film critic had to say. This year gifted me the opportunity to travel to my first international film festival with press accreditation, which was truly a life-changing experience. And, for the very first time, quotes from my reviews were used in the advertising material for several titles this year, which was a genuine dream come true.

It has been my true honour and privilege to cover the year in film here at The Jam Report. This year has been a spectacular one for cinema and writing this year's list has been particularly difficult. Some 40 films made my initial shortlist, and culling it down has meant some painful decisions had to be made. As is tradition and before we get to the final ten, here are the ten films that just missed out but are still absolutely worthy of adoration.

20. Brittany Runs a Marathon (full review)
19. Avengers: Endgame (full review)
18. Midsommar (full review)
17. Dolemite Is My Name (full review)
16. Ford v Ferrari (full review)
15. Toy Story 4 (full review)
14. The Two Popes (full review)
13. Booksmart (full review)
12. The Irishman (full review)
11. 1917 (full review)

And now, without further ado, presenting The Jam Report's top ten films of 2019.

10. Hustlers (full review)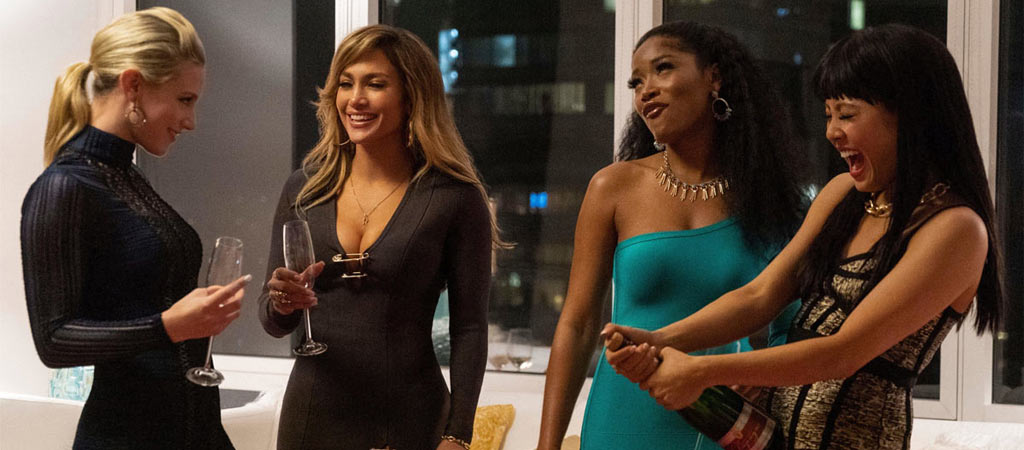 "This city, this whole country, is a strip club. You've got people tossin' the money and people doin' the dance."
Perhaps the year's biggest surprise package was found within writer/director Lorene Scafaria's surprisingly sharp Hustlers; a film that appeared like little more than superfluous fluff. With its ensemble female cast stacked with big names of both the film and music world and a narrative centred on the exploits of a group of strippers, most of us were expecting little more than a guilty pleasure. How wrong we all were. Beneath its glamourous surface lay a surprisingly nuanced introspection on the crippling challenges facing women in the workplace and a sardonic dose of biting commentary on privilege and the crippling economic imbalance in America. In one of the year's best supporting performances, Hustlers ultimately belongs to Jennifer Lopez, who commands every single scene she's a part of and has one hand firmly on that Oscar. With intelligence and depth no one expected, Hustlers served up more than just a good time.
9. Once Upon a Time in Hollywood (full review)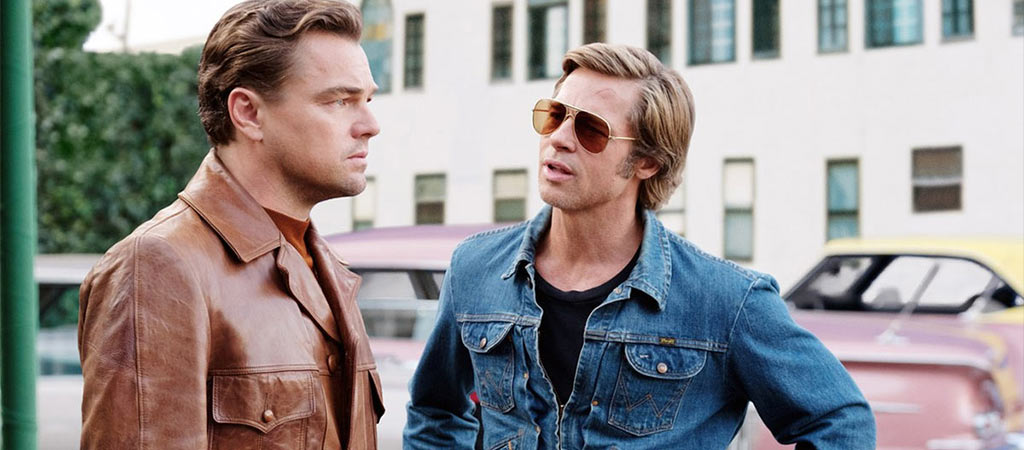 "That was the best acting I've ever seen in my whole life."
Any year with a new movie from Quentin Tarantino is a year to look forward to, particularly as we count down to his tenth and final film on the horizon. With Once Upon a Time in Hollywood standing as his penultimate work, Tarantino crafted his most compassionate and affectionate film to date. A deeply personal piece of cinema that plays like a glorious love letter to the Tinseltown of old, Tarantino meticulously recreates Hollywood of the late 1960s in all its neon-drenched glory. While its 159-minute running time was too much for some, for fans of the auteur filmmaker, this was yet another cavalcade of dialogue-heavy vignettes, wicked soundtrack choices, pop culture references, and an ending that's classic Tarantino divisiveness. Throw in firecracker co-lead performances from Leonardo DiCaprio and Brad Pitt, an endearing supporting turn from Margot Robbie, and a sublime visual aesthetic, Once Upon a Time in Hollywood was glitzy, dirty, wicked fun.
8. Jojo Rabbit (full review)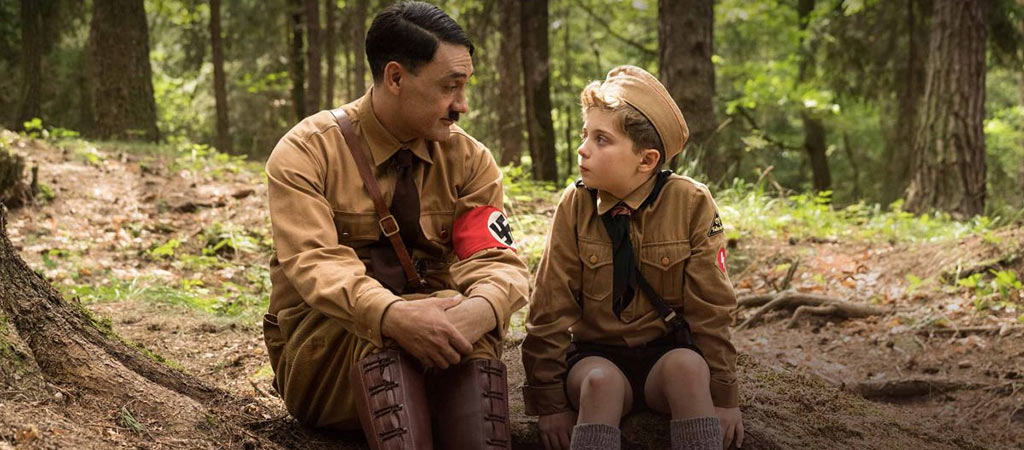 "You're not a Nazi, Jojo. You're a ten-year-old kid who likes dressing up in a funny uniform and wants to be part of a club.."
Jojo Rabbit certainly wasn't everyone's cup of tea. That rather ridiculous 57% Metacritic score proves its divisiveness. But beneath its satirical brilliance hides a beating heart and an emotional core that was hard to resist. Writer/director Taika Waititi blends the absurdist satire he does so well with a powerful coming-of-age story that hits at just the right time. At a time when fascism and white nationalism have scarily reared their ugly head again, Waititi denies the movement the desire to be taken seriously by satirising the hell out of them. By expertly satirising something, you remove its power. That is the inherent purpose of this form of comedy. While the film is an unashamedly irreverent satire of a painfully relevant moment in modern history, the humour perfectly supplements the true potency of its deeply important message and the power of tolerance, family, friendship, and love. And I still can't shake the feeling this is the true dark horse for Best Picture.
7. Knives Out (full review)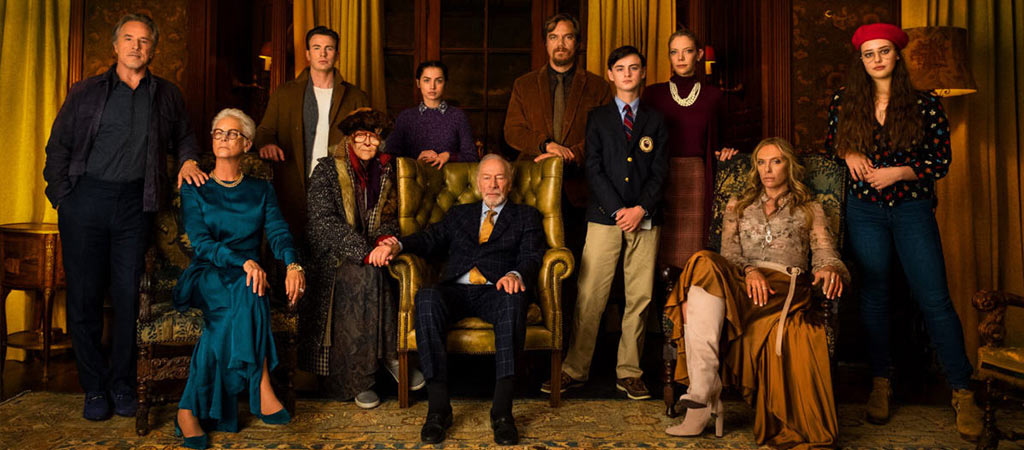 "It's a weird case from the start. A case with a hole in the centre. A donut."
One of the most outrageously entertaining experiences had in a cinema this year was viewing Rian Johnson's deliciously enjoyable Knives Out. A classic whodunnit murder mystery with a supreme ensemble cast, a pointedly sharp screenplay, and an ingeniously twisty narrative, it was a deliriously fabulous ride you didn't want to end. From Daniel Craig chewing the scenery with his Foghorn Leghorn Southern drawl to Chris Evans playing it bad while wearing the hell out of a knitted sweater and Jamie Lee Curtis serving up her best performance in years, Knives Out is the year's finest example of ensemble work, even if the Screen Actors Guild didn't seem to think so. In a year of endless remakes and sequels, it's always decidedly refreshing to be served something so wonderfully original. Take a bow, Rian Johnson.
6. The Farewell (full review)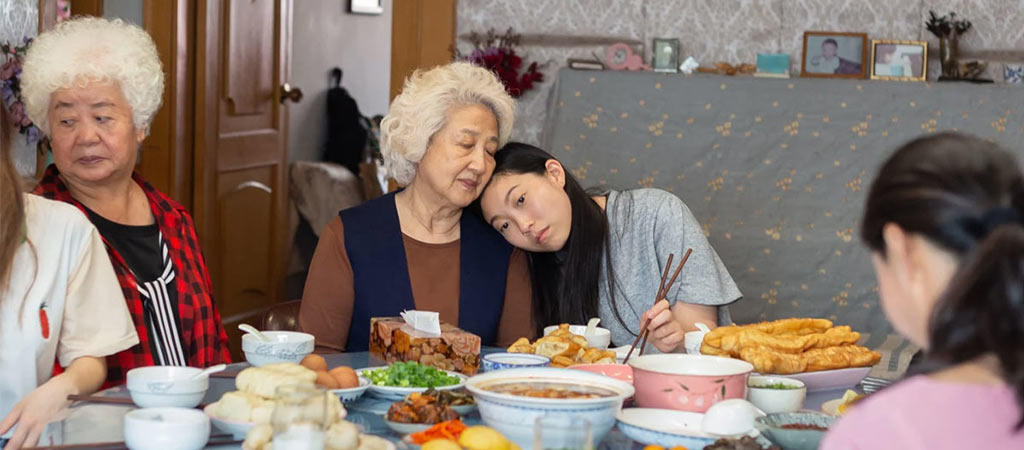 "Life is not just about what you do. It's more about how you do it."
Based on an "actual lie" many will find rather shocking, The Farewell proved to be one of the year's most intriguing pieces on cinema. Seeking to highlight the cultural divide between east and west, writer/director Lulu Wang takes a confusing and deeply painful moment in her life and spins it into cinematic gold. It's a cathartic and personal piece which Wang clearly uses to accept the experience of keeping her grandmother's terminal cancer diagnosis a secret in accordance with Chinese tradition. At the heart of this film is an impressively nuanced performance from Awkwafina and a captivating supporting turn from Zhao Shuzhen, crafting one of the year's most beautiful double acts. The Farewell is undoubtedly a bittersweet film, full of delightful highs and crushing lows, creating a wonderfully rounded piece of cinema that's amongst the year's very best. Bring the tissues. You're going to need them.
5. Little Women (full review)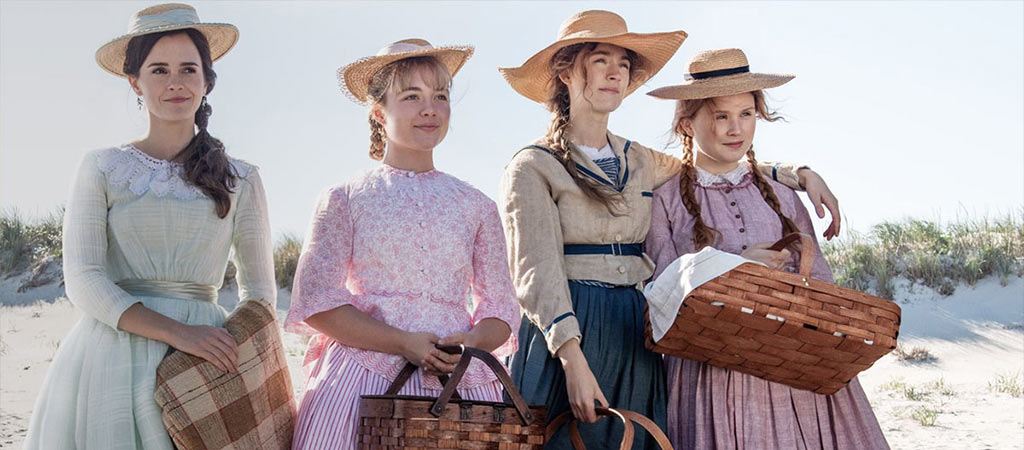 "I'm so sick of people saying that love is just all a woman is fit for. I'm so sick of it! But I'm so lonely."
Nobody really thought we needed another film adaptation of Louisa May Alcott's Little Women. How very wrong we all were. Deftly proving her work with Lady Bird was no fluke, writer/director Greta Gerwig continued to show why she's a filmmaker worthy of your attention. With a spectacular ensemble cast, led by the luminous Saoirse Ronan, and a daring storytelling technique to give this tale new life, Gerwig offers a faithful adaptation bursting with a freshness and energy that proved the absolute necessity of this reimagining. Complemented by a majestic visual aesthetic and Alexandre Desplat's opulent score, Little Women is simply gorgeous in every single way. It's a confident piece of filmmaking well ahead of the experience of a director with only two previous films under her belt. What an absolute joy it was to be swept away by something so magnificently beautiful.
4. Portrait of a Lady on Fire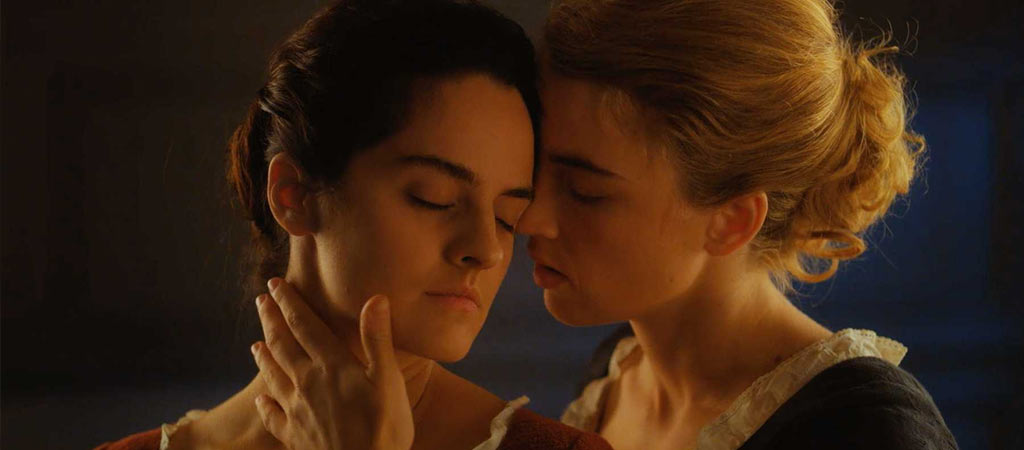 "When you asked if I had known love. I could tell the answer was yes. And that it was now."
Intoxicating, enchanting, beguiling, and heartbreaking. Just a few of the words one can summon to describe the gorgeous piece of cinema that is Céline Sciamma's exquisite Portrait of a Lady on Fire. A supremely powerful forbidden romance with echoes of Call Me By Your Name, Carol, and Brokeback Mountain, this is one of the finest LBGT films of recent times. Capturing your attention right from its opening frames, Sciamma has masterfully crafted an evocative work that's a genuine work of art. You simply cannot take your eyes off this film, which is further elevated by the stellar performances of Noémie Merlant and Adèle Haenel, the gorgeous cinematography of Claire Mathon, and a finale that will linger long in your mind. There is so much unrivalled beauty within this film, it's almost overwhelming. And you will never be able to listen to Vivaldi's "The Four Seasons" quite the same ever again.
3. Marriage Story (full review)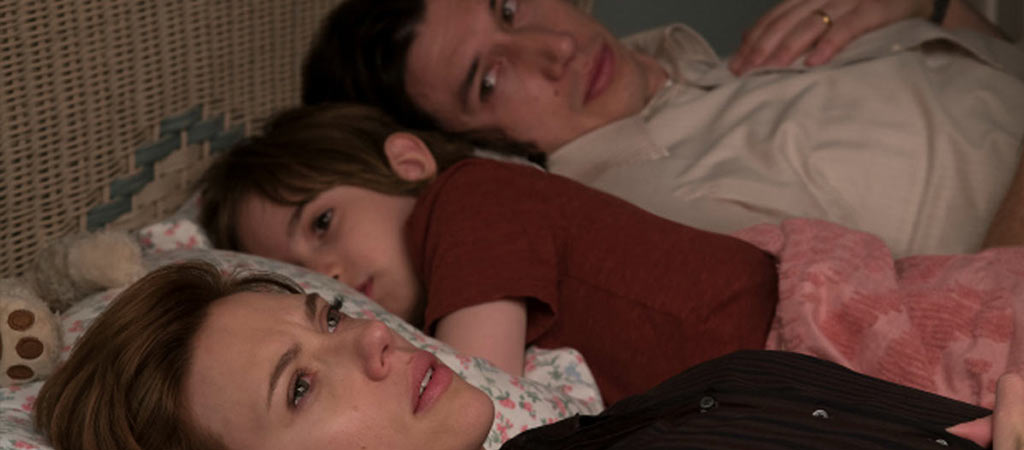 "You're so merged with your own selfishness that you don't even identify it as selfishness anymore."
I have no personal connection with the narrative of Marriage Story. My parents are not divorced. I myself am not married. Nor do I have children. But the brilliance of Noah Baumbach's deeply personal writing and direction and the majesty that is the breathtaking performances of Adam Driver and Scarlett Johannson have the ability to hit the heart of any viewer. Of course, if you've been through a divorce, this film will strike you in entirely different ways. But it's not compulsory to be completely taken by the sheer power what Baumbach has crafted. A pitch-perfect portrait of the destruction of a marriage and the chaos that comes with the aftermath, Marriage Story is as heartbreaking as it is touching. It wisely never seeks to demonise either party, portraying both its leads as deeply flawed individuals who you somehow cannot help but adore. An anti-love story for the ages, this is a modern-day classic, deserving of all the adulation coming its way this awards season.
2. Uncut Gems (full review)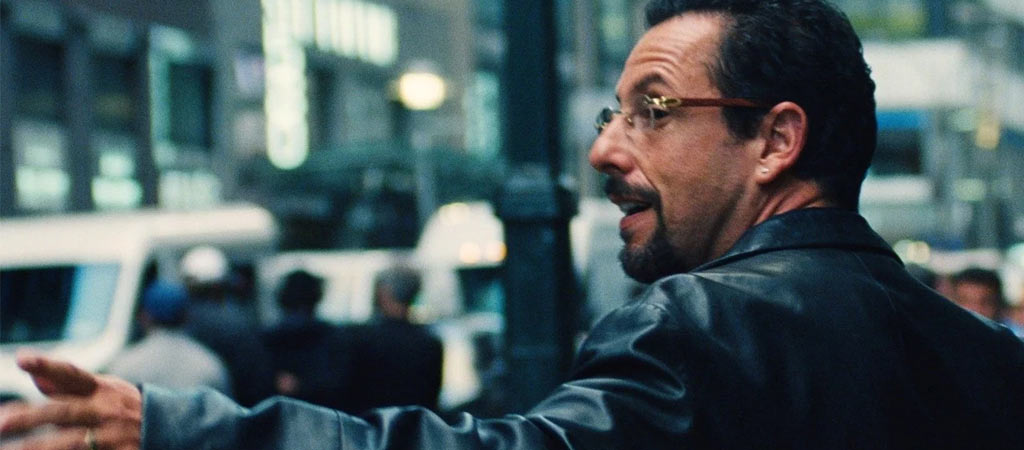 "This is me. This is how I win."
This top ten list was looking done and dusted until one last-minute entry came from nowhere and almost stole the entire show. An anxiety-inducing rollercoaster of a viewing experience that genuinely had my heart racing, Uncut Gems is one of the most unnerving, yet strangely exhilarating films of recent times. Masterfully crafted by the Josh and Benny Safdie and featuring a revelatory performance by Adam Sandler (pay attention, Academy), this riveting and engrossing film is a dazzling portrait of life on the edge. Sandler is electrifying in the best role he's been given in years. A complicated mix of bravado and vulnerability, Sandler handles this nuanced performance with deft skill and it will be a travesty if we see him fail to be recognised by the Academy in a few weeks. Filmed with such frenetic fashion to truly capture the chaotic world of a gambler juggling too many balls at once, Uncut Gems is a heart-pounding endurance test for audiences, but one well worth experiencing. The payoff is truly endless, particularly the final five minutes where you genuinely will find yourself holding your breath. A total blast from start to finish and another example of why the Safdie brothers are ones to watch.
1. Parasite (full review)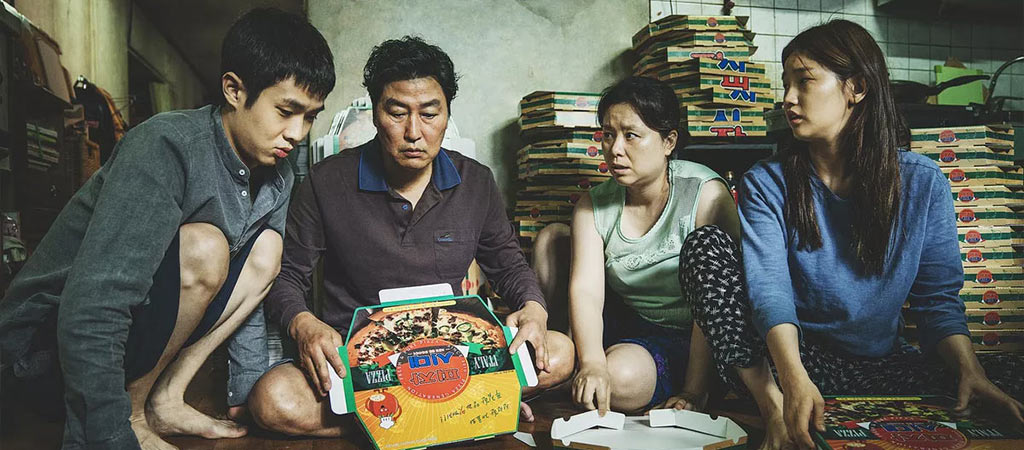 "They're nice because they're rich. If I was rich, I would be nice too."
It can be truly painful to be a film-loving Australian. Countless times throughout every year, we must suffer through unfathomable release date delays or films inexplicably not being released at all. Yes, there's a whole host of reasons why this occurs. But, to the average cinemagoer, it means nothing but agony and frustration. Year after year, we must endure hearing about wonderful films we know we won't see for weeks or months. This year, Australia finally got its revenge.
Way back in mid-June, Sydney-siders were blessed with the opportunity to see Bong Joon-ho's masterful Parasite at the Sydney Film Festival, merely three weeks after it took home the Palm d'Or at Cannes. Two weeks later, the film was released all around this big brown land. Meanwhile, its American release wasn't slated until October. And the poor Brits are still waiting for their bizarre February 2020 release date.
In a moment we're unlikely to see again this century, Australians were gifted the year's greatest film months before our compatriots in the U.S. and UK. We tried to hold back our gloating. We probably failed. But what we did do was uphold the dignity of keeping Parasite unspoiled for those yet to witness this masterpiece. That's a word that gets tossed around far too much these days. But there's really is no other word for what Bong has produced.
It takes a truly stunning film to be released in June and still outshine everything else released for the remainder of the year. And, yet, nothing has dazzled quite like Parasite this year. It's a film that has invaded my mind like no other in 2019. An acerbic and satirical treasure with a journey that consistently subverts expectation at every turn, Parasite grabs you from its opening frames and never once let's go. Much like its titular namesake, this film latches on and refuses to withdraw.
By mixing tongue-in-cheek black comedy with sharp social commentary, Bong offers a film that can entertain as skillfully as it can enlighten, complemented by a narrative that will delight as much as it will disturb. A blistering contemplation on class warfare, Parasite is a film in a perpetual state of metamorphosis. You never know where this film is going and that's half the fun. It's everything cinema should be. There was simply nothing else like it this year.
From the moment I left that rapturous Sydney Film Festival screening back in June, it was unfathomable anything would come along to beat Parasite for my #1 spot. Not only is this the best film of the year, it's one of the greatest films of the decade, the century, and all time. A piece of cinema that could make Oscar history as the first foreign-language film to win Best Picture (please, for the love of god, make it happen, Academy), Parasite is a stunning, flawless achievement that towers over all others in 2019.