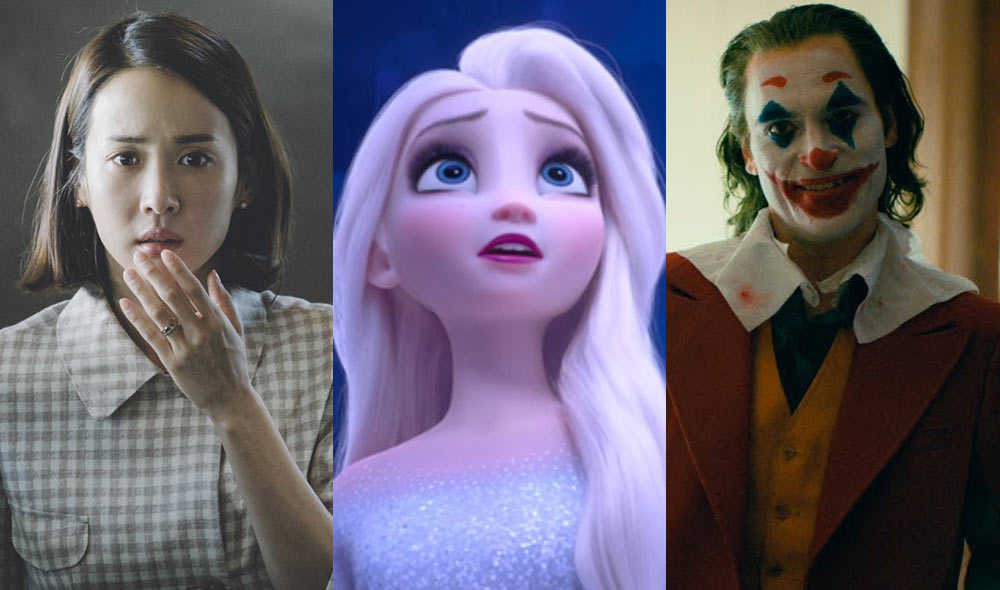 14 Jan

The good, the bad, and the ugly of the 2019 Oscar nominations

Well, the 92nd Academy Award nominations have been announced. After such a strong year of contenders, we were bracing for a hefty helping of painful snubs. And they were delivered in spades. Yet again, diversity barely appeared in the acting nominations and a host of non-white performers were overlooked. And while the major categories offered few shocks, the technical categories threw plenty of unexpected curveballs.

That being said, plenty still went according to plan. As expected, the Academy showered Joker, Once Upon a Time in Hollywood, The Irishman, and 1917 with nominations and it's highly likely our eventual Best Picture winner is one of these four. But, with six major nominations, Parasite continues to creep up the ladder and could stand to make history.

Let's dive in to the good, the bad, and the ugly of the nominations for the 92nd Academy Awards.

THE GOOD
It just needed one nomination to become the first Korean film in history to be nominated by the Academy, but Parasite managed to nab six nominations including Best Picture. Bong Joon-Ho becomes the first Korean filmmaker nominated for Best Director and they did the right thing by also acknowledging the film for Production Design. With key nominations in Film Editing and Original Screenplay, Parasite stamps its claim as a serious Best Picture contender.  While it was disappointing to see Song Kang-Ho miss out on an acting nod, it's a huge day for Korean cinema. Could it really break the 92-year old curse and become the first foreign-language film to win Best Picture?

After seemingly losing steam towards the end of nomination voting, it was hugely pleasing to see Little Women score six nominations including Best Picture and acting nods for both Saiorse Ronan and Florence Pugh. Yes, it couldn't nab a nomination for Greta Gerwig's beautiful direction (we'll get to that shortly), but there was the fear it could be overlooked entirely, so it was a thrill to see it receive plenty of love.

The goddess that is Cynthia Erivo is a double nominee this year with nominations for both Best Actress for Harriet and for co-writing Best Original Song nominee "Stand Up." She becomes only the third person in history to receive nominations for both acting and songwriting in the same year (the others being Mary J. Blige and Lady Gaga) and is one step closer to snatching the coveted EGOT.

After almost 20 years since his last nomination, Tom Hanks finally nabbed a nomination for his gorgeous performance in A Beautiful Day in the Neighborhood. His nomination seemed like a sure thing, but so did nominations for his work in Captain Phillips, Sully, Bridge of Spies, The Post, and Saving Mr. Banks, so many of us were bracing for the snub that thankfully didn't happen.

Four of the five nominees for Best Documentary Feature are co-directed by female filmmakers. And four of them are foreign-language films. The Documentary branch did good this year.

Knives Out couldn't make it into the Best Picture race (it was always a fool's hope), but it was brilliant to see Rian Johnson's sensational writing be acknowledged with a nod for Best Original Screenplay. Johnson should have received a nomination for Looper back in 2012, so this makes up for that ridiculous snub.

With her eighth nomination for Best Film Editing for The Irishman, the legendary Thelma Schoonmaker is now tied with Michael Kahn for the most nominations in this category. If she wins for the fourth time, it will make her the most awarded film editor in history.

You know I loved The Two Popes more than I ever expected to, so it was wonderful to see both Jonathan Pryce and Anthony Hopkins make it in, even if it was at the expense of others. Pryce has been an underrated performer for years now, so it's wonderful to finally see him receive his dues.

No matter your thoughts on Judy, it's a huge thrill to see Renée Zellweger's comeback performance be acknowledged with a nomination for Best Actress. In a cruel industry that essentially turns its back on "aging" female stars, a comeback for a female performer is nigh on impossible, but she's managed to pull it off. At this point, she seems unbeatable, but so did Glenn Close, so never say never.

At long last, Antonio Banderas is an Academy Award nominee. And, after years of being snubbed, Scarlett Johansson is one too. And a double nominee, at that. If voter exhaustion sets in for Zellweger, Johansson could very well be the dark horse for the Best Actress race.

THE BAD
Once again, the frontrunner for Best Documentary Feature misses out on a nomination. Last year, it was Jane. The year before, it was Won't You Be My Neighbor?. And this year, it's Apollo 11. It's becoming a disturbing trend that needs to stop.

1917 is brilliant. Its screenplay is not. It really has no place being in the race for Best Original Screenplay, particularly at the expense of films like The Farewell, Booksmart, and Pain and Glory.

In an unfathomable decision, Frozen II missed out on a nomination for Best Animated Feature. Sure, most of us thought the film didn't quite match the brilliance of its predecessor, but it's still easily one of the five best animated films of the year. My only thought here is the animation branch of the Academy simply got tired of nominating Disney in this category and sought other films that weren't tentpole/franchise/sequel properties.

The Irishman gets in for Best Costume Design over the dazzling creations seen in Rocketman, Dolemite Is My Name, and Downton Abbey. No disrespect to Sandy Powell and Christopher Peterson, but the film mostly just features men in a variety of tailored suits. Don't get me wrong. They're impeccably made suits, but really, Academy? Really?!

THE UGLY
Yet again, five male directors are nominated for Best Director. As nominations announcement host Issa Rae so perfectly put it, "Congratulations to those men." We all knew it would happen, but in a year of work from Greta Gerwig, Lulu Wang, Marielle Heller, Céline Sciamma, Lorene Scafaria, and Alma Har'el, it's embarrassing to see an all-male line-up. Gerwig's snub is particularly egregious. Her direction of Little Women was a work of art. It should have been acknowledged.

After awarding Best Actor last year to Rami Malek's lip-synching caricature performance in Bohemian Rhapsody, it's genuinely embarrassing to see Taron Egerton's sensational performance in Rocketman be overlooked. Yes, the film was released far too early. And, yes, Malek's win possibly worked against Egerton, as the Academy may not have wanted to essentially repeat themselves. But none of this should have mattered. His performance deserved to be acknowledged and it's a travesty he missed out.

We thought it might happen. And it did. Jennifer Lopez was snubbed for her spectacular performance in Hustlers. Clearly, the film just wasn't palatable for a large portion of Academy voters. Frankly, I'm more inclined to assume many voters simply didn't watch it, given the film wasn't in contention anywhere else. People have been telling JLo she'll be Oscar-nominated since the film debuted at TIFF, so you have to feel for her. After nominations at the Globes, SAG, and Critics Choice, she was likely expecting an Oscar nomination that sadly never materialised.

The horror curse strikes again and Lupita Nyong'o becomes its latest victim. Despite offering perhaps the year's greatest lead female performance, Nyong'o couldn't nab a Best Actress nomination for Us. What she offers in that film is nothing short of masterful. Sure, the film was released almost 12 months ago, but she's essentially swept the critics awards season, so there is no excuse for the Academy to forget her. She followed the exact same trajectory as Toni Collette last year, so it's not a huge surprise, but still one that confounds the mind.

We came achingly close to another #OscarsSoWhite scenario. If not for Erivo and Banderas, the acting categories would be made up of entirely white performers. In a year of performances from the likes of Lopez, Nyong'o, Eddie Murphy, Awkwafina, Alfre Woodard, Zhao Shuzhen, Octavia Spencer, Jamie Foxx, Daniel Kaluuya, Jodie Turner-Smith, Wesley Snipes, Sterling K. Brown, and Da'Vine Joy Randolph, it's unacceptable to see such a lack of diversity. It's now been four years since the Academy promised to make changes to avoid this nonsense happening. Yet, clearly, nothing has changed.

And, finally, here's a list of films the Academy completely ignored; The Farewell (this one hurts the most), Uncut Gems, Us, Dolemite Is My Name, Booksmart, Portrait of a Lady on Fire, Just Mercy, Wild Rose, and Waves.

THE ONE I'M NOT TOUCHING
Joker received 11 nominations, which is more than any other film this year. It creates history and broke a few records, so plenty of its fans will be celebrating today. It received the most nominations for a comic book movie ever. It's only the second comic book movie to receive a nomination for Best Picture. And it's the first comic book movie to receive a nomination for Best Director.

Whether this result is good, bad, or ugly will depend on your reaction to this film. You know my response was relatively mixed. And I'm far from interested in poking the hornet's nest that is the Joker fandom by criticising the Academy's decision here. If you loved the film and think it's entirely worthy of those 11 nominations, I'm happy for you. I can't agree that it deserves to be there for several of the categories it received nominations in, particularly Best Director and Adapted Screenplay. But we knew this was coming and this is just the way the cards fell.