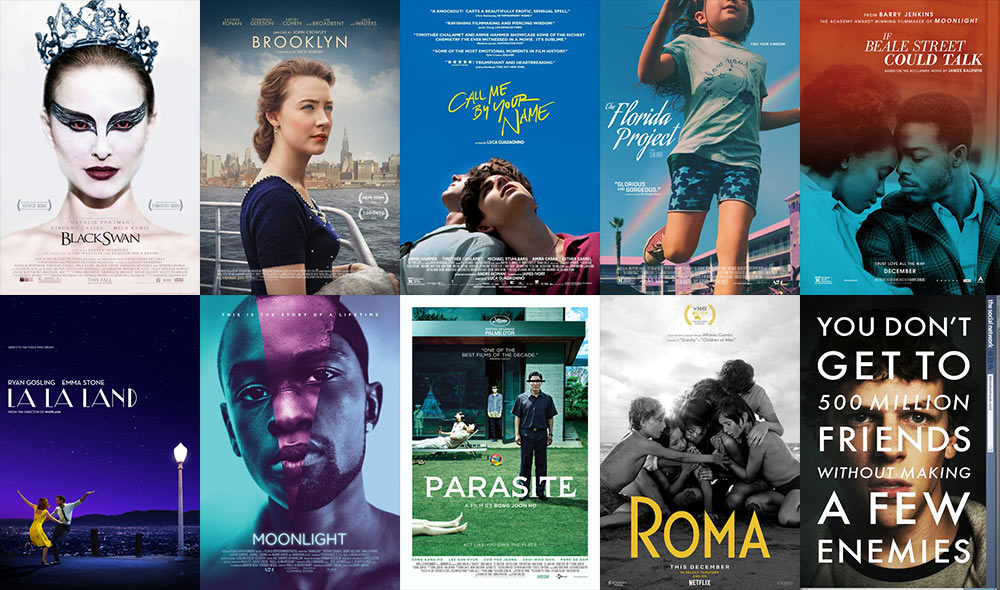 21 Jan

The Jam Report's Top 100 Films of the Decade

What a decade it was for cinema and the very film industry itself. Think back to 2010 and how much has changed in the last ten years. Way back then, the idea of having an entire catalogue of films at your disposal meant stocking up on DVDs. Movie rental stores still reigned supreme and Netflix was merely a mail-order company that would send them right to your door. If only we knew what lay in store.

The Marvel Cinematic Universe was barely getting started and had just been taken over by Disney for what seemed like a ridiculous amount of $4.24 billion. The Star Wars franchise was seemingly dead. Christian Bale was still Batman. Harry Potter, The Twilight Saga, and Transformers were the biggest franchises in the world. De-aging actors wasn't a thing. Nor were Disney live-action remakes. Kevin Spacey was still beloved. Harvey Weinstein was still the king of the Oscars. And the words "me too" were nothing more than a term of agreeance.

In the years that have passed, the streaming wars have raged and companies like Netflix and Amazon are now leading the charge with original content that's truly shaking up awards season. The days of physical media seem numbered and almost every home now has hundreds of movies available at the touch of a button. The ability to access films has never been easier, which can only be seen as a wonderful thing.

But perhaps the greatest and most promising achievement of the 2010s has been the shift in Hollywood's opinion on what constitutes a potentially-successful film. Films led by women or people of colour were in the massive minority ten years ago. Yet, in just the last few years, we've seen films like box office giants like Black Panther, Wonder Woman, Captain Marvel, and The Hunger Games prove audiences are hungry for diversity.

There's a long way to go before we can truly say the industry has changed. This year's acting Oscar nominations prove that. But we've seen the spark of change finally appear and we can only hope that continues to burn brighter over the next decade. Who knows what the next ten years hold and what cinema will look like in 2030. One thing is for certain; there will always be a place in our lives for movies, no matter how they are delivered to us.

In crafting a list of the top 100 films of the decade, it's hard to say exactly what led to each of these finding their way here. Some left a mighty impact on my heart. Some provided giddy entertaining or roaring laughter. Many elicited heavy tears. A few brought horrifying terrors. Above all things, these 100 films simply reminded me why I love regularly plonking myself down in a cinema more than anything else in life.

So, without further ado, presenting The Jam Report's top 100 films of the decade.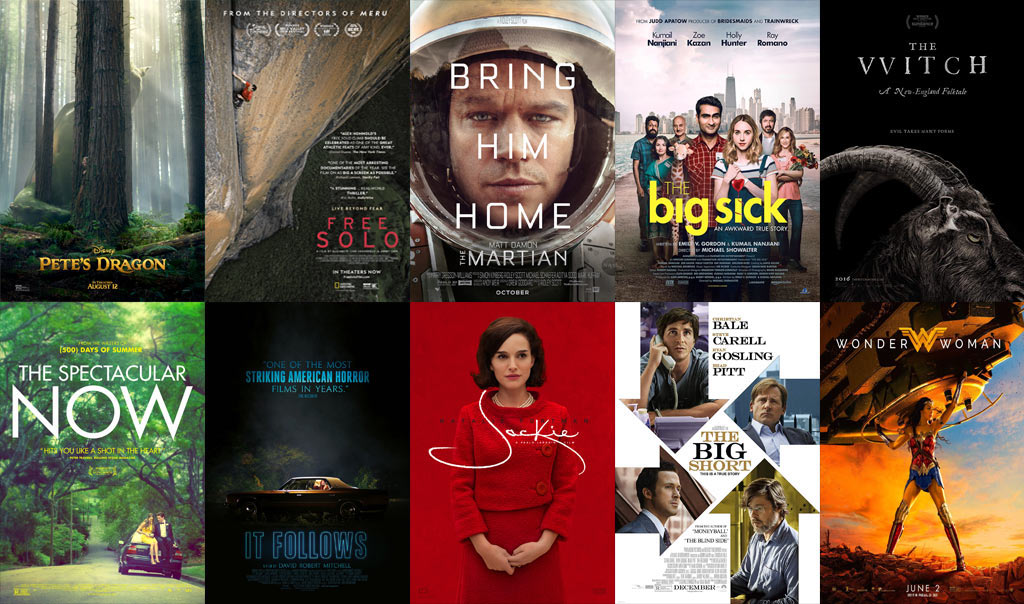 100. Pete's Dragon (2016)
99. Free Solo (2018)
98. The Martian (2015)
97. The Big Sick (2017)
96. The Witch (2016)
95. The Spectacular Now (2013)
94. It Follows (2014)
93. Jackie (2016)
92. The Big Short (2015)
91. Wonder Woman (2017)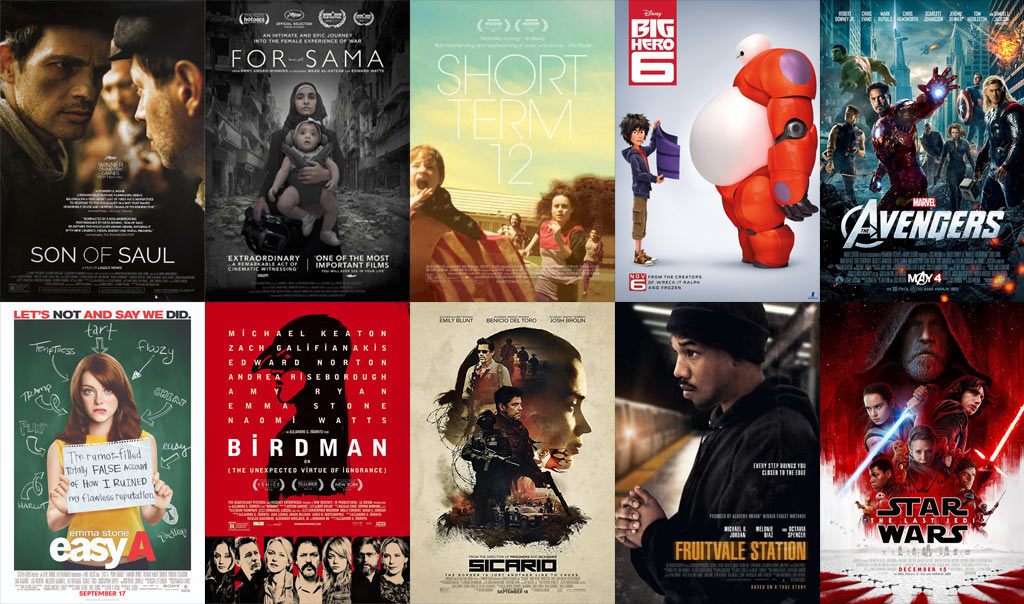 90. Son of Saul (2015)
89. For Sama (2019)
88. Short Term 12 (2013)
87. Big Hero 6 (2014)
86. The Avengers (2012)
85. Easy A (2010)
84. Birdman or (The Unexpected Virtue of Ignorance) (2014)
83. Sicario (2015)
82. Fruitvale Station (2013)
81. Star Wars: The Last Jedi (2017)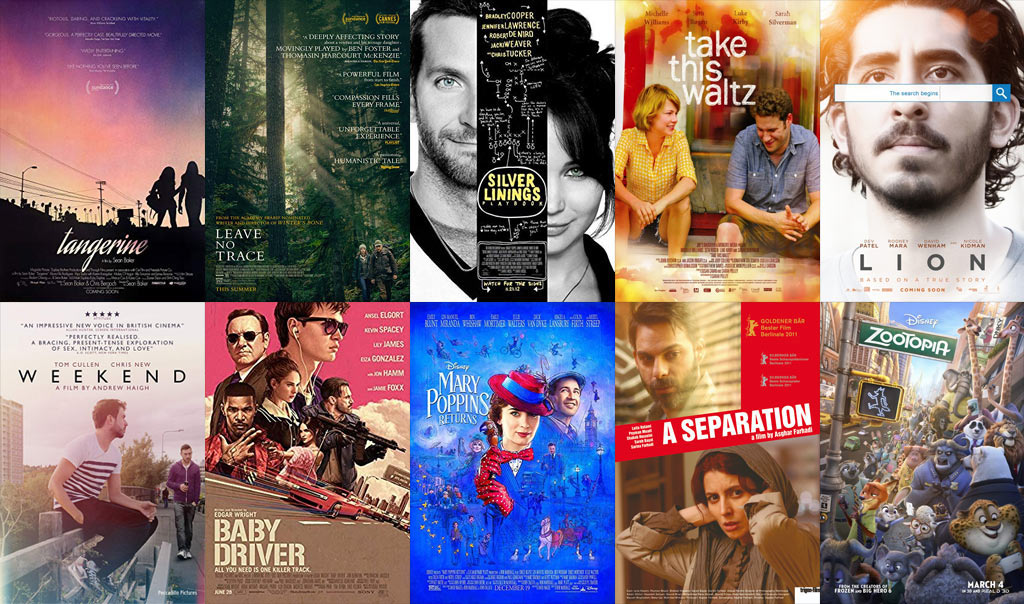 80. Tangerine (2015)
79. Leave No Trace (2018)
78. Silver Linings Playbook (2012)
77. Take This Waltz (2012)
76. Lion (2016)
75. Weekend (2011)
74. Baby Driver (2017)
73. Mary Poppins Returns (2018)
72. A Separation (2011)
71. Zootopia (2016)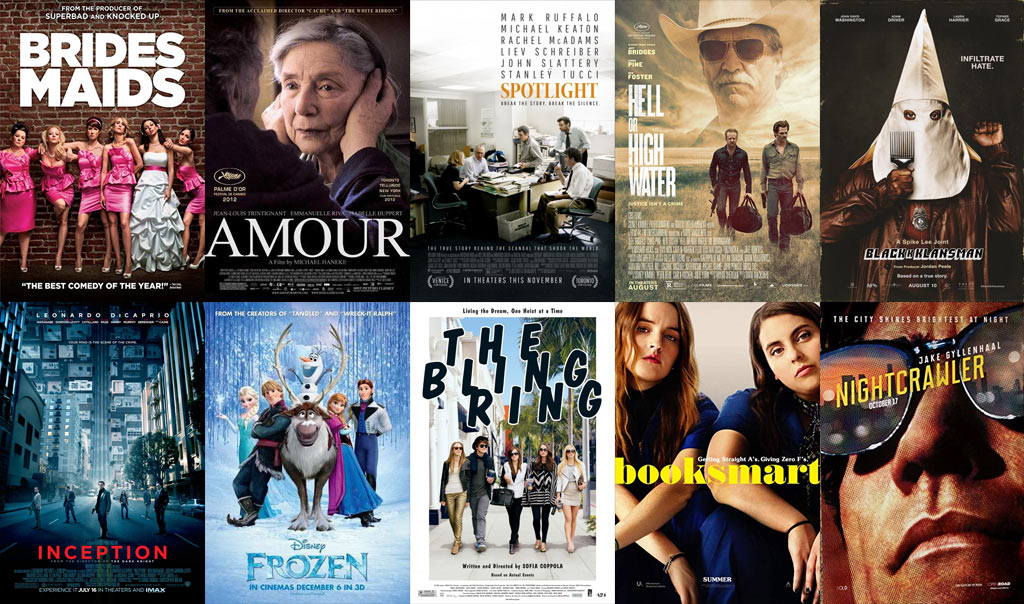 70. Bridesmaids (2011)
69. Amour (2012)
68. Spotlight (2015)
67. Hell or High Water (2016)
66. BlacKKKlansman (2018)
65. Inception (2010)
64. Frozen (2013)
63. The Bling Ring (2013)
62. Booksmart (2019)
61. Nightcrawler (2014)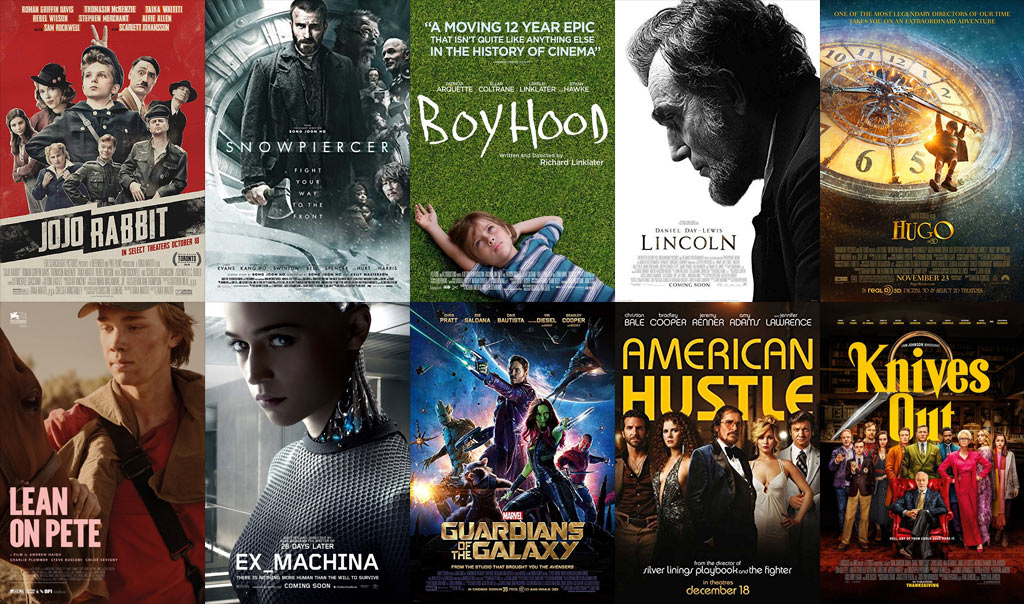 60. Jojo Rabbit (2019)
59. Snowpiercer (2014)
58. Boyhood (2014)
57. Lincoln (2012)
56. Hugo (2011)
55. Lean on Pete (2018)
54. Ex Machina (2015)
53. Guardians of the Galaxy (2014)
52. American Hustle (2013)
51. Knives Out (2019)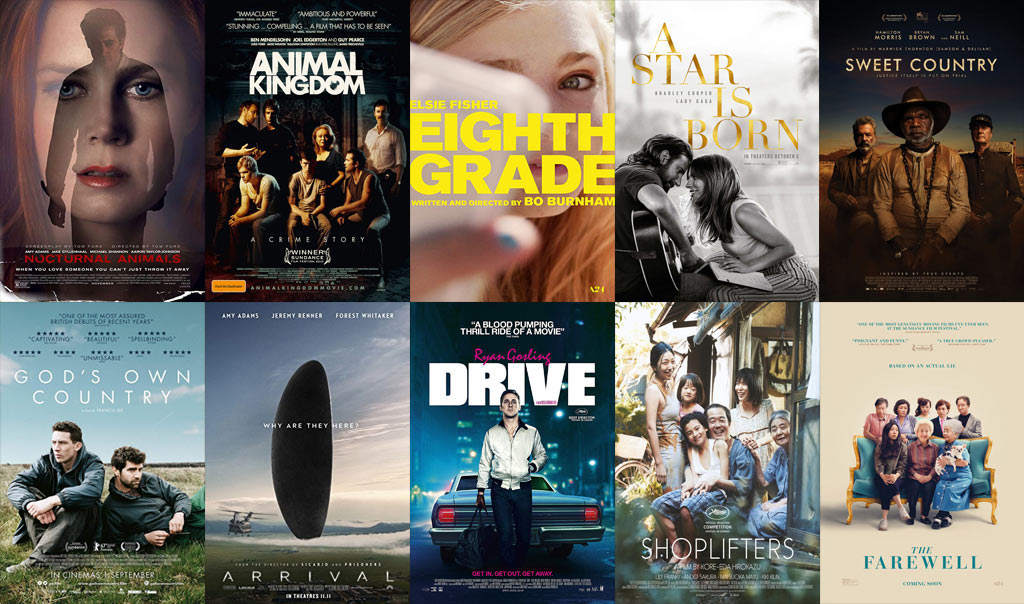 50. Nocturnal Animals (2016)
49. Animal Kingdom (2010)
48. Eighth Grade (2018)
47. A Star Is Born (2018)
46. Sweet Country (2017)
45. God's Own Country (2017)
44. Arrival (2016)
43. Drive (2011)
42. Shoplifters (2018)
41. The Farewell (2019)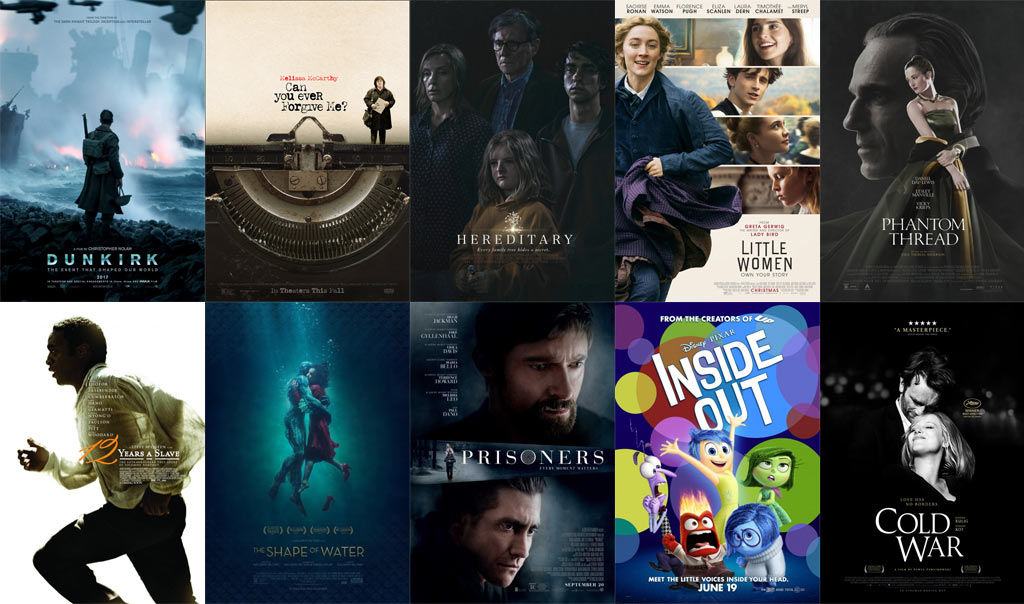 40. Dunkirk (2017)
39. Can You Ever Forgive Me? (2018)
38. Hereditary (2018)
37. Little Women (2019)
36. Phantom Thread (2017)
35. 12 Years a Slave (2013)
34. The Shape of Water (2017)
33. Prisoners (2013)
32. Inside Out (2015)
31. Cold War (2018)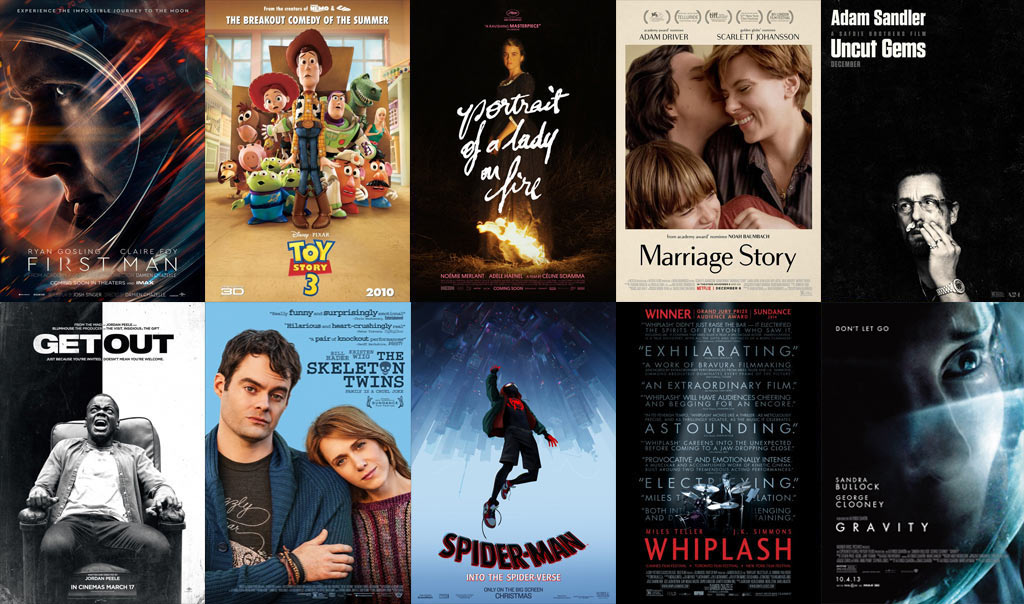 30. First Man (2018)
29. Toy Story 3 (2010)
28. Portrait of a Lady on Fire (2019)
27. Marriage Story (2019)
26. Uncut Gems (2019)
25. Get Out (2017)
24. The Skeleton Twins (2014)
23. Spider-Man: Into the Spider-Verse (2018)
22. Whiplash (2014)
21. Gravity (2013)
20. Carol (2015)
Director: Todd Haynes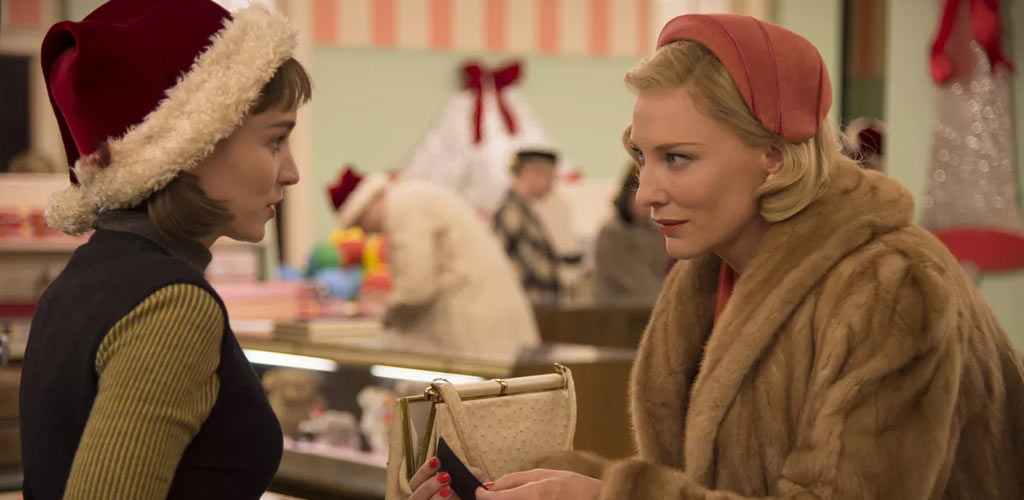 "My angel. Flung out of space."
After an eight-year absence, director Todd Haynes returned with yet another quietly understated masterpiece and a perfect companion to his criminally underrated Far From Heaven. Echoing similar heartbreaking themes of the life and struggles of repressed women, Carol is as near-perfect as films get. The film delves deep into the quiet romanticism of a blossoming (albeit forbidden) relationship, filled with its stolen glances, subtle touches, and the anxiety we all experience when falling for someone.
Much like Far From Heaven, the production design is utterly immaculate. Haynes' attention to detail is truly remarkable, with the set and costume design shining like its own star in the film. But the film has its stars in Cate Blanchett and Rooney Mara, and they shine brighter than anything else.
Aided by a remarkable screenplay that avoids the temptation for cautionary or political statements and some of the most gorgeous cinematography of the decade, Carol is an unassuming masterpiece that deserved to sweep the Academy Awards.
19. Widows (2018)
Director: Steve McQueen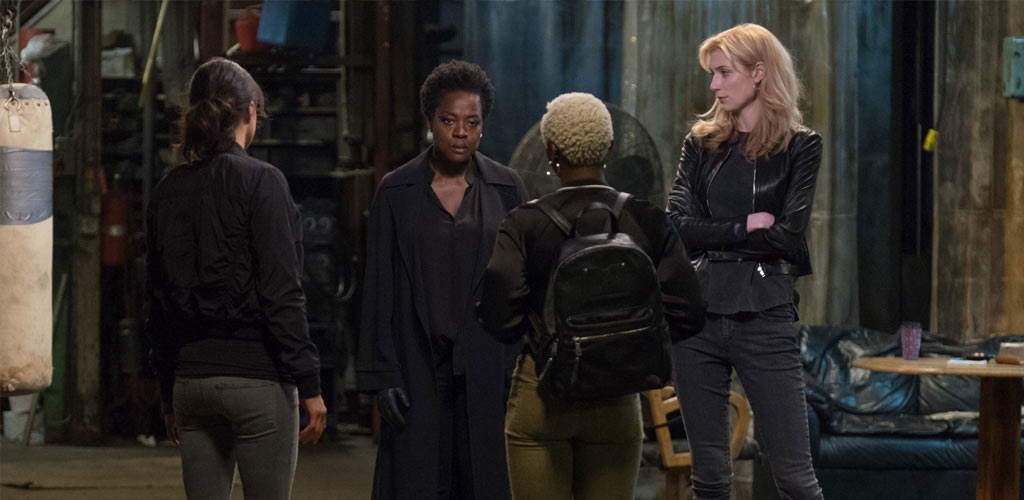 "The best thing we have going for us is being who we are. Because no one thinks we have the balls to pull this off."
After completely devastating the world with 12 Years a Slave, co-writer/director Steve McQueen returned with a film slyly presents itself as your everyday popcorn thriller that ultimately flips the well-worn crime caper genre right on its head. Widows may have been shamefully ignored by the Academy (honestly, what were they thinking?), but it stands as one of the most exhilarating experiences of the decade.
With another commanding performance from Viola Davis leading a sensational ensemble, it's an acting roster that's an embarrassment of riches, and McQueen doesn't waste one single member of his impeccable cast. From scene-stealing performances by Daniel Kaluuya and Elizabeth Debicki to a breakthrough turn from future Oscar nominee Cynthia Erivo, it's one of the finest examples of ensemble acting you could ever hope to see.
Both socially-aware and enormously entertaining, there's so, so much to love about Widows. There are layers upon layers upon layers here, and McQueen takes deft delight in unveiling the true intentions of another of his masterworks that should have stolen the entire Oscars race. Hang your heads in shame, Academy members.
18. Mad Max: Fury Road (2015)
Director: George Miller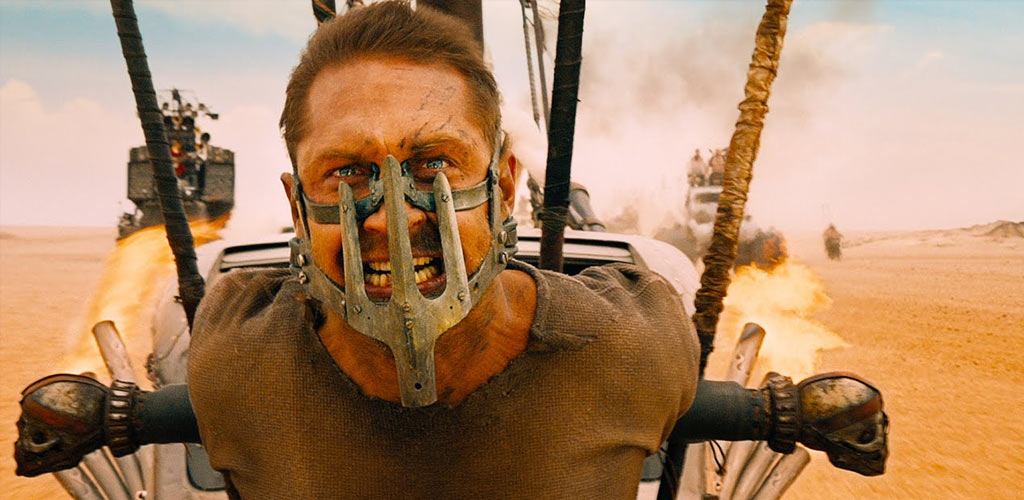 "My name is Max. My world is fire and blood."
The blockbuster to end all blockbusters. One of the greatest action films of recent times. One of the most visually impressive feats ever captured on celluloid (or whatever they film on these days). An instant classic. And all from a long-dead franchise and a director more recently known for kids flicks. Without a doubt, Mad Max: Fury Road was one of the most surprising cinematic achievements of the decade.
From the frenetic opening sequence to the final epic climax, the film will have you in its grips and barely ever let you go. What makes Mad Max: Fury Road so remarkable and impressive is the physicality of its production. We are so used to seeing the marvels of green-screen technology and the wondrous things a computer can create. But not here. The cars are real. The people are real. The explosions are real. The stunts are real. When these elements combine, we are gifted with some of the most eye-popping visual set-pieces cinema has ever seen.
But Miller doesn't rest on his laurels of just creating a visually beautiful film. The characters who inhabit this storyline are just as masterful. While she may not play the titular role, the real star here is Charlize Theron and her instant action heroine Furiosa. She steals every single scene, and holds her own as one of the toughest females every committed to film. With sublime cinematography and stunning set and costume design, Mad Max: Fury Road is a film for the ages, and one all future summer blockbusters will attempt to match.
17. Blade Runner 2049 (2017)
Director: Denis Villeneuve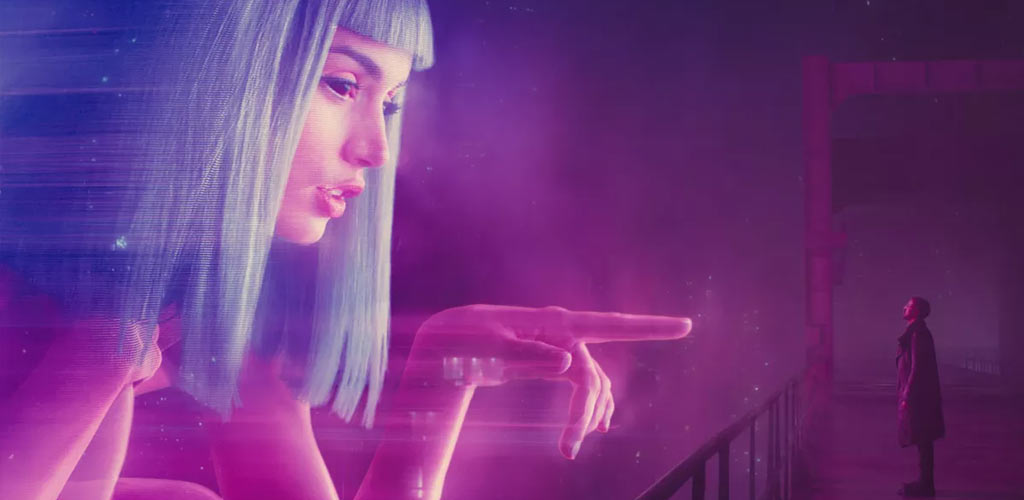 "Her eyes were green."
It was a sublime decade for French Canadian director Denis Villeneuve, who snatches three spots on this top 100 list. But his finest achievement has to be Blade Runner 2049; a film which blew my mind like few others this decade. A visual triumph that finally ensnared an Oscar for long-overdue cinematographer Roger Deakins, the film is a breathtaking masterpiece.
Overflowing with instantly-iconic shots, this is a piece of cinema you can truly call a work of art. The visual delights of this film are hard to even describe. One needs to experience them first-hand on the biggest screen possible. Likewise with Hans Zimmer's bombastic score, which perfectly compliments every visual moment. Blade Runner 2049 honoured the past, but, ultimately, transcends its predecessor to become one of the greatest sequels of all time.
With Villeneuve's typical flair for slow-burn storytelling, the film slowly unravels itself, and draw its audience in with such intoxicating suspense. Its immense running time may not have been everyone's cup of tea, but every moment here felt entirely necessary. Throw in a sensational lead performance from Ryan Gosling and a fantastic supporting cast, and you have one of the most dazzling films of the last ten years.
16. Paddington 2 (2017)
Director: Paul King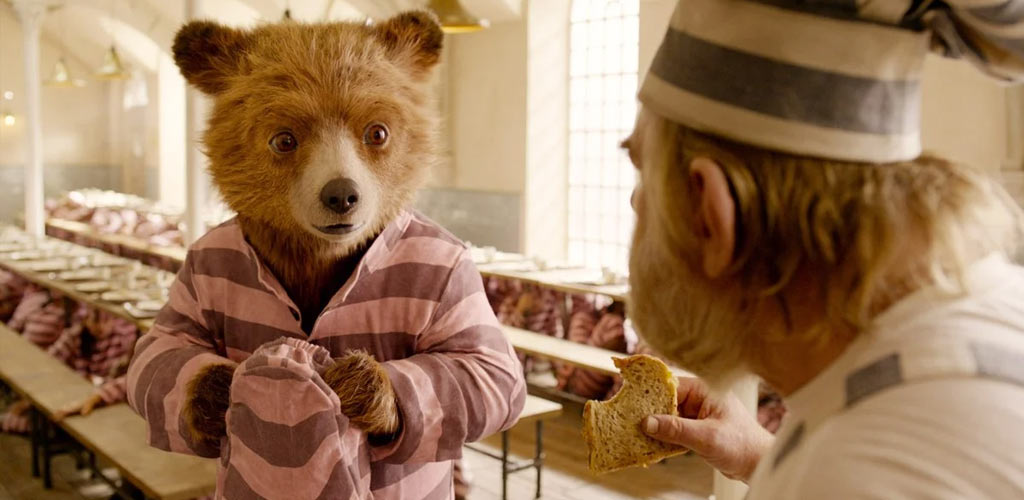 "Aunt Lucy said, if we're kind and polite the world will be right."
In a shocking turn of events, Paddington 2 managed to break the record for the most consecutive Fresh reviews on Rotten Tomatoes. And, to this day, it still stands completely untouched with a perfect score of 100%. Yes, it's that good. With an almost Wes Anderson-like quality, Paddington 2 is visually gorgeous and narratively beautiful, delivering something truly delightful for both young and old.
With its charming message of acceptance and the importance of family, Paddington 2 brings the feels with its warm and inviting narrative that's impossible not to adore. It helps Paddington himself is so utterly cute and innocent, with pitch-perfect voice-over work from Ben Wishaw. With an engaging whodunnit plot, which leads to a glorious supporting performance from Hugh Grant, and a sublime detour to a prison of all places, every moment of Paddington 2 is a true delight.
With a sublime cast of Britain's best, including Hugh Bonneville, Sally Hawkins, Jim Broadbent, Peter Capaldi, and Julie Walters, Paddington 2 is a genuine triumph. We even get a sensational song-and-dance number to close things off. Honestly, you could not ask for more in a piece of cinema. Every person Paddington meets is won over by his infectious charm, and you will be too. We could all use the dose of overwhelmingly positivity and joy Paddington 2 brings. It's exactly what this world needed then and, frankly, needs now more than ever.
15. The Favourite (2018)
Director: Yorgos Lanthimos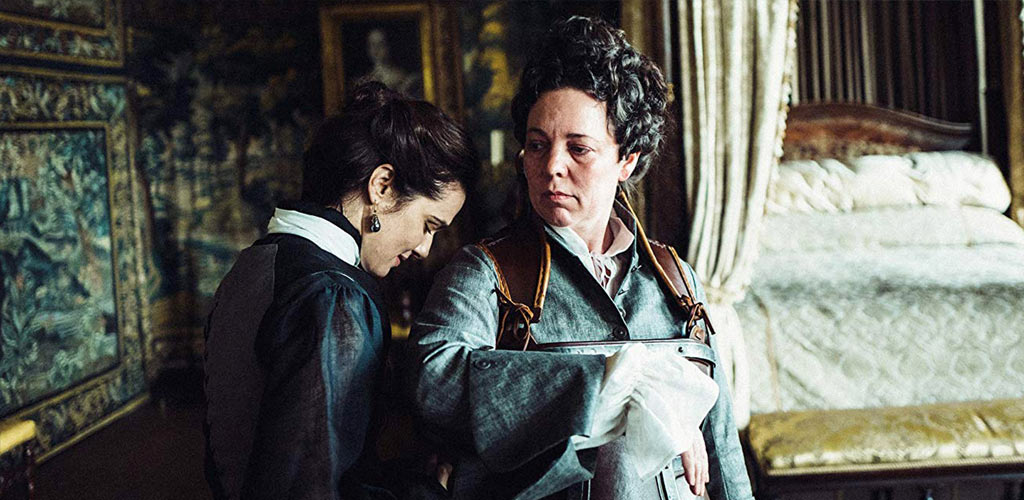 "Some wounds do not close; I have many such. One just walks around with them and sometimes one can feel them filling with blood."
If you like your period pieces with a splash of naughtiness and debauchery, The Favourite is the film for you. A sardonically dark and deliciously nasty piece of cinema, it's hard not to have a giant smile plastered on your face the entire time while watching this glorious romp.
With a trio of dynamic performances from Rachel Weisz, Emma Stone, and the indomitable Olivia Colman, this tale of power, envy, and revenge is further elevated by the impressive talents of its impeccable ensemble cast. Colman's Oscar victory over seven-time nominee Glenn Close may have come as a shock, but few could deny she deserved that trophy for her spectacular performance.
Throw in sumptuous period costume and production design, the quirk that comes from a daring director like Yorgos Lanthimos, and a screenplay that's an absolute riot of twists, turns, and wicked dialogue, and you have one of the best cinematic experiences of the decade. With its sublime mix of wild entertainment, true moments of hilarity, and a dash of devastating sorrow, The Favourite is an absolute bloody triumph. A twisted period piece with a caustic bite, this is a film you will long remember.
14. Gone Girl (2014)
Director: David Fincher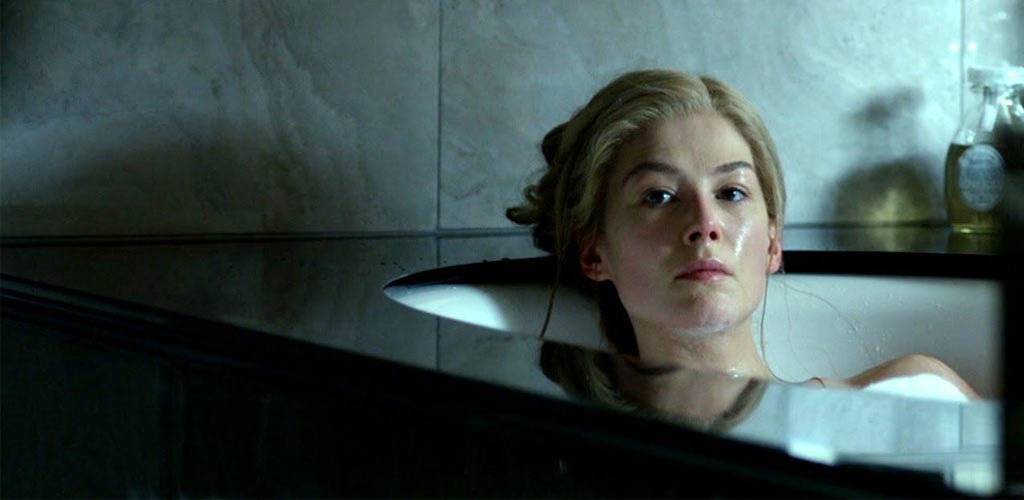 "You think you'd be happy with a nice Midwestern girl? No way, baby! I'm it."
There was a time many thought Gone Girl might finally be David Fincher's chance to sweep the Oscars. I miss those days. Even six years later, it's hard to talk about this exhilarating thrill-ride without spoiling the whole damn thing. Everyone should enjoy the twists and turns of Gillian Flynn's sublime screenplay without any prior warning because they pack the biggest punches we saw this decade.
Fincher's unmistakable directorial style is perfectly suited for this smart and engrossing tale that perfectly and sharply comments on marriage, the media, fame (or infamy, to be more accurate), and contemporary America. Beneath the surface of the psychological tale of a missing wife and her accused husband, Gone Girl is essentially Fincher and Flynn's cynical view on the age we live in, namely society's disturbing obsession with the violence and horror that can often take place right next door.
The true star of the show here is Rosamund Pike, in one of the best performances seen this decade. If not for Julianne Moore, Pike would be an Oscar-winner. The different shades she brings to her portrayal of Amy are just so utterly impressive. At any one moment throughout the film, Amy is vulnerable, aggressive, furious, manipulating, submissive, scheming, adorable, and ultimately completely terrifying.
Slick, sophisticated, intelligent, and surprisingly amusing at times, Gone Girl is another Fincher masterpiece and one that should have been showered with Oscars. Gone Girl reminds us that sometimes the people we know the least about are those closest to us…and maybe it's better to keep it that way.
13. Lady Bird (2017)
Director: Greta Gerwig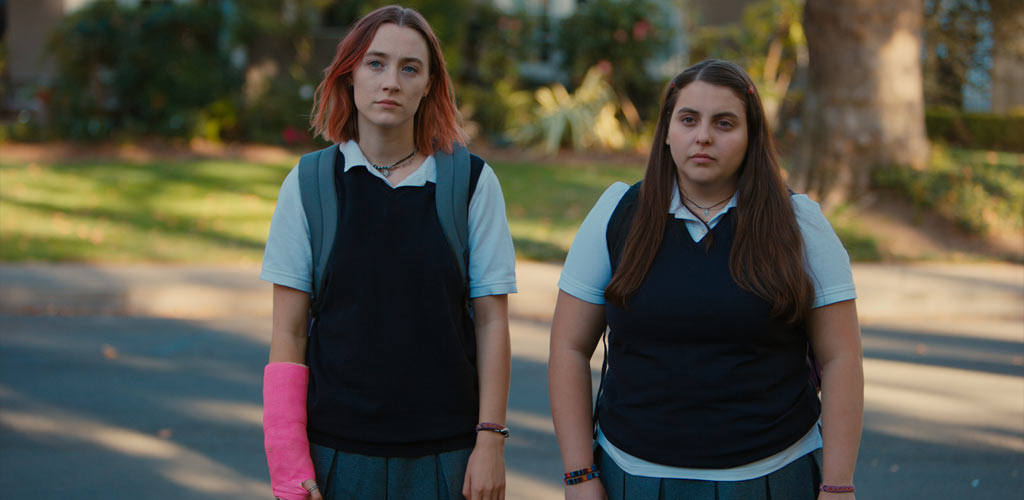 "The only thing exciting about 2002 is that it's a palindrome."
From the genius that is writer/director Greta Gerwig, Lady Bird seems entirely simple and familiar on its surface. In Gerwig's hands, this film is anything but. With another supreme performance from Saoirse Ronan and a glorious supporting turn from Laurie Metcalf the Academy shamefully overlooked, Lady Bird is a true delight.
Ronan once again proved why she's perhaps the brightest young actress in the business. Despite her impeccable career, she outdoes herself here, bringing a sense of authenticity and credibility like never before, and not just with her pitch-perfect American accent. Her performance is genuine and honest, and despite Lady Bird's bratty-at-times attitude, including a nasty habit of deception, you can't help but cheer for her.
Deeply honest, powerfully moving, and wonderfully entertaining, Lady Bird stands as a truly genuine depiction of the adolescent experience. With personal sincerity from its writer/director, it never feels exaggerated or overdone, and it stands as one of the greatest mother-daughter narratives there has ever been. When it's all over, you'll want to rush right back and watch it again. That is the true hallmark of a wonderful piece of cinema.
12. Her (2013)
Director: Spike Jonze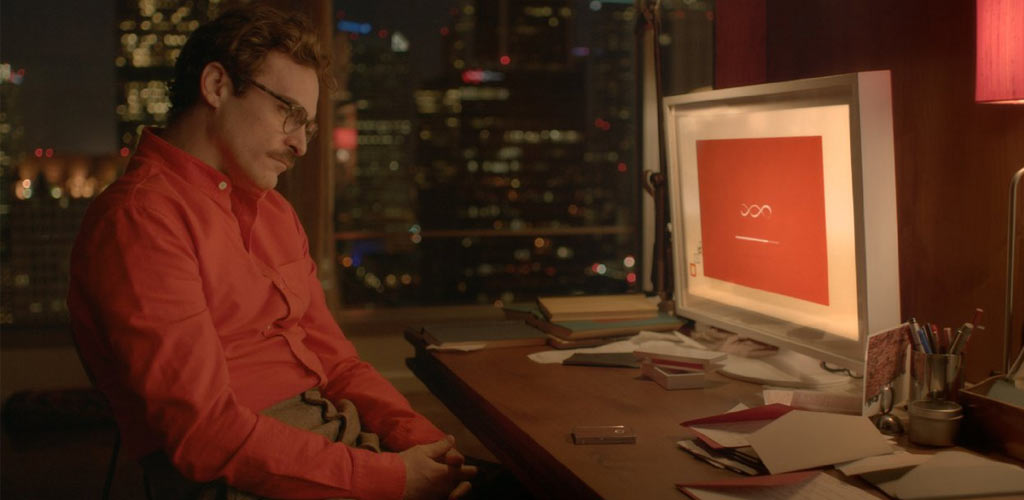 "Sometimes I think I have felt everything I'm ever gonna feel. And from here on out, I'm not gonna feel anything new. Just lesser versions of what I've already felt."
One of the most unique love stories there has ever been. One of the most truly heart-warming tales you will ever experience in a cinema. A little piece of magic that will stay with you long after the end credits roll. In Spike Jonze's gorgeous film, we get lost in the slightly futuristic story of a man so desperate to connect with someone that he falls in love with a computer operating voice.
There's no way this film should have worked, yet somehow does. That's entirely due to the sublime performances of Joaquin Phoenix and Scarlett Johansson. Phoenix is incredibly lovable here, with vulnerability and softness we rarely see from the actor. As the voice behind his operating system, Johansson manages to create a complex character with no physical body or attributes. There's something so incredibly seductive and endearing about her voice that it's easy to see why Theodore is so taken with her. You will be too.
With some charming supporting work from Amy Adams, as Theodore's only human friend, and Chris Pratt, as his sympathetic boss, Her is a love story that will ultimately break your heart, but in the process, it will teach you that love is often a power that cannot be explained, and ultimately a connection is all that matters.
11. Looper (2012)
Director: Rian Johnson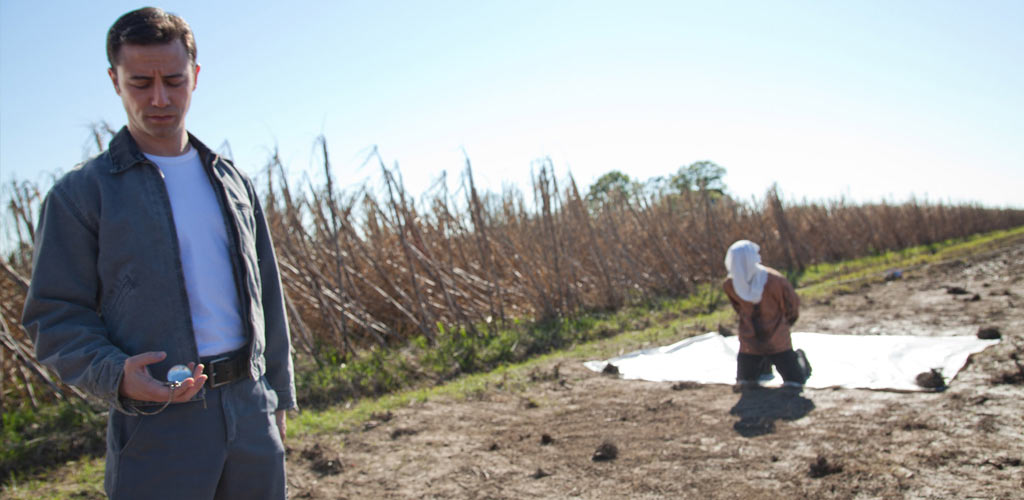 "Your face looks backwards."
Hands down, one of the most original films of the decade was Rian Johnson's thrilling Looper; a film which confirmed Johnson as one of the most exciting filmmakers of the 21st century. With an incredibly smart screenplay and a dazzling mix of sci-fi and classic action elements, Looper has the ability to knocks your damn socks off and only becomes better with repeat viewings.
A visually stunning work with a narrative that consistently manages to keep an audience on its toes, Looper deserves to be remembered as one of the decade's finest achievements. It's an ambitious film that likely would have fallen flat on its face without someone willing to take bold risks at its helm. Johnson consistently subverts expectation here, while still paying homage to a genre usually beset with tired tropes.
At its heart, Looper is merely a popcorn action thriller, but it refuses to offer little more than a good time. While it takes a second to find your bearings after seeing Joseph Gordon-Levitt transformed into a younger version of Bruce Willis, once you settle in for this staggeringly entertaining thrill-ride, you never want it to end. It's dark, twisted, and wildly unique, offering one of the most deliciously enjoyable films of the decade.
10. If Beale Street Could Talk (2018)
Director: Barry Jenkins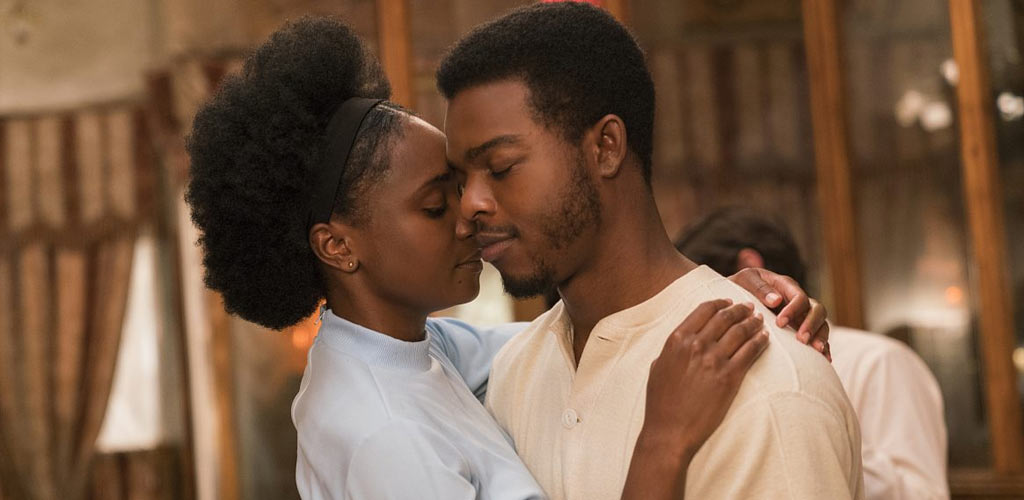 "I don't want to sound foolish, but remember love is what brought you here. And if you've trusted love this far, don't panic now. Trust it all the way."
One of the Academy's most criminal acts this decade was essentially ignoring If Beale Street Could Talk; Barry Jenkins' sublime follow-up to Moonlight. Alright, they threw it a couple of nominations and a much-deserved Best Supporting Actress victory for the goddess that is Regina King, but it should have been showered with far more recognition from Oscar voters. The fact a film Bohemian Rhapsody could snatch a Best Picture nomination and this couldn't was genuinely embarrassing.
The Academy's ignorance aside, If Beale Street Could Talk firmly established Jenkins as one of the most exciting new filmmakers of this generation and deftly proved Moonlight was no fluke. With the same majestic beauty found in his previous film, Jenkins infuses practically every frame of this period film with the tender touch of a filmmaker who clearly cares for his source material.
Part romantic love story, part infuriating legal drama, and a hefty helping of familial and racial tension, If Beale Street Could Talk may be set in the early 1970s but its narrative consistently feels achingly relevant. With King's sensational performance supporting a terrific ensemble cast, it's a travesty this film did not receive the kudos it deserved, particularly Nicholas Britell's masterful score, which easily stands as one of the decade's very finest.
9. Roma (2018)
Director: Alfonso Cuarón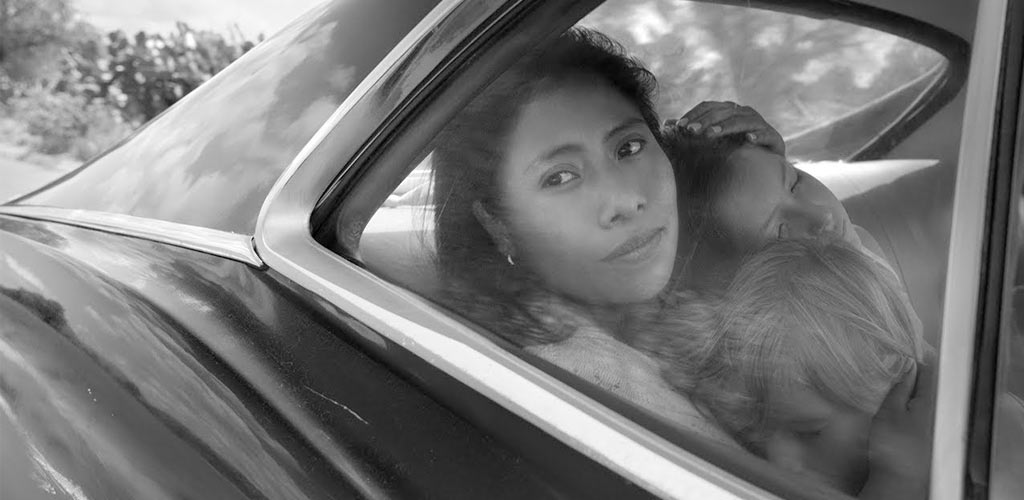 "We are alone. No matter what they tell you, we women are always alone."
A film you can truly call a work of art and one as unforgettable and astounding as cinema gets. A film that left me in a delirium of wonder and delight at what I had just experienced. A film that reminds us why we love the art form that is cinema. What director, producer, writer, cinematographer, and editor (yep, he did it all) Alfonso Cuarón has crafted with Roma is nothing short of a miracle of cinema.
With a hand in crafting practically every aspect of this film, Roma is a personal work of the highest order. Every single moment of this film is crafted with Cuarón's meticulous attention to detail, where nothing happens by chance. This is a filmmaker at the top of his craft, and we are blessed to witness the results.
There's very little grandeur within Roma. In its place is a deeply personal and captivatingly intimate portrayal of common civilians so often lost in the background. This is a beautiful character study, gifting us the opportunity to take a glimpse at the life and times of those we rarely consider, all led by an actress in her debut performance. In Yalitza Aparicio, Cuarón has discovered a genuine talent you cannot take your eyes off.
Every frame is a work of beauty, often elicited from the strangest of places. Simple moments become extraordinary. There were few things like it this decade. In a time when the word "masterpiece" gets attached to films far too often, Roma is indeed a cinematic masterpiece.
8. Black Swan (2010)
Director: Darren Aronofsky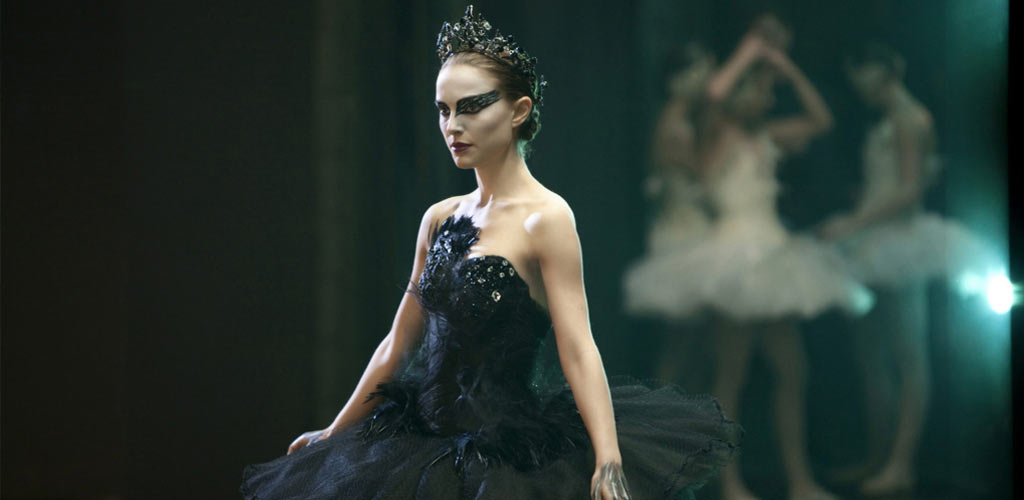 "I felt it. Perfect. It was perfect."
In a decade of terrific lead female performances, one shines brightest above them all; the transcendent performance of Natalie Portman in Darren Aronofsky's Black Swan. A wildly intense and chaotic psychological thriller, the film is led with impressive strength from Portman, who had never been better. This was a breathtaking descent into madness, fueled by one ballet dancer's insatiable desire for perfection.
A peek behind the curtain of the world of ballet, Black Swan gave us a horrifying front-row seat to the high-pressure stakes placed on the shoulders of a principal dancer. An unfurling nightmare you cannot look away from, there has rarely been such a startling a cinematic portrait of the sacrifices artists must make to achieve true greatness at any cost. But it's a cost that begins to take its toll and you can't help but wonder if it was all worth it.
Elevated by Aronofksy's unique visual style and Matthew Libatique's evocative cinematography, Black Swan is a strikingly beautiful film that's equally disturbing and unsettling. Portman is a genuine revelation here, playing both sides to Nina's dual personalities with such incredible skill. There was never a doubt anyone else was winning Best Actress that year. Her character may have been striving for perfection, but it's Portman who ultimately finds it.
7. Call Me By Your Name (2017)
Director: Luca Guadagnino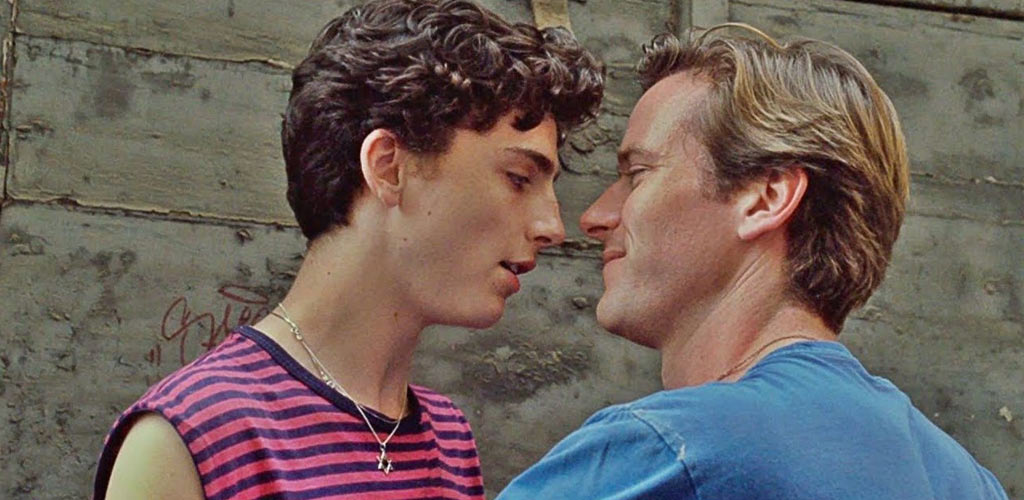 "When you least expect it, nature has cunning ways of finding our weakest spot."
Evocative. Passionate. Sensuous. Intoxicating. Captivating. Gorgeous. Devastating. Just a few of the words one can summon to describe the majesty that is Call Me By Your Name. As a piece of LGBTQ cinema, it's one of the greatest there has ever been. As a piece of cinema, in general, it's one of the decade's absolute finest.
The kind of cinema that lingers long after the closing credits (especially after its devastating final scene), Call Me By Your Name is an overwhelming experience. Both a coming-of-age tale, and a coming-out story, the film is an intense portrayal of love, confusion, and loss. With an Oscar-worthy performance (big mistake, Academy) from the revelation that is Timothée Chalamet and stellar supporting turns from Armie Hammer and Michael Stuhlbarg (both shamefully overlooked for Oscar nominations), Call Me By Your Name is a true work of beauty.
Elevated by a brilliantly written screenplay by James Ivory and sumptuous direction from Luca Guadagnino, Call Me By Your Name is an unforgettable film that continues to swim my mind, and will for many decades to come. It transcends the misguided stigma of gay cinema and will impact audiences of any sexual orientation. Few love stories of recent times have felt so truly intoxicating and utterly breathtaking
6. The Florida Project (2017)
Director: Sean Baker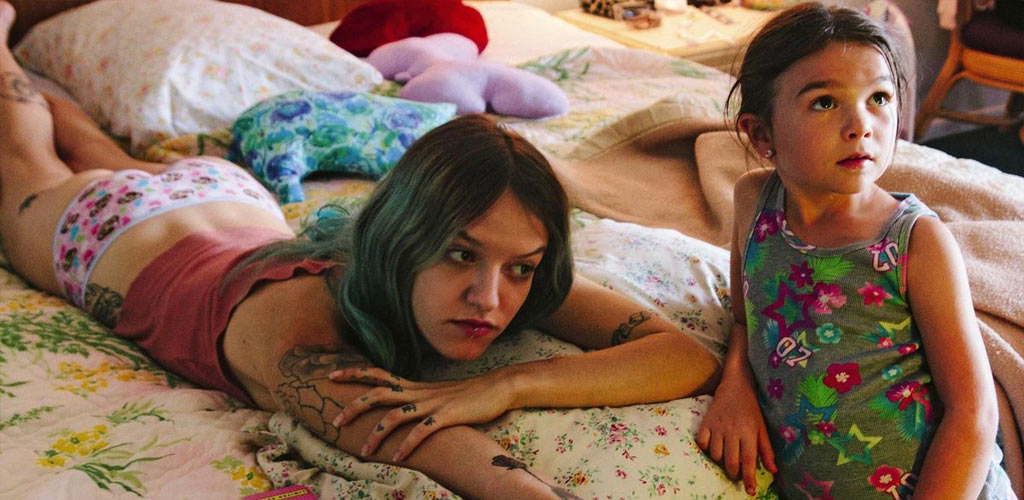 "You know why this is my favourite tree? 'Cause it's tipped over, and it's still growing."
2017 was a spectacular year for cinema, but nothing left an indelible mark on my soul quite like writer/director Sean Baker's masterful The Florida Project. It truly took my breath away and still remains firmly implanted in my mind. With its socially relevant and eye-opening narrative and phenomenal performances from an incredible ensemble cast, you cannot look away from this film.
Baker crafted something so daringly beautiful, yet so heartbreakingly devastating, in a film that simply didn't receive the kudos it deserved. As our young protagonist, newcomer Brooklynn Prince is a true revelation. Likewise with Bria Vinaite, as her desperate mother. The pair have the most glorious bond, and it's genuinely captivating to watch the two perform together. But the real star is here is Willem Dafoe, in a performance that should have captured the actor his first Academy Award.
The film soars even higher with its production design filled with a bubblegum-hued palette of colours, creating something visually unique and bold. Dark yet fun, joyous yet devastating, The Florida Project is an absolute masterpiece. It captured my attention unlike any other film that year. It stole my heart and opened my eyes to a world I've never seen. And it reminded me the best cinema is often the most unexpected cinema. It's the kind of film I hope to discover each year, yet rarely do.
5. The Social Network (2010)
Director: David Fincher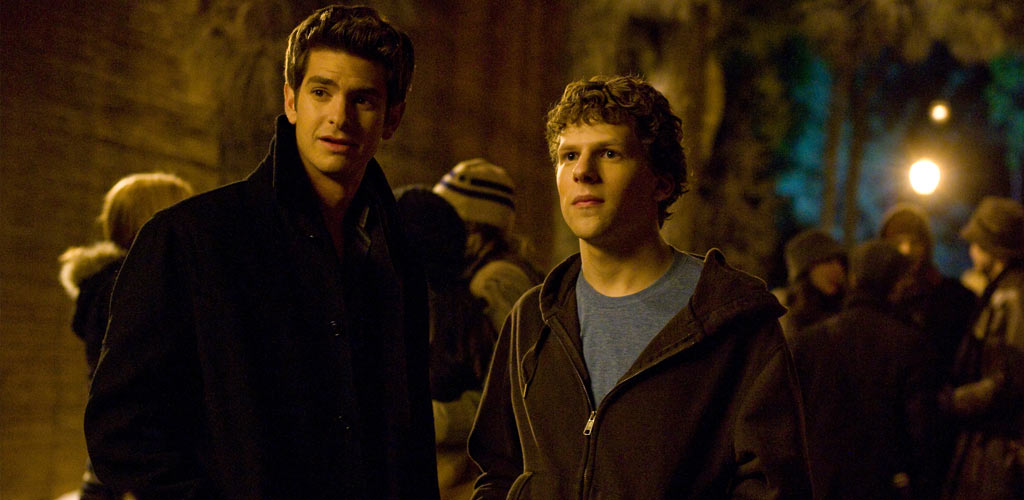 "You have part of my attention – you have the minimum amount."
Remember the first time you heard they were making "The Facebook Movie" and likely chuckled how ridiculous the very notion sounded? Remember when we all finally saw The Social Network and promptly ate our words? Remember when the Academy gave Best Picture to The King's Speech instead? In one of the decade's most baffling decisions, one of the best films of recent times lost to the feel-good British period film. Sigh.
Somehow, that ludicrous lose just makes The Social Network even greater. Armed with Aaron Sorkin's Oscar-winning (they got one right) dialogue-heavy screenplay, David Fincher unleashed a chilling portrait of a relentless young entrepreneur whose intelligence was matched only by his ego. And, in looking back, Fincher was perhaps offering the film as a warning sign to Mark Zuckerberg's potentially damaging unvetted power.
With Facebook now being utilised to create all sorts of global chaos, The Social Network gave us all the clues to where everything was heading. If only we listened. In a performance that's both impressive and infuriating, Jesse Eisenberg perfectly captured Zuckerberg's boyish impudence and ruthless ambition to create one of the decade's most reprehensible characters. An origin story we didn't know we needed, The Social Network is as riveting as it is terrifying. Given everything that's happened with Zuckerberg over the last ten years, surely a sequel is in order.
4. Parasite (2019)
Director: Bong Joon-ho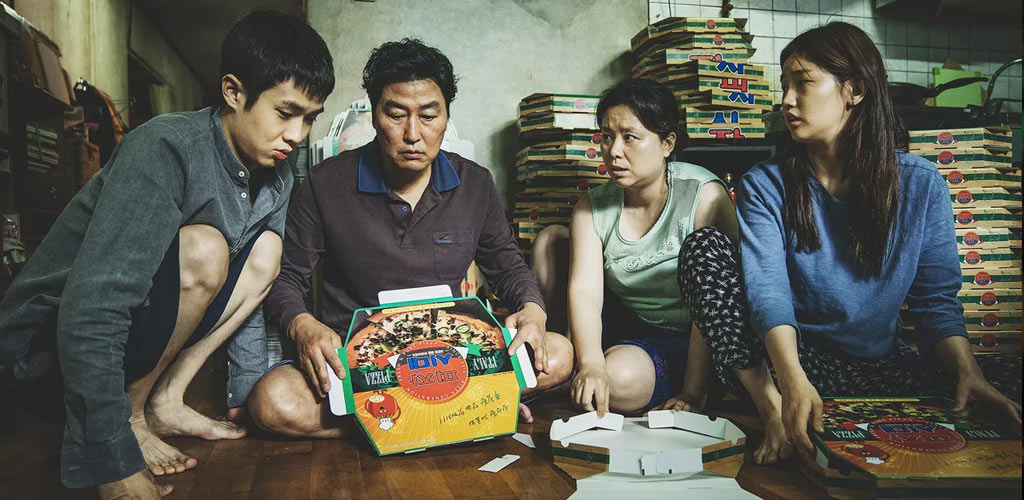 "Money is an iron. Those creases all get smoothed out by money."
After taking aim at classism, consumerism, and capitalism in his two previous films, Snowpiercer and Okja, Korean writer/director Bong Joon-ho once against shoots straight at the heart of these achingly relevant themes. The result is nothing short of a cinematic masterpiece. While Parasite may not be surrounded by the lashings of metaphorical meanings from the sci-fi settings of his recent work, it's every bit as bitingly sharp and wickedly sinister as anything the director has offered up before.
A blistering contemplation on the deep divide between classes, Parasite is strangely one of the most entertaining romps of the year, thanks to a hefty dose of deliciously hilarious black comedy, delivered from one of the decade's best screenplays. But the film consistently subverts expectation with a narrative which twists and turns in unimaginable ways, leading to a breathtaking ending that will leave you stunned.
At its heart, Parasite is a damning dissection of class imbalance; a universal theme to strike a chord with audiences of any nation. A masterful portrait of inequality and imbalance, it's a work that, like its titular namesake, latches on and never once let's go. With a narrative in a perpetual state of metamorphosis, nothing is ever at it seems in Bong's dizzying masterpiece.
3. Moonlight (2016)
Director: Barry Jenkins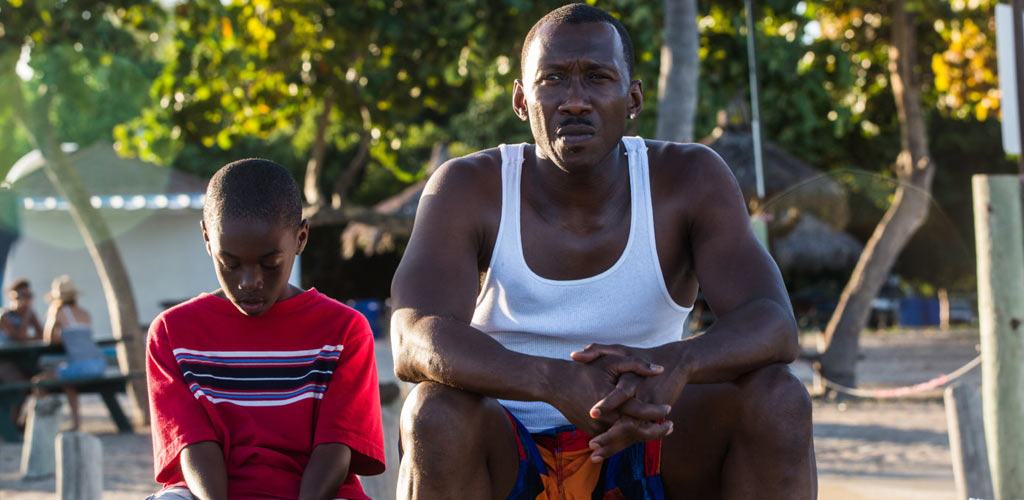 "At some point, you gotta decide for yourself who you gonna be. Can't let nobody make that decision for you."
It took me a long time to admit Moonlight did indeed deserve to beat La La Land for Best Picture. And while it just gets pipped in this list (hey, I had to get my revenge somehow), there were few films this decade as stunning as what Barry Jenkins crafted here. Its victory at the Academy Awards was one of the finest moments in Oscar history. Moonlight was decidedly not the kind of film that wins Best Picture, even if it's entirely the kind of film that should always win.
Despite its harsh narrative, Moonlight is somehow a stunningly beautiful film. It's impeccably filmed and crafted, with a sublime screenplay and a terrific ensemble cast, especially the sensational performance of Oscar winner Mahershala Ali, who is a revelation as the kind-hearted and caring Juan. A poignant and powerful coming-of-age story unlike any other, Moonlight tackles one conflicted boy's journey into adulthood with such deft care to create something truly special.
You don't have to be gay to connect with Moonlight. You don't even need to be black. This is a universal story about the treacherous path we all undertake in finding our identity. Not necessarily our sexual identity, but merely the process of learning who you are, who you want to be, and how to get there. Moonlight shatters stereotypes and challenges the very representation of black men in cinema. It challenges the idea of what being a man truly means in the 21st century. It's not a film we've ever seen before, and therein lies its supreme power.
2. La La Land (2016)
Director: Damien Chazelle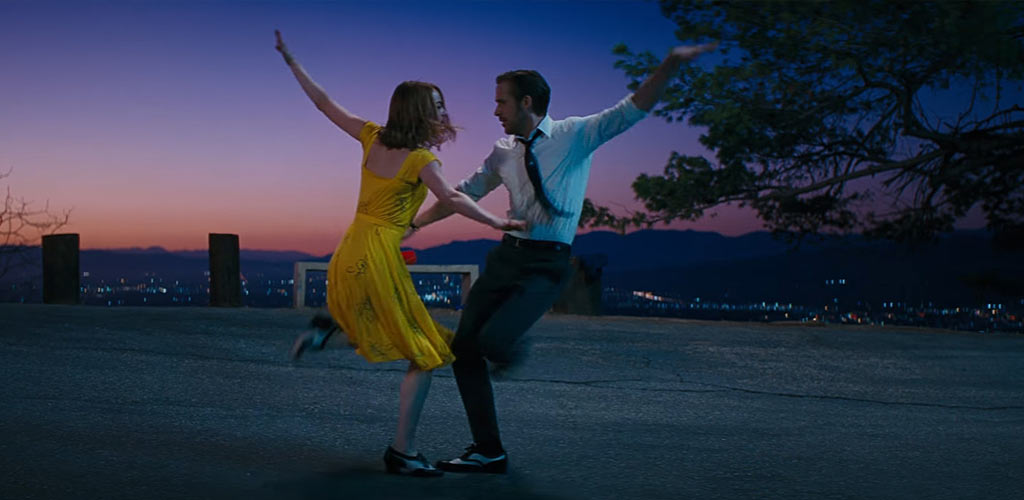 "Here's to the fools who dream."
There'll probably be plenty of grief coming my way for placing La La Land in this position, but to hell with it. For all the ridiculous backlash this movie unnecessarily received (and continues to receive), nothing can take away the magical gift that is Damien Chazelle's gorgeous piece of cinema. Paying homage to the musicals that inspired this filmmaker, Chazelle crafted a true work of art. A love letter to the very genre, Chazelle fused history into the present and offered something truly breathtaking, led by two sublime lead performances.
Emma Stone is an absolute revelation, as hopeless romantic Mia, desperate to see her name up in lights. She has always been an actress you cannot take your eyes off, but she takes that to an entirely new level in this film. Ryan Gosling is typically charming and smouldering, but with far more heart and warmth than any character portrayed before. Witnessing Sebastian's internal battle between following his passion for jazz music or nurturing his love for Mia is heartbreaking, spiralling towards a conclusion we know is coming, yet hope to somehow avoid. That painful bittersweet ending still knocks me out to this day.
Every single visual aspect of La La Land is an absolute triumph. From Linus Sandgren's stunning cinematography, capturing the rarely-seen beauty of Los Angeles (that sky!), to the gorgeous production and costume design, practically every frame became instantly iconic. Throw in the majesty of Benj Pasek and Justin Paul's original songs and Justin Hurwitz's delectable score, and it's as close to perfection as movie musicals come. It may not have ultimately won Best Picture, but, hey, at least it did for 2 minutes and 23 seconds.
1. Brooklyn (2015)
Director: John Crowley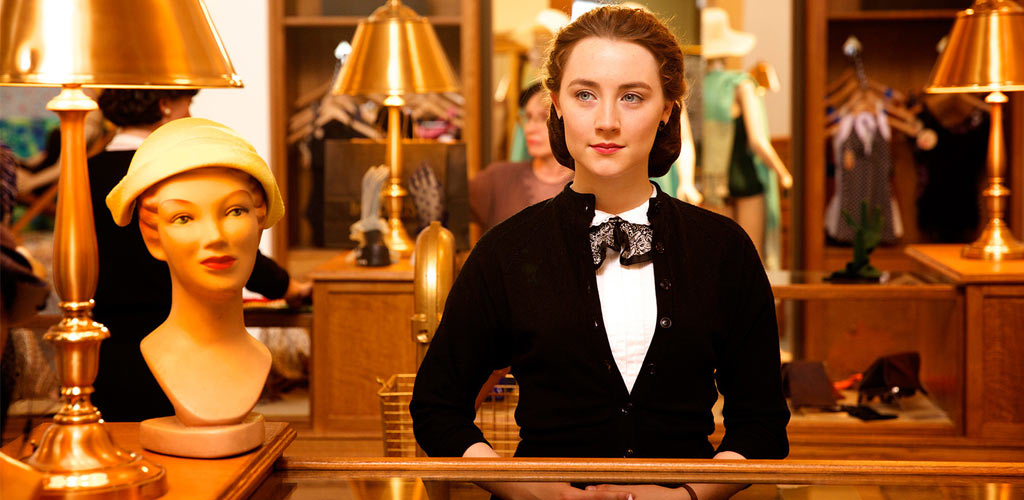 "My name is Eilis Fiorello."
This pick may come as a surprise to some, but it's hard to think of a more stunningly gorgeous film this decade than Brooklyn. Easily one of the most beautiful films you could ever witness, Brooklyn was the kind of film that reminds me why I love cinema in the first place and a glorious reminder of why sometimes the simplest tales are often the most effective. To call Brooklyn a simple tale is by no means an insult. Its beauty and power lie in its simplicity.
At the heart of this tale is Eilis and her physical and emotional journey as she immigrates from Ireland to the United States, with a love-triangle pulling her back and forth between both destinations. This triangle works so superbly due to the perfect casting of Emory Cohen and Domhnall Gleeson as the two men battling for Eilis' heart. You genuinely won't know who to root for, and that is precisely how a cinematic love triangle should affect you. Her anguish becomes your anguish and will move you like few love stories this decade. When she makes her final choice, there wasn't a dry eye in the cinema.
The real triumph of Brooklyn is the luminous Saoirse Ronan, who is a genuine revelation here. No disrespect to Brie Larson, but the Oscar for Best Actress should have been Ronan's. She's tasked with performing a tremendously wide range of emotions and complex character arc, which she handles with the talent and artistry of an actress many years her senior. Brooklyn announced Ronan as one of the most compelling screen presences working today (a title she has continued to prove time and again), delivering one of the best performances seen this decade.
The film shines even brighter with sumptuous cinematography, stunning period production design (you won't believe this movie was actually filmed in Montreal), gorgeous costuming (that yellow dress), and a truly beautiful Gaelic score that I still find myself listening to. You add all this together and you get a true masterpiece of cinema. This is a film I can watch again and again, yet never tire of. Throughout this decade, nothing touched my heart quite like Brooklyn. For that reason alone, it stands above all others.