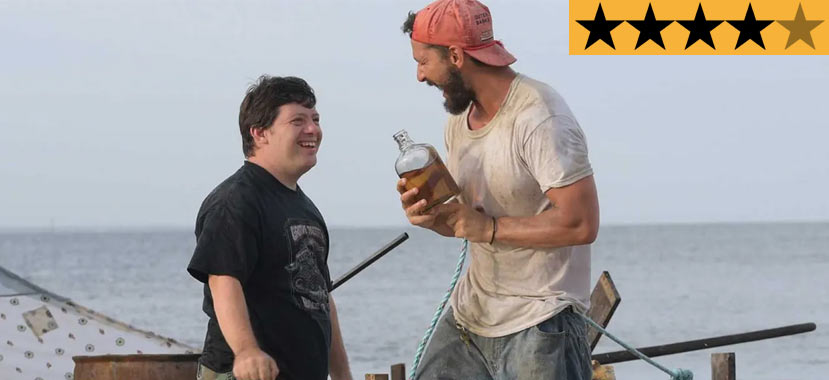 30 Jan

REVIEW – 'The Peanut Butter Falcon' is a heartwarming adventure with a dose of sweetness that's genuinely irresistible

It seems these days we are in desperate need of feel-good movies more than ever before. The cinema has always provided gentle refuge from the chaos of the real world, and nothing offers blissful escapism quite like a heartwarming adventure with a dose of sweetness that's genuinely irresistible. A film like The Peanut Butter Falcon (the title will make sense eventually) knows exactly how to push the right buttons to make your heart soar. What a joy it is to kick the decade off with one of the most charming films you will ever see.

Playing like a storybook of yesteryear, The Peanut Butter Falcon offers a hefty helping of old-school sentimentality, elevated by its goofy charm that's all sorts of infectious. While it doesn't seek to reinvent the wheel, it's a film that knows exactly what it is and plays to its strength in perfect tune. A simple tale told impeccably well, The Peanut Butter Falcon proves you don't need a lot of flash to land a mighty impact. 

Dumped in a North Carolina care facility by order of the state, Zak (an endearing debut from Zack Gottsagen) is a young man with Down syndrome desperate to escape and fulfil his dream of becoming a professional wrestler. Under the watchful eye of caring social worker Eleanor (Dakota Johnson), Zak obsessively watches a wrestling video starring his hero known as the "Salt Water Redneck" (Thomas Haden Church), who promises he can teach anyone the art of wrestling at his local training school.

With the assistance of his crotchety roommate Carl (Bruce Dern), Zak literally (and I really do mean literally) slips out of the facility, heading off to track his idol down and leaving Eleanor with the unenviable task of locating her escapee before the authorities realise he's missing. Meanwhile, troubled fisherman Tyler (Shia LaBeouf) is busy attempting to hock stolen crabs he's fleeced from local fishing traps, leading to a brutal confrontation with a group of angry crabbers, led by Duncan (John Hawkes) and Ratboy (Yelawolf).

After Tyler enacts his vengeance by burning thousands of dollars worth of Duncan's equipment, he takes off in his dilapidated boat without realising Zak has taken refuge inside his vessel. When Tyler discovers his young stowaway, his first inclination is to dump Zak as soon as possible. But after realising Zak's childlike innocence is likely to lead him into trouble, he agrees to accompany Zak to the wrestling school en route to starting a new life in Florida.

As Eleanor and Duncan both give chase to the two newfound friends, what follows is a classic road trip narrative that pays gentle homage to Mark Twain's The Adventures of Huckleberry Finn. With lashings of goofy comedy and plenty of madcap adventures, the true heart of The Peanut Butter Falcon is the burgeoning friendship of two unlikely companions, crafting a connection that never once feels condescending.

While the surly Tyler is initially frustrated by his young comrade, he can't help but be won over by Zak's charming enthusiasm and frank candour. Continuing his impressive career revival, LaBeouf offers one of his most genuine and sincere performances to date. It's another nuanced display from an actor who's clawing his way back in wildly remarkable fashion. LaBeouf presents Tyler as a beautiful mix of grit strength and crushing fragility, taking his time to slowly unveil the layers of this deeply complex character.

Tyler is in free-fall after the death of his older brother and it soon becomes clear taking care of Zak may just be the salvation he's long needed. What begins as a chance-encounter soon becomes something far deeper, as if these two improbable pals were always destined to find each other. Unlike almost everyone around Zak, Tyler refreshingly refuses to treat his new friend like a child or shelter him from reality, which may well be the first time anyone has bothered to look beyond Zak's condition.

With their first feature film, co-writers/directors Tyler Nilson and Michael Schwartz handle the depiction of Zak's disability with such gentle care, unquestionably born of their affection for Gottsagen, who the role was specifically written for. In a dazzling and heartwarming debut, Gottsagen offers a beautifully authentic performance that highlights how the system often belittles those it deems incapable of achieving their true potential. Beneath Zak's condition is a human being whose hopes and dreams are just as valid as anyone else. Nilson and Schwartz clearly saw that potential and stand back to allow Gottsagen his chance to truly shine.

The screenplay plays on age-old road trip tropes, offering plenty of classic hijinks and difficult setbacks that are far from the most original, yet still entirely enjoyable. There's the mismatched comedy of two strangers brought together by circumstance, which both LeBeouf and Gottsagen handle perfectly. When Tyler relents on his unexpected parental guidance of Zak, their relationship evolves into that of two equals who both need each other to mature and grow. And when Eleanor eventually joins their adventure, the film takes on a whole new dynamic.

At the heart of The Peanut Butter Falcon is a gorgeous tribute to the power of friendship, especially those formed in the most unexpected of ways. LeBeouf and Gottsagen combine to create a beautiful duo who will undoubtedly leave a tear in your eye by the film's conclusion. A desperate plea for humanity to open its eyes to those we often ignore, Nilson and Schwartz have crafted a film that's breezily enjoyable with an earnest and relevant message that seeks to educate as much as entertain.





Distributor: Rialto Distribution
Cast: Shia LaBeouf, Dakota Johnson, Zack Gottsagen, John Hawkes, Bruce Dern, Thomas Haden Church, Jon Bernthal, Wayne DeHart, Jake "The Snake" Roberts, Mick Foley, Yelawolf
Director: Tyler Nilson, Michael Schwartz
Producers: Albert Berger, Ron Yerxa, Christopher Lemole, Tim Zajaros, Lije Sarki, David Thies
Screenplay: Tyler Nilson, Michael Schwartz
Cinematography: Nigel Bluck
Production Design: Gabrael Wilson
Costume Design: Melissa Walker
Music: Jonathan Sadoff, Zachary Dawes, Noam Pilekny, Gabe Witcher
Editing: Kevin Tent, Nathanial Fuller
Running Time: 97 minutes
Release Date: 30th January 2020 (Australia)