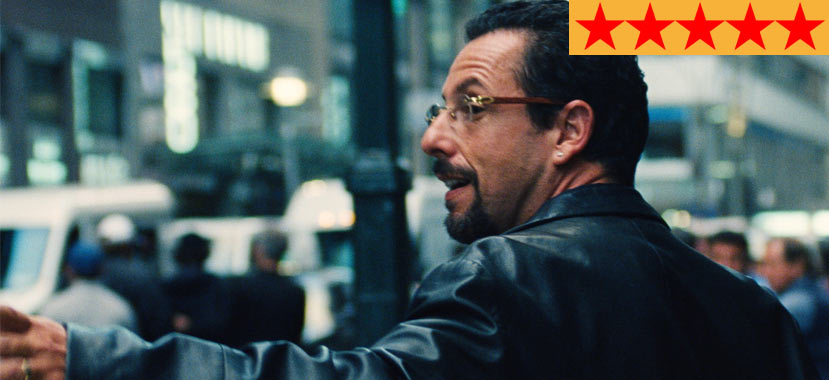 31 Jan

REVIEW – 'Uncut Gems' is one of the most unnerving and strangely exhilarating films of recent times

There were numerous egregious snubs when the Academy announced its crop of Oscar nominations a few weeks ago. Many rightfully furrowed their brows at Lupita Nygon'o missing out for the year's finest leading female performance found in Jordan Peele's Us. On the flip side, the year's greatest male leading performance was also painfully omitted. And one of the year's greatest films was ignored completely. Academy voters, you've got some explaining to do.

Forget Joaquin Phoenix and Adam Driver. The man who should be taking home that little bald gold man for Best Actor is Adam Sandler, who offers a revelatory performance in Uncut Gems that should have easily netted the actor his first Oscar nomination, let alone a rightful victory. An anxiety-inducing rollercoaster viewing experience that will truly have your heart racing, Uncut Gems is one of the most unnerving and strangely exhilarating films of recent times.

Fast-talking New York jewellery store owner Howard Ratner (Sandler, in electric form) is a man in a constant state of chaos, which is seemingly just the way he likes it. A gambling addict with dreams of landing one big score, Howard thrives where others would falter. When he's not busy fending off loan sharks and their hired goons, he's juggling the anarchy that is his private life, shrewdly dividing his time between his semi-estranged wife Dinah (Idina Menzel) and his ballsy young mistress Julia (a dazzling Julia Fox).

While he continues hoping for his big payday, his shop appears to be doing relatively well, mostly thanks to his street-wise broker Demany (Lakeith Stanfield), who leads a series of wealthy sports stars and musicians into Howard's store in exchange for a cut of the sale. But the answer to all his prayers finally arrives when Howard gets his hands on a rare Ethiopian uncut black opal, which he plans to auction off for a small fortune.

When NBA superstar Kevin Garnett (playing an exaggerated, self-deprecating version of himself) lays eyes on the football-sized rock in Howard's store, he's instantly smitten, believing the gem could be his new lucky charm for the upcoming finals series. Against his better judgement, Howard agrees to loan the uncut gem to the basketball star, setting off an inexplicable chain of events that quickly spiral out of control.

Masterfully crafted by Josh and Benny Safdie, this is another dizzying creation from the brothers who are fast becoming two of the most electrifying filmmakers working today. Seeking to portray what it's truly like to live life on the edge, Uncut Gems is purposely caustic and chaotic, as it constantly pushes the limits on just how much mayhem an audience can withstand. The Safdies drop the viewer right in the thick of Howard's messy life, offering a film that's often genuinely overwhelming, but therein lies the giddy fun.

Filmed with such frenetic fashion by cinematographer Darius Khondji to truly capture the outlandish world of a gambler juggling too many balls at once, Uncut Gems is a heart-pounding endurance test for audiences, but one well worth experiencing. When the film appears to finally stop to take a breath, such as when Howard takes the night off to watch his daughter's school play, there's barely a moment before something turbulent happens to put the gambler right back in trouble.

It's a film that consistently threatens to lose complete control, but we're in safe hands with the Safdie Brothers, who've proven to be masters of choreographing controlled mayhem, as seen in their break-out 2017 film Good Time. They have such a tight grip on this film, playing gleeful puppetmasters to a neverending nightmare that gets more outrageous as it barrels along. Whether it's the swooping camerawork, the restless editing by Benny and Ronald Bronstein, or the pulsing synthesised score by Daniel Lopatin, the Safdies are in total command of every facet of this film.

In a role he was clearly born to play, Sandler offers a career-defining nuanced performance that's a complicated mix of bravado and vulnerability. Howard is a desperately disorganised mess of a man, constantly scheming his next move, while still attempting to escape his latest catastrophe. In the hands of a lesser performer, Howard would be entirely repulsive, but Sandler finds the pathos, offering a character that's equal parts fascinating and frustrating. There are echoes of The Wolf of Wall Street's Jordan Belfort here, minus the endlessly luxurious lifestyle.

It's a frantic performance, born of Sandler's necessity to portray Howard's crippling gambling issues with an authenticity that will ring true to anyone with first-hand experience with the addiction. At times, you will beg Howard to just stop and take a damn breath, but it's simply not in his nature. Howard thrives in this frenzied environment and there's something strangely admirable about a man who lives for the win. He's a product of his own making and failures, crafting a tragic character that elicits sympathy, even in the midst of some truly maddening narrative choices.

Sandler's performance is only elevated by a terrific ensemble cast, with Fox stealing focus at every turn in a breakthrough debut performance that suggests a bright future ahead for the young actress. When we first meet Julia, she appears to be nothing more than a stereotypical brainless bimbo who does as she's told and suffers Howard's negligence with like all good mistresses. But Fox is blessed with a character who's far more than meets the eye, taking deft delight to unveil the true nature of her character in ways you won't see coming.

Without heading into spoiler territory, Uncut Gems leads to a lengthy climax that's as tense as cinema gets. In the final five minutes, you genuinely will find yourself holding your breath and clutching your sweat-soaked palms. A total blast from start to finish, Uncut Gems is a riveting and engrossing portrait of a life lived to the limits. Its energy is unrelenting and its final impact is simply stunning. Strap yourselves in and enjoy this white-hot thrill ride. If anyone needed further proof the Safdie Brothers are auteurs in the making, they just knocked all doubt right out of the park.





Distributor: Netflix
Cast: Adam Sandler, Lakeith Sanfield, Julia Fox, Kevin Garnett, Idina Menzel, Eric Bogosian, Judd Hirsch, Keith Williams Richards, Mike Francesa, Jonathan Aranbayev, Noa Fisher, Abel Tesfaye
Director: Josh and Benny Safdie
Producers: Scott Rudin, Eli Bush, Sebastian Bear-McClard
Screenplay: Ronald Bronstein, Josh Safdie, Benny Safdie
Cinematography: Darius Khondji
Production Design: Sam Lisenco
Costume Design: Miyako Bellizzi
Music: Daniel Lopatin
Editing: Ronald Bronstein, Benny Safdie
Running Time: 134 minutes
Release Date: 31st January 2020 (streaming on Netflix)