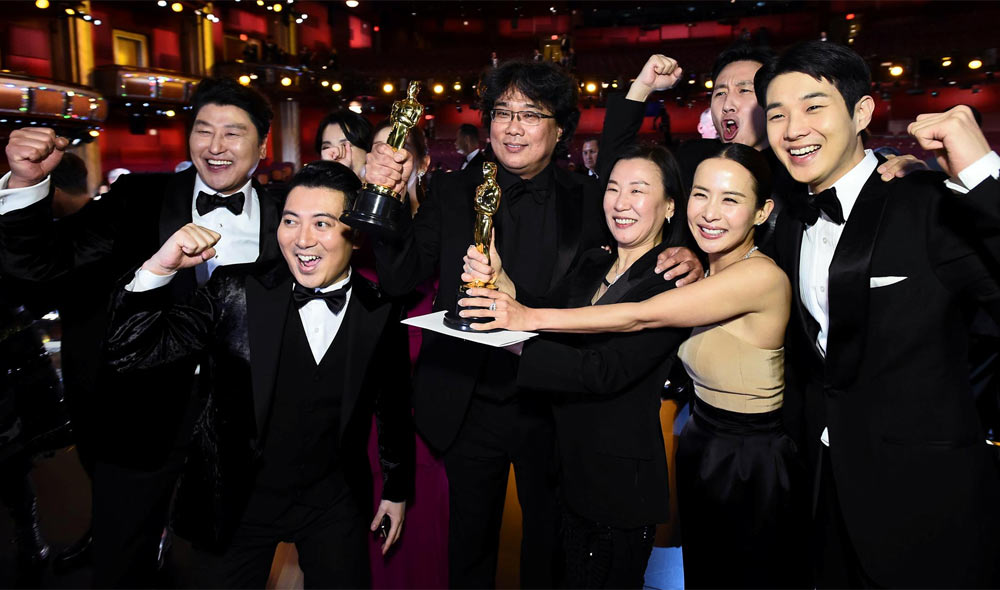 10 Feb

Why the Best Picture victory of 'Parasite' is so monumental

Around this time each year, The Jam Report generally releases an Oscars recap, under the guise of "the good, the bad, and the ugly" of this year's awards. While there were a few confounding moments (I'm still attempting to determine what exactly Eminem was doing there), it's impossible to craft this piece on a ceremony which ended in such spectacular fashion.

If anything truly bad or ugly happened this year, none of it really matters anymore. Bong Joon-Ho won Best Director. Parasite won Best Picture. And an embarrassing 92-year record has finally been broken. In a moment that will be remembered as one of the greatest in Oscars history, a non-English language film won the Academy's top prize for the very first time. The glass ceiling has been shattered and it's about damn time.

Undoubtedly, this is a huge moment for Korean cinema. Before this year's awards, a Korean film had never even been nominated for an Academy Award, let alone win one. And now they've gone and won Best Picture. With a burgeoning film industry that's been in existence since the mid-1940s, it's unfathomable the Academy has completely ignored Korean films until now. To see such recognition must surely make the hearts of Korean cinema lovers soar.

But this unlikely victory is more than just a win for Korea. It's a monumental win for world cinema in general and the exposure this victory brings could prove immeasurable. Now, I have something shameful to admit; before the age of 17, I had never seen a film in a language other than English. Even as a devoted movie addict, the idea of "reading subtitles" sounded like a chore. Yes, I was young and foolish, but it's a mentality sadly shared by so many around the world. And it's partly the reason a film not in the English language had never won Best Picture.

All that changed when my high school English teacher forced our class to watch Gabriel Axel's 1987 masterpiece Babette's Feast. You can imagine how overjoyed my fellow classmates and I were at the idea of watching a Danish film about a group of elderly people who sit down to eat an extravagant dinner. What began as obligatory viewing soon became something else entirely. I couldn't take my eyes off the screen. The issue of subtitles quickly vanished, as I became completely mesmerised by the majestic beauty international films so often contain.

This experience ultimately completely changed my view of non-English language films. My eyes were finally open and life was never quite the same again. From there, I devoured world cinema however I could. From Fellini to Kurosawa, Renoir to Godard, Bergman to Almodovar, and everything else in between. When you start to look outside the insular world of Hollywood films, you discover there's so much more than just what's showing at your local multiplex.

So, why exactly do I mention this story from my youth? Because, like most art forms, you often need a guiding hand to point the way and make the first introduction. That's precisely what the Academy have done by awarding Best Picture to Parasite. We all know an Oscar win can provide much-needed exposure for films and performances money simply can't buy. By declaring Parasite as the best film of the year, the Academy have given Bong's masterpiece immeasurable publicity that practically demands the general public seek this film out immediately.

Of course, whether they actually do is another story entirely. But Parasite has now received worldwide headlines it simply would not have, if not for its Best Picture win. For anyone curious about world cinema, this could truly be the very moment they decide to finally take the leap. If a non-English language film has proven worthy of such an honour like Best Picture, there clearly must be something about it people will be keen to see for themselves. And it could prove to be an eye-opening experience to a world of films they've long ignored.

We will long analyse how and why Parasite became the film to finally break the "foreign-language curse" that has plagued the Oscars for over nine decades. There's little doubt it was entirely worthy, but we all know winning an Academy Award requires something more than just being great. The passion for Parasite this awards season was palpable. The reaction in the Dolby Theatre when Jane Fonda announced Best Picture was evident of that. People really wanted to see this film win and that's the easiest way to succeed with a preferential ballot where consensus matters.

Impeccably crafted by Bong and starring a superb ensemble cast, it's easy to see why so many people were completely entranced by Parasite. It's a film that transcended language barriers, proving to be far more accessible than other international films who found themselves in a similar position. Roma came achingly close to winning Best Picture last year, but its Netflix association and slow-burn narrative style proved too much to overcome. Regardless, Roma certainly gave the system a mighty big shakeup, paving the way for something like Parasite to go one step further this year.

Its victory is all the more unfathomable by the precursor season showing such adoration for Sam Mendes' 1917. After key wins at PGA, DGA, BAFTA, and the Golden Globes, it looked to be the unbeatable frontrunner. While Parasite taking home the SAG Award for Best Ensemble was a major coup for an international cast (and the first in the history of the awards), that particular award hasn't matched the eventual Best Picture winner since Spotlight in 2015. But, as they say, rules were meant to be broken. And, boy, did Parasite break all the rules this year.

Naturally, we mustn't get ahead of ourselves. The Academy is still plagued by numerous problems, as evident by its shameful lack of diversity amongst its acting nominees this year. It's still a restrictive boys' club dominated by older white men and next year they could very well fall back to old ways again. Green Book winning Best Picture just last year is proof of that. But they've now shown a willingness to embrace change and we must celebrate this moment for all its worth.

We have to hope this is a beacon of hope for the future and the Academy will continue to prove it can indeed honour the best in filmmaking, no matter what country it may originate from. Parasite has made history and will hopefully merely be the beginning of Academy Awards ceremonies that are far more inclusive of films outside their usual fare. It also sends a blinding signal to the general public to embrace international cinema; something film fans and critics have been desperately begging for decades.

As Bong so eloquently put it at this year's Golden Globes, "Once you overcome the one-inch tall barrier of subtitles, you will be introduced to so many more amazing films." Amen to that.