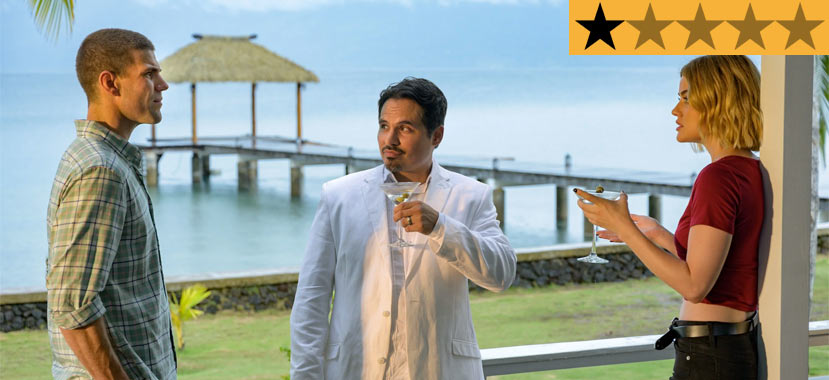 13 Feb

REVIEW – 'Fantasy Island' is one of the dullest horror movies of recent times

After bursting onto the horror movie scene back in 2009 with runaway hit Paranormal Activity, Blumhouse Productions has proven itself a major player in the genre. But for every spectacular success like the Oscar-winning Get Out and Insidious, they've also served up some absolute disasters like Ouija and Truth or Dare. In a curious move, Jeff Wadlow, director of the latter film, is being given another shot with Blumhouse's latest reimagining, Fantasy Island.

Taking mild inspiration from Aaron Spelling's 1977 television series of the same name (which, let's be honest, is unlikely to register any recognition with this film's core younger audience), Fantasy Island is sadly one of the dullest horror movies of recent times. Beset by a cast of genuinely irritating characters and a woefully silly plot, this unfortunate misfire wastes its promising premise and serves up little more than 110 minutes (!) of sheer boredom.

Without the faintest hint of setup, Fantasy Island begins with a private seaplane arriving at a lavish island resort (and, yes, someone on the island does indeed shout, "The plane! The plane!"), transporting five lucky contest winners to their prize; an all-expenses-paid tropical getaway with the promise their wildest fantasies will be fulfilled. Shortly after arrival, the island's mysterious owner Mr. Roarke (Michael Peña, who deserves better than this) explains he has crafted individual fantasies for each contestant that must be seen to "their logical conclusion." Righto.

As the gang discuss how exactly these fantasies will be created, be it virtual-reality, role play, or hallucinogenic drugs, constantly high-fiving brothers JD (Ryan Hansen) and Brax (Jimmy O. Yang) are the first lucky winners to be whisked away to receive their prize. After wishing to "have it all," the brothers are given an extravagant party thrown in their honour, complete with all the alcohol, drugs, and glamourous men and women they can handle. And, yes, one of the brothers is gay because, you know, diversity. And, no, this is not handled delicately at all.

Soon after, Melanie (Lucy Hale) is given the chance to enact her long-awaited revenge on Sloane (Portia Doubleday) aka the mean girl who made her life hell in high school, lonely Gwen (Maggie Q) is offered the opportunity to change the biggest regret of her life, and wannabe-soldier Patrick (Austin Sowell) finally gets his chance to enlist in the army and honour the memory of his fallen father.

While the group are initially amazed at how realistic these fantasies appear to be, they begin to wonder if their wishes may actually being magically granted for real. But, before you can say abracadabra, each fantasy takes a sinister turn, as the island unveils its true intentions and darkest secrets.

As our group of unfortunate victims is put through the wringer, Fantasy Island expects its audience to care whether this vapid group of insipid characters actually lives or dies. Frankly, you'll want to see the end of most, if not all of them. Whether it's the irritating dudebros JD and Brax, impassive Patrick, or the deep-as-a-puddle Melanie, there's nothing about these characters that elicit anything from an audience other than utter indifference. Every great horror movie needs at least one loveable character for a viewer to connect with but there's just nothing here.

The closest we get is Gwen, whose backstory of lost love, painful regrets, and missed opportunities is mildly engaging. But even she becomes entirely irksome after bizarrely deciding she no longer wants everything she said she wanted, spinning the narrative into an unfathomably idiotic finale that changes course so many times, it's rather difficult to keep up. It's as if screenwriters Wadlow, Chris Roach, and Jillian Jacobs (yes, it took three people to write this mess) couldn't determine which conclusion to go with, so they just went with all of them.

Despite the painfully obvious fact the fantasies are taking place over varying lengths of time, Wadlow ultimately decides to blend them all into each other, throwing caution to all sense of logic and believability that only becomes more ridiculous when a whole cavalcade of supernatural nonsense is thrown into the mix. Zombies and black goo and doppelgangers and eerie spirits. Oh, and Michael Rooker as a crazy forest-dwelling loon who may or may not be the hero our gang have been waiting for. It's all here and none of it makes a lick of sense.

At times, it seems Wadlow is attempting to toy with an audience by creating questions over whose fantasy we're actually experiencing and who truly is the ultimate puppet master of this insidious game. By the time the conclusion unveils the answers, you'll likely have stopped caring, especially after this film barrels on for close to two uncomfortable hours for no logical reason.

The greatest crime any horror movie can commit is to be boring. A horror film can be as nutty as a fruitcake, but as long as there's some entertainment value within, you at least feel like you've received something worthy of your money. Sadly, there's little enjoyment to be found with Fantasy Island. It's as uninspiring as the horror genre gets. You won't be scared. You won't be terrified. And you sure as hell won't be entertained.





Distributor: Sony Pictures
Cast: Michael Peña, Maggie Q, Lucy Hale, Austin Stowell, Portia Doubleday, Jimmy O. Yang, Ryan Hansen, Michael Rooker
Director: Jeff Wadlow
Producers: Jason Blum, Marc Toberoff, Jeff Wadlow
Screenplay: Jeff Wadlow, Chris Roach, Jillian Jacobs
Cinematography: Toby Oliver
Production Design: Marc Fisichella
Costume Design: Lisa Norcia
Music: Bear McCreary
Editing: Sean Albertson
Running Time: 110 minutes
Release Date: 13th February 2020 (Australia)