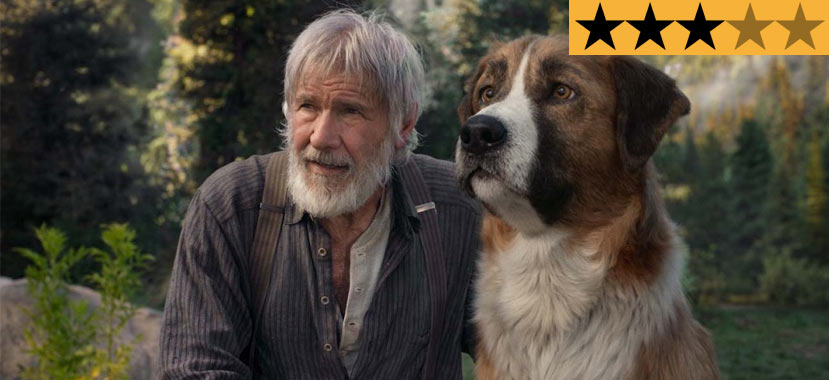 18 Feb

REVIEW – 'The Call of the Wild' is a decidedly old-fashioned movie we rarely see these days

It's been over 115 years since Jack London released his classic wilderness adventure The Call of the Wild; a book most of us were likely forced to read during our early school years. After several big-screen adaptations over the last few decades, it's time to dust off the novel once again with 20th Century Studios (so long, Fox) offering another take on London's work.

Given CGI photorealistic animals are all the rage nowadays, director Chris Sanders makes the confounding call to make his canine star Buck a completely computer-generated character. It's a daring move but one that almost proves fatal to this charmingly vintage tale that harkens back to the Disney adventures of yesteryear. While the CGI creation is expertly crafted, it rarely escapes your mind you're watching anything but a computer character.

Still, there's enough lively entertainment and a touching performance from Harrison Ford to truly save this film from itself. An enjoyable adventure with plenty of thrills to keep the young ones engaged, The Call of the Wild honours the deep connection between man and dog, while also capturing the beautiful majesty of Mother Nature and our complicated relationship with her.

Set during the Klondike Gold Rush of the 1890s, The Call of the Wild introduces us to Buck, a 140-pound St. Bernard/Scotch Collie pooch who's neither "house dog or kennel dog." Living blissfully in Santa Clara, California, Buck is beloved by his owner Judge Miller (Bradley Whitford), even when he does what all dogs do best and creates a giant mess.

After one disastrous dinner incident, Buck is booted outside to sleep on the porch, allowing an unscrupulous local the opportunity to kidnap the poor pooch and sell him to a local trading company in search of dogs for use in the gold rush. After arriving in Alaska by freight hauler, Buck is sold to Perrault (Omar Sy) and François (Cara Gee), a pair of French-Canadian mail couriers who recruit Buck to join their pack of sled dogs to battle through the treacherous Yukon Trail in the Klondike region of Canada.

Whilst in Alaska, Buck fatefully encounters John Thornton (a perfectly cast Ford), a grizzly outdoorsman in the grips of grief over the death of his estranged young son. When Perrault and François' mail route is shut down, John adopts Buck and the pair set off into the wilderness in search of a fabled untapped pocket of gold John had long hoped to discover with his son.

Alright, let's get straight to the elephant (or should that be dog?) in the room. Yes, Buck (and every other creature in this film) is an entirely CGI-created canine character. And, no, you rarely fail to notice that throughout the entire duration of The Call of the Wild. On a technical level, Buck is a beautiful creation likely to completely steal many hearts, especially those of dog lovers. But it rarely escapes your mind you're not watching an actual dog on screen, which can prove rather distracting for the majority of the film.

It's an inescapable fact that consistently pulls you out of the narrative, damaging its overall impact. It's not quite Cats-level distraction, but you never truly acclimatise and relinquish the idea that Buck is anything but a digital invention. That's not to suggest we're witnessing sloppy CGI work. Buck and his animal cohorts are dazzling photorealistic creations, blessed with far more emotional range than those seen in the impassive The Lion King or the disaster that was Dolittle.

It also helps these animals thankfully aren't required to talk, sing, or dance, which is decidedly refreshing these days. It's wildly impressive scenes between Buck and his sled dog cohorts work completely effectively without the use of dialogue, particularly a power struggle between our protagonist and alpha dog Spitz. The narrative instead tasks Buck with a series of astonishing feats a real dog simply could not perform, making the use of CGI entirely necessary. But in more intimate moments, it's rather confounding Sanders still employs the use of the digital pooch.

While establishing shots of the Yukon region and Alaska are captured with the sweeping majesty of two-time Oscar winner Janusz Kamiński's gorgeous cinematography, it's painfully obvious the bulk of The Call of the Wild was shot primarily on a sound stage with the use of green screens. Several CGI action sequences feel rather clunky, especially when Buck and John board a tiny boat and head downstream. No matter how hard Ford tries to convince us the pair are in perilous danger, it's abundantly clear he's sitting in a studio somewhere.

Thankfully, there's the occasional gripping set-piece to truly dazzle an audience, particularly a calamitous avalanche sequence that's a thrilling creation of sight and sound that truly rattled the entire cinema, elevated by Kamiński's frenetic cinematography. The scenes involving Perrault and François' dangerous mail delivery runs are equally entertaining, brought to life by Sy and Gee's energetic performances.

What ultimately saves The Call of the Wild is an endearing performance from Ford, who should win an Oscar just for keeping a straight face while performing opposite a motion-capture suit-clad Terry Notary. With all the grizzled weariness that's become a hallmark of Ford's recent work, John is strangely the film's true heart. The narrative finally comes alive when Buck's presence gives John a new sense of purpose and breaks him of the self-enforced isolation that's beginning to flirt with alcoholism. Ford seems far more engrossed in this role than most of his performances of late, offering a touching turn that's ultimately terribly heartbreaking.

The same can't be said of Dan Stevens, who plays against type as Hal, a petulant, gold-mad musher who briefly takes ownership of Buck. In a cartoonish and silly performance, Hal becomes the film's dastardly villain and sets about exacting vengeance on John for the barest of reasons. It's a shift by screenwriter Michael Green to avoid the novel's original ending and its painfully out-of-date depiction of Native Americans. But Stevens goes so over-the-top with his moustache-twirling villain that it simply feels out of place in such an otherwise earnest film.

At its heart, The Call of the Wild is a decidedly old-fashioned movie we rarely see these days. While it's hard to truly grasp who this film is targeted towards (one particularly shocking scene left several young members of my screening screaming in tears), there's a classic sensibility to its simplicity which is somewhat damaged by its bizarre reliance on new technology.

This is exactly the kind of film Walt Disney himself used to produce, echoing back to the days of family adventures like Old Yeller and Swiss Family Robinson. It's a tale steeped in tradition, begging the question of why more traditional filmmaking techniques weren't employed to capture its true essence. There's so much warmth here, but you really have to push yourself to find it.





Distributor: 20th Century Studios
Cast: Harrison Ford, Dan Stevens, Omar Sy, Karen Gillan, Bradley Whitford, Colin Woodell, Cara Gee, Scott MacDonald
Director: Chris Sanders
Producer: Erwin Stoff
Screenplay: Michael Green
Cinematography: Janusz Kamiński
Production Design: Stefan Dechant
Costume Design: Kate Hawley
Music: John Powell
Editing: William Hoy, David Heinz
Running Time: 100 minutes
Release Date: 20th February 2020 (Australia)