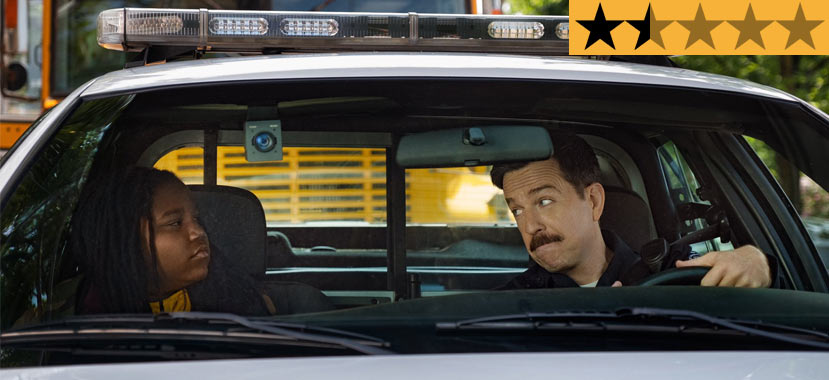 05 Apr

REVIEW – 'Coffee & Kareem' is a "comedy" light on laughs and heavy on profanity and violence

With all theatrical releases postponed for the foreseeable future, it's left to the litany of streaming services to carry the torch for original film content until it's safe to return to the cinema. Unfortunately, we're not in awards season mode, meaning a service like Netflix has little to serve up but bottom-of-the-barrel titles like Michael Dowse's Coffee & Kareem; a "comedy" light on laughs and heavy on profanity and violence, echoing everything wrong with his disastrous 2019 flop Stuber.

Netflix is a more suitable home for something so decidedly generic, making it the perfect kind of film most will throw on during quarantined isolation out of sheer boredom and likely instantly forget the second the end credits roll. Standing as a woeful attempt at homage to the buddy cop comedies of the 1980s, Coffee & Kareem seemingly forgets those films worked so well by offering two likeable leads and a hefty dose of witty comedy to capture an audience's attention. Neither of those elements exists here.

Bumbling Detroit police officer James Coffee (Ed Helms) is happily dating single mum Vanessa Manning (Taraji P. Henson, working overtime), much to the chagrin of her foul-mother wannabe rapper 12-year-old son, Kareem (Terrence Little Gardenhigh). Kareem sees James as nothing but an uncool white dude who isn't worthy of his mother's attention.

Despite James' overbearing efforts to connect with the youngster, Kareem wants the incompetent cop out of his mother's life as soon as possible. In an effort to spook James away from Vanessa for good, Kareem tracks down Orlando Johnson (RonReaco Lee), a drug-dealing criminal fugitive and social media rap star who recently embarrassingly escaped James' custody, leaving the veteran cop demoted to traffic duty.

When Kareem naively attempts to hire Orlando to rough James up, he witnesses one of Orlando's thugs murder a crooked police officer and inadvertently uncovers a massive web of police corruption. After James is framed for the murder and a target is placed squarely on Vanessa's back, he must pair up with Kareem to clear his name, save his girl, and expose the true criminal mastermind behind it all.

From here, it's an entirely foreseeable set of calamitous circumstances, overloaded with crass attempts at humour that mostly fall flat on their face. In one of the worst recent examples of a comedy dangerously flirting with homophobia, many of the film's nauseating one-liners are based around oral sex, pedophilia, and rape. One ludicrous conversation about how one should aggressively "talk gay" to sound tough is so woefully misguided, it's unfathomable the screenplay by Shane Mack was actually greenlit.

Far more embarrassing is the film's constant attempts to make light of racist police brutality against people of colour, as if that's something to be made fun of in a post-Black Lives Matter world. It's the sort of tone-deaf humour you'd expect from a white writer/director combo that genuinely has no idea how to satirise something which needs far more nuance than either of these two can muster up.

But the fatal flaw of Coffee & Kareem is how genuinely unlikable the titular duo both prove to be, making it rather unfortunate we're subjected to watching them essentially bicker at each other for 88 exhausting minutes. Helms' wonderfully endearing work on The Office is becoming more of a distant memory with every integrating big-screen character he continues to deliver. It's another beleaguered doormat one-dimensional character who becomes increasingly annoying as the film progresses. When you genuinely don't care if your lead character lives or dies, it's hard to care if he'll make it through a cop-on-the-run narrative.

As for Little Gardenhigh, he's given little to do but continually bark out an endless stream of profane insults from a screenplay that has zero clue as to how a 12-year-old would actually talk in the 21st century. Just try to stop your eyes rolling out of your head when Kareem gleefully describes his first masturbation experience as blowing his nose out his dick. Yes, that happens. Please tell me what 12-year-old would describe ejaculation in such a manner.

Thankfully, the film is somewhat saved by Henson and the continually-underused Betty Gilpin (someone please offer her something better), who shows up as James' ball-busting superior officer, who takes deft delight in continually ridiculing the useless cop. Both Henson and Gilpin take the lion's share of the film's few laughs like when Gilpin's Detective Watts barks at the male attendees of a local strip club to "go home and work on your marriages" or when Vanessa beats the absolute living hell out of a duo of goons sent to kidnap her. But both women are better than this drivel and you get the feeling they know it.

Much like Stuber, Coffee & Kareem lazily increases the violent action and incessant profanity in an attempt to keep an audience entertained. But the bombastic set pieces are so haphazardly constructed, offering little more than sequences we've seen in a hundred other films. By the time the film begins to turn to unnecessarily gruesome bloodshed, you've probably turned your attention to something else in your lounge room. That's probably for the best, as the later segments completely fall apart by some noticeably incomprehensible editing that feels like this movie was slapped together just days before streaming commenced.

It's genuinely unclear what Dowse was hoping to achieve here. If he was attempting to spoof films like 48 Hours (James' boss is named for that film's director) and Beverly Hills Cop, he's done little but prove the hidden brilliance of these 80s classics that simply can't be replicated in 2020. Coffee & Kareem isn't intelligent enough to be considered satire, leaving us with a film that has no idea what it is except a waste of 88 minutes.





Distributor: Netflix
Cast: Ed Helms, Terrence Little Gardenhigh, Taraji P. Henson, Betty Gilpin, RonReaco Lee, Andrew Bachelor, David Alan Grier
Director: Michael Dowse
Producers: Mike Falbo, Ed Helms, Sanford Nelson
Screenplay: Shane Mack
Cinematography: Brian Burgoyne
Production Design: Jeremy Stanbridge
Costume Design: Allisa Swanson
Music: Joseph Trapanese
Editing: Daniel Gabbe
Running Time: 88 minutes
Release Date: 3rd April 2020 (Australia)