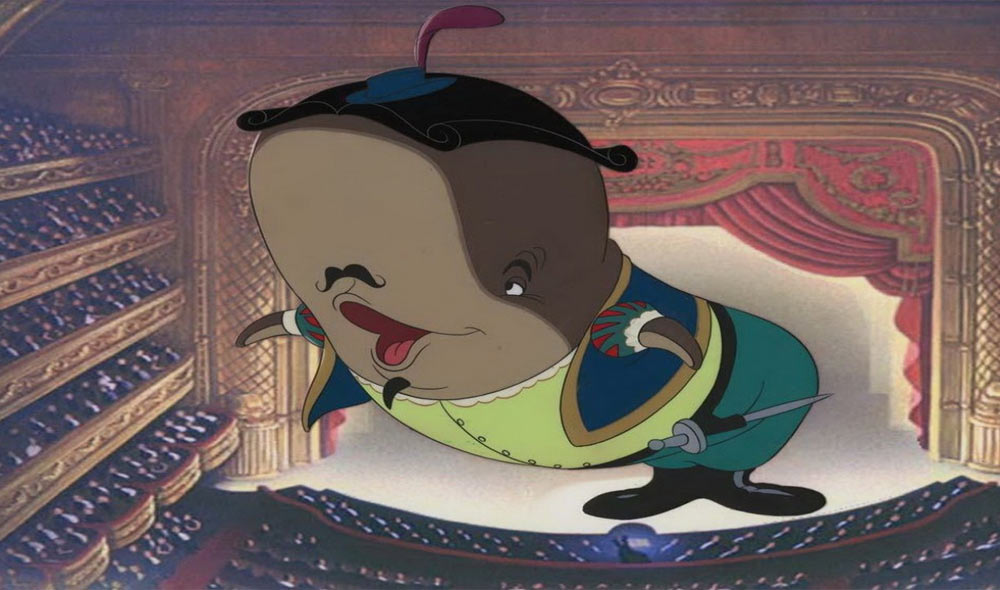 14 Apr

THE HOUSE OF MOUSE PROJECT – 'Make Mine Music'

The one that attempted to replicate a masterpiece.

When Walt Disney created Fantasia in 1940, the film was originally planned to be the beginning of an ongoing project for potentially decades to come. Walt envisioned releasing a new Fantasia film every few years, with updated musical segments mingled amongst a selection of the original sequences. In 1941, he even began initial story and animation development of several sequences based on the work of composers like Wagner, Debussy, and Stravinsky.

After Fantasia essentially flopped at the box office, Walt's grand plans were immediately put to bed. It would take another six decades for Walt's vision to become a reality when his nephew Roy E. Disney finally crafting the sequel his uncle had always dreamt of. In lieu of a Fantasia follow-up, the surprise success of Saludos Amigos and The Three Cabelleros gave Walt the idea to somewhat replicate the Fantasia structure but focus instead on other music styles.

While the end of World War II was in sight, Disney were still unable to elicit funds for feature film production, leaving Walt with no choice but to continue producing inexpensive package films. With a pile of unused concept art and story ideas lying in wait, he commissioned Make Mine Music; a lively celebration of both contemporary and classical music presented through ten cartoon shorts.

Of all the Disney films of this era, no film represents the studio's immense struggle more acutely than Make Mine Music. In short, the film is a mess of conflicting animation styles and music that truly feel like a desperate attempt to replicate the finesse of Fantasia on a shoestring budget. It's sadly a rather forgettable experience that's only further compounded by the studio's strange insistence on essentially pretending as if the film never happened.

For some inexplicable reason, Make Mine Music has been like the unwanted child of Walt Disney Animation Studios for many years now. The film received a paltry "Gold Classic" VHS and DVD release in the U.S. way back in 2000. This bare-bones edition was strangely edited to remove the film's original opening segment, The Martins and the Coys, due to its depiction of children playing with guns. The DVD release is also not broadcast by default in its original aspect ratio, meaning parts of the films are jarringly lopped off unless you tweak your TV settings.

It stands as the only film of the 58 titles in this project not to be available for streaming on Disney+. The film has never been released on Blu-ray anywhere in the world. In my home country of Australia, it has never received a release on any physical format, meaning most Australians have likely never even heard of this film. Unlike something like Song of the South, which has been vaulted for decades for its outdated cultural depictions, there is genuinely no explanation for the studio's complete disregard of Make Mine Music.

It's undoubtedly one of the lowest points in Disney's illustrious back catalogue of animated feature films. But one could say the same of almost all the 1940s era of package films, so it boggles the mind as to why Disney has seemingly ignored Make Mine Music by leaving it off their streaming service. When all is said and done, you're not exactly missing out by the inability to access this film. However, for completionists out there, it is frustrating to find a bizarre gap in the chronology of Disney's animated feature film history.

Of the nine shorts presented on the DVD (the tenth deleted sequence can be found on YouTube for those desperate to see it), only a handful are worthy of admiration. Make Mine Music opens with A Tone Poem, set to the music of the popular ballad "Blue Bayou." The animated sequence featuring two egrets flying through Florida's Everglades was originally intended for Walt's cancelled Fantasia sequel where it was to be accompanied by Debussy's classic lullaby Clair de Lune.

The music was even fully orchestrated and recorded by Fantasia composer Leonard Stokowski but was abandoned late in production and bizarrely replaced by "Blue Bayou," recorded by the Ken Darby Singers. While it's a rather sleep-inducing start to a film, the blue-hued animation is quite beautiful, even if the excessive use of the same colour begins to turn rather repetitive. The animation never quite matches the music, begging the question of why Debussy's piece was tossed aside when it seemingly would have fitted the sequence far more successfully.

The next segment All The Cats Join In (which is decidedly devoid of any actual cats) utilises the technique of an audience witnessing the animator's brush literally draw the on-screen action with the brush often struggling to keep up with the frenetic storyline. Set to popular jazz music of the era from Benny Goodman, the sequence focuses on a group of teens who congregate at a local dance hall before becoming a sequence of abstract animation where the notes of a jukebox burst to life. With an animation style more akin to that of Warner Bros., the sequence feels like something from another film entirely.

At just under four minutes long, the third segment Without You barely requires mentioning. A melancholy ballad of lost love performed by Andy Russell, the accompanying animation is equally depressing, with a single raindrop falling down a window, overlooking a line of leafless trees. It brings the mood of the film to a grinding halt that's thankfully elevated again by the lively fourth segment Casey at the Bat, a recital of Ernest Thayer's poem centred on a cocky baseball player whose arrogance is his undoing. It's the least musical piece of the film, but it's the one short that will likely grab younger viewers attention.

Our fifth segment moves back to more abstract art territory with Two Silhouettes, a wistful ballet featuring two rotoscoped (animation traced over live footage) ballet dancers, David Lichine and Tania Riabouchinskaya. It's another sequence likely to put some viewers to sleep, but the smooth tones of Dinah Shore singing the title song provide some enjoyment. Sadly, the animation lacks the sophistication of Disney's earlier work. With more production time and a larger budget, it could have been something spectacular.

One of the two longest pieces in the film, the sixth segment is a dramatisation of Sergei Prokofiev's classic children's musical composition Peter and the Wolf, featuring a young Russian boy setting off into the woods to hunt a deadly wolf. This piece was also originally planned for Fantasia, but Walt felt it was too targeted towards children. The sequence is narrated by Sterling Holloway, who would go on to voice two of Disney's most beloved characters in the Cheshire Cat and Winnie the Pooh. The animation here is some of the film's most striking and daring, particularly the spectacular character design of the menacing wolf.

Moving back to surrealism, the seventh sequence After You've Gone transforms Benny Goodman and his orchestra into a series of anthropomorphised instruments who dance and battle each other for no real reason. At one point, two detached hands morph into a set of piano-playing legs who dance along a keyboard in one of the most unsettling moments in Disney's history.

In one of the film's most memorable pieces, the eighth sequence Johnny Fedora and Alice Blue Bonnett tells the story of two hats in love (yes, you read that correctly), set to the voices of the famous Andrews Sisters who croon the details of this odd little romance. It's a strangely sweet piece that's surprisingly emotionally resonant. Poor Johnny has to suffer all sorts of hell in his quest to find his beloved Alice including being left abandoned in the gutter, tormented by a pack of dogs, and even locked up in jail. Yes, it never escapes your mind you're watching a pair of hats fall in love, but only the geniuses of Disney can make something like this actually work.

The final lengthy segment The Whale Who Wanted To Sing at the Met (yes, you already read that correctly) is the painfully bittersweet tale of a sperm whale named Willie who is blessed with the ability to sing opera in three different tones, all voiced by Nelson Eddy who also narrates the piece. When Willie makes worldwide headlines, famous opera impresario Tetti-Tatti sets out to track down the whale, suspecting the beast has actually swallowed an opera singer. It's an utterly absurd premise but one that somehow plays incredibly well on screen.

The highlight of the sequence is a fantasy montage where Willie dreams of taking the stage of the Met, where he belts out several famous operatic numbers including "Largo al factotum" from The Barber of Seville. The sight of Willie literally looming over the Met audience is genuinely striking, made all the more impressive by Eddy's magnificent voice. The segment ends in terribly morose fashion and stands as one of the few examples of Disney refusing to offer a protagonist the happy ending they seemingly deserve.

It's painfully obvious Make Mine Music was attempting to recreate the Fantasia formula, which, in retrospect, was always a foolhardy mission. Without the central theme of one music style, Make Mine Music simply doesn't flow in the same fashion as its other musically-minded counterpart. The film wildly jumps from classical to jazz to opera, feeling more like the cinematic equivalent of the most confusing Spotify shuffle playlist you've ever heard.

While the occasional moment of brilliance breaks through, viewing Make Mine Music is generally a waste of 75 minutes. There aren't official box office records for its initial release, but it was genuinely considered to be a failure, barely recouping its production costs. In future years, Disney would chop the film to bits and present its more popular segments as stand-alone animated shorts. Frankly, that's the only way this film should ever be viewed.

Is Make Mine Music a Disney Classic? Many consider Make Mine Music the "poor man's Fantasia," and they're not wrong. A Disney Classic it is not.