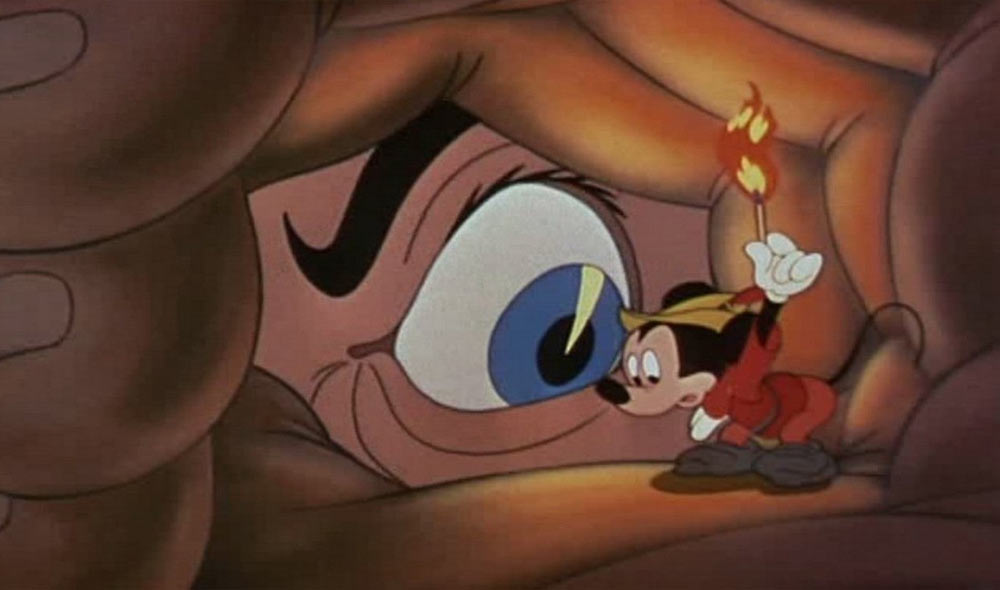 15 Apr

THE HOUSE OF MOUSE PROJECT – 'Fun and Fancy Free'

The one that seemingly forgets its own title.

By the mid-1940s, Walt Disney Productions were in dire straits. The end of World War II brought many of its animators and staff back to work, but they returned to a studio genuinely struggling to survive. After years of disappointing box office results for their package films and no further government funds coming Disney's way for army training films and propaganda pieces, the studio was on the brink of bankruptcy.

Even their animated shorts were beginning to suffer. After winning 10 of the first 11 Academy Awards for Best Animated Short Film, Disney hadn't won the award in years, with the Academy (and the general public) now swept up in the mania of MGM's Tom and Jerry shorts, created by William Hanna and Joseph Barbera. Desperate to elicit some much-needed funds, Walt Disney even begged RKO Radio Pictures to re-release Snow White and the Seven Dwarfs in 1944, which brought in a boost of funds to keep the studio's doors open.

Despite the end of the war, the Bank of America was still refusing to provide capital for Disney to recommence production on feature-length animated films. For the fourth time in five years, Walt was left with no choice but to cobble together yet another package film and hope it would be enough to save the studio from collapse. With Mickey Mouse's popularity continuing to wane, Walt decided it was time for the mouse to return to the big screen.

After bursting onto screens in 1928's Steamboat Willie, Mickey Mouse saw his fame lagging by the late 1930s. His appearance in Fantasia had given the mouse a much-needed boost. However, by the time the mid-1940s rolled around, fellow Disney compatriots Donald Duck, Goofy, and Pluto were far more beloved. Elsewhere, audiences were enamoured with the cavalcade of Warner Bros. stars like Porky Pig and Tweetie Bird. And, as aforementioned, that other rascally rodent Jerry of the Tom and Jerry shorts was quickly becoming America's favourite mouse.

To boost Mickey's popularity, Disney had envisioned casting the mouse in a feature-length animated retelling of the famous English fairy tale Jack and the Beanstalk. Way back in 1922, Walt had used the story as inspiration for a silent cartoon produced through his short-lived Laugh-O-Gram Studios. The tale had also provided the backbone for two Mickey Mouse animated shorts in the 1930s; Giant Land and Brave Little Tailor. In May 1940, pre-production began on the feature film, with Goofy and Donald cast as the supporting characters on Mickey's adventure.

Meanwhile, pre-production had also begun on another feature-length animated film entitled Bongo, which was to be based on the 1930 short story Little Bear Bongo by Sinclair Lewis, the first American to win the Nobel Prize in Literature. In its initial stages, Bongo was planned as a sequel to Dumbo, with several characters from the 1941 film set to appear as supporting characters. The script was finalised on December 8, 1941, just one day after the attack on Pearl Harbor.

The production of both feature films was soon thrown into turmoil, first by the animator's strike of 1941 and then by America's involvement in World War II. When work on all future feature-length animated film production was immediately halted, both Jack and the Beanstalk and Bongo were shelved, along with numerous other feature films already in pre-production.

With the animation and storylines of both films already well into production, Walt decided to trim elements from both Jack and the Beanstalk and Bongo and combine them to create the studio's fourth package film, Fun and Fancy Free. Walt also felt the animation already completed on both films wasn't quite sophisticated enough to hold back for the days when feature film production recommenced.

But, as with all of Disney's package films, Walt needed a framing device to bring them together. After stealing attention in Pinocchio, Jiminy Cricket was now one of Disney's most beloved characters. As such, it was decided to bring Jiminy back to the screen to introduce the two shorts and explain the film's rather misguided title. As Jiminy claims, the cartoons both share the universal theme of "fun and fancy free," which is genuinely far from the truth.

Fun and Fancy Free begins with Jiminy wandering through a stranger's home while noting that people take life too seriously and they should all live as he does; fun and fancy free. Never mind the fact the world had just suffered through a six-year war that claimed the lives of 75 million people. Hakuna matata! Sorry, wrong film. As Jiminy enters a young girl's room, he literally stumbles into a rather solemn-looking doll and an even sadder looking teddy bear.

To cheer everyone up, Jiminy decides to play a vinyl recording of Bongo, a musical tale narrated and sung by Dinah Shore. As the record plays, we meet the titular circus bear who spends his days performing for adoring crowds before being cruelly locked in a cage by the villainous ringmaster. Longing to live a fun and fancy free life in the wild, Bongo makes a daring escape from the circus train and heads off into the forest. On his second day of freedom, Bongo meets a female bear named Lulubelle and the two immediately fall in love. But Bongo soon has some stiff competition for her affection in the form of Lumpjaw, a brutish, gargantuan bear who immediately challenges Bongo to a fight to the death.

The initial designs for Bongo closely echoed those of Bambi, with realistic depictions of its woodland creatures, particularly its lead bear characters. But when the short was paired with the cartoon designs of Jack and the Beanstalk, Walt felt the leads needed to match the designs of Jiminy, Mickey, Donald, and Goofy. As such, Bongo and Lulubelle ultimately more closely resemble teddy bears than actual wild bears, which creates a bizarre aesthetic when placed in scenes with the realistic supporting character creations.

It's a charming little tale that takes a colourful detour into more abstract animation during a love-filled sequence where Bongo and Lulubelle bond. You've likely never seen a piece of animation with this many hearts within it. Heart-shaped clouds. Heart-shaped glasses. Heart-shaped balloons. Heart-shaped trees. We get it. They're in love. But it's truly the only moment in this entire film where the animators offer anything remotely visually dazzling.

When we return to Jiminy, the tale has put a smile on the faces of both the doll and teddy bear, leaving him feeling as though he's accomplished his mission. As it turns out, Jiminy has actually found himself in the home of Disney child star Luana Patten, who had just appeared in the Disney film we do not speak of, Song of the South. After rifling through her mail (yep), Jiminy finds an invitation to a party being held at the home of radio star Edgar Bergen and his ventriloquist dummies Charlie McCarthy and Mortimer Snerd.

As luck would have it, Edgar lives just across the street from Luana (what the odds?!), so Jiminy decides to join the party. He finds Edgar and his dummies regaling Luana with the tale of Jack and the Beanstalk. As the animated tale comes to life we join Mickey Mouse, Donald Duck, and Goofy as three fun and fancy free residents of Happy Valley, a bountiful countryside town kept thriving by a magical singing harp.

But when the harp is stolen by an unknown assailant, the town falls into poverty and its residents flee to avoid starving to death due to the consequential drought. As the last three remaining residents, Mickey, Donald, and Goofy are on the brink of death, with barely any food to keep them alive. In an act of hunger-induced mania, Donald almost murders their last remaining cow, in a sequence that is genuinely unsettling.

When Mickey foolishly trades the cow for some magical beans, Donald furiously throws them through a hole in the floor, causing a monstrous beanstalk to sprout from under their house and lift it high up into the sky. Once the trio ventures out into the clouds, they find the enormous castle home of the menacing Willie the Giant, who turns out to be the thief who stole the magical harp. It's left to our terrified trio to trick the giant and reclaim the harp to restore peace to Happy Valley.

Again, it's an enjoyable adventure with the classic animation Disney was known for. There's nothing particularly visually groundbreaking here, but it's always a delight to see Mickey, Donald, and Goofy team up together. It's a fairy tale most know well and the Disney animators try their utmost to elevate the production beyond its inexpensive budget. Willie the Giant is voiced by Billy Gilbert, who famously voiced Sneezy in Snow White and the Seven Dwarfs. His infamous sneeze is put to good use here, standing as a lovely homage to Disney's first feature-length animated film.

The inherent problem with Fun and Fancy Free lies with its bizarre title and desperate attempt at theming. Neither of these two animated tales follows Jiminy's mantra of living a carefree life. Neither Bongo or Mickey live a life free of worries. Quite the opposite, in fact. If the two shorts had just been presented without the use of the pointless framing device, the film would ultimately make far more sense. And the less said about the rather terrifying ventriloquist dummies, the better.

In the annals of Disney history, Fun and Fancy Free is really only notable for one thing; it stands as the final time Walt would voice his beloved creation Mickey Mouse. Since Mickey's debut in 1928, Walt had personally provided Mickey's famous high-pitched squeaky voice. But with a studio to save, Walt felt he simply didn't have the time or the energy to continue voicing the Disney star. It's also widely assumed Walt's years of habitual smoking had damaged his voice and he couldn't quite reach Mickey's register anymore. After the release of Fun and Fancy Free, sound effects artist Jimmy MacDonald would take over as the voice of Mickey Mouse for the next three decades.

With only two animated shorts, Fun and Fancy Free is a far more enjoyable viewing experience than the package films which preceded it. It's breezily entertaining enough to keep your attention, but never quite reaches the heights Disney so often achieved. Like every package film of the 1940s, Fun and Fancy Free served its purpose by keeping the studio running and eliciting enough cash to keep bankruptcy at bay. But an animated masterpiece it is not.

Is Fun and Fancy Free a Disney Classic? When compared to most of Disney's messy package films, Fun and Fancy Free shines brighter, but nowhere near enough to call it a Disney Classic.