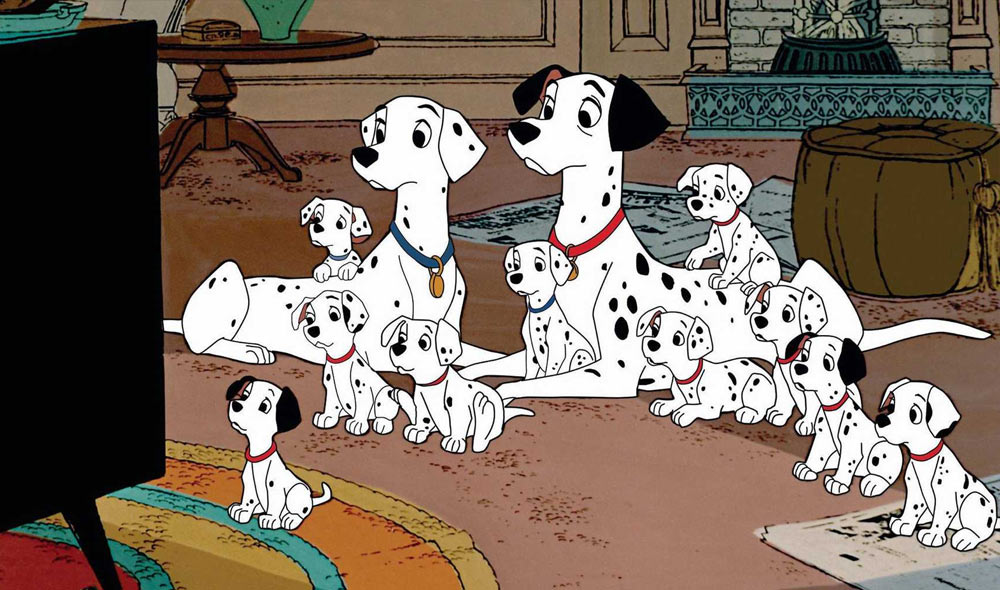 23 Apr

THE HOUSE OF MOUSE PROJECT – 'One Hundred and One Dalmatians'

The one that redefined Disney animation.

Are you ready for a shocking fact that will make your Mickey Mouse ears spin? You might want to sit down for this one. In 1959, Walt Disney was giving serious consideration to shutting down the animation department at Walt Disney Productions. Yes, the very studio who pioneered the field of feature film animation came achingly close to calling it quits.

In retrospect, you can't blame Walt for wanting to call it a day. While a handful of Disney's animated films had been huge box office successes, the majority had been financial disasters. Sure, several of those early flops could be attributed to the side effects of World War II, but the underperformance of Sleeping Beauty had cost the studio dearly and Walt began to ponder if it was time to give up.

But animation was in Walt's blood. It was the pursuit of a career in animation which had brought him to Hollywood and both animated shorts and feature films were the very foundation on which his company had been built. Shutting down his animation division entirely was simply something he could not do. Besides, by this point, Disneyland was now a roaring success, and Walt would need more animated characters and films to base his future attractions on.

As such, if Disney were to continue producing animated feature films, Walt knew numerous changes had to be made, namely those which would allow the studio to conserve spending and ensure animated films could turn a profit. The days of enormous budgets were gone, as were the intricate, detailed backgrounds, which may have looked artistically stunning but cost the studio a fortune.

Walt also decided it was best for the studio to focus on animated films exclusively starring animal characters and end its practice of adapting sweeping fairy tales. The studio's most popular animated characters were generally from the animal world and Walt felt feature films would have a greater chance of success if they were led by characters that played on the studio's strengths.

But there was still one issue holding Walt back from fully committing to producing a new animated feature film; the process of hand drawing and colouring each individual cel was incredibly time-consuming and expensive. Walt's "inker" department alone contained dozens of people (mostly women) whose meticulous work gave Disney films their classic aesthetic but pushed the budgets above what Walt was willing to pay.

The solution arrived through Ub Iwerks, Walt's oldest friend and the man responsible for first animating Mickey Mouse. Iwerks had been with the studio from the very beginning, animating characters in the Silly Symphonies series before pioneering several special effects techniques including the blending of live-action and animation in films like Song of the South. But his latest invention would not only revolutionise the Disney studio but the entire animation industry.

In 1959, Iwerks modified a Xerox photocopier which could now transfer animators' drawings directly onto animations cels, eliminating the need for the expensive ink painting process and allowing the animator's actual drawings to be displayed on screen for the very first time. The Xerox processing technique meant the lavish quality of inking was now gone, with characters only able to be outlined in strong black lines.

If an animator hadn't removed their pencil marks completely during the outlining process, the photocopier would naturally include them in the final drawings. By utilising a machine, the process lacked the intricate detailing only humans could produce, creating a final product which was cost-effective but nowhere near as sophisticated as Disney's earlier work.

Walt initially balked at the process, finding the final product crude and reminiscent of Disney's cartoon shorts of the 1920s and 30s. But with an animation department struggling to produce feature films which could earn the studio profits, Walt ultimately had no choice but to allow the Xerox process to replace the entire inking division. The decision saved the studio millions of dollars and ensured practically every animated film Disney released for the next few decades would at least break even.

As luck would have it, the first animated film produced using Iwerks' technique was a property which likely would have cost the studio millions and potentially been another financial disaster. In 1957, Walt purchased the rights to Dodie Smith's children's novel The Hundred and One Dalmatians, centred on a litter of 15 Dalmatians who are kidnapped by the villainous Cruella de Vil. After stealing 99 Dalmatian puppies, Cruella plans to skin them to make a glamourous fur coat.

The cost of animating the number of dalmatians (and their spots) in Smith's novel was likely to push the adaptation into the same expensive territory as Sleeping Beauty. However, thanks to the timely arrival of Iwerk's Xerox technology, the animators could now essentially photocopy the dogs and save the studio hundreds of thousands of dollars.

With the matter of budgetary concerns sorted, Walt greenlit the project, now titled to be One Hundred and One Dalmatians and eyeing a release sometime in 1961. Walt assigned senior "storyman" Bill Peet to adapt Smith's novel, making the first time in Disney history an animated film would be written by one single person. Peet condensed numerous elements of Smith's book and eliminated several characters in a bid to keep production costs low.

Just two months later, Peet had completed his manuscript, which Walt immediately approved. As Walt was becoming less involved with the production of animated films, he placed Peet in charge of not only storyboarding the entire film but overseeing the voiceover recording process as well. Peet's detailed and meticulous storyboarding essentially drove the entire production and it's rather staggering how closely his storyboards mirror the final film.

In a departure for the studio, One Hundred and One Dalmatians would be the first Disney animated film without true musical sensibilities. Walt felt it was time for the studio to modernise its animated films and offer something far more contemporary and unique. As such, One Hundred and One Dalmatians also stood as the first Disney animated film to be set in the present day without the usual fantastical elements the studio was so known for.

While the film may not have been a musical, Walt still wished for music to play somewhat of a role in the film. As such, Peet changed the male lead human character Roger from the "financial wizard" in Smith's novel to a down-and-out songwriter with a penchant for jazz and blues, allowing the score by Mel Leven to be less orchestral and far more modern. Leven also wrote numerous tracks for the film, but only two made the final cut; the swing-heavy "Cruella de Vil" and the rather silly "Kanine Krunchies Jingle" heard during a television commercial within the film.

In the decades which followed the release of One Hundred and One Dalmatians, Cruella de Vil would become one of Disney's most popular villains, especially with her unique design and outlandish personality. In reality, she's far from a true Disney creation at all, with the film closely echoing Cruella's designs and characteristics from Smith's book, which featured detailed descriptions of the antagonist, right down to her unique half black, half white hairstyle.

This made the task of animating Cruella much simpler than usual, given animator Marc Davis wasn't inventing something out of thin air. Regardless, Davis still crafted Cruella with the typical Disney flair for villains, allowing the character to steal focus every time she entered a scene. Davis was inspired by actresses Bette Davis, Rosalind Russell, and Tallulah Bankhead for Cruella's shape and features.

When Betty Lou Gerson was cast to voice the villain, he added cheekbones to Cruella's design to match those of the voice actress. With an exaggerated and often hilarious personality, Cruella was given an oversized fur coat to match her outlandish disposition, with the lining specifically chosen to be a bold blood-red colour to hint at her true devilish nature. There's also barely a scene where she isn't smoking a cigarette through a long, thin green holder, which has now caused the film to run with a disclaimer about its use of tobacco products.

The resulting cartoonish look of Cruella helped determine the entire background design aesthetic of the film, which itself was inspired by British cartoonist Ronald Searle, who was known for crafting cartoons with just the use of a single Mont Blanc ink pen. Background artist Ken Anderson echoed Searle's work with scratchy, simple designs that were far from realistic depictions of London and stood as something boldly different from a studio once bluntly determined to craft highly intricate and detailed creations.

One Hundred and One Dalmatians premiered on January 25, 1961, to positive reactions from critics, with Time magazine calling it "the wittiest, most charming, least pretentious cartoon feature Walt Disney has ever made." It struck a chord with audiences too, taking $15 million at the U.S. box office to end the year as the ninth highest-grossing film of 1961. In France, the film was somewhat of a sensation, becoming the highest-grossing film of the year and it still stands as the tenth highest-grossing film of all time.

For the first time in decades, a Disney animated feature no longer truly resembled a work of art. One Hundred and One Dalmatians is more of a feature-length cartoon than an animated film. That may not entirely make sense, but, when compared to Disney's previous work, the change in detailing and sophistication is notable and can be rather garish. That's not to suggest the film itself is "ugly." It's just…different. Walt set out to make something truly unique and he deftly succeeded.

Regardless of the dip in animation quality (which we're sadly now stuck with for the next three decades), Disney showed its true strength of great storytelling with a film that's still wonderfully entertaining and entirely adorable. Cruella is a deliciously nasty villain whose visual aesthetic is one of the most striking creations in all of Disney history. And the film's endless stream of canine characters are entirely charming, particularly those gorgeous puppies. Fun fact – if you keep an eye out, you will see cameos from several dogs from Lady and the Tramp throughout the film.

For better or worse, One Hundred and One Dalmatians redefined Disney animation and the advent of Xerox technology saved the studio from abandoning animated films altogether. In Walt's lifetime, the studio would never again produce an animated feature film that recaptured the artistic quality of the studio's dazzling early work. But they still knew how to craft animated characters whose legacy remains strong almost 60 years later.

Is One Hundred and One Dalmatians a Disney Classic? The animation style doesn't sit well with everyone, but it stood as a product of its time and allowed the animation studio to avoid being dismantled altogether. It may not be the most beautiful of Disney animated films but it's certainly entertaining and memorable enough to be considered a Disney Classic.