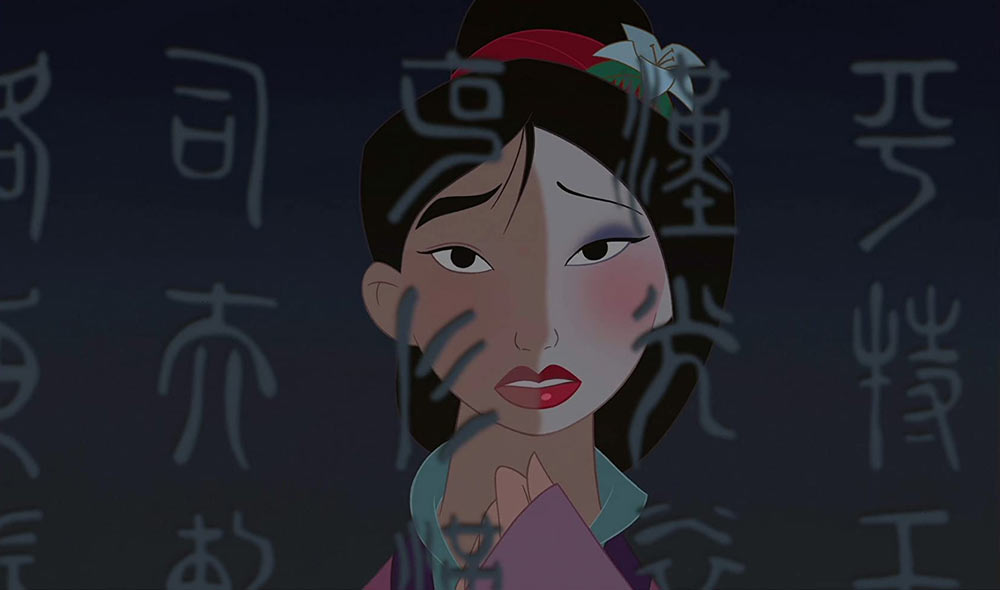 12 May

THE HOUSE OF MOUSE PROJECT – 'Mulan'

The one that broke new ground.

As the 1990s wore on, Disney was desperately attempting to turn the tide on the continual box office decline of its animated features. After the major success of films like The Lion King, Aladdin, and Beauty and the Beast, each proceeding film had failed to beat or even match the box office results of its predecessor. With their compatriots at Pixar breaking new ground with 3D computer animation, the days of traditional animation were beginning to look numbered.

But Disney wasn't ready to throw in the towel just yet, with a continued determination to craft animated features of high artistic quality that would hopefully also elicit the same box office dollars as the films of the early 90s. For their next animated feature film, Disney chose a foreign setting the studio had never dared touch and starring a race of people previous Disney animated films had embarrassingly poorly portrayed. Ambitious was an understatement.

In late 1993, the studio began to search for Asian-themed legends which could possibly lend themselves to an animated adaptation. At the time, Disney was keen to expand their scope of animated films outside the typical Anglo-Saxon narratives the studio had been crafting for the last seven decades. Their sights were firmly set on finding their first Asian hero or heroine.

The studio was currently in early pre-production work on a straight-to-video film entitled China Doll centred on an oppressed young Chinese woman who falls in love with a charming British man who whisks her away to live happily in London. Around the same time, the studio had also optioned several books by children's book author Robert D. San Souci. While both projects somewhat languished in development, Walt Disney Feature Animation President Thomas Schumacher asked Souci if he was aware of any other Asian stories that may be suitable for a feature-film adaptation.

When Souci presented Schumacher with a manuscript of a book based on the Chinese poem The Song of Fa Mu Lan, Schumacher decided to abandon the China Girl project and instead focus on creating an animated feature from the poem. Based on the ancient Chinese legend of Hua Mulan, the narrative told the story of a young Chinese girl who disguises herself as a man to take her father's place in the imperial army in their battle against the Huns.

Much to Schumacher's disappointment, Disney CEO Michael Eisner saw little potential in the project, with the studio more keenly focused on the production of The Hunchback of Notre Dame and Hercules. The pair of titles were seen as far more viable commercial prospects, with the studio's A-list Burbank, California animation department dedicated to both projects. However, Eisner still approved the Mulan pitch, and instead assigned the production to Disney's animation studio in Florida.

Established in 1989, Walt Disney Feature Animation Florida had initially opened with around 50 employees who occasionally assisted with feature film productions but mostly focused on creating short films, featurettes, and animation for the use in Disney's theme park attractions. The department was housed at the Disney-MGM Studios theme park in Orlando, with some animators sitting in glass cubicles that doubled as a behind-the-scenes attraction for theme park guests.

With no vacant animators in their Burbank studio, Eisner felt the Orlando studio was ready to independently produce their first feature-length animated film. Given he had such little faith in Mulan, Eisner assigned the project to the Florida team, who relished the chance to finally create their own film. With such a lack of executive focus on the production, Schumacher could essentially do as he pleased, including assigning two first-time feature film directors Barry Cook and Tony Bancroft to the project.

Cook has just completed directing the Roger Rabbit animated short Trail Mix-Up, while Bancroft had worked for Disney since 1990 as a supervising animator on productions including Beauty and the Beast, Aladdin, and The Lion King. In 1994, the two directors and key members of the production team spend three weeks in China to research the culture, architecture, and landscapes of locations including Beijing, Datong, Xi'an, and Dunhuang. The team took extensive photographs, video footage, and rough sketches to assist with perfectly the authenticity of the film's visual aesthetic.

Meanwhile, the story team were busy attempting to adapt Souci's original pitch into a rough screenplay outline, which initially essentially ignored the roots of the original Chinese poem. In the first draft of the script, the story was conceived as something more akin to a romantic comedy, with tomboy Mulan betrothed to a man she had never met. After a fiery confrontation with her father, Mulan disguised herself as a man and fled her family home to forge her own destiny, echoing a similar father-daughter narrative to that of The Little Mermaid and Aladdin.

In late 1993, storyboard artist Chris Sanders had just finished working on The Lion King and was hoping to be assigned to work on The Hunchback of Notre Dame. Much to Sanders' chagrin, Schumacher instead assigned him to the Mulan project and appointed Sanders as the Head of Story. He immediately noted how similar the narrative felt to other Disney animated films, particularly her conflict with her father, and implored producer Pam Coats to abandon the romantic-comedy concept and craft something more faithful to the original tale.

At the time, Coats and the story team were struggling with the current narrative ultimately presenting Mulan as somewhat of a conceited and selfish character that audiences would likely find unlikeable. She agreed with Sanders' suggestion and the script was completely reworked to echo the Chinese legend of a doting daughter who disguises herself as a man and joins the imperial army to save her father from certain death. Almost immediately, Mulan became a selfless heroine and the new breed of female protagonist Disney had been searching for.

But several Disney executives felt something was still missing from the narrative, with chairman and head of Disney Animation Roy E. Disney noting the film's lack of a scene-stealing supporting animal character like practically every Disney animated feature thus far. Think Genie in Aladdin, Jiminy Cricket in Pinocchio, or Sebastian in The Little Mermaid. Disney suggested adding a wise-cracking dragon named Mushu to provide comic relief and help guide Mulan on her perilous journey. Despite several objections from key members of the production team, they knew better than to question the nephew of Walt Disney, and Mushu was promptly incorporated into the script.

In a bid to capture authenticity in the film's character designs, the studio enlisted Chinese-born animator Chen-Yi Chang to design every single character of Mulan. In his youth, Chang had grown up with the fable of Hua Mulan and felt a strong connection to the project. For the film's background designs, production designer Hans Bacher and art director Ric Sluiter took inspiration from the visual designs of the Ming and Qing dynasties, closing mirroring art and architecture of both periods. Bacher spent months studying Chinese paintings and took heavy inspiration from their use of watercolour and simplistic designs to create his work.

For the lead role of Mulan, the production team were determined to cast an actor of Asian descent, particularly after receiving backlash for their whitewashing of the voice cast of Aladdin. Cook and Bancroft auditioned dozens of actresses from Chinese, Japanese, Filipino, and Korean backgrounds including future Lilo & Stitch voice artist Tia Carrere. They initially cast Filipino-born Lea Salonga, who had provided the singing voice of Princess Jasmine in Aladdin, but soon realised Salonga could not master the art of lowering her voice for scenes where Mulan had disguised herself as a man.

Coats soon suggested actress Ming-Na Wen for the role, particularly after noting her voiceover work during the opening of her film The Joy Luck Club. In her audition, Wen was able to capture both Mulan's feminine voice and her disguised masculine alter ego with perfect precision and was offered the part. However, Wen was not a trained vocalist, so the team asked Salonga to once again provide just the singing voice of a Disney animated heroine, continuing a growing tradition of one Disney character being voiced by two different performers.

For the role of wise-cracking Mushu, Schumacher encouraged the team to seek out a huge Hollywood star to echo the success of Robin Williams' performance as Genie in Aladdin. Coats approached comedian Eddie Murphy, whose career was transitioning from adult comedies into more family-friendly films. While Murphy was interested in the role, he initially balked at the idea of relocating to Florida to record his lines. To appease the actor's reluctance to commit to the part, the team allowed Murphy to record all his dialogue from his basement at his mansion in New Jersey.

Despite their desire to cast an Asian performer in the lead role, the production team dotted the remaining cast members with a bizarre mix of caucasian actors and actors of Asian descent. While Mulan's love interest Captain Li Shang was played by Asian-American actor BD Wong, the character's singing voice was provided by Donnie Osmond. And while several supporting roles were played by Asian-American actors Gedde Watanabe, Jerry Tondo, Jams Hong, George Takei, and Pat Morita, the film's antagonist Shan Yu was voiced by Miguel Ferrer, an actor of Puerto Rican descent. And let's not forget the fact Disney made the unfathomable decision to cast Broadway star Harvey Fierstein to play the portly Yao. Hearing Fierstein's distinctive husky voice behind an Asian face is a jarring experience, to say the least.

In March 1994, lyricist Stephen Schwartz was enlisted to create lyrics and music for the film, even joining the production team on their research trip to China. Upon his return, Schwartz was contacted by former Disney chairman Jeffrey Katzenberg to compose songs for the upcoming DreamWorks production The Prince of Egypt. After agreeing to the proposal, word got back to the Disney executives who were not impressed. Eisner flew into a furious rage and threatened to have Schwartz's name removed from the publicity for both Pocahontas and The Hunchback of Notre Dame. After refusing to abandon his commitment to Katzenberg, Schwartz left the Mulan project and the three songs he had written were subsequently dropped.

After Schwartz's departure, the team turned to musical composer Matthew Wilder and lyricist David Zippel to create five tracks for the film's soundtrack. Neither were comfortable crafting the film's instrumental score, leaving the team to approach English composer Rachel Portman, who had just finished composing the score for Emma, which would see her win an Academy Award in 1997. However, Portman fell pregnant during production and made the difficult decision to walk away from her contract. The team then approached composer Jerry Goldsmith, who was mostly known for composing the score of several Star Trek films. Goldsmith had long wanted to score a Disney animated feature and jumped at the opportunity.

After the disappointing box office results of The Hunchback of Notre Dame and Hercules, Disney scaled back its marketing campaign for Mulan, with a promotional budget totalling half of what they had typically been spending. After the extravagant and expensive media premieres of Pocahontas in Central Park, Hercules in Times Square, and The Hunchback of Notre Dame in New Orleans, Disney opted for a relatively subdued premiere for Mulan at the Hollywood Bowl on June 5, 1998.

Mulan was released on June 19, 1998, to relatively mixed reviews from critics. Roger Ebert called the film "an impressive achievement," while Time magazine praised the narrative for "reaching for emotions that other movies run from." However, The New York Times called Mulan the "most inert and formulaic of recent Disney animated films," and Entertainment Weekly found the film to be "artful and satisfying in a slightly remote way."

While the final box office result was higher than several of Disney's recent animated features, it still paled in comparison to the staggering returns of the early 90s films. In its opening U.S. weekend, Mulan grossed $22.8 million and would ultimately gross $120 million overall. The film would gross a further $183 million for a worldwide total of $304 million, which made it the seventh-highest-grossing film of the year. However, Pixar's A Bug's Life elicited $363 million worldwide, taking the crown as the most successful family film of the year, and, thus, beginning Pixar's dominance over its Disney counterparts.

At the 71st Academy Awards, Mulan received a nomination for Original Musical or Comedy Score, which it lost to Shakespeare in Love, but staggeringly failed to receive a nomination for Best Original Song. To add insult to injury, the award went to Schwartz for "When You Believe" from The Prince of Egypt, thus proving Schwartz was right to honour his commitment to Katzenberg and briefly establishing DreamWorks as the new king of award-winning animated musicals.

While the Academy may not have fallen for the film's soundtrack, it did ultimately launch the career of pop singer and former Mickey Mouse Club member Christina Aguilera, whose very first song was a pop cover of the film's lead track "Reflection." The song peaked at #19 on the Billboard singles chart and was ultimately so well received, it secured Aguilera a recording contract with RCA Records. Just one year later, Aguilera would release her self-titled debut album, which featured "Reflection" as one of the album's tracks. The album would go on to sell over nine million copies.

It's hard to truly quantify the groundbreaking stature of Mulan. As the first lead Disney character of Asian descent, Mulan stood as a landmark moment of cinematic representation of a race of people cinema has so often ignored. And continues to ignore. While Mulan didn't exactly start a wave of change in either Disney animation or Hollywood in general, it presented an authentic depiction of an Asian character from a studio with a chequered history of outdated Asian representations.

Just a few decades earlier, Disney had crafted borderline racist characters like the Siamese cats in Lady and the Tramp and Shun Gon in The Aristocats. And, yet, they showed their ability to progress beyond the mistakes of the past with something as wonderfully refreshing as Mulan. It's undoubtedly disappointing Disney wasn't able to stretch themselves further by offering the film to an Asian director, writer, or composer. Nor were they wise enough to cast every character with the voice of a performer or Asian descent. But you have to crawl before you can walk, and Disney showed their willingness to embrace a decidedly new style of heroine who still stands as one of their greatest creations.

What a moment it must have been (and still would be) for young Asian girls and boys to view a film like Mulan for the first time and see themselves represented on screen as the heroes of a Disney animated film. While this is still unquestionably an Americanised version of an Asian fable, the production team clearly attempted to craft something as authentic as they possibly could. Whether they achieved that is something only an Asian viewer can answer. But, as a piece of Disney animation, it's one of the most unique films they ever delivered.

Wen's performance as Mulan completely sells this film, full of the dedication, conflict, and determination of a warrior in the making. Her empathetic voice is completely endearing, crafting a new Disney icon who has stood the test of time. While Murphy's performance is painfully similar to that of Williams' Genie and the dragon character does truly feel like he was plonked into the script at the eleventh hour, Mushu is a true delight who livens up the serious narrative, particularly in its darker moments.

After decades of presenting female characters with little more than love on their brain, Mulan continued to push the ideas of what constituted a Disney heroine into new territory, offering up a decidedly feminist icon whose inner strength is practically unrivalled in the entire canon of Disney animation. This is a character every youngster should emulate. One whose love for her family is matched only by her devotion to her people.

While it was far from the entirely accurate cultural representation it could have been, Mulan shattered the preconceived notions of Disney animation and offered a unique perspective from a land American cinema so rarely ventures to. The studio needed more films like this. Sadly, its box office failure seemingly scared Disney back into its generic mould of Anglo-Saxon narratives. Somehow, that just makes Mulan all that more special.

Is Mulan a Disney Classic? It may not have broken box office records or won Academy Awards, but Mulan is one of the most inspired projects Disney ever tackled. Its heroine stands head and shoulders above her fellow Disney Princess pals (yes, Mulan is now officially considered a Disney Princess) and its beauty has only strengthened with time. This is an underrated Disney Classic well worth your time.