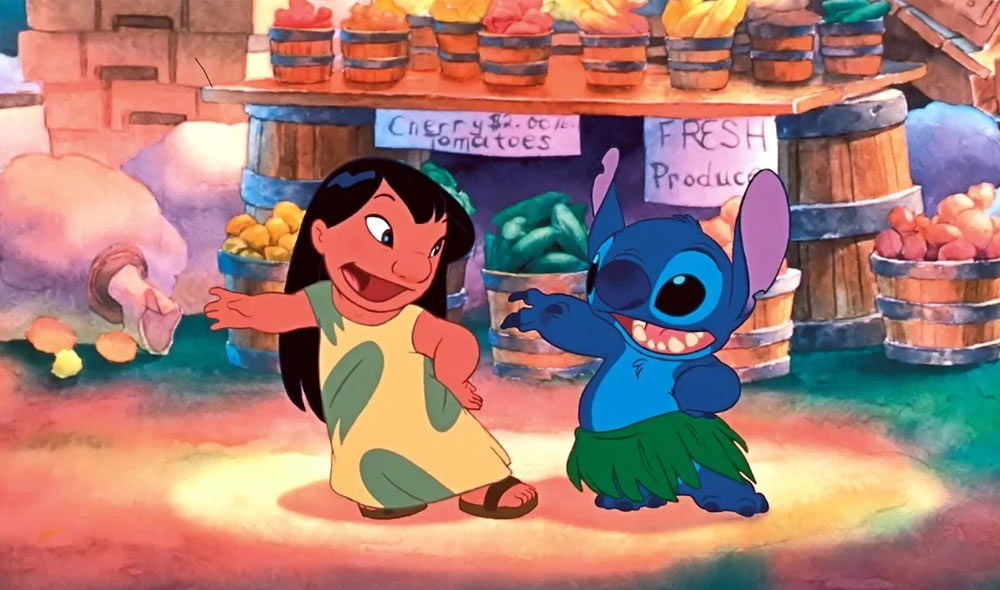 18 May

THE HOUSE OF MOUSE PROJECT – 'Lilo & Stitch'

The one that proved Disney still had it.

By the late 1990s, the Disney animation department was back on the chopping block. Despite several artistically impressive animated features, the box office results continued to dwindle. With Pixar continuing to capture huge audiences with its 3D computer animation, then-CEO Michael Eisner was beginning to question if the days of traditional animation were coming to a close.

It didn't help the studio already had several big-budget titles in development, with few looking likely to elicit the hefty profits of Disney's early 90s blockbusters. Inspired by a decision which saved the Disney studio in the 1940s, Eisner would ultimately push his team to create something incredibly inexpensive, but ultimately enormously profitable for the studio.

Back in the early 40s, Walt Disney was facing the unprecedented collapse of his animation studio after the devastating commercial failures of both Pinocchio and Fantasia. Walt had no choice but to instruct his team to quickly construct a hastily organised animated feature to be made as quickly and cheaply as possible, in the hopes its low margins would result in the high profits that would keep the company afloat.

Produced for less than a million dollars, Dumbo ultimately saved Walt Disney Productions with its huge box office result and large profits injected back into the studio. In the wake of similar commercial failures like Pocahontas and The Hunchback of Notre Dame, Eisner felt the best move for the modern-day Disney studio was to create its own Dumbo aka something quick, cheap, and highly profitable.

Under Eisner's instructions, Walt Disney Feature Animation president Thomas Schumacher approached head storyboard artist and Mulan co-writer Chris Sanders to pitch an idea to fit Eisner's brief. Back in 1985, Sanders had created a destructive alien character named Stitch for a children's book project which never came to fruition. Sanders felt the character was perfect for an animated feature and reworked the concept into Lilo & Stitch, which centred on the alien crash landing in Kansas and taken under the wing of a lonely young girl.

While Schumacher and Eisner loved Sanders' pitch, they balked at the Kansas setting, feeling the state's rural surroundings wouldn't exactly lend itself to colourful animated sequences. As such, Sanders moved the film's setting to the Hawaiian island of Kaua'i, which changed the entirely outlook of both the film's visual aesthetic and its plot. Eisner loved the idea, especially given no Disney animated film had ever been set in the island state.

Sanders enlisted his Mulan co-writer Dean DeBlois to co-write and co-direct the project with the head of Walt Disney Animation Florida Clark Spencer assigned to produce the film. Along with key members of the animation team, the trio spent two weeks on a research trip in Kaua'i to produce photographs, video footage, and create concept art for later reference.

But the trip ultimately proved far more impactful on the film's narrative itself, with a local guide explaining to the team the Hawaiian term 'ohana; a concept of family that extends beyond your immediate relatives. Sanders was so taken by the idea, it formed the central theme of the entire narrative of Lilo & Stitch, with Stitch essentially becoming a member of Lilo's 'ohana over the course of the film.

With this traditional Hawaiian concept in mind, Lilo evolved into a troubled little girl, who struggles with the loss of her parents and clashes with her beleaguered older sister turned guardian, Nani. After crash-landing on the island, Stitch is mistaken for a dog and taken to a local animal shelter. In desperate need of a true friend to call her own, Lilo adopts Stitch, who soon begins creating all kinds of havoc for both Lilo and Nani.

In a major departure for the studio, Lilo & Stitch would focus one of its core relationships on that of two sisters; something Disney had never attempted before and wouldn't again until Frozen in 2013. With Nani's difficulty with maintaining guardianship of Lilo, the film also presented a portrait of a dysfunctional family that tapped into the real-life struggles many Hawaiians were facing after the then-recent economic downturn following the U.S. recession of 2001.

To save on production costs and adhere to Eisner's instructions of an inexpensive property, Sanders and DeBlois chose to use watercolour painted backgrounds, which were far less detailed, thus requiring fewer production hours to produce. While the early Disney animated shorts and feature films had employed the use of watercolours, the studio had abandoned the practice after the release of Dumbo, making Lilo & Stitch the first Disney animated film in over 60 years to utilise the vintage technique.

While the decision was largely made for financial reasons, Sanders actually preferred the use of watercolours, which he felt evoked the storybook quality and lush art direction of Disney's early animated works. Sanders' team of artists required extensive training in working with the process, taking heavy inspiration from the background animation of Dumbo by studying the animation cels locked away in Disney's archive. At Spencer's insistence, the production was given to Walt Disney Animation Florida to produce, particularly after their success with creating Mulan on a tight budget.

Sanders designed most of the initial character designs himself, working from his own personal drawing style, which closely followed the traditional Disney house style. To limit production time, the sequences featured a minimal number of characters in each scene and severely reduced the use of expensive special effects work, with shading and shadowing work kept to a minimum. While the character cels were coloured digitally, the team avoided the use of the Deep Canvas software, which had caused the production budgets of both Tarzan and Atlantis: The Lost Empire to exponentially increase.

Following an exhaustive search of dozens of female child actors, Daveigh Chase was cast in the lead role of Lilo. Fun fact – Chase would later play Samara Morgan aka the evil girl from the well in The Ring. After initially being considered for the titular role in Mulan (the film's poster can curiously be seen in Nani's room), Tia Carrere was selected for the role of Nani, with Jason Scott Lee cast as Nani's love interest, David. As both Carrere and Lee are of Hawaiian descent, they assisted Sanders and DeBlois with rewriting dialogue with proper Hawaiian colloquial dialect and slang terms.

While Sanders provided Stitch's voice during pre-production, this was initially intended to be used as nothing more than a reference point for early animation designs, with plans to hire an actual voiceover artist later in production. However, everyone within the studio felt Sanders' performance perfectly captured the rambunctious spirit of the little alien and the decision was made to keep his work in the final film. Despite leaving the Disney studio in 2007, Sanders continues to voice Stitch in all official Disney media to this day.

Towards the latter stages of production, the team were faced with a major problem regarding the film's third act in which Stitch, Nani, Jumba, and Pleakley hijack a Boeing 747 (you can probably guess where this is going) from Lihue Airport and fly it through downtown Honolulu to rescue Lilo. Following the September 11, 2001 attacks on the World Trade Center and Pentagon, the sequence was hastily revised to replace the aeroplane with a spaceship and the sequence now taking place in the mountains of Kaua'i. To the filmmakers' relief, the revision proved relatively simple, with only a handful of shots requiring full re-animation, and barely affected the film's overall budget.

For the film's instrumental score, Sanders and DeBlois enlisted composer Alan Silvestri, who had not worked on a Disney production since Who Framed Roger Rabbit in 1988. As Lilo & Stitch would not be a traditional Disney musical, the film instead utilised the music of Elvis Presley to accompany key sequences, given Lilo was an adoring fan of the beloved musician. In total, five of The King's tracks were used for the film's soundtrack including "Suspicious Minds," "Heartbreak Hotel," and "(You're The) Devil In Disguise." The film is widely credited with introducing Presley's music to a new generation of fans.

To add a dash of local music to the film, the team turned to Hawaiian songwriter Mark Kealiʻi Hoʻomalu to compose two original tracks for the film, which he co-wrote with Silvestri. The resulting songs "He Mele No Lolo" and "Hawaiian Roller Coaster Ride" were performed by Kealiʻi Hoʻomalu with the Kamehameha Schools Children's Chorus.

For the film's soundtrack release, Disney enlisted country singer Wynonna to perform a cover of Presley's "Burning Love," while Swedish pop group A-Teens (remember them?) were enlisted to cover "Can't Help Falling In Love." The soundtrack was ultimately certified Platinum with sales in excess of 1 million units and peaked at #11 on the Billboard Album Chart.

In another major departure for the studio, Lilo & Stitch was initially marketed through the use of several parody teaser trailers, nicknamed "Inter-Stitch-als." In each trailer, Stitch interrupted famous scenes from Beauty and the Beast, Aladdin, The Little Mermaid, and The Lion King, causing chaos within each sequence including replacing Simba in the famous Pride Rock moment, stealing Jasmine from Aladdin during their magic carpet ride, and causing the chandelier to crash during Belle and Beast's romantic waltz. The trailers were a resounding success and built tremendous buzz ahead of the film's release.

Lilo & Stitch opened on June 21, 2002, to the best reviews for a Disney animated film in years. Roger Ebert called the film "one of the most charming feature-length cartoons of recent years—funny, sassy, startling, original," The New York Times declared it "an example of quiet, confident craftsmanship that tells a sweet, charming tale of intergalactic friendship," and Variety praised it as representing "a refreshing change of pace in Disney's recent animated output."

The film went on to gross $145.8 million in the U.S. and a further $127.3 million internationally for an impressive worldwide total of $273.1 million. While this was still far from the staggering box office totals of Disney's early 90s films, Lilo & Stitch was far more profitable, given its modest production cost of $80 million. But the true success of the film proved to be its hugely successful merchandise line, which continues to elicit millions of dollars for the studio to this day.

At the 75th Academy Awards, Lilo & Stitch became the first Disney animated feature film to be nominated for the recently-created category for Best Animated Feature. Despite a major campaign push by the studio, the film ultimately lost to Japanese animated fantasy film Spirited Away, directed by Hayao Miyazaki. As fate would have it, a Disney animated film would not win this category until Frozen in 2013.

Much like Dumbo, Lilo & Stitch revitalised the animation department and staved off the unavoidable demise of traditional animation for several more years. It's rather ironic two of the most inexpensive Disney animated films ever created ultimately proved to be far more successful than many of their big-budget counterparts. Despite being made in such inexpensive fashion, the visuals of Lilo & Stitch are simply gorgeous, with the watercolour technique perfectly capturing the lush beauty of Hawaii.

The film is a stark reminder you can't just throw money at a production and assume the end result will be something wondrous. It's a fact Disney simply failed to realise numerous times during this era. You can provide as many millions of dollars as you can muster for a film's dazzling animation. But, unless the story is there, it means absolutely nothing for the end result. Many of Disney's financial and/or artistic failures ultimately lack heart, and that's one element Lilo & Stitch has in abundance.

Whether it's the endearing story of a maniacal alien learning to love others or the touching tale of two sisters finding their feet again after a tremendous loss, Lilo & Stitch features one of the most deeply moving narratives of this era. With a narrative featuring a fractured family whose problems are practically ripped from the headlines, Disney proved its ability to present a highly intuitive film that felt extremely pertinent to modern audiences.

Lilo is a highly complex character, filled with anger, grief, and pain over her parents' death. It's undoubtedly clear she loves Nani, but acts like all petulant children do when faced with the difficult task of adapting to change, especially a confusing situation where your sister is no longer your best friend but rather a stern parental figure. As Nani struggles with dealing with Lilo's outbursts, we feel endless sympathy for her, as she desperately attempts to stop the authorities from taking Lilo from her care.

In the hands of lesser artists, Lilo could easily have been seen as a selfish brat who audiences would instantly reject. But Sanders and DeBlois craft the protagonist with deft care, allowing an audience to empathise with her plight and keenly understand her behaviour is nothing more than a product of a painful loss. Many likely dismiss Lilo & Stitch as just a wacky alien-out-of-water comedy, but it's ultimately one of the deepest and emotionally resonant narratives Disney has ever delivered.

While Stitch himself (I'm not entirely sure what pronouns the alien goes by, so my apologies if I'm misgendering the creature) has become terribly overexposed by the Disney studio, he is an adorable (albeit divisive) character who can't help but steal every single moment of this film. The heart of this film lies with his burgeoning kinship with Lilo, with the pair becoming the most unlikely of friends who somehow intimately understand one another.

In an era beset by dull disasters and overly ambitious flops, Lilo & Stitch stands tall as one of the greatest achievements of this difficult era in Disney animation. Sanders' performance as Stitch is now iconic in Disney folklore and has rightfully become one of the studio's most beloved icons. Lilo & Stitch proved Disney still had the ability to both entertain and capture your heart with one of its animated film, but its a talent they will soon lose complete control of.

Is Lilo & Stitch a Disney Classic? All it takes is one look at a Disney Store to appreciate the immense cultural impact of Lilo & Stitch. It has endured like no other film of this era and still offers a supremely enjoyable viewing experience almost 20 years later. There are few films of the early millennium you can consider a true Disney Classic. Lilo & Stich is one of them.