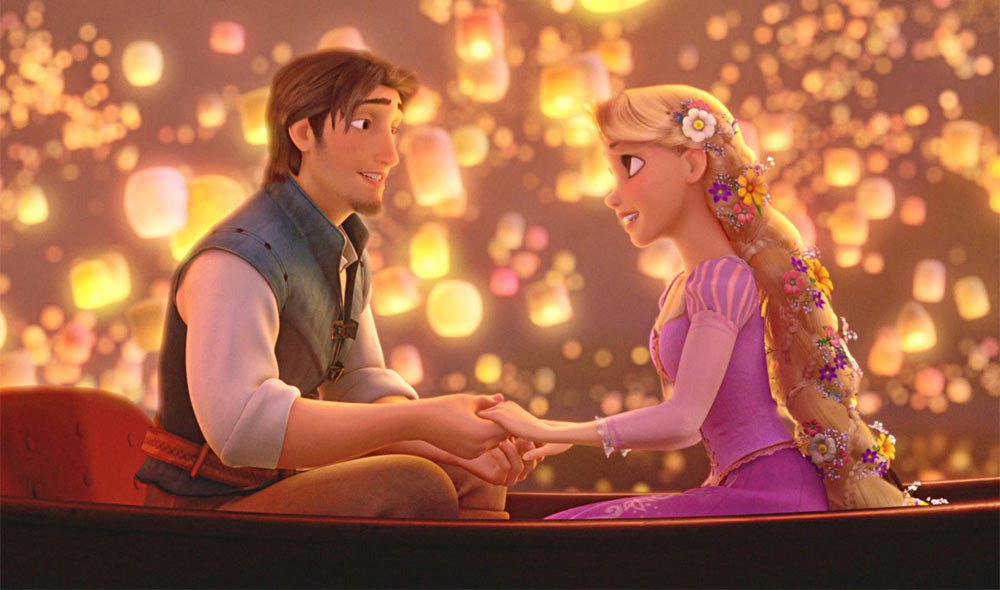 26 May

THE HOUSE OF MOUSE PROJECT – 'Tangled'

The one that marked a turning point for Disney animation.

When then-Disney CEO Michael Eisner announced the end of traditional animation in 2002, he almost caused a revolt amongst the studio's animators. Several of the animators who survived Eisner's extensive layoffs weren't entirely convinced computers should replace the art of hand-drawn animation, causing a fierce divide amongst the team between those already experienced in computer animation and those resistant to the idea of adapting their skills.

Desperate to resolve the situation, then-president of Walt Disney Feature Animation David Stainton begged veteran (and highly influential) animator Glen Keane to help convince the entire team that computer animation was the wave of the future and it was ultimately in the animators' best interests to evolve with the changing times. Keane agreed but with one important condition; if he successfully resolved the rift, Stainton would greenlight an adaptation of the Brothers Grimm fairy tale Rapunzel the animator had been developing since 1996.

After joining Disney in 1974, Keane was taken under the wing of legendary animator and member of Disney's Nine Old Men Ollie Johnston. The young animator quickly became one of the most prominent figures of the animation team and a leading figure in Disney's Renaissance period of the late 1980s and 1990s. Throughout his illustrious career, Keane created numerous iconic and beloved characters including Ariel from The Little Mermaid, Beast from Beauty and the Beast, and the titular characters of Aladdin, Pocahontas, and Tarzan.

During the production of Tarzan, Keane began to feel the studio was wrong to move away from the fairy tale adaptation that had proven so successful in the early 90s and began developing an animated musical adaptation of Rapunzel. Walt Disney himself had considered adapting the Brothers Grimm tale in the early 1940s, but shelved the idea when World War II forced the studio to cease production on new feature-length animated films.

After creating an initial story treatment and preliminary sketches, Keane pitched his idea to Eisner in 2001. Eisner immediately approved the project, but insisted the film had to be fully computer-animated, with the then-CEO clearly already prophesizing the eventual demise of traditional animation two years later. However, Keane was resistant to the idea, as he felt computer animation was still not as fluid or organic as traditional animation. As such, the project was put on hold while Keane wrapped up his work animating John Silver in Treasure Planet.

When Keane successfully managed to quell the animator revolt, Stainton stuck to his word and greenlit Rapunzel Unbraided in October 2003, with Keane approved to direct the film. Despite Keane's initial reservations, the pair agreed to produce the film with computer animation and set a release date target of late 2007. At the time, the studio was still pushing further away from fairy tale adaptations and encouraged Keane to develop Rapunzel Unbraided as something wittier and more humourous in the same vein as DreamWorks Animation's mega-successful Shrek.

At one point, Eisner had suggested setting the film in modern-day San Francisco before Rapunzel is magically transported into a fairy tale setting, but Keane couldn't make the idea work. After spending over two years on the project, Keane was still struggling with finding the right tone and angle for the film. In late 2005, Eisner pushed Rapunzel Unbraided back to a summer 2009 release in an attempted to give Keane more time to work on the story.

By January 2006, the studio wasn't convinced the film was feasible, especially the complicated animation of Rapunzel's gargantuan hair. Much to Keane's disappointment, the project was subsequently shut down. However, when Pixar's Ed Catmull and John Lasseter were placed in charge of Disney Feature Animation just one week later, they reviewed the cancelled project and saw the potential in Disney returning to the fairy tale genre. As such, one of their very first decisions was to restart the Rapunzel Unbraided project and instruct Keane to keep trying.

But Keane was still anxious over the idea of Rapunzel Unbraided being animated by computers, especially given Disney was still in the early stages of crafting its first fully computer-generated animated feature, Chicken Little. In an attempt to quell his fears, Keane held a seminar called "The Best of Both Worlds," where he gathered 50 of Disney's animators to discuss the pros and cons of computer animation. During the meeting, it was agreed the Rapunzel project would be made with 3D CG animation, but in a way that felt more like an extension of the fluid traditional "hand-drawn" 2D animation, with inspiration taken from The Illusion of Life: Disney Animation, a book written by legendary Disney animators Frank Thomas and Ollie Johnston.

In late 2008, tragedy struck when Keane suffered a serious heart attack, forcing the director to step back from the project he had been slaving over for five years. Lasseter handed directing responsibilities over to Bolt director Byron Howard and storyboard artist Nathan Greno, while screenwriter Dan Fogelman was enlisted to rework the troubled screenplay, with the title now shortened to Rapunzel. After Keane's recovery, he would eventually return to the project as an executive producer and animation supervisor.

While Fogelman kept the roots of the Brothers Grimm fairy tale, in that it would still feature a beautiful young woman with long golden hair who is trapped inside a tower in the middle of the woods, the storyline was drastically altered to create something more akin to a typical Disney animated adventure. In Disney's adaptation, Rapunzel would now leave her tower in search of the origin of mysterious floating lanterns that appear in the sky every year on her birthday.

To add a dash of typical Disney romance, Rapunzel would be aided by a handsome stranger in the form of rapscallion thief with a heart of gold Flynn Rider, who stumbles upon her tower and is blackmailed into helping Rapunzel venture to the kingdom of Corona (yep…) to discover the truth behind the festival of lights. Hot on their trail is the villainous Mother Gothel, who kidnapped Rapunzel from the King and Queen of Corona when she was a baby after discovering Rapunzel's long, golden hair contained magical powers that healed illness and offered eternal youth. After posing as Rapunzel's loving and protective mother for the last 18 years, Gothel is desperate to stop her "daughter" from uncovering the truth of her royal ancestry and keep Rapunzel's power to herself.

During Keane's initial development of Rapunzel Unbraided in 2004, Broadway star Kristin Chenoweth was cast in the titular role, while Reese Witherspoon was enlisted to voice an unnamed female character who Rapunzel would meet on her journey to Corona. However, Witherspoon departed the project in 2008 due to creative differences in regards to the script changes, with her agent stating the project is "no longer the film Reese had originally signed on to do." After the numerous production delays, Chenoweth was now 40 and the filmmakers felt she was simply too old to voice the 18-year-old Rapunzel, with the actress departing the project in early 2009.

The filmmakers began the search for a suitable replacement and insisted on avoiding the now-common practice of merely stunt casting an A-list celebrity in the role. After an exhaustive search of dozens of young actresses (including Chenoweth's Wicked co-star Idina Menzel), singer and actress Mandy Moore won the role after impressing Howard with her down-to-earth, girl-next-door quality that perfectly fit his vision of the heroine. Moore auditioned for the role twice, including performing a cover of Joni Mitchell's "Help Me" to display her vocal abilities. The actor has been a huge fan of Disney animated films and later described her casting as fulfilling her "ultimate childhood dream."

For the role of Rapunzel's love interest Flynn Rider, the production team auditioned dozens of young male actors including Dan Fogler, Santino Fontana (who would later voice Prince Hans in Frozen), and American Idol alum Clay Aiken, for some odd reason. After an enormously impressive audition, television actor Zachary Levi was cast in the role, with the filmmakers feeling he perfectly captured Flynn's cocky nature while still being entirely endearing. Levi performed James Taylor's "Sweet Baby James" during his audition to showcase his background in musical theatre. Flynn was initially written as a British character, requiring Levi to adopt a British accent for his audition and during early recording sessions. This was later dropped and Levi was allowed to use his natural American accent.

In the key role of the film's antagonist Mother Gothel, Greno and Howard turned to Tony Award-winning Broadway veteran Donna Murphy, who blew the production team away with her audition performance of "Children Will Listen" from the musical Into the Woods. Howard felt Murphy brought "something extra" to the role and was particularly impressed by her innate charisma and intelligence, which were key attributes to Mother Gothel's characterisation.

As Rapunzel was intended to stand as Disney's first computer-animated musical, Greno and Howard knew the only man for the job of composing the film's original music was Oscar-winning composer Alan Menken. Working with lyricist Glenn Slater, Menken composed four original tracks for the film including Rapunzel's "I Want" song in the form of "When Will My Life Begin?," a devilish villain song for Mother Gothel entitled "Mother Knows Best," and a sweeping love song for Rapunzel and Flynn titled "I See the Light." As Moore and Levi recorded their dialogue for the film separately, they met for the very first time when it came time to record their love duet.

For the film's visual aesthetic, Greno and Howard sought to model the animation style on the traditional look of oil paintings on canvas, particularly those of French artist Jean-Honoré Fragonard, whose style was known as romantic and lush. After Keane initially pushed for a fusion of 2D principles with 3D animation, the animators drew sketches using traditional pencil and paper methods, which were then scanned into computer software and manipulated into three-dimensional designs. The result was far softer and warmer than Disney's two previous computer-animated films, Chicken Little and Meet the Robinsons.

But there was still the issue of animating Rapunzel's extensively long hair, with the filmmakers stuck without any existing technology or software that could realistically create the heroine's infamous hairstyle. Greno and Howard ultimately turned to senior software engineer Kelly Ward, who had devoted ten years of her life and earned her PhD in the animation of human hair. Ward developed a hair simulation software program called Dynamic Wires, which was able to design and animate over 140,000 individual strands of hair. The program saved the animators months of work, with animation able to be crafted in minutes instead of days.

While Keane was still attached to direct the project, his character design of Rapunzel was influenced by the facial features of his daughter, Claire, and of Ariel from The Little Mermaid. Claire was a visual artist herself and the film used several of her original paintings to decorate the walls of Rapunzel's tower. Flynn Rider went through various different designs, with Greno and Howard wanting him to be the most handsome animated Disney male lead ever created.

In a bid to fulfil their goal, the directors held a "Hot Man Meeting" where they gathered 30 women from the studio and asked them what they considered attractive in a man. The directors used hundreds of images of famous male celebrities in a bid to determine the most desirable individual features of each man. The women were also asked for feedback on numerous concept sketches for the character, which helped the filmmakers narrow down Flynn's final design to the one we see in the final film. And, I think we're all in agreement, they succeeded in spades.

After the box office disappointment of The Princess and the Frog in 2009, which some deemed was due to the use of "princess" in the title, Iger and Lasseter became concerned the title Rapunzel was too female-centric and would likely alienate young boys from wanting to see the film. While the film was undoubtedly Rapunzel's story, the narrative focused just as heavily on Flynn's character journey and featured plenty of action-packed sequences to delight both genders of children. As such, in February 2010, the film was retitled to Tangled.

Tangled was released on November 24, 2010, to overwhelmingly positive reviews from film critics. The Los Angeles Times described the film as capturing a "gorgeous computer-animated look that features rich landscapes and characters that look fuller and more lifelike than they have in the past," The New York Times praised the film as "the 50th animated feature from Disney, and its look and spirit convey a modified, updated but nonetheless sincere and unmistakable quality of old-fashioned Disneyness," while Filmink called the film "animation of the highest order."

The response from the public was unlike anything Disney animation had seen in over a decade, with Tangled ultimately becoming the second highest-grossing Disney animated feature of all time at that point. The film grossed just over $200 million in the U.S. and a further $391 million for a staggering worldwide total of $592 million, which was more than the combined total gross of Disney's two previous animated features, Bolt and The Princess and the Frog. Despite its unprecedented critical and commercial success, Tangled was not nominated for Best Animated Feature at the 83rd Academy Awards, though Menken and Slater did receive a nomination for Best Original Song for "I See The Light."

Tangled ultimately marked a true turning point for Disney animation, with the studio finally proving they could craft a dazzlingly beautiful and narratively impressive computer-animated feature film. Despite its unfathomable Oscar snub (hang your heads in shame, Academy), the film deftly showed Disney were ready to challenge Pixar at their own game. With its remarkable box office success, Tangled also validated Keane's summation Disney was clearly wrong to shy away from fairy tales adaptations for the majority of the 21st century.

The animation of Tangled is a true thing of beauty and deftly showcased why blending 3D animation with traditional stylistic choices was the key to Disney's success with the burgeoning technology. After two attempts at computer animation, Disney had finally cracked the code on producing an aesthetically gorgeous piece of computer-animated cinema, and, of course, it took falling back on classic sensibilities to get there. From the evocative background animation to the sublime character designs, every visual element of Tangled is an absolute masterpiece.

In the endlessly lovable Rapunzel, Disney once again delivered a refreshingly unique style of animated heroine, whose goal in life has nothing to do with love and everything to do with finding her identity and place in the world. Yes, they had to throw in a gooey romance story for our protagonists, but it's not the inherent heart of this film. Much like Tiana and Naveen in The Princess and the Frog, Rapunzel and Flynn ultimately teach each other plenty of important life lessons and evolve to become more rounded characters by the film's conclusion.

The greatest Disney films soar for many reasons, but a spectacularly menacing villain is a key factor to success. In Mother Gothel, Tangled offers one of those most diabolical antagonists in its history. While Gothel's quest for eternal youth is tame by comparison to some of her world-domination-obsessed villain counterparts, it's her sociopathic behaviour that makes her so genuinely terrifying. The methods in which Gothel emotionally manipulates her "daughter" is truly unnerving, especially when you realise she's been at it for 18 years. And, if you pay close attention, any time Gothel shows Rapunzel any physical affection, it's only ever towards her hair, highlighting where her true loyalties lie.

Tangled took the best aspects of traditionally animated Disney films and delivered them in a completely new way. Greno and Howard keenly understood the history of Disney animation and sought to recapture the magic in computer animation form. The result was a resounding success and the glorious moment Disney stamped its claim as a genuine player in the world of computer animation. The future of the animation studio was suddenly looking bright again. They had finally seen the light.

Is Tangled a Disney Classic? An amalgamation of the old and the new, Tangled broke new ground for a studio genuinely struggling with the dawn of a new style of animation. Without this film, Disney may have simply abandoned the art of computer animation and yielded to their Pixar rivals. Its success paved the way for the next decade of Disney animation, which unquestionably makes Tangled a Disney Classic.