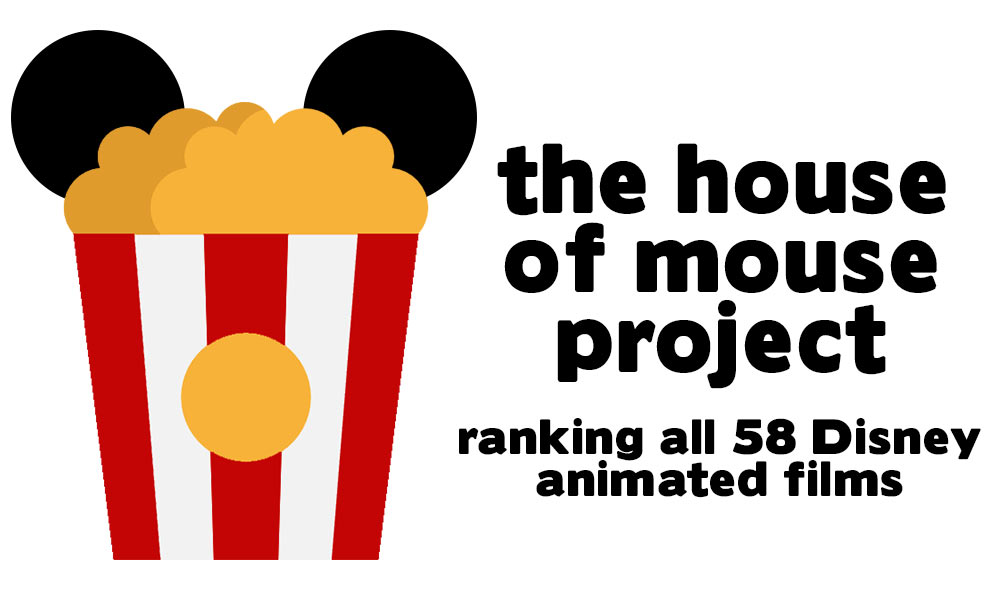 05 Jun

THE HOUSE OF MOUSE PROJECT: Ranking all 58 Walt Disney Animation Studios films

After 58 days and 58 films, The House of Mouse Project has drawn to a close. A dizzying journey through the soaring highs and crushing lows of Disney animation, the project has been a beautiful distraction from the uncertainties of the world. As initially promised, it's time to rank all 58 films and uncover which Disney animated film is the greatest of all time. Place your bets, it's time to start the countdown.
58. Home on the Range (2004) –

full article
Well, there has to be a low point, and Walt Disney Animation Studios reached rock bottom in 2004 with the confoundingly annoying and dreadfully pointless Home on the Range. Unless you find yourself with the sudden urge to hear Dame Judi Dench voice an uppity cow or Randy Quaid voice a yodelling cowboy, there's little reason to bother with this film. The storyline is an absolute mess, the animation is flat, and the music is instantly forgettable. Home on the Range all but killed 2D animation, with the art form ending not with a triumphant bang, but a flat moo.
57. Make Mine Music (1946) –

full article
The unwanted child of Disney animation you inexplicably won't find on Disney+, Make Mine Music is a film Disney has all but disregarded in recent years. Sure, it's one of their worst creations, but it's entirely harmless, making its absence from Disney's extensive streaming service catalogue a decidedly bizarre decision. It's painfully obvious Make Mine Music was attempting to recreate the Fantasia formula, which, in retrospect, was always a foolhardy mission. The film wildly jumps from classical to jazz to opera, feeling more like the cinematic equivalent of the most confusing Spotify shuffle playlist you've ever heard. While the occasional moment of brilliance breaks through, Make Mine Music is mostly a waste of 75 minutes.
56. Melody Time (1948) –

full article
The 1940s were a deeply difficult period for Disney animation, with the studio pumping out inexpensive package films in a desperate attempt to remain afloat until the end of World War II. With American patriotism riding high after the Allied Victory, Walt Disney commissioned another series of cartoon shorts combining pieces of varying styles of music with equally fluctuating styles of animation, with several segments highlighting a few well-known icons of American folklore. Melody Time feels like yet another patchwork of cartoons with nothing in common but the use of music and the experience of viewing the film again feels like a frenzied journey through a strange songbook that simply doesn't make sense.
55. Fun and Fancy Free (1947) –

full article
By the late 1940s, the popularity of Mickey Mouse was starting to wane. With Walt Disney still unable to attain capital for Disney to recommence production on its feature-length animated films, Walt cobbled together yet another package film, which would also mark Mickey's return to the big screen. Walt combined adaptations of Jack and the Beanstalk and Bongo into the studio's fourth compilation release, Fun and Fancy Free, with neither tale ultimately living up to that title. With only two animated shorts, Fun and Fancy Free is a far more enjoyable viewing experience than the package films which preceded it. It's breezily entertaining enough to keep your attention, but never quite reaches the heights Disney so often achieved.
54. Oliver & Company (1988) –

full article
Disney's bizarre attempt to create Oliver Twist with dogs certainly has its fans, particularly amongst older millennials who hold a special place in their hearts for this film. And Oliver & Company ultimately paved the way for Disney's eventual revival one year later. However, the late 80s setting is now terribly dated, particularly the accompanying retro musical numbers and saxophone-heavy score. It's rare to see Disney set an animated film in present-day, and Oliver & Company proves why it's a risky move to make. That being said, the film moved the studio back towards crafting musically-minded animated films, which would prove to be the key to their success in over the next two decades. As a family-friendly tour of New York City with a bevy of animals as your guide, Oliver & Company works quite well. But as an engaging and captivating piece of feature-length animation, it simply doesn't match what Disney was about to unleash on the world.
53. The Black Cauldron (1985) –

full article
One of the most ambitious animated films in Disney's history proved to be one of its biggest disasters. A box office flop that almost killed the entire animation department, The Black Cauldron was intended to usher in a new era of Disney animation. But its total rejection by audiences ultimately forced the studio to rethink their entire outlook, leading to a return to musicals and the birth of Disney animation's revival. At the time, The Black Cauldron was the most expensive animated film ever made, and it shows. The animation is truly spectacular and unlike anything Disney had previously created. However, the film falls flat on its face with its dull characters and storyline that both leave very little impression. For all its visual splendours, The Black Cauldron seemingly forgets it needs an engaging plot and endearing characters to become the groundbreaking success it ultimately should have been.
52. The Adventures of Ichabod and Mr. Toad (1949) –

full article
Disney's final film of the 1940s is one of the better achievements in a rough era in Disney's history, but that's not saying a whole lot. Throughout a period of terribly disappointing films, The Adventures of Ichabod and Mr. Toad is the sole Disney package film that genuinely fits the visual aesthetic and narrative styles of the studio's earlier feature films. It's crafted with the same sophistication and emotional resonance as the films that defined what Disney were capable of. The film hinted at the remarkable revival that was just around the corner and elicited enough funds to keep the studio functioning. And Mr. Toad even became a breakout star of his own, with a Disneyland ride to boot.
51. Treasure Planet (2002) –

full article
After spending 15 years begging with Disney's studio executives to greenlight their passion project, directors Ron Clements and John Musker saw their dream turn into a nightmare, with Treasure Planet becoming one of the biggest flops in the history of cinema. With a gargantuan budget of $140 (plus a further $40 million in marketing costs), the film only managed to gross a middling $109 million worldwide, ultimately losing the studio more money than any other film in its entire history. Treasure Planet stood as a sparkling display of the wonders of computer animation, with Clements and Musker truly pushing the envelope on the possibilities of the burgeoning technology. It's a mighty shame more time wasn't spent on creating a more rounded piece of cinema that understands the importance of a great script to complement dazzling visuals.
50. The Sword in the Stone (1963) –

full article
Inspired by the 1960 Broadway production of Camelot, Walt Disney decided it was time for his studio to tackle its own medieval production with an animated retelling of the story of King Arthur. Playing on the strengths of films which preceded it, The Sword in the Stone would star anthropomorphic animals, much like Dumbo and Lady and the Tramp, and its narrative would be inherently rooted in magic, much like Peter Pan and Cinderella. It's a shame that's where the similarities to those Disney classics ends. The animation is relatively crude and the narrative is far from anything genuinely entertaining. It's an episodic film which echoes the structure of Alice in Wonderland but without the vivid animation or lively characters to truly capture your interest.
49. Chicken Little (2005) –

full article
Standing as Disney's first true foray into the world of computer animation, Chicken Little had a heavy burden of responsibility to carry. While the film was ultimately a box office success, it was savaged by critics and has mostly faded into obscurity over the last 15 years. It was an earnest first attempt at computer animation that proved Disney still had a long way to go before they could go toe-to-toe with the likes of heavyweights like Pixar and DreamWorks. The film is littered with confounding character decisions and enormous plot holes, namely surrounding the alien technology. The animation is horribly amateur and unpolished, with several garish character designs proving to be rather offputting. It was painfully obvious the Disney animation team were completely out of their depths with Chicken Little and still bumbling their way through the new technology.
48. Atlantis: The Lost Empire (2001) –

full article
Another highly ambitious but financially disastrous production, Atlantis: The Lost Empire featured a striking visual style unlike anything Disney had produced to that point. While its bold visual aesthetic is wildly impressive, it's a disappointing case of style over substance. The plot falls victim to an uncomfortable white male saviour narrative and leaves its strong indigenous female character languishing in the background. While its storyline is horrendously dull and its characters are terribly flat, the spectacular animation features several stunning scenes brought to life through a fusion of computer animation with comic book artist Mike Mignola's unique style. It's a beautiful film to behold, but very little else.
Standing as one of the first animated features produced after the death of Walt Disney, Robin Hood sought to capture the magic of the past by literally repeating it. After the production fell disastrously behind schedule, the animators were left with little choice but to recycle animated sequences from other Disney properties, namely Snow White and the Seven Dwarfs, The Jungle Book, and The Aristocats in order to meet the film's tight deadline and low production budget. A product of a difficult time at the Disney studio, Robin Hood is a mish-mash of reused animation and character designs which leaves many Disney enthusiasts with a sour taste in their mouths. It's one of Disney's least original creations, compounded by its achingly familiar narrative which offers little more than other adaptations of the classic fable besides animals replacing humans.
46. The Rescuers Down Under (1990) –

full article
Wedged between two masterpieces, The Rescuers Down Under has always suffered by comparison to The Little Mermaid and Beauty and the Beast. A box office flop that couldn't match the unprecedented success of the Disney Renaissance, this unexpected sequel was little more than a test case for the burgeoning CAPS technology that opened new doors for Disney animation. It's clear the animators wanted to show off the CAPS technology and take full advantage of the endless possibilities the new technology provided. However, while the animators offered dazzling sequences never before seen in animated feature films, they seemingly were too distracted by their shiny new toy to craft an engaging narrative and captivating characters to compliment the remarkable visuals.
While it would still take several more years for Disney to fully dive into the world of computer animation, they began the new millennium with a feature unlike anything they had produced thus far. Created by The Secret Lab, a newly-formed group of computer animators working within the Disney studio, Dinosaur would blend computer-generated dinosaur characters with live-action background footage in a bid to create something truly something special for early millennium audiences. The film has not aged particularly well, with its visual effects looking decidedly hokey by today's standards. It also doesn't help the narrative is mostly a god-awful bore, beset by cliché moments, dull dialogue, and stereotypical characters. For all its technical accomplishments, Dinosaur faded into memory by being standing as a dazzling display of computer-generated animation and very little else.
44. The Fox and the Hound (1981) –

full article
Beset by a troubled production that saw several animators resign in protest over the creative direction of the project, The Fox and the Hound arrived during a difficult transition period for the Disney studio. But its surprise box office success kept the Disney animation department in business, even if they continued to pump out subpar feature films for the rest of the decade. While the animation is far from groundbreaking and the narrative feels too familiar to numerous other Disney animated tales, The Fox and the Hound offered a surprisingly deep message regarding the power of friendship and the follies of prejudice. It delivered a mismatched duo of friends who broke societal expectation and encouraged its audience to do the same. For a film of the early 1980s, it's a surprisingly woke piece of cinema well ahead of its time.
43. Saludos Amigos (1943) –

full article
With America now joining the war efforts in Europe and most of the international cinema market non-existent, the financiers at Bank of America refused to loan Walt Disney any further capital unless he agreed to only produce short films. After returning from his government-sanctioned "Good Neighbour" tour of South America, Walt commissioned Saludos Amigos, a live-action/animated package film featuring documentary footage shot during the tour mixed amongst four new animated shorts. The shorts were ultimately crafted to educated American audiences on Latin American culture and were rather groundbreaking for their time. It may have been a product of desperate times and the beginning of a difficult era of lacklustre package films, but its animation is occasionally brilliant and its Latin-infused music is wonderfully fun.
42. Meet the Robinsons (2007) –

full article
In terms of animation quality, Disney's sophomore computer-animated film was only marginally better than its first effort. During the production of Meet the Robinsons, the studio lost its much-maligned CEO Michael Eisner and was on the verge of being cancelled. After 60% of the film's animation was scrapped and the entire narrative was rewritten, the film finally slumped into cinemas and barely made a blip on the box office. Another example of Disney's early experiments with computer animation, Meet the Robinsons has failed to endure the test of time. However, it's a surprisingly sweet little gem of a film. Sure, the awkward animation style is garishly amateur by comparison with Disney's later computer-animated work, but the narrative is refreshingly deep and terribly endearing and the film is filled with a cast of quirky and charming characters.
41. The Rescuers (1977) –

full article
Initially planned as little more than an experimental piece for Disney's "B-Team" of young animators, The Rescuers ultimately became one of the most successful Disney animated films of all time, which is partly why it received a sequel 13 years later. As Disney's first action-based animated adventure, The Rescuers plays more like a James Bond film than a piece of Disney animation. For all its success at the time, the film has not aged particularly well, namely due to its woefully dated score and songs. For all its exciting action, it's a fairly shallow and terribly dour narrative, offering little of the heart, humour, or joy we'd come to expect from Disney animation.