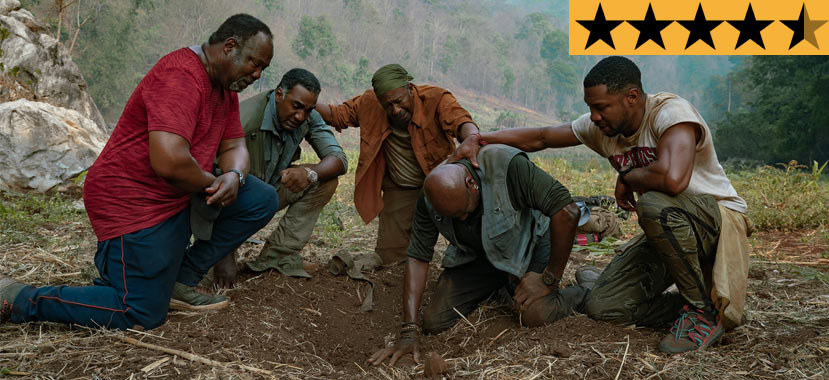 12 Jun

REVIEW – 'Da 5 Bloods' arrives at precisely the right time

Few directors possess the innate ability to tap into the current state of the world quite like Spike Lee, but even he couldn't have foreseen the searing pertinence of his latest film. Arriving in the midst of global outrage over yet another Black man's death caused by police brutality, Lee's Da 5 Bloods feels more urgent than ever. While the film was obviously planned, filmed, and scheduled well in advance, it's arriving at precisely the right time.

Working as both a powerful history lesson and a surprising thrilling and occasionally funny piece of entertainment, Da 5 Bloods is a scathing indictment on American imperialism and the shameful mistakes of the past America seems doomed to consistently repeat. A film that proudly wears its politics on its sleeve and pulses with furious anger in its veins, there's no mistaking Lee's intention here.

Lee wastes little time before forcing his audience to face some uncomfortable truths, with Da 5 Bloods opening with a montage of archival clips and photographs from the 1960s and 70s, set to Marvin Gaye's "Inner City Blues (Make Me Wanna Holler)," featuring lyrics painfully relevant to both the past and present. We see Muhammad Ali explaining why he refused to fight in Vietnam, Bobby Seale recounting the exhaustive history of hundreds of thousands of Black Americans fighting in pointless war after pointless war, and Malcolm X's powerful words of what occurs when "you take 20 million Black people and make them fight all your wars and pick all your cotton and never give them any recompense." But the real kicker arrives with the words of Kwame Toure, who bluntly states, "America has declared war on Black people."

With this context hovering in the background of the entire film, we lay our scene in present-day Ho Chi Minh City, Vietnam, where veterans Paul (Delroy Lindo, never better), Otis (Clarke Peters), Eddie (Norm Lewis), and Melvin (Isiah Whitlock Jr.) have reunited to find the buried remains of their fallen leader Norman (Chadwick Boseman, appearing in flashbacks) and return him home to be buried in Arlington National Cemetary where he belongs. All four "Bloods" are still haunted by their time in Vietnam and their experiences upon returning home, but none more so than Paul, who suffers crippling PTSD and constantly verges on the edge of completely cracking.

As the four friends reconnect and party at a local club appropriately named "Apocalypse Now," we soon learn there's more to their visit than just locating Norman's remains; somewhere near his burial site lies a chest filled with gold bars the group stumbled upon while in the jungle. The U.S. government-funded gold was intended as payment to the locals in an effort to bribe them into fighting against the Viet Cong, but it never reached its destination. As we discover in one of the film's numerous flashbacks, Norman convinced his friends to bury the gold and return one day to reclaim it "in the name of every single Black boot that never made it home."

With Paul's estranged son David (Jonathan Majors) unexpectedly joining the mission in an effort to keep his father from unravelling, the group sets off into the jungle without their local guide Vinh (Johnny Trí Nguyễn), who Paul insists the troop doesn't need because "we know this land." But cracks soon begin to form in the quartet's initially strong friendship, particularly as Paul's paranoia worsens and the group is shadowed by a group of Vietnamese vigilantes, who feel the gold is rightfully theirs.

There's also the matter of a trio of landmine activists (Mélanie Thierry, Paul Walter Hauser, and Jasper Pääkkönen) who appear to be following the group everywhere they go. And the pesky issue of what to do with the gold once they return to civilisation. Through the assistance of Otis' wartime lover and former prostitute Tien (Lê Y Lan), the group has enlisted the services of shady French businessman Desroche (Jean Reno), who promises to sell the gold and move the money into offshore bank accounts. Whether Desroche can be trusted or not will soon be uncovered.

Since the end of the Vietnam War in 1975, there has been a litany of films related to the harrowing experiences of American soldiers on the frontline, but none ever told entirely from the perspective of Black soldiers. It's a confounding blindspot given Black Americans accounted for 11% of the total U.S. population but comprised 32% of the military presence in Vietnam; a harsh statistic Lee imparts during the course of the film. As a filmmaker who refuses to pull punches, Lee is precisely the right choice to present a story of a group of veterans who returned home to a country that refused to acknowledge their contributions to a disastrous war they were forced to fight.

With a running time stretching just beyond two-and-a-half hours, there's a hefty amount of plot to unpack before Da 5 Bloods truly takes flight. The first hour feels more like a slow burn treasure hunt heist, with Lee deftly taking his time to arrive at the film's intended destination. Early scenes are dotted with flashbacks shot in saturated coloured 16mm and presented in a slimmer frame (present-day scenes are presented in both widescreen and full screen for the film's third act) to provide background context for the group's time in Vietnam.

In a curious move, the four Bloods are played by the same older actors in flashbacks without the use of digital de-aging tools like we saw in The Irishman. While we're only left to theorise why and it takes a minute to grapple with this unique choice, Lee appears to use this technique as a comment on how the men are still traumatised by the past and are the same men they were back then. Perhaps it's something as simple as Lee refusing to kowtow to Hollywood's current obsession with digital de-aging. Frankly, it's a refreshing change in an age of CGI-manipulated faces that never quite look right.

On its surface, Da 5 Bloods is a deceptively simple and almost tender film centred on a group of middle-age Black men reuniting after years apart to snatch a booty of gold hidden deep in the jungle. You'll likely find yourself wondering where this film is going around the one hour mark, given everything appears to be travelling along rather swimmingly. It's here Lee stuns you out of your seat as the film explodes into its second act that spirals into a power play of paranoia, insanity, and greed. While there may be numerous dangers hiding in the Vietnam wilderness, nothing compares to the hazards inside the fractured minds of veterans with deep-seated mental wounds.

While the four men all carry painful scars from their deployment, the deeply complex Paul struggles the most with letting go of the past to the point he's become a MAGA-hatted Trump supporter. A veteran who's been lost since returning home, Paul still burns with rage over being forced to fight against an equally oppressed group of people and subsequently ignored by his country despite doing exactly what he was told to do. It's partly why Paul has fallen in with the MAGA crowd, as evidenced by his statement, "I'm tired of not getting mine." He's drunk the Trump Kool-Aid and is out to reclaim what he feels owed.

Lindo is in electrifying form as Paul, delivering the year's first major contender for a Best Actor Oscar nomination come awards season. Instilling the character with a terrifying mix of bravado and fear, Lindo commands attention with every vitriolic word. Paul could almost be seen as a Hamlet-like figure, as he struggles with his bid for vengeance and battles with his own sanity, which is complicated by his dreams frequented by Norman that soon become full-blown daytime delusions. Much like a work of Shakespeare, Lindo is tasked with lengthy direct-to-camera monologue scenes, which take us deep into his broken mind and wounded soul. It's here we truly understand the extent of his pain, allowing Lindo to skyrocket his mesmerising performance to another level entirely.

With stunning cinematography from Newton Thomas Sigel, it's a mighty shame Da 5 Bloods was forced to forgo its planned theatrical release and head straight to Netflix. Shot on location in Vietnam and Thailand, Sigel's visuals would surely only appear even more remarkable on a big screen. While the editing of Adam Gough is often far too frenetic than it needs to be and the film's pacing is disappointingly messy, Lee concludes the film in a gripping shootout that feels like something straight out of films of the 60s and 70s.

An evocative military drum-heavy score from Terance Blanchard is complimented by the consistent use of the music of Gaye to underscore key moments, occasionally using just the singer's isolated vocal track. Every song has been purposely chosen to match the sentiments of each moment, with Gaye's lyrics providing the perfect subtext for Lee's intentions. At one point, Gaye's soulful voice sings the line "trigger-happy policing" and ponders "God knows where we heading," which could be practically ripped from today's headlines.

In a number of wonderfully effective interludes during flashback scenes, Lee utilises the true-life character of Hanoi Hannah (Van Veronica Ngo), the Vietnamese radio host who was tasked with broadcasting in English in an attempt to discourage American G.I.s from fighting against her fellow comrades. As she dryly questions why Black Americans would fight for a country that still sees them as lesser citizens, her words hit hard with the Bloods, who find strange solidarity with a member of the enemy. It's Hannah who informs the men of the assassination of Dr. Martin Luther King Jr., with the group reacting in pure devastation that almost leads to a moment of total rebellion.

It's in these moments of contradiction that Da 5 Bloods makes it most potent point. America was a land that enslaved, lynched, segregated, and oppressed its Black citizens for decades, yet they were being called on to fight in a pointless war with a nation of equally abused inhabitants. Combat units often disproportionally comprised Black soldiers, who were more likely to be sent in as the first infantries of attack and consequently suffer unconscionable losses. Lee wants to feel the rage Black Vietnam veterans rightly feel, particularly when it's coupled with the fact the civil rights movement was occurring at the same time Black Americans were being used as doomed pawns in the government's disastrous war.

With numerous pointed barbs at Trump (who the film pointedly refers to as "President Bone Spurs), Da 5 Bloods isn't shy about its political subtext. Nor should it be. As both a piece of period and present-day cinema, the film shines a blinding spotlight on how little has changed in the last four decades. Lee's choice to conclude the film with archival footage of a 1967 speech of Dr. King's ("America would never be free or saved from itself until the descendants of its slaves were loosed completely from the shackles they still wear.") is as strategic as it is powerful. Lee also wisely chooses to acknowledge the growing Black Lives Matter movement in a stirring epilogue, which provides a glimmer of hope on the horizon, particularly come November 2020.

Da 5 Bloods is a film dripping with subtextual imagery and themes, meaning it will require multiple viewings to truly unfurl all of Lee's intentions. From the choice of archival footage to the use of music, everything here has been meticulously and purposely crafted to relay what Lee is wanting to say. It's a thunderous call for racial equality and justice that arrives in a cultural landscape already echoing Lee's sentiments. Minor quibbles aside, this is one of the year's best films and one that only someone like Lee could craft.





Distributor: Netflix
Cast: Delroy Lindo, Jonathan Majors, Clarke Peters, Norm Lewis, Isiah Whitlock Jr., Mélanie Thierry, Paul Walter Hauser, Jasper Pääkkönen, Johnny Trí Nguyễn, Jean Reno, Chadwick Boseman, Lê Y Lan, Nguyễn Ngọc Lâm, Sandy Hương Phạm, Van Veronica Ngo
Director: Spike Lee
Producers: Lloyd Levin, Beatriz Levin, Jon Kilik
Screenplay: Danny Bilson, Paul DeMeo, Kevin Willmott, Spike Lee
Cinematography: Newton Thomas Sigel
Production Design: Wynn Thomas
Costume Design: Donna Berwick
Music: Terence Blanchard
Editing: Adam Gough
Running Time: 156 minutes
Release Date: 12th June 2020 (Australia)