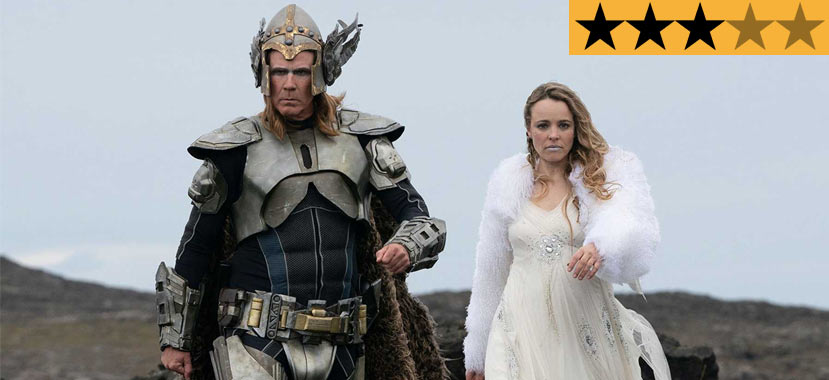 25 Jun

REVIEW – 'Eurovision Song Contest: The Story of Fire Saga' is a harmless piece of ridiculous fluff

Much like everything else in 2020, the campy fun that is the Eurovision Song Contest was cancelled earlier this year due to the COVID-19 pandemic. For fans of the gimmicky music competition, a suitable substitute to tide you over until 2021 arrives on Netflix in the form of Eurovision Song Contest: The Story of Fire Saga. An occasionally hilarious comedy with a hefty dose of heart, it's a film that, much like the song contest itself, is overly long and over the top, yet ultimately a harmless piece of ridiculous fluff.

For audiences unfamiliar with the hugely popular and insanely kitschy annual European competition, the film may seem like something of a goofy parody, which, in some ways, it absolutely is. But for those who religiously watch the extravaganza each year, Eurovision Song Contest: The Story of Fire Saga will prove a rather accurate and meticulous recreation of the outlandish nature of the contest which gave us ABBA, Celine Dion, and…that's about it.

Our tale begins in April 1974 in the quaint fishing village of Húsavík, Iceland, where young Lars Erickssong (Alfie Melia) witnesses ABBA performing their breakthrough hit "Waterloo" on the Eurovision telecast. With the support of his best friend Sigrit (Sophia-Grace Donnelly), Lars becomes determined to one day win the singing contest for his country, much to the chagrin of his disapproving fisherman father, Erick (Pierce Brosnan, who, thankfully, does not sing).

Flash forward to present day, Lars (Will Ferrell) and Sigrit's (an ethereal Rachel McAdams) band Fire Saga are struggling to make it big. The group are ridiculed by the locals, who refuse to hear their original music and force the band to instead repeatedly perform a silly local tune called "Ja Ja Ding Dong," which, by film's end, you'll likely have stuck in your head. Despite Erick's protestations, Fire Saga audition to represent Iceland at the Eurovision final in Edinburgh with Lars' original track "Double Trouble."

With fellow contestant Katiana (Demi Lovato, in full belter mode) considered Iceland's best hope of winning the contest, Fire Saga seemingly have little hope of being the chosen act, though eternal optimist Sigrit believes Iceland's mythical elves will somehow provide a helping hand. As fate (or magic) would have it, a tragic incident leaves the organisers with no choice but to select Fire Saga by default because, well, we wouldn't have a film otherwise.

After arriving in Edinburgh, Lars and Sigrit begin to craft the staging musical number (which includes a giant hampster wheel because, you know, that's Eurovision), but Sigrit is just as focused on making Lars realise she's been madly in love with him for years, despite the fact the two may actually be half-siblings, given Erick's infamous womanising reputation. Their potential romance hits a snag when the pair attract the attention of two fellow contestants; flamboyant red-hot Russian favourite Alexander Lemtov (a scenery-chewing Dan Stevens) and the sultry Greek songstress Mita (Melissanthi Mahut), who both initially appear determined to split the duo apart.

Co-written and co-produced by Ferrell, Eurovision Song Contest: The Story of Fire Saga feels like one extended Saturday Night Live sketch, with Lars fitting perfectly into Ferrell's menagerie of wacky characters from his years on the NBC show. Some may be concerned an American couldn't possibly understand the hallowed history of Eurovision. However, Ferrell has actually been an avid fan of the contest for more than 20 years after being introduced to the show by his Swedish wife, with the idea for a Eurovision film percolating in his mind ever since.

Ferrell's fondness for the competition is evident throughout, with the film refusing to ridicule the bizarreness of Eurovision and instead completely embracing the silliness of the concept. With all the wacky costumes, absurd staging, and cliché "inspiring" lyrics we've come to expect from Europe's farcical musical spectacle, Eurovision Song Contest: The Story of Fire Saga is an endearing ode to one of the world's most unique events. The film celebrates the rich tradition of Eurovision more than it mocks it, though it still takes plenty of playful jabs at numerous aspects of the competition.

A pseudo musical at heart, Eurovision Song Contest: The Story of Fire Saga features 12 original songs that genuinely feel like they belong on the sacred Eurovision stage. Much like the best Eurovision anthems, the lyrics are naturally rather ludicrous and terribly silly, but the beats are infectious, the staging is rightfully elaborate, and the vocals of Lovato, Stevens, and Sigrit's singing voice Molly Sandén are superb.

Ferrell and director David Dobkin assembled a killer songwriting team to create the film's soundtrack including Sigur Rós, Jörgen Elofsson (co-writer of Kelly Clarkson's "Stronger (What Doesn't Kill You)"), and Savan Kotecha (co-writer of practically every Ariana Grande hit), and it would not be a surprise to see one of the tracks make a play for a Best Original Song nomination come awards season, particularly Fire Saga's finale performance "Húsavík (Homeland)."

In a moment that's almost a direct homage (or rip-off, if you wish) of Pitch Perfect, the entire cast burst into an impromptu musical mash-up "song-a-long" medley of pop songs at a lavish hotel party featuring Madonna's "Ray of Light," Cher's "Believe", the Black Eyed Peas' "I Gotta Feeling," and, of course, ABBA's "Waterloo" that eventually includes cameos from a series of past Eurovision winners who will remain unspoiled. The entire sequence makes very little logistical sense (several of the performers sing directly to camera as if it's a music video), but it's so supremely giddy, energetic, and as camp as a row of tents, making it rather impossible to resist.

While Ferrell's performance is mostly just recycling through many of his past roles, it's a character he plays well, especially when he's required to perform slapstick humour. His chemistry with McAdams is earnest and engaging, but, at times, the pair play more like siblings, which begins to make an audience believe the rumours of Sigrit's parentage may actually be true. After dazzling with her comedic turn in the criminally underrated Game Night, McAdams proves comedy is a genre she should tackle more often, with her endless energy perfectly counterbalancing Ferrell's apathy. There's a charming innocence to Sigrit that's terribly endearing, with an added dose of Björk quirkiness that feels right at home in Iceland.

But the real scene-stealer here is Stevens, whose bombastic superstar features far more depth than anyone else in the cast. Stevens is clearly having a ball playing a character unlike anything he's delivered thus far, with the actor hurling himself into Alexander's raunchy choreography with terrific gusto. With a George Michael 80s bouffant hairstyle, a gallon of fake tan, and a wardrobe from the Sigfried and Roy (RIP) collection, Alexander is a performer who will surround himself with a bevy of shirtless male dancers, but blindly swear he's not gay because "there are no gay people in Russia." It's an obvious stab at Vladamir Putin's war on homosexuality, allowing the audience to realise Alexander's bravado is actually masking a deeply tortured soul.

The film's fatal flaw is its excessive running time, which pushes just over two hours, leading the film to drag considerably during its flat first act. At around the one hour mark, you'll think the film is drawing to a close, only to realise Fire Saga is performing at the semi-finals and we've still go the grand final and another hour to come. Eurovision itself runs for several days with a series of endless performances and voting rounds, so it's hardly surprising a film centred at the event would feel equally as drawn out. But there's plenty of fat that could have been trimmed here to avoid the pacing follies of the final product.

For fans of the now-cancelled Eurovision 2020, Eurovision Song Contest: The Story of Fire Saga provides enough laughs and musical delights to counter the loss of one of the year's highlights from the world of music. Ferrell's affection for the song competition is abundantly evident throughout a film that seeks to capture the essence of an institution that's been delighting audiences for over six decades. It may not quite be a complete substitute for the real Eurovision, but it's the best we'll get from this dumpster fire of a year.





Distributor: Netflix
Cast: Will Ferrell, Rachel McAdams, Dan Stevens, Melissanthi Mahut, Mikael Persbrandt, Ólafur Darri Ólafsson, Graham Norton, Demi Lovato, Pierce Brosnan, Jamie Demetriou
Director: David Dobkin
Producers: Will Ferrell, Jessica Elbaum, Chris Henchy
Screenplay: Will Ferrell, Andrew Steele
Cinematography: Danny Cohen
Production Design: Paul Inglis
Costume Design: Anna B. Sheppard
Music: Alti Örvarsson
Editing: Greg Hayden
Running Time: 123 minutes
Release Date: 26th June 2020 (Australia)