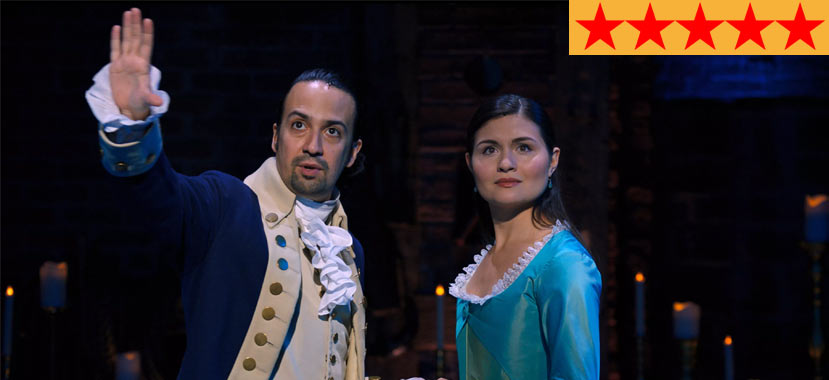 03 Jul

REVIEW – 'Hamilton' is a time capsule of a miraculous piece of Broadway history

The history lesson that made history, there has rarely been a Broadway phenomenon quite like Hamilton. After opening at the Richard Rodgers Theatre in July of 2015, the brainchild of the genius that is Lin-Manuel Miranda soon became the hottest ticket in town, much to the delight of opportunistic scalpers everywhere. After winning 11 Tony Awards from a record-setting 16 nominations, a Grammy Award for Best Musical Theater Album, and a Pulitzer Prize for Drama, Hamilton firmly staked its claim as one of the most acclaimed and successful musicals in Broadway history.

Before the original principal cast (including not one, not two, but three Tony winners) began to move on to other projects, the production was wisely filmed over the course of three performances in June 2016, with plans for an eventual theatrical release at a later date. After a bidding war that attracted the attention of Warner Bros., the now-defunct 20th Century Fox, and Netflix, Disney paid a staggering $75 million for the worldwide distribution rights in February 2020, making it one of the most expensive film rights acquisitions in the history of cinema.

While Disney initially planned to release Hamilton in theatres in October 2021, the COVID-19 pandemic and subsequent shutdown of both the film and stage industry inspired the studio to instead drop the film on their streaming service Disney+ in time for the 2020 Fourth of July weekend. As the biggest drawcard for Disney+ in months, Hamilton arrives at just the right time, with America struggling through a worsening health crisis and a social uprising spurred by a deep political divide that grows stronger every day.

After spending months stuck indoors, we've certainly earned this treat. And what a delectable reward Hamilton is. Expertly capturing the magic of being right there in the room that it happened, the film is a time capsule of a miraculous piece of Broadway history the entire world can now share. With Broadway closed until at least 2021, this is the closest any of us can get to the majesty of witnessing the power of live theatre. The fact we can now enjoy one of the greatest musicals of all time during an endless period of quarantine is a miracle in itself.

For those uninitiated, Hamilton tells the true story of Alexander Hamilton (Miranda), "the ten-dollar Founding Father" who rose to prominence during the American Revolutionary War and became one of America's most unappreciated icons. As the "bastard, orphan son of a whore and a Scotsman," Hamilton would ultimately personify the American Dream for immigrants after leaving his home on the Caribbean island of Nevis for a new life in New York in 1776.

After impressing fellow young revolutionaries Aaron Burr (a sublime Leslie Odom Jr.), Marquis de Lafayette (Daveed Diggs), and John Laurens (Anthony Ramos) with his rhetorical skills ("Let's get this guy in front of a crowd!") and talk of rebellion against the British, Hamilton is soon elevated to the position of George Washington's (Christopher Jackson) aide-de-camp during the Revolutionary War. Under Washington's tutelage, Hamilton becomes an important figure in America's bid for freedom.

After Washington's crushing victory of the British at Yorktown, Hamilton co-authors The Federalist Papers, which promoted the ratification of the United States Constitution, and subsequently becomes the first Secretary of the Treasury by newly-elected President Washington. As the jealous Burr slowly turns against his one-time friend, Hamilton takes a wife in the form of Eliza Schuyler (Phillipa Soo), creating a love triangle with his sister-in-law Angelica (Renée Elise Goldsberry), struggles through the country's first political sex scandal, and butts heads with U.S. ambassador to France Thomas Jefferson (Diggs pulling double duty) over whether the United States should assist France in its own conflict with Britain.

At this point, it almost seems redundant to heap more praise on a musical that's been so overwhelmingly heralded by both critics and audiences alike. With its supreme mix of classic Broadway sensibilities with the pulsing urgency of rap, R&B, jazz, and hip-hop stylings, Hamilton was the breath of fresh air The Great White Way was crying out for. Written entirely by Miranda and inspired by Ron Chernow's 2004 biography Alexander Hamilton, the musical is undoubtedly one of the most innovative creations to ever bless the stage.

The good news is this filmed version retains every drop of intoxicating energy as its live counterpart. While recordings of past musicals generally featured little more than one or two cameras dumped awkwardly somewhere in the theatre, Hamilton utilises multiple cameras positioned all around the Richard Rodgers Theatre to give the viewer the best possible experience. Certain numbers were even filmed without an audience to allow for the use of Steadicam, crane, and dolly-mounted cameras to glide effortlessly around the stage, often eliciting intimate close-ups in key moments.

Under the breathtaking direction of Thomas Kail and filmed by the sublime cinematography of Declan Quinn, Hamilton features a complex mix of wide shots, overheads, and sweeping movements, all meticulously choreographed to capture every moment like never before. At times, you'll feel like you're on stage yourself, with Kail dropping his viewer right in the thick of the action to capture intricate moments even those in the front row may have missed. Minor acting choices like closed eyes, a raised eyebrow, or a painful grimace suddenly feel so much more resonant through Quinn's camera. Kail has set the bar for future filmed staged productions so unfathomably high, it may never be matched again.

With its colour-blind cast of non-white actors portraying an all-white roster of characters, the supreme ensemble of Hamilton was the stuff of Broadway dreams and it's little wonder Miranda insisted on preserving the original cast on film before the roles were recast. While Miranda may headline the show with an understated but powerful performance, he knew better than to take the entire spotlight for himself. That's not to suggest Miranda isn't rightly front and centre, but he understands the need to balance his performance amongst a dazzling ensemble cast without a single weak link in the chain.

In a star-making turn, Odom Jr. steals focus so heavily, he ultimately beat Miranda for Best Actor at the Tonys. With a complex antagonistic performance that wildly fluctuates from endearingly tender to bitterly jealous, Odom Jr. finds the pathos in a character tainted by history and a regretful decision he was never able to escape. Every ounce of Burr's turmoil is etched upon Odom Jr.'s fiercely expressive face, allowing the viewer to innately understand the character's complicated narrative arc. Despite his petulance and envy, Odom Jr. is able to elicit deep sympathy from his audience, which is some form of theatrical miracle.

Performing dual roles, Tony winner Diggs impresses early with his humorous, energetic performance as French freedom crusader Lafayette, but offers something completely different with his dandyish portrayal of Jefferson as a pompous, narcissistic opportunist who ultimately teams with Burr to bring Hamilton down. Jonathan Groff provides some much-needed comic relief as King George III, who occasionally pops into the narrative to provide commentary on America's growing revolution from his throne across the pond. In a deliciously camp and gloriously flamboyant performance, Groff is an utter delight with an absurd character whose initial playful demeanour often instantly transforms into menacing fury. The camera moves in so close on Groff's face, you can see the spittle fly from his mouth when King George flies into a fit of rage.

Thankfully, Hamilton also focuses on the women in the titular character's life, with both Soo and Goldsberry shining as two sisters in love with the same man. As Hamilton's long-suffering wife, Soo offers a captivating performance full of restraint that's finally unravelled in the film's third act. Goldsberry is a revelation in her heartbreaking Tony-winning turn as the tortured Angelica, who puts aside her own feelings for her sister's happiness. Her stunning rendition of "Satisfied" is captured with such intimacy by Kail, it takes on an entirely new level of power.

As a pertinent reminder of the immeasurable contribution immigrants made in shaping America ("Immigrants, we get the job done."), it's a deft choice by Disney to release Hamilton on the cusp of the 144th anniversary of the Declaration of Independence. At a time when the voices of the marginalised are crying out for equality, human rights, and representation in the media, Hamilton dared to fill its cast with members of minority communities who should have played a role in a moment in history that ignored them.

Alexander Hamilton is a figure in history who never quite received his dues and Miranda's musical pays homage to a brilliant man who truly shaped America's destiny. Hamilton is as thrillingly entertaining as it is powerfully moving, with an ending that's unlikely to leave a dry eye in the house. What Miranda created back in 2016 was nothing short of a masterpiece of theatre and this filmed version now stands as a permanent testament to this remarkable achievement. 2020 has lacked many positives, so we should thank our lucky stars Hamilton is here to offer some long overdue respite from the misery.





Distributor: Disney+
Cast: Daveed Diggs, Renée Elise Goldsberry, Jonathan Groff, Christopher Jackson, Jasmine Cephas Jones, Lin-Manuel Miranda, Leslie Odom Jr., Okieriete Onaodowan, Anthony Ramos, Phillipa Soo
Director: Thomas Kail
Producers: Thomas Kail, Lin-Manuel Miranda, Jeffrey Seller
Book, Music & Lyrics: Lin-Manuel Miranda
Cinematography: Declan Quinn
Production Design: David Korins
Costume Design: Paul Tazewell
Editing: Jonah Moran
Running Time: 162 minutes
Release Date: 3rd July 2020 (Australia)