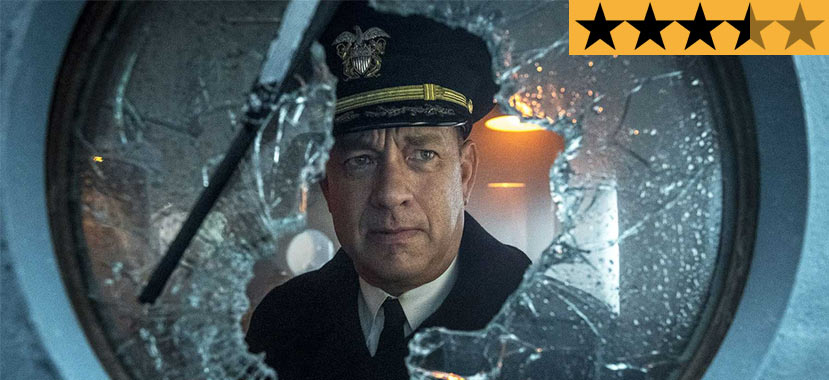 07 Jul

REVIEW – 'Greyhound' is tense and thrilling, but suffers from a lack of narrative depth

Another day, another film affected by the COVID-19 pandemic. With America's dad Tom Hanks at its helm and a planned theatrical release to time with Father's Day, Greyhound was looking like the perfect film to capture the war movie-loving older male crowd. When coronavirus saw its release shelved by Sony Pictures, most assumed it would be rescheduled for late 2020, much like practically every other planned mid-year release.

In a surprise decision that Hanks has now described as "an absolute heartbreak," Greyhound was sold to Apple for a staggering $70 million, with the company hoping to utilise the film as a major drawcard for its struggling streaming service, Apple TV+. It's a bold (and rather disappointing) move for a film clearly intended to be viewed on the biggest screen possible, but it does prove Apple is determined to shake up the streaming wars and play with the big boys of Netflix, Amazon Prime, and Disney+.

With a surprisingly short runtime of just over 90 minutes, Greyhound is firmly centred on the naval exploits of a group of brave souls stuck in a deadly battle with a nefarious "wolfpack" of German U-boats. While the action scenes are tense, thrilling, and expertly crafted, the film slightly suffers from a lack of depth to its characters and ultimately feels more like an epic docuseries recreation than an effective narrative film.

Set during the initial days of the United States' involvement in World War II, Greyhound focuses on Commander Ernest Krause (Hanks), a 42-year-old dedicated veteran Navy officer who's finally been given his first wartime mission. Taking charge of the gargantuan destroyer USS Keeling, Krause is in overall command of a fleet of 37 Allied ships on their voyage across the treacherous waters of the North Atlantic. The Keeling (whose call sign is the titular "Greyhound") is charged with protecting the convoy of ships carrying much-needed supplies and equipment to the Allied forces in Britain.

With his beloved sweetheart Evie (a brief but charming Elisabeth Shue) waiting for him back home, Krause turns to the Bible to comfort his anxiety over the dangerous three-day trek ahead. While the young men surrounding him have been at war for more than two years, this will be Krause's first true taste of war and he's desperate to prove his promotion was deserved.

While the Keeling is initially aided by the protection of U.S. Air Force planes during the first few hours of the journey, it's not long before the aircraft turn back and the destroyer is left in charge of guarding the entire fleet of smaller ships. As expected, the convoy is soon hotly pursued by a swarm of Nazi U-boats, all intent on destroying as many vessels as possible with an arsenal of torpedoes, forcing Krause into a chaotic cat-and-mouse game where the enemy is often invisible.

Much in the same vein as Christopher Nolan's war opus Dunkirk, Greyhound is keenly interested in recreating the chaos and fear of war with little regard to the backstories of the unfortunate men who find themselves trapped in the middle of it all. That's both a blessing and a curse in that we almost immediately jump right into the action here but with only the barest of details as to who our protagonist really is. While we get a brief glimpse of Krause's life back in America and the besotted woman praying for his return, it's really all we know of a man we're about to follow for 90 minutes.

Based on C.S. Forester's 1955 novel The Good Shepherd and adapted by Hanks himself, the screenplay is more concerned with highlighting Krause's unwavering dedication to his post than informing an audience on how he came to command such an important mission without a shred of combat experience. It's a question that remains unanswered, but by the time Krause's feet literally begin to bleed from the commander refusing to take a break for the entire trek, you quickly realise he was entirely the man for the job.

As the crew struggles with the basic functionality of early radar technology, the fleet of U-boats is more like a deadly school of circling sharks who occasionally rear their fins above water but mostly silently stalk the fleet from deep beneath the crashing waves. It's here director Aaron Schneider creates a constant sense of intense dread, with torpedo attacks an imminent threat throughout. When they do arrive, it's left to Krause to spring into action and desperately attempt to steer the enormous destroyer out of their way.

Made for a shockingly inexpensive $50 million, Greyhound is a film that has no business looking this good, with an impressive mix of live-action photography and CGI wizardry to authentically bring the bombastic action sequences to life. For exterior shots, the film utilised the USS Kidd, a decommissioned WWII-era destroyer that has served as a museum relic since the 1980s. However, the bulk of the drama is set within the claustrophobic confines of the vessel's pilothouse and bridge, allowing the viewer an intimate look at the complex decision making of a man with the lives of hundreds of men in his hands.

Krause's lagging mental state is compounded by his decision to refuse to leave his post for hours on end, causing the commander to become increasingly beleaguered by his sleep deprivation and lack of sustenance from food that consistently goes untouched. As a man constantly faced with numerous life-or-death decisions that will determine the fate of his crew, Hanks is typically compelling to watch, crafting a character weighed down by the perils of war and the consequences of his every move. With a supporting cast who mostly exist to provide exposition and very little else, Hanks is left to carry this entire film on his shoulders, which, unsurprisingly, he handles with aplomb.

On a technical level, Shelly Johnson's cinematography features a hefty helping of soaring panoramic shots to capture the full scope of the battle scene, which is used to great effect when we view the speeding torpedos from overhead as they stream towards their intended targets. The sound design of Mike Minkler is everything we expect from a war movie, with every booming explosion, bullet ricochet, and splash of waves likely to rattle your home speaker system. You can't help but wonder what the marvellous audio and visual delights would have looked and sounded like in a cinema, and it's a damn shame we'll never know.

As enjoyable and thrilling as Greyhound may be, it doesn't exactly reinvent the wheel of war movies and there's very little here we haven't seen in countless other films. It's a classic war film that showcases the anarchy of battle and the toll responsibility can take on those in charge. If the film stopped to take a breath and allow us to more intimately understand its key players, the end result may have been more compelling. Schneider and Hanks have clearly made a conscious decision to focus on the details of the battle, but it's at the sacrifice of both character development and narrative progression.

Regardless, Greyhound impressively captures one inspiring moment of The Battle of the Atlantic, the longest continuous military campaign of World War II that cinema has strangely mostly ignored. As the film closes, we are informed over 3,500 ships made the perilous journey across the Atlantic over the course of six years, leading to the death of 72,200 souls. As one of the longest, largest, and most complex naval battles in history, it's a moment in history we rarely acknowledge, and the film stands as another reminder of the immense sacrifice these heroes made in the name of freedom.





Distributor: AppleTV+
Cast: Tom Hanks, Stephen Graham, Rob Morgan, Elisabeth Shue, Manuel Garcia-Rulfo, Karl Glusman, Tom Brittney, Joseph Poliquin, Devin Druid
Director: Aaron Schneider
Producer: Gary Goetzman
Screenplay: Tom Hanks
Cinematography: Shelly Johnson
Production Design: David Crank
Costume Design: Julie Weiss
Music: Blake Neely
Editing: Mark Czyzewski, Sidney Wolinsky
Running Time: 91 minutes
Release Date: 10th July 2020 (Australia)