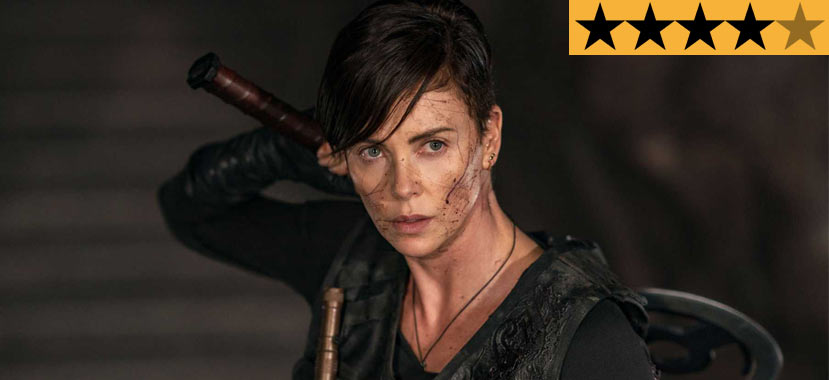 10 Jul

REVIEW – 'The Old Guard' is one of the year's best action blockbusters

There are few female actors working today with the versatility of Charlize Theron. She's got the Oscar (and two additional nominations) to prove she can handle heavily dramatic roles. She's occasionally dabbled with comedy where she's managed to outshine her more seasoned co-stars. And, more recently, Theron has shown her deft capacity for tackling gusty action heroines in films like Mad Mad: Fury Road and Atomic Blonde. The woman can do it all.

It should come as no surprise to hear Theron offers another powerful heroine to add to her ever-growing resume in Netflix's wildly enjoyable adaptation of Greg Rucka's 2017 graphic novel The Old Guard. An impressive mix of bombastic action scenes and deeper human introspections, it's a film with far more depth than first glance. While The Old Guard is an epic action-fantasy at its core with a whole swag of mythological silliness, the film is elevated by a screenplay injected with a tremendous amount of heart and a cast of loveable characters who demand to be seen in future chapters. A new franchise is born.

Theron plays Andy (or Andromache of Scythia, to be exact), the leader of a mysterious covert group of deadly mercenaries with one major secret; they're all immortal and have been secretly (and thanklessly) protecting humanity for several centuries. Blessed (or perhaps cursed) with the ability to heal any wound in mere moments, the group of four has somehow found each other over the years and formed a tight bond by virtue of mutual understanding of their unexplained gift.

Working under the guise of doing what they think is "right," the quartet is comprised of Frenchman Booker (Mattias Schoenaerts), who still bears grief over watching his beloved family age and die without him, and Joe (Marwan Kenzari) and Nicky (Luca Marinelli), who battled on opposite sides during the Crusades and killed each other over and over again before somehow falling in love.

While the group has kept their immortality a secret for generations, it's proving a tougher mission to remain hidden in the digital landscape of the 21st century. When the team are recruited for a Sudanese rescue mission by former CIA operative Copley (Chiwetel Ejiofor), they soon realise they've been double-crossed and are being hunted by nefarious pharma boss Merrick (Harry Melling), who seeks to harvest their power to mine for endless profits.

Meanwhile, young Marine Nile (KiKi Layne) discovers her own godly immortality during a mission in Afghanistan that goes terribly wrong. The entire team experiences her awakening through prophetic visceral dreams, which call Andy into action to find Nile and recruit her into the team so the Marine can be taught the ins and outs of her newfound gift. As Nile learns to accept her fate, the group are forced to fight against Merrick's swarm of goons to evade capture and a lifetime of torturous experimentation.

As you can likely tell, The Old Guard features an immensely complicated plot that involves a tremendous amount of exposition be shared with the audience. Thankfully, Rucka's screenplay and the direction of Gina Prince-Bythewood moves through the intricate narrative details in a timely fashion to avoid the film becoming bogged down in semantics. There's no complex explanation as to how or why each member was chosen to be gifted with immortality, and, frankly, the film is better for it. They are who they are. They don't know why. We the audience accept this fact early and settle in for the outlandishly entertaining film before us.

While many could see immortality as a boundless gift, it's proving more of a curse to Andy. After battling against the constant evils of each generation, she's seeing the world becoming worse by the day. Andy struggles to find purpose in continuing with her crusade to make the world a better place when nothing seems to be working. It's only by discovering Nile does she find a sense of meaning again, allowing the character to spark back to life.

With a heavy weight of sadness behind her eyes, Andy is someone who's seen countless horrors in her thousands of years on this planet and the burden of immortality has clearly taken its toll. Theron naturally brings the impressive physicality to this new action heroine, but she innately finds the inner turmoil of a character whose psychological baggage defines her every move. Andy can be brutally violent and uncompromisingly tough, but she's also incredibly vulnerable and hopelessly lost, allowing Theron the opportunity to slowly unveil the numerous layers of a deeply complicated character.

After capturing attention with her transcendent performance in Barry Jenkins' 2018 masterpiece If Beale Street Could Talk, Layne continues to impress with a character haunted by the devastating sorrow at the thought of saying farewell to her family and slipping into life off the grid. There's also immense anger to Nile that leads to a confrontation with Andy that requires Layne to go toe-to-toe with Theron, which she handles effortlessly. The film is ultimately centred on Nile's journey to acceptance and Layne impressively travels this trajectory with confident assurance.

It's rare to find a queer love story within an action blockbuster, making the unexpected romance of Joe and Nicky so completely refreshing. Their connection is entirely earnest and authentic, largely thanks to the electric chemistry between Kenzari and Marinelli. It's hard not to swoon when Joe declares, "His kiss stills thrills me, even after a millennia," in a declaration of love monologue that's decidedly beautiful and open. Nothing about Joe and Nicky's relationship feels tokenistic. Frankly, it's one of the better cinematic depictions of a male homosexual couple in a long while.

But fans of kick-ass action need not stress. The Old Guard still brings all the blood-soaked carnage and unmerciful combat sequences you could ask for. With superbly impressive fight choreography and fluid camerawork from Tami Reiker and Barry Ackroyd, the action set pieces flow effortlessly amongst the film's quieter moments. Free from the constraints of classification, it's a film that pulls few punches when it comes to displaying the violence that seems to follow Andy and co. wherever they travel. But Prince-Bythewood knows her limits, and the action never feels exhaustingly overblown like so many other action films these days.

Still, as a director working in the action genre, Prince-Bythewood can't completely escape the expected tropes of this style of film. While the action scenes are entirely entertaining, nothing here feels like anything we haven't seen elsewhere before. Merrick is a flat, one-dimensional villain, whose wicked plan to harness immortality for his own selfish greed feels rather tired. The stakes within several action scenes are considerably lowered by virtue of knowing our cast of heroes won't (or, more accurately, can't) die. And the film is ultimately a good 30 minutes longer than it really needed to be, causing the middle act to lag considerably.

However, Prince-Bythewood still manages to subvert expectation every chance she gets. As a filmmaker, she knows most viewers are here for the action, which she happily serves up. But she's just as concerned with presenting an effective character piece that questions the notion of what it is to be human and explores the impact one can have on the world, whether they realise it or not. And, of course, she's crafted an action film centred on two females (one of whom is a woman of colour) that also features the love story of two men, and that is a damn miracle in this day and age.

With plenty still to explore in further films (including a post-credits kicker of a scene worthy of Marvel's best), The Old Guard is wise enough not to get ahead of itself by focusing on the future and forgetting to create a great first chapter. With a host of well-drawn characters, a hefty helping of action spectacles, and a screenplay determined to explore deeper themes, The Old Guard is one of the year's best action blockbusters. It's rare to find a film so incredibly worthy of an ongoing franchise, but this one deftly makes its case for future instalments.





Distributor: Netflix
Cast: Charlize Theron, KiKi Layne, Marwan Kenzari, Luca Marinelli, Harry Melling, Van Veronica Ngo, Matthias Schoenaerts, Chiwetel Ejiofor, Anamaria Marinca, Joey Ansah
Director: Gina Prince-Bythewood
Producers: David Ellison, Dana Goldberg, Don Granger, Charlize Theron, A.J. Dix, Beth Kono, Marc Evans
Screenplay: Greg Rucka
Cinematography: Tami Reiker, Barry Ackroyd
Production Design: Paul Kirby
Costume Design: Mary Vogt
Music: Volker Bertelmann, Dustin O'Halloran
Editing: Terilyn A. Shropshire
Running Time: 118 minutes
Release Date: 10th July 2020 (Australia)