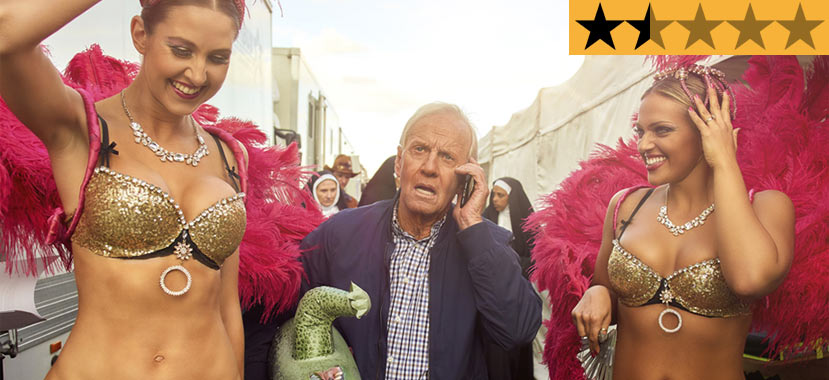 16 Jul

REVIEW – 'The Very Excellent Mr. Dundee' is a film you'll likely forget the instant the end credits roll

Back in 1986, Australia's tradie-turned-comedian Paul Hogan took America by storm with Crocodile Dundee, one of the most successful independent films of all time. On a shoestring budget of $8 million, the film took a staggering $328 million worldwide (which equates to roughly $893 million in 2020), making it the highest-grossing Australian film ever made. Hogan won a Golden Globe for Best Actor, scored an Oscar nomination for Best Original Screenplay, and even co-hosted the 59th Academy Awards with Chevy Chase and Goldie Hawn.

To say the world went Dundee crazy would be an understatement. However, while the 1988 sequel was financially successful, Hogan's career floundered when films like Almost an Angel, Lightning Jack, and Flipper (remember that?) flopped at the box office. After the third Dundee film in 2001 was a spectacular disaster even Hoges would like to forget, it seemed the actor had finally said goodbye to the character.

In a curious move no one ever really expected (or, let's face it, asked for), Hogan has decided to satirise his public persona and the character he's seemingly never been able to escape with the straight-to-streaming title The Very Excellent Mr. Dundee. Originally planned to debut in Australian cinemas back in April, the film instead arrives this week on Amazon Prime, adding to the litany of titles who've followed a similar path in light of the COVID-19 pandemic.

A harmless Sunday afternoon time killer you'll likely forget the instant the end credits roll, The Very Excellent Mr. Dundee strives for sharp commentary on fame, the media, and the film industry, but mostly falls flat on its face with a neverending series of unfortunate events that grow continually tiresome as the narrative drags on and some ill-advised comedy that centres on racism in America. Dotted with a cavalcade of bizarre cameos from a host of actors who clearly had nothing better to do (or needed a paycheque), the film is only saved by Hogan's endearing willingness to make fun of himself and his career.

After a terribly self-aggrandising prologue detailing the many achievements of "Hoges," The Very Excellent Mr. Dundee finds Hogan still unable to separate himself from the infamous character of Mick "Crocodile" Dundee, which often seems to get the actor into trouble. Such is the case when a group of Los Angeles locals call on Hogan to eradicate a snake from the lawn of a sprawling mansion, leading to a disaster that's all captured on a hundred different cellphones.

Much to the chagrin of his beleaguered manager Angie (Rachael Carpani), the incident is quickly labelled by the media as a desperate publicity stunt by Hogan to get his name back in the headlines. With the unexpected news Hogan is to be knighted by the Queen in six weeks, Angie is desperate to keep her client out of trouble. But, no matter how hard he tries, Hogan continually falls afoul of the press through a series of mishaps and misunderstandings.

A meeting at Uni-Realm Pictures to discuss producing a fourth Crocodile Dundee film with Will Smith (no, he unsurprisingly does not appear in this film) as Dundee's son goes afoul when Hogan questions the notion of a person of colour playing his offspring. A clash with a Dundee impersonator (Shane Jacobson) on Hollywood Boulevard is instantly splashed around the world on social media. And an unplanned visit to the red carpet of the Black Talent Awards is an unmitigated disaster.

Hogan's potential redemption arrives in the form of his close friend Olivia Newton-John, who offers the actor the chance to appear with her at a charity gala in support of sick kids. But with a mountain of bad publicity piling up and celebrities seemingly lining up to denounce Hogan at every opportunity, the Queen's invitation to be knighted appears to be slipping away.

As you can likely surmise, there isn't a whole lot of plot to be found within The Very Excellent Mr. Dundee. The screenplay by Robert Mond and director Dean Murphy appears to have been cranked out in one afternoon. The film merely plonks Hogan in as many uncomfortable situations as possible, with the illogical knighthood plot point thrown in to tie it all together. As narratives go, it's about as deep as a puddle.

While the occasional astute observation on the entertainment industry pops in, the screenplay lacks the intelligence and wit of something like HBO's Curb Your Enthusiasm, which this film is so achingly attempting to be. Much like Larry David, Hogan continually finds himself in awkward circumstances generally founded on verbal misunderstandings, but nothing here meets the same hilariously cringe-inducing level as what David cooks up. By filling the cast with celebrities playing exaggerated versions of themselves, Murphy is obviously taking heavy inspiration from David's masterful series, albeit not quite at the level of stardom as the endless cameos of Curb Your Enthusiasm.

John Cleese is a particular highlight, with the actor relegated to moonlighting as a chauffeur after his infamous costly divorce. Chevy Chase turns up to offer Hogan some advice on reclaiming his fame, namely by lying to people you won an Academy Award. Former TV stars Wayne Knight (Newman on Seinfeld) and Reginald VelJohnson (Carl Winslow on Family Matters) also appear as the apparent best friends of Hogan. A series of Australian actors appear via footage filmed at the G'Day L.A. event including Costas Mandylor, Luke Bracey, and the other Hemsworth brother, Luke because Chris and Liam were clearly busy. And John Travolta and Mel Gibson (yep…) also appear via edited archival red carpet footage, which you'd hope they gave their approval for.

Despite the film's Los Angeles setting, it's painfully obvious production took place in Australia, with a host of L.A. establishing shots filmed in a vain attempt to convince you otherwise. This is compounded by the unfortunate use of a litany of Australian actors who are forced to adopt cringeworthy American accents including Carpani, Jacobson, and odd cameos from Julia Morris, Roy Billing, and Rohan Browne. The use of Fat Pizza's Paul Fenech as Hogan's gardener is particularly baffling, with the comedian required to deliver his brief lines with a god-awful Hispanic accent.

Many actors have delivered stellar performances when playing a fictional and satirical version of their own persona, but it's something that Hogan strangely struggles with. It's a performance devoid of any engaging emotions other than bewilderment and confusion, leaving Hogan to deliver a one-note turn that leaves the barest of impressions. The charming charisma that made him a star occasionally breaks through, but these moments are few and far between in a performance that leaves you yearning for something more.

Notwithstanding the sketchy screenplay, the film does include sporadic moments of hilarity, like an entertainment reporter commenting on the return of 90s comedian Paul Shore to the top of the U.S. box office or Hogan watching the Australian tourism commercial featuring Chris Hemsworth and Danny McBride in a fake Crocodile Dundee remake. A lengthy dream sequence centred on a Broadway musical adaptation of Dundee is absurdly ridiculous, but it's hard not to mildly chuckle at the sight of a showstopping number called "That's Not a Knife." Frankly, given Broadway's current obsession with movie-musical reimaginings, it's ultimately not all that far-fetched to consider this a future possibility.

It's clear Hogan is willing to poke some good-hearted fun at both himself and the entertainment industry, and the film is an earnest attempt to capture the magic of other self-referential meta works. But much of the comedy centres on inadvertent racial misreckonings, which, given the current social climate, feels unfortunately timed and wildly tone-deaf. By the time the narrative attempts to inject a forced romance for Hogan with Newton-John's best friend Ella (Kerry Armstrong, who is so much better than this), you'll likely have given up on this film.

There will be few who miss the irony of including the words "very excellent" in the title of a film that couldn't be further from this adjective. It's a misguided title for an equally misguided film. The Very Excellent Mr. Dundee may play better with an older crowd who remember the heydey of Hogan's career, but even the most ardent Dundee fan will likely be left questioning the necessity of this derivative and rather pointless film.





Distributor: Amazon Prime
Cast: Paul Hogan, Chevy Chase, John Cleese, Olivia Newton-John, Reginald VelJohnson, Wayne Knight, Rachael Carpani, Jacob Elordi
Director: Dean Murphy
Producers: Nigel Odell, Dean Murphy
Screenplay: Robert Mond, Dean Murphy
Cinematography: Roger Lanser
Production Design: Ralph Moser
Costume Design: Jeanie Cameron
Music: John Foreman
Editing: Peter Carrodus, Robert Mond
Running Time: 88 minutes
Release Date: 17th July 2020 (Australia)