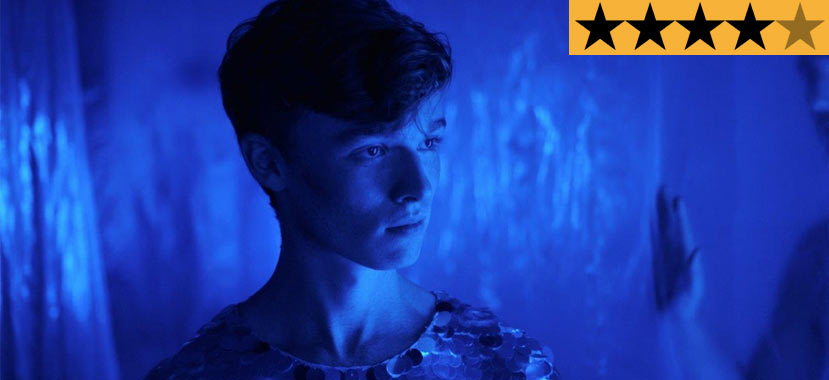 18 Aug

REVIEW – 'Sequin in a Blue Room' is a necessary cautionary tale for the new queer generation

Ever since the launch of gay "dating" app Grindr in 2009, sex has become increasingly more transactional in the gay community. With roughly 30 million users (of which almost 4 million are classified as daily users) around the globe, it's never been quicker and easier for gay men to find someone nearby for a randy NSA (no-strings-attached) rendezvous. Whether this is a blessing or a curse for the gay community likely depends on your views of casual sex.

For those uninitiated with this world, something like Samuel Van Grinsven's confident directorial debut Sequin in a Blue Room may prove rather shocking. But for those more familiar with the parade of headless torsos and one-word conversations, it will likely serve as a pertinent snapshot of gay life in the 21st century. However, Van Grisven's film is far more than just an explicit portrayal of digitally-organised hookups and ultimately stands as a necessary cautionary tale for the new queer generation.

Our naive protagonist is a gay 16-year-old known only to the audience by his username Sequin (a dazzling debut from Conor Leach), whose online pseudonym is inspired by the bejewelled crop top he adorns when meeting with random men for anonymous hookups organised through a Grindr-like app, appropriately called Anon. Whether he's sitting at his desk in class or waiting for a train, Sequin is practically glued to the app and on the hunt for his next one-time affair.

While Sequin attracts the attention of shy classmate Tommy (Simon Croker), he's far too engrossed in his digital world to even notice Tommy's obvious flirtation. With a hard-and-fast rule not to hook up with the same man twice, Sequin generally blocks each conquest the second he's left their apartment. That's precisely what occurs after an encounter with "B" (Ed Wightman), a 45-year-old married man who quickly becomes infatuated with the red-haired teenager and doesn't take kindly to the brutal profile block that follows their session.

After receiving an unexpected invite to a group sex party at the titular "Blue Room" with strict rules ("No talking. No names."), Sequin is shocked to find B is also in attendance. While the married man pursues Sequin through the labyrinthine sex cave, he's saved by an anonymous stranger (Samuel Barrie), leading to a passionate encounter that leaves Sequin with an infatuation of his own. But Sequin's quest to locate the unknown Blue Room attendee will soon lead the youngster down a dark path that quickly spirals out of control.

Brimming with self-confidence and essentially free from the homophobia that plagued generations of gay men of the past, Sequin makes for a fascinating character study. This is not his coming-out story. Sequin is already out to his well-intentioned but generally oblivious father (Jeremy Lindsay Taylor). Even at such a young age, Sequin is openly gay and hardly shy about taking advantage of the digital advancements that have made hooking up as simple as the swipe of a finger. The result of an inherently impatient generation raised by technology, Sequin's obsession with Anon and the stream of men waiting for a quick hook-up is far from healthy, which is a hard lesson he'll soon face.

Without ever passing judgement on Sequin's foolhardy decisions, Van Grinsven and co-writer Jory Anast innately understand their protagonist is merely exploring the innocence of youth and the follies that arise when a teenager is completely out of their depth in a world ready to take advantage of him. It's a film that deftly highlights the potential dangers of gay hookup culture but without ever feeling preachy or seeking to demonise casual sex. Like it or not, Grindr and its many copycat apps are now intrinsically linked with the gay community and Van Grinsven is merely shining a light on the damage they can easily cause, particularly on the next LGBTQ+ generation.

In a captivating portrait of the vulnerability and naivety of adolescence, Leach delivers a remarkable debut performance that announces the young Australian actor as one to watch. Van Grinsven and Anast's screenplay isn't particularly heavy on dialogue, with the filmmakers instead relying on Leach's tremendously expressive face to convey the complicated journey Sequin is struggling through. Leach features in practically every frame and it's wildly impressive to see the young actor able to completely carry the entire film on his juvenile shoulders.

Leach deftly portrays Sequin's complex mix of brash confidence and crippling insecurity to craft a fascinating character that taps into the current state of gay youth and their emergence into a culture that bore incredible pain and sacrifice to achieve the freedom Sequin now enjoys. A product of a generation constantly chasing quick validation through attention sought through online mediums, it's clear Sequin enjoys the power play that comes from procuring the affections of older men and instantly deleting them from his life the minute he leaves their home.

But playing such games with people's hearts is a recipe for trouble, which is a timely message for anyone who believes casual sex will always be considered as such by both parties. It's what makes Sequin in a Blue Room such a refreshing piece of gay cinema. We're not watching an introverted closeted teen dealing with his sexuality. We're witnessing a new era of gay teenagers who, unlike generations of the past, happily and freely embrace their homosexuality from an early age.

When someone like Sequin realises his power and value as a desirable "twink" with a seemingly endless line of older men at his disposal, it creates a misguided sense of control in a world without rules. A constant in the coming-of-age genre is the realisation there are consequences for one's actions, and it's a hard truth Sequin must face as his every move eventually catches up with him, no matter how hard he tries to run from them. It should be necessary viewing for gay members of Generation Z who often fail to grasp the repercussions something like Grindr can bring.

With a large portion of the film's dialogue taking place within the Anon app, Van Grinsven and motion graphics artist Chris Johns wisely display the conversations directly on the screen, which should serve as a lesson to all filmmakers on how to effectively inject textual chats into a narrative. With profiles featuring nothing more than shirtless torsos and profile information including terms like "masc," "discreet," "top," and "hung," there's a level of authenticity here that may prove rather unsettlingly familiar for anyone who's ventured online in the last decade.

But Van Grinsven's marquee sequence arrives when we enter the titular Blue Room, which is housed within an empty studio apartment and partitioned with walls of semi-transparent plastic sheeting. Saturated with blue lighting by production designer Anna Gardiner, it's a potential oasis free of inhibitions and limitations that soon becomes somewhat of a nightmare for Sequin. Working with cinematographer Jay Grant, Van Grinsven choreographs the scene with sweeping motions that quickly diverge into something far more chaotic in an extended moment that's genuinely breathtaking.

In a film that pulls few punches, Sequin in a Blue Room is a resolute, intelligent, and unshakable look at the dark underworld of hookup culture. While the supporting characters are sadly left underdeveloped and the resolution is a touch too convenient, it's an assured debut for both Van Grinsven and Leach. Australian cinema is crying out for more examples of queer cinema that focus on LGBTQ+ youth and the changing landscape of gay culture, so one can only hope Van Grinsven can inspire other filmmakers to follow his lead.





Distributor: Dendy
Cast: Conor Leach, Jeremy Lindsay Taylor, Ed Wightman, Simon Croker, Damian de Montemas, Anthony Brandon Wong, Tsu Shan Chambers, Patrick Cullen, Nancy Denis, Darren Kumar, Simon Elrahi
Director: Samuel Van Grinsven
Producer: Sophie Hattch
Screenplay: Jory Anast, Samuel Van Grinsven
Cinematography: Jay Grant
Production Design: Anna Gardiner
Costume Design: William Tran
Music: Brent Williams
Editing: Tim Guthrie
Running Time: 80 minutes
Release Date: 20th August 2020 (Australia)