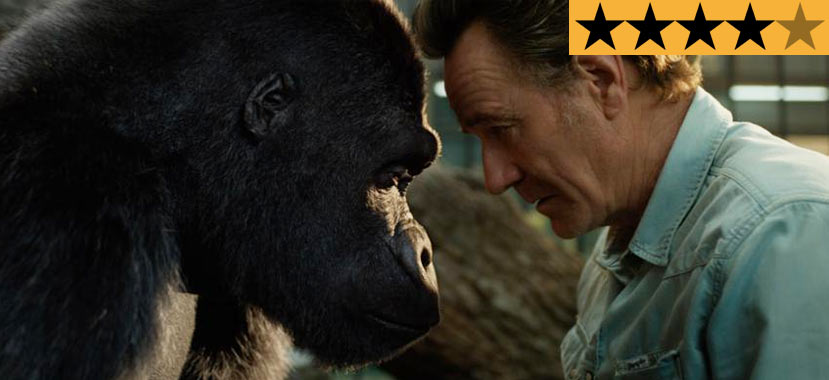 19 Aug

REVIEW – 'The One and Only Ivan' is entirely delightful, surprisingly touching, and endlessly charming

With everything that's happened in 2020, you've likely forgotten the year in film started with the colossal $175 million flop that was Dolittle. Much to no one's shock, it continued a string of recent talking CGI animal films (Cats, The Lion King) that focused too heavily on crafting said digital creations and forgot they needed a heart to land any shred of resonance with an audience. Trepidation abounds when approaching another CGI creature feature this week.

After the pandemic-induced cinema shutdown forced Disney to pull their adaptation of beloved children's novel The One and Only Ivan and relegate it to their streaming service Disney+, you're likely nervous we're in for another Artemis Fowl catastrophe. But this utterly delightful film bucks the current trend of emotionally hollow CGI animal trainwrecks to deliver an entirely delightful, surprisingly touching, and endlessly charming family flick that proves Disney still has the goods to tug at your heartstrings.

Based on Katherine Applegate's award-winning 2013 novel of the same name and inspired by true events, The One and Only Ivan lays its scene at the Big Top Mall and Video Arcade, a quaint shopping centre off the freeway in Tacoma, Washington. Within the mall lies a vintage circus show, overseen by its beleaguered ringmaster Mack (Bryan Cranston), who is struggling to draw crowds and pay his mounting bills.

The star of the show is a majestic silverback gorilla named Ivan (Sam Rockwell), who's been entertaining crowds for several decades with his booming, ferocious roar and terrifying chest-pounding. But his commanding presence is nothing more than a front for the stage, with the gentle giant blissfully enjoying life with his gaggle of animal pals who also call the circus their home.

They include a streetwise, scrappy stray mutt named Bob (Danny DeVito), the wise, matronly "Queen of the Big Top" elephant Stella (Angelina Jolie), the posh, pampered poodle Snickers (Helen Mirren), a baseball-playing chicken Henrietta (Chaka Khan), the neurotic seal Frankie (the film's writer Mike White), the playful parrot Thelma (Phillipa Soo), and the miniature fire-truck driving rabbit Murphy (Ron Funches). The animals are all lovingly cared for by handler George (Ramon Rodriguez), with his precocious daughter Julia (Ariana Greenblatt) stopping by each evening to visit her beloved circus friends.

In a desperate bid to save his troubled circus, Mack introduces an adorable baby elephant named Ruby (Brooklynn Prince) to the act, with the little pachyderm quickly becoming the star of the show and pulling in the crowds again. While Ivan can't help but feel jealous over being usurped from his throne, he promises Stella he'll find a way to free Ruby from the life of captivity the aging elephant has suffered through. When Julia provides the gorilla with a set of art tools, Ivan may have found the answer to delivering his message of freedom to the adoring crowds.

Much of this film shares similar themes and messages to Tim Burton's misguided Dumbo remake, and not just by virtue of both featuring an uber-cute baby elephant. But Burton's film fell flat on its face by foolishly moving away from its animal stars and instead focusing on a roster of dull, one-dimensional human characters; something The One and Only Ivan wisely avoids. By placing Ivan and his collection of animal friends at the forefront of the film's narrative, this is everything Dumbo should have been, and then some.

Overflowing with heart and warmth, The One and Only Ivan is highly likely to elicit more than a few tears from its audience (full disclosure – the conclusion made me weep), echoing classic Disney films of the past that knew a family film is nothing without a soul. Perhaps that's the result of tactfully handing a film like this to a female filmmaker, with director Thea Sharrock deftly understanding her movie would only succeed if the viewer gave a damn about its cast of animal characters.

The emotional resonance Sharrock crafts is bolstered by the impressive ensemble voice cast the director has wrangled together that just happens to include three Academy Award winners. The casting of the ever-reliable Rockwell as the voice of a gorilla may not seem like the most obvious choice, but the actor brings both strength and vulnerability to a character with a surprising level of depth for a primate. In scenes where Ivan is forced to confront the tragic past he's long-buried in his mind, Rockwell captures the gorilla's painful trauma remarkably well.

In a brief but memorable performance, Jolie (who also serves as one of the film's producers) instils Stella with the kind of calm, soothing wisdom you'd expect from an elephant in the twilight years of her life. The maternal role fits Jolie like a glove and her instant protective chemistry with Prince is particularly endearing. As the wildly lovable little elephant Ruby, Prince is perfectly cast, bringing plenty of sweet innocence to a character trying to find her place in the world. But the real scene-stealer proves to be DeVito, whose rambunctious Bob provides a much-needed dose of levity at just the right times.

Cranston manages to find pathos in a role that could have easily been viewed as rather villainous. After all, Mack is a man who's keeping these animals from the freedom they long for, but White has wisely reinvented the cruel character from the novel into something far more sympathetic. The screenplay doesn't completely excuse the negatives around Mack's decision to house a menagerie of exotic animals in captivity, but it doesn't seek to demonise him either. As profitable as the circus may be, Mack genuinely cares for these creatures and begins to realise his time with them must soon come to an end.

With a cavalcade of impressive CGI wizardry, the animals of The One and Only Ivan all look incredibly authentic and wonderfully emotive, allowing an audience to suspend disbelief and settle in for the story from the outset. When the special effects are coupled with the superb vocal performances that bring an unexpected level of gravitas rarely seen in this genre of filmmaking, it's fairly easy to forget the potential silliness of a film mostly starring talking animals. It also helps the creatures only communicate with each other and never with their human cohorts.

The film's relevant message regarding the cruelty of keeping wild animals in captivity is far from subtle, but Sharrock and White know better than to push the environmentalism agenda too far. While there is a necessary dash of demonisation of those who enact animal cruelty on account of selfishly forcing animals into cages, there is a nice nod to the emergence of expansive natural habitat facilities, which Stella describes as the place "where humans make amends." The intelligent elephant also states, "Not all humans are bad," with the film seeking to highlight the outcome of those who put an animal's needs on the same level as a person.

Everything here is wrapped up in a plot that's expectedly predictable, but it never detracts from the enjoyment of the kind of joyful and uplifting film we could all use right now. It also features the style of emotional manipulation Disney has been perfecting for the last nine decades, but, sometimes, you just have to accept there's absolutely nothing wrong with that. A surprising and engaging portrait of one's quest for freedom, The One and Only Ivan proves to be an unexpected winner the whole family can enjoy.





Distributor: Disney
Cast: Sam Rockwell, Angelina Jolie, Danny DeVito, Helen Mirren, Brooklynn Prince, Ramón Rodríguez, Ariana Greenblatt, Chaka Khan, Ron Funches, Phillipa Soo, Mike White, Bryan Cranston
Director: Thea Sharrock
Producers: Angelina Jolie, Allison Shearmur, Brigham Taylor
Screenplay: Mike White
Cinematography: Florian Ballhaus
Production Design: Molly Hughes
Costume Design: Jill Taylor
Music: Craig Armstrong
Editing: Barney Pilling
Running Time: 94 minutes
Release Date: 21st August 2020 (Australia)