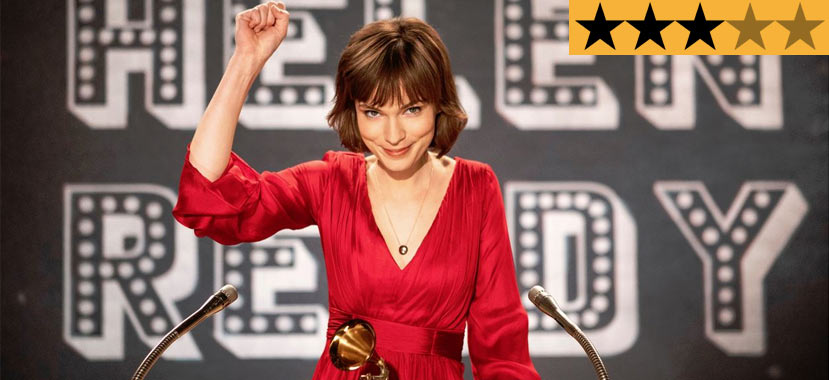 27 Aug

REVIEW – 'I Am Woman' is a nostalgic and wistful biography sadly lacking any real depth

In another addition to the film industry's current obsession with music biopics (Judy, Rocketman, Bohemian Rhapsody, and Straight Outta Compton, plus Aretha to come later this year), it's time to take a trip back to the 1970s and the song that became the unofficial anthem of the women's liberation movement. For the baby boomer generation, Helen Reddy was a feminist icon and the song forever synonymous with her name stood as the battle cry for females all over the globe. With women's rights staggeringly still under attack five decades later, it's the perfect time for a biopic to examine the woman behind the song.

Overflowing with the clichés and tropes that so often beset the biopic genre, I Am Woman is a disappointingly generic retelling of the life of an important figure of both feminism and the Australian music industry. A film that plays like a passive checklist of Reddy's Wikipedia page, it's a nostalgic and wistful biography sadly lacking any real depth. Elevated by a star-making performance from its leading lady, terrific vintage production values, and a rousing finale, it's a still a film well-worth streaming this weekend.

We first meet a wide-eyed and naive Reddy (a captivating Tilda Cobham-Hervey) as she arrives in New York City in 1966 after an exhaustive plane ride from Melbourne, Australia. A single-mum with a three-year-old daughter, Reddy has arrived in the Big Apple after winning a local talent competition promising a record contract with Mercury Records. Much to her dismay, Reddy soon learns the prize was merely an audition for the misogynist big wigs at the label, who instantly dismiss her and declare she has no chance of success in a music market dominated by male acts.

Without the funds to return home and in need to provide for her child, Reddy takes any gig she can at a series of cocktail lounges with patrons who barely notice there's a singer on stage. On the verge of packing up and heading back to Melbourne, Reddy befriends fellow Aussie Lillian Roxon (a brief but memorable Danielle Macdonald), a music journalist in the midst of writing the world's first encyclopedia of rock n' roll. Seeing how her new friend has managed to succeed in the U.S. (Roxon was one of the first Australian journalists to establish a high profile in America) spurs Reddy to stick with her dreams of making it in the music biz.

This leads to a fateful encounter with ambitious young talent agent Jeff Wald (Evan Peters) who's on the lookout for the next big thing in music. The pair fall in love, get married, and take off for Los Angeles, where Wald believes Reddy will have better luck with breaking into the industry. "I Am Woman" soon follows and becomes a #1 hit, but the staggering success of the single is constantly overshadowed by Reddy and Wald's fractured marriage, fueled by Wald's drug habit and lack of focus on Reddy's career.

Inspired by Reddy's 2006 autobiography The Woman I Am, Emma Jensen's screenplay skims through the events of Reddy's life with such ferocious speed, we rarely get a chance to explore who she was and how her music was crafted. Bar a few quick lines jotted on a notepad one evening, the titular track almost appears from thin air and we barely get a chance to savour her Grammy win for Best Pop Vocal Performance Female before we're inexplicably launched forward five years to her stint as a Vegas headliner.

The best biopics tend to focus on one or two key moments in the life of an icon, but I Am Woman suffers by attempting to cram too much into a film that runs less than two hours. That's hardly a slight on Jensen's writing, as it would be unfathomably difficult to leave out too much from Reddy's fascinating life. But it's a structure that tends to focus too heavily on the events of the narrative and sacrifice organic character development and any true exploration of Reddy's musical talent.

Instead, director Unjoo Moon concentrates on Reddy and Wald's romance that quickly spirals into a turbulent marriage once Wald gets hooked on cocaine and starts to whittle away every dollar Reddy has earned. It's curious to see Moon give such focus to Wald, given the actual Reddy thinks so little of her ex-husband, she refers to him by number rather than name in her autobiography. But he is a central figure in Reddy's career, and Peters plays the role with necessary chauvinist misogyny. But everything about their nightmarish relationship is presented in such stereotypical fashion and regrettably takes the attention away from Reddy.

I Am Woman is ultimately saved by the charming and luminous performance of Cobham-Hervey who is a genuine delight to watch. In an understated yet earnest turn, Cobham-Hervey captures Reddy's ambition and determination, while effortlessly imitating the singer's calm swagger when she's on stage. The film would fall apart if you weren't rooting for Reddy and Cobham-Hervey makes it nigh-on impossible not to want to see Reddy succeed. It's a quiet performance but no less powerful than the music of the woman herself.

In early scenes, Cobham-Hervey's chemistry with the scene-stealing Macdonald is wonderfully authentic but the film leaves you yearning for more from this friendship born of feminist resolve. Macdonald tries her utmost to elevate Roxon beyond the tired "best gal pal" character on the page, but it's a thankless role that barely scratches the surface of someone who was a genuine pioneer of Australian journalism. Roxon was Australia's very first female international correspondent whose relentless quest in creating the first rock n' roll encyclopedia took a huge toll on her health. Frankly, she's just as deserving of a biopic as Reddy.

For a film likely made on a small budget (Aussie films rarely cost more than $10 million), I Am Woman looks positively radiant, largely thanks to luscious cinematography from Oscar-winner Dion Beebe. Aided by Michael Turner's production design, Emily Seresin's costume designs and Nikki Gooley's hair and makeup, the film sharply captures the style and decor of the 70s without ever falling into farse. The editing of Dany Cooper keeps the film moving along at a smooth pace to create a final product that may be generic but still consistently entertaining.

As with almost every biopic, I Am Woman wisely brings it home with a stirring finale that ends the film in emotional fashion. It's almost enough to forgive the transgressions of everything that preceded it, especially when Moon fills the closing moments with key events of the feminist movement and the fact the campaign to ratify the Equal Rights Amendment is still ongoing. It's a powerful reminder the fight goes on and the lyrics of "I Am Woman" are as relevant today as they were in 1972.





Distributor: Stan
Cast: Tilda Cobham-Hervey, Danielle Macdonald, Evan Peters, Molly Broadstock, Liam Douglas
Director: Unjoo Moon
Producers: Rosemary Blight, Unjoo Moon
Screenplay: Emma Jensen
Cinematography: Dion Beebe
Production Design: Michael Turner
Costume Design: Emily Seresin
Music: Rafael May
Editing: Dany Cooper
Running Time: 116 minutes
Release Date: 28th August 2020 (Australia)