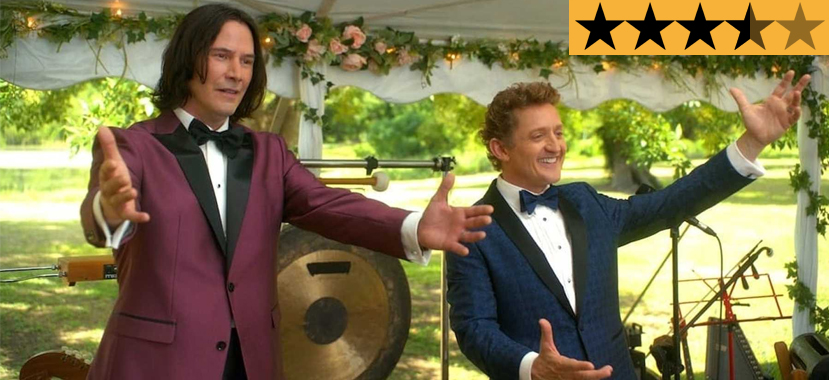 30 Aug

REVIEW – 'Bill & Ted Face the Music' is precisely the dose of silliness we need right now

Ask and you shall receive. For almost three decades, passionate fans of lovable time-travelling jugheads William S. Preston Esq. and Theodore Logan have been crying out for a third adventure of the cinematic duo better known as Bill and Ted. With rumblings of a third film beginning all the way back in 2010, it's been an exhausting wait to finally see Keanu Reeves and Alex Winter reprise their iconic roles.

In Bill & Ted Face the Music, Reeves and Winter finally reunite to deliver precisely the dose of silliness we all need right now. An endearingly sweet and delightfully absurd third outing for the titular pair, it's a film that knows precisely what it is and leans heavily into everything you loved about the first two chapters. Arriving at a bleak time in modern history, the unbridled enthusiasm and playful attitude found within this film gleefully provide the perfect escapism we're likely all craving.

For those unfamiliar with the retro franchise, a speedy prologue briefly explains the past exploits of Bill (Winter) and Ted (Reeves) and their excellent and bogus adventures aided by a time-travelling phone booth. The last time we saw Bill and Ted, their band Wyld Stallyns was performing a victorious concert and they were prophesied to write a song that would unite the world. It's now 25 years later and the song still hasn't materialised.

While Bill and Ted's respective daughters, Thea (Samara Weaving) and Billie (Brigette Lundy-Paine) remain the most ardent fans of their aging rocker fathers, Ted is starting to believe they'll never write the foretold song that will save humanity. With Earth even less united than it was in the early 90s, the universe starts to fracture and spacetime begins "folding in on itself," causing historical figures from across the centuries to be ripped from their own time and unceremoniously dumped into others.

Meanwhile, 700 years in the future, the Great Leader (Holland Taylor) despatches her daughter Kelly (Kristen Schaal) back in time to summon Bill and Ted to her council. She informs the dopey duo they have until 7:17 pm that evening to finally create the greatest song ever written or the universe is toast. Given their lack of success with writing the prophesied song over the last two decades, Bill and Ted instead decide to time-travel to various points in the future in a bid to steal the song from themselves.

Desperate to help their fathers create the unwritten track, Billie and Thea hop in Kelly's time machine and journey back through history to enlist a series of iconic figures from the centuries of music to form a band to play alongside Bill and Ted. With little faith in the titular pair's ability to succeed in their quest, The Great Leader enacts her own contingency plan by sending a robot assassin (a terrific Anthony Carrigan) to kill Bill and Ted and hopefully restore balance to the universe.

Look, you're likely thinking this sounds like the most ridiculous plot of the year, and you're entirely correct. Written by the screenwriters of the first two films, Chris Matheson and Ed Solomon, Bill & Ted Face the Music is outlandishly (and necessarily) silly, but everyone involved in this production is acutely aware of what this film is and it rarely tries to be anything it's not. Absurdist comedy only works when the entire cast and crew are in on the gag and it's best to just let go and allow this film to win you over.

There's an infectious sweetness here that's really quite difficult to resist. It's undoubtedly goofy and nonsensical, but we're talking about a film involving a time-travelling phone booth, Mozart (Daniel Dorr) and Louis Armstrong (Jeremiah Craft) rocking out with Jimi Hendrix (DazMann Still) and Kid Cudi, a robot assassin with crippling insecurities, and a representation of Death (William Sadler reprising his infamous role and having an absolute ball) in the form of a guitar player with a Czech accent. At a certain point, you just have to accept the absurdity of this premise and go with it.

It does take an extended amount of time for the film to truly take off, with the narrative dragging in the first act courtesy of a subplot involving Bill and Ted's beleaguered princess wives Joanna (Jayma Mays) and Elizabeth (Erinn Hayes). Neither Mays nor Hayes are given all that much to do before they whisk off on their own journey through time to locate a point in history where they were happy with their marriages. It means the film is left to juggle three time-travel adventures at once and the plot thread involving Joanna and Elizabeth ultimately feels more like an afterthought.

While Joanna and Elizabeth may be lacking in substance, their daughters steal focus at every turn, with Lundy-Paine and Weave both providing playful representations of their fathers in younger female form. Echoing the spaced-out cadence and mannerisms of Reeves and Winter, the pair have an easy, natural connection that equally matches what made Bill and Ted such a terrific duo. Lundy-Paine nails the impersonation of Reeves' distinctive dude-bro behaviour, while Weaving is a dorky delight with an optimistic, can-do attitude the narrative is needing. If there are plans in the works for a spin-off starring these two, sign me up.

But you came here for Bill and Ted and director Dean Parisot happily serves them up in all their nostalgic glory. Time has not affected the endearing chemistry of Reeves and Winter, who both slip back into their roles effortlessly. The pair are also tasked with playing their future selves through different points in time with all sorts of make-up and costuming completing the looks of these wildly different versions of the characters. It's a delight to see Reeves ham it up after years of being a stone-faced action hero, while Winter knows this is his rare opportunity in the limelight and seizes the chance with aplomb.

For fans of the original films, it's hard to believe you won't be enormously satisfied with everything presented in Bill & Ted Face the Music. It treads its own unique path while still keeping one foot firmly planted in the past. While it's unquestionably dumb, it's irresistibly fun. And lord knows we need cinema like this that right now. Its sincerity is hard to hate in a faithful ode to the past and a sharp reminder that ignorance can be bliss. Don't overthink it. Just have a bodacious good time and party on, dudes.





Distributor: Madman Films
Cast: Keanu Reeves, Alex Winter, Samara Weaving, Brigette Lundy-Paine, Kristen Schaal, William Sadler, Anthony Carrigan, Erinn Hayes, Jayma Mays
Director: Dean Parisot
Producers: David Haring, Scott Kroopf, Alex Lebovici, Steve Ponce, Ed Solomon
Screenplay: Chris Matheson, Ed Solomon
Cinematography: Shelly Johnson
Production Design: Melanie Jones
Costume Design: Jennifer Starzyk
Music: Mark Isham
Editing: Don Zimmerman
Running Time: 92 minutes
Release Date: 10th September 2020 (Australia)