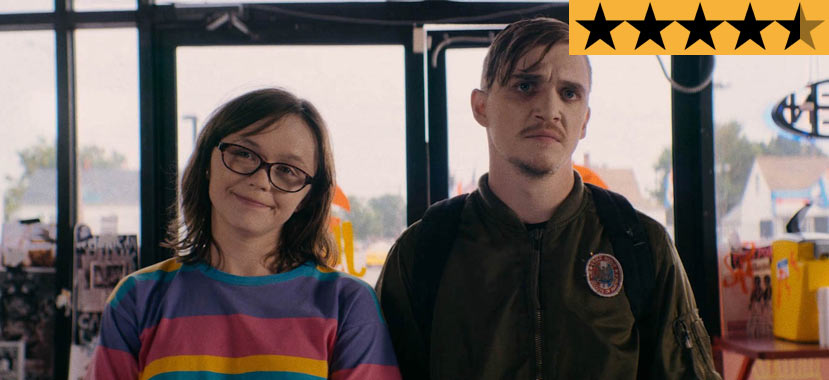 02 Sep

FANTASIA FESTIVAL REVIEW – 'Dinner in America' is a cult classic in the making

Independent cinema loves a good coming-of-age story. From Ghost World to Rushmore, indie filmmakers consistently highlight the complicated journeys of the young, quirky oddballs mainstream cinema often ignores. Indie films provide "non-conformists" their chance to shine and offer a different take on a genre often fraught with tired, nauseating clichés.

Such is the case with writer/director Adam Carter Rehmeier's terrifically enjoyable and unexpectedly heartwarming black comedy Dinner in America, which is easily one of my favourite films of the year thus far. With a streak of anarchy running throughout its narrative and sensational performance by Kyle Gallner and Emily Skeggs, the entire film is one big loving tribute to the punk-rock scene of the 90s and therein lies its endless charm.

Gallner plays punk rocker/occasional drug dealer Simon, the balaclava-clad lead singer of punk quarter Psyops who performs under the pseudonym John Q. Public. After completing a medical study to earn money to pay for the band's next album, Simon quickly hits it off with Beth (Hannah Marks), an amorous young woman he befriends at a bus stop. After Beth invites Simon to her family home for dinner, things quickly turn sour when Beth's mother, Betty (Lea Thompson) attempts to seduce her new houseguest.

As it turns out, Simon is somewhat of a pyromaniac with an angry flair for theatrics. After a scuffle with Beth's father, he flees their home in a literal blaze of glory. Now on the run from the law, Simon fatefully crosses paths with painfully shy pet store clerk Patty (Skeggs), who agrees to allow Simon to hide out at her family's suburban pad. While Patty may project an awkward aura, she's secretly a punk rocker at heart who loves thrashing out in her room to rock music. As fate would have it, Patty has unknowingly invited the lead singer of her favourite band to crash in her room.

At first, it appears Simon and Patty couldn't be more different, but the unlikely duo soon embark on a series of madcap misadventures where a genuine kinship forms and the two misfits subsequently have a remarkable impact on each other. It's far from the most original of narratives and Dinner in America absolutely covers familiar ground seen in numerous other coming-of-age films, but it crackles with an electric energy and a warped sense of humour that's beyond infectious.

It's the sublime performances of Gallner and Skeggs that ultimately elevate Dinner in America above the doldrums of this genre. As a fascinating character filled with contradictions, Gallner delivers one of the best male performances you will see this year. On the surface, Simon initially appears to be a generic bad boy with a nasty attitude and a short fuse. But the charismatic Gallner digs deep to find Simon's true heart and depth, offering a character dripping with captivating charm, sharp intelligence, and a surprising sweetness you'd never expect. Gallner oozes confidence at every turn and the role fits the actor like a glove.

Likewise with Skeggs who was so clearly born to play the role of a quirky outsider with a hidden anarchist heart. Patty is just as contradictory as Simon. You hardly expect to see the timid wallflower pop on a punk-rock record and furiously masturbate on her bed, but it's a surprising moment that quickly makes you realise it's never a good idea to judge a book by its cover. Patty's transformation is a touch on the unbelievable side, especially when her magical image makeover quite literally plays to the old "remove your glasses and let down your hair" trope. But Skeggs is so endlessly likeable and entirely committed to the eccentric character, making it easy to overlook such minor foibles.

As an unconventional romance forms between Simon and Patty, the crackling chemistry between Gallner and Skeggs completely sells this unlikely pairing. Watching these two play off each other is an absolute joy. It's one of the most authentic and charming love stories you will see this year. At just over 100 minutes, Rehmeier actually leaves you yearning for more, which is a damn rarity these days. The running time does mean the pacing can feel slightly rushed at times, but never fatal enough to affect your overall enjoyment with the film.

Injected with dark, twisted humour that echoes films like Napoleon Dynamite, Heathers, Ghost World, and Welcome to the Dollhouse, Dinner in America is a film that will have you laughing in the unlikeliest of moments. Pat Healy and Mary Lynn Rajskub are a scream as Patty's uptight Midwestern parents and there's a delicious dose of background gags for eagle-eyed viewers to enjoy. But Rehmeier pushes his screenplay into dramatic beats that morph this comedy into something far more rounded and downright touching. And it also happens to feature a swag of wicked original punk-rock songs that will likely be stuck in your head for days.

An incredibly rewatchable delight, Dinner in America is a rallying call for outsiders to be true to themselves and find those who accept you for exactly who you are. When our two star-crossed lovers meet, it's fate offering each of them the chance to grow and evolve. Patty grounds and challenges Simon, while Simon pushes Patty to finally unleash the punk within. A bold and unique love story loaded with lashings of devilish humour, Rehmeier has delivered a cult classic in the making.





Production Company: Red Hour Films
Cast: Kyle Gallner, Emily Skeggs, Griffin Gluck, Pat Healy, Mary Lynn Rajskub, David Yow, Hannah Marks, Nick Chinlund, Lea Thompson
Director: Adam Carter Rehmeier
Producer: Ben Stiller, Nicky Weinstock, Ross Putman, Dave Hunter, John Covert, Sam Slater
Screenplay: Adam Carter Rehmeier
Cinematography: Jean-Philippe Bernier
Production Design: Francesca Palombo
Costume Design: Anais Castaldi, Hannah Greenblatt
Music: John Swihart
Editing: Adam Carter Rehmeier
Running Time: 106 minutes
'Dinner in America' plays as part of Fantasia International Film Festival 2020 from August 20 – September 2. For more information and tickets, head HERE.