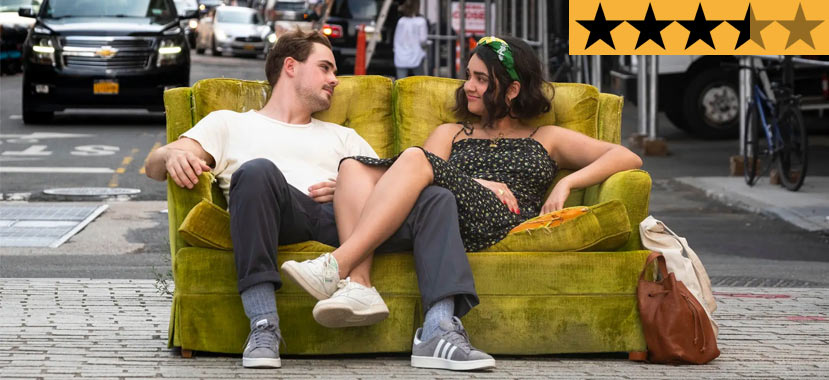 13 Sep

REVIEW – 'The Broken Hearts Gallery' announces the arrival of a new star

Look out, Margot Robbie. A fresh Australian female actor is making a serious play to be the latest it-girl stealing attention in Hollywood. And, for once, she's not a blonde. Nor is she white. Breaking all kinds of outdated perceptions of what constitutes the leading lady of a romantic comedy, The Broken Hearts Gallery announces the arrival of a new star in the form of the ridiculously talented Geraldine Viswanathan.

While the film itself may feel conventional and plays to all the rom-com tropes we're familiar with, writer/director Natalie Krinsky is fully aware of what she's crafting and knowingly takes her debut feature film into a genre she clearly understands well. For all its lack of genuine originality, The Broken Hearts Gallery ultimately soars courtesy of Viswanathan's sparkling performance and a screenplay injected with sharp observations and a pervasive wit that's hard to resist.

The endlessly lovable Viswanathan plays Lucy, a 26-year-old New York art gallery assistant who's somewhat of a hoarder by virtue of keeping an eclectic collection of mementos from her past relationships. While most toss every remnant of failed partners of the past, Lucy clutters them about her bedroom of the Brooklyn flat she shares with roommates, Amanda (Molly Gordon) and Nadine (Phillipa Soo). Lucy is currently dating her boss, Max (Utkarsh Ambudkar), a narcissistic poser who she foolishly believes is her true love, and working for gallery owner Eva Woolf (Bernadette Peters), who Lucy completely idolises.

Just when everything appears to be going right for young Lucy, she's about the have the "worst night of her life." After making a drunken spectacle of herself at an important gallery opening, she's hit with the one-two punch of being dumped by Max and fired by Eva in the one evening. When she mistakes a random car outside the gallery for her Lyft ride, Lucy meets the dashing Nick (Dacre Montgomery), who takes pity on the dishevelled stranger in his car and drops her home.

When Lucy and Nick experience another fateful encounter several days later, he shows her the former YMCA he's renovating into a uber-chic boutique hotel that will feel like the spots he fell in love with when he first moved to New York. Given Nick appears to be 30, let's say his arrival in NYC was around ten years ago. Apparently, Manhattan circa-2010 was the peak of interior design before the city fell into total disrepute.

Anywho, Lucy seizes the opportunity to stage an impromptu art exhibit in an empty lounge area of Nick's hotel, putting the call out on social media for fellow "emotional hoarders" to use the space to finally release the attachment to their own items from failed relationships. Much to everyone's surprise, the "Broken Heart Gallery" becomes a viral sensation and Lucy may have finally found her true calling in the art world.

With echoes of everything from Bridget Jones' Diary to Sex and the City with a dash of When Harry Met Sally and a sprinkle of Girls, The Broken Hearts Gallery is Krinsky's charming ode to the romantic comedy headed by a complicated female protagonist looking for love in all the wrong places. It's clearly a genre which shaped the writer/director's cinematic sensibilities, and, for better or worse, she's crafted a film that follows the well-worn rom-com formula. It's a will they/won't they love story that's generically predictable, but still incredibly entertaining.

There's nothing wrong with a filmmaker refusing to reinvent a genre they adore, especially in their first feature film, but Krinsky follows the romantic comedy template achingly closely, meaning the film rarely deviates into territory we haven't seen explored elsewhere. That being said, there's a fresh, contemporary angle here that effectively taps into the perspective of a young woman struggling through the perils of 21st-century life in New York City. It may only be a few years since Lena Dunham offered something similar with HBO's Girls, but the world has already shifted since then and Krinsky paints a modern portrait that will feel familiar to millennials and Gen-Z of both genders.

After her scene-stealing supporting turns in Blockers and Bad Education, Viswanathan delivers a knockout and star-making performance that cements her place as one to watch. With an excitable energy and sublime comic timing, Viswanathan takes the opportunity of her first major leading role and completely runs with it. A calamitous mix of unbridled confidence and endearing vulnerability, it's a surprisingly nuanced performance that pushes the film beyond the follies of its formulaic narrative.

Much like every romantic comedy, the film lives or dies with its protagonist and an audience's connection to her journey. There's never a moment here where you're not rooting for Lucy to succeed, even as her character makes some frustrating decisions. She's flawed and occasionally frustrating (i.e. she's human), but Lucy's razor-sharp wit, optimistic spirit cast, and penchant for self-effacing humour cast our heroine as someone you can't help but adore, which is only further elevated by Viswanathan's captivating charm and charisma. She's essentially required to carry this film and Viswanathan proves more than up to the challenge.

It's a shame the remainder of the cast are saddled with cliché characters that can't quite match Viswanathan's performance. Montgomery is the perfect choice for the heartthrob role that will make teenagers swoon, but he's little more than an archetypal love interest without any true depth. He has great chemistry with Viswanathan, but you get the feeling he's more than happy to sit back and just let her shine all over this film. Gordon and Soo offer a hefty helping of levity, but their supportive gal pal roles are devoid of any true personality.

It's a remarkable moment to see a romantic comedy headlined by a woman of Indian descent, especially in a film that wisely refuses to even call attention to her ethnicity. Mindy Kaling walked so Geraldine Viswanathan could run. And, boy, does Viswanathan run. In past years, she would have been relegated to the best friend role, so it's wildly refreshing to see a woman of colour take the lead and offer something different. Australia is known for providing Hollywood with a bevy of beautiful blonde actors. It's about time for someone like Viswanathan to highlight the changing landscape of cinema.

While it's disappointing the vehicle to deliver Viswanathan to the world is a formulaic romantic comedy that can't quite break any new conventions of the genre, Viswanathan deftly shows she can sparkle in even the most conventional of films. Even if you're rarely surprised by the narrative of The Broken Hearts Gallery, there's never a moment where you're not enjoying the ride.





Distributor: Sony Pictures
Cast: Geraldine Viswanathan, Dacre Montgomery, Molly Gordon, Phillipa Soo, Utkarsh Ambudkar, Suki Waterhouse, Bernadette Peters
Director: Natalie Krinsky
Producer: David Gross
Screenplay: Natalie Krinsky
Cinematography: Alar Kivilo
Production Design: Zazu Myers
Costume Design: Lea Carlson
Music: Genevieve Vincent
Editing: Shawn Paper
Running Time: 109 minutes
Release Date: 17th September 2020 (Australia)