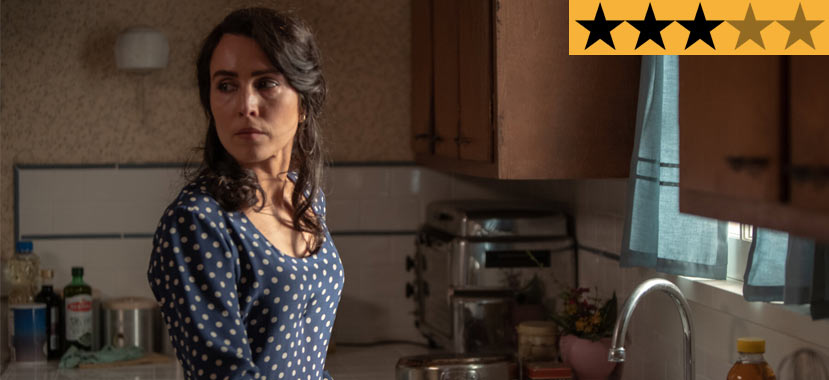 16 Sep

REVIEW – 'The Secrets We Keep' is a a fascinating character study that struggles to maintain its potential sense of intrigue

When you think of female revenge cinema, several iconic performances instantly come to mind; Uma Thurman's blood-soaked rampage of vengeance in Kill Bill Vol. 1 and 2, Sissy Spacek's brutal slaughter of an entire high school of bullies in Carrie, Ellen Page as a teenage pedophile hunter in Hard Candy, and, of course, Noomi Rapace as the computer-hacker-turned-vigilante Lisbeth Salander in The Girl with the Dragon Tattoo.

In Yuval Adler's conventional psychological thriller The Secrets We Keep, Rapace returns to a similar narrative centred on one woman's quest for revenge against the man who committed unspeakable crimes against her. While nowhere near as violent or provocative as the Millennium trilogy, the film taps into heavy themes of trauma and the price of retaliation in a fascinating character study that struggles to maintain its potential sense of intrigue.

Rapace plays Maja, a Romanian immigrant who fled the horrors of World War II and has built a new life in small-town America with her husband, Lewis (Chris Messina), the town's respected resident doctor. While enjoying a picnic in the park with her son, Patrick (Jackson Vincent), Maja is horrified by the familiar whistle of a passing stranger (Joel Kinnaman), who bears a striking resemblance to the Nazi soldier who ruthlessly tortured Maja and brutally murdered her sister.

Consumed by PTSD and desperate to ascertain if the stranger is indeed the man responsible for her sister's death, Maja begins stalking the mysterious Thomas, who lives just a few blocks away from Maja and Lewis with his American wife, Rachel (Amy Seimetz) and their two young children. After luring her possible tormentor into a trap, Maja kidnaps Thomas and ties him to a chair in her basement.

While Thomas protests his innocence and claims to be a Swiss immigrant, Maja continues to push him to confess to his true identity and admit to the crimes she believes he committed a decade earlier. When Lewis returns home from work, Maja has no choice but to reveal the prisoner she's keeping in their cellar, which comes as a huge shock to the doctor, given his wife had never informed him of her torturous experiences during the war.

Adler and Ryan Covington's screenplay consistently attempts to play with ambiguity in regards to whether Maja has captured her predator or wrongly accused an innocent man, particularly as Lewis begins to suspect his wife may have made a terrible mistake. However, even at just 98 minutes, the film lags considerably around the halfway mark by virtue of making the bizarre choice to begin Thomas' capture and interrogation barely five minutes into the first act.

The narrative simply can't sustain a level of mystery and intrigue for close to 80% of the film and it's hard not to let your mind drift before a conclusion you can mostly see coming a mile away. We've barely met Maja before she's stuffing Thomas into the boot of her car, making it difficult to connect with our protagonist and her seemingly insane actions. Instead, Adler allows us to understand Maja over the course of the narrative and how her past and subsequent PTSD is ultimately fueling her actions and potentially blinding her to the truth of Thomas' identity.

While The Secrets We Keep is rather predictable and familiar, the performance of its impeccable leading lady elevates the film beyond a disappointing screenplay. As a complex woman with a damaged past, Rapace commands attention throughout the entire film. Maja is a complicated mix of fierce bravado and crippling vulnerability, born of her horrifying experiences in Romania. Despite constant doubt over whether Maja has discovered a hidden Nazi or her debilitating trauma has warped her memories, there's never a moment where your empathy isn't completely with her.

An underused Messina is tasked with the thankless husband role and his character arc really only comes alive in the film's closing segments. Lewis is torn between supporting his wife's outlandish crusade for vengeance and stepping back to access the situation without emotional attachment, but the screenplay fails to offer depth to his journey. Kinnaman certainly looks the part of a potential former Nazi, thanks to his Aryan looks, but the role doesn't fit the actor particularly well. He effortlessly handles Thomas' stoicism and compassion, but his performance somewhat falls apart in the climax.

While The Secrets We Keep briefly explores the price of retribution and if violence begetting violence is either richly satisfying or horribly damaging, it never reaches deep enough to truly offer any answers. Where the film truly shines is its powerful exploration of trauma and the long-lasting effects of pain on the psyche of a victim of unconscionable assault. Despite its formulaic storyline, the film hits hard thanks to another terrific performance by Rapace, who innately understands how to capture the heart of a damaged female protagonist out for vengeance like few others.





Distributor: The Reset Collective
Cast: Noomi Rapace, Joel Kinnaman, Chris Messina, Amy Seimetz, Jackson Vincent
Director: Yuval Adler
Producers: Lorenzo di Bonaventura, Erik Howsam, Adam Riback, Greg Shapiro, Stuart Ford
Screenplay: Ryan Covington, Yuval Adler
Cinematography: Kolja Brandt
Production Design: Nate Jones
Costume Design: Christina Flannery
Music: John Paesano
Editing: Richard Mettler
Running Time: 98 minutes
Release Date: 17th September 2020 (Palace Cinemas), 21st October 2020 (Foxtel on Demand)