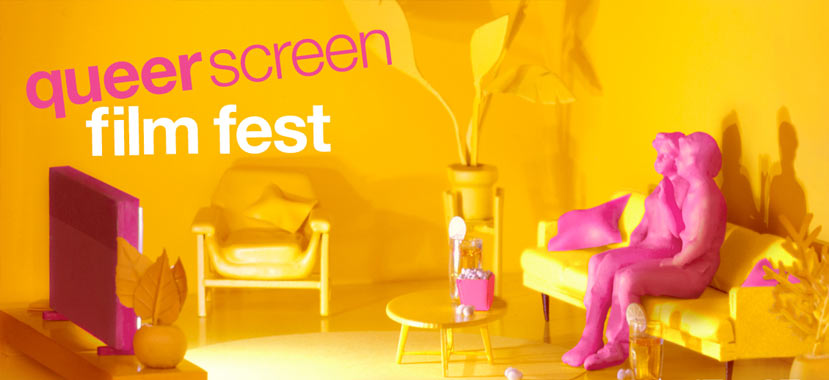 22 Sep

Five highlights of this year's Queer Screen Film Fest

Not even a pandemic could stop this year's Queer Screen Film Fest, which has re-branded itself as an "online-plus" film festival to match the evolved film experience of 2020. Available on more screens than ever, the 8th Queer Screen Film Fest will be online and on-demand and can be accessed from anywhere in Australia.

Featuring 29 Australian premieres, the full program comprises over 40 feature films, documentaries and shorts – 90 percent of which can be accessed by LGBTIQ+ communities and allies around the country for 11 days from September 17 to September 27.

With dramas, comedies, documentaries, and everything else in between, there are dozens of films to keep liven your spirits during these dark times. Here are five films The Jam Report highly recommends form part of your viewing schedule.

Breaking Fast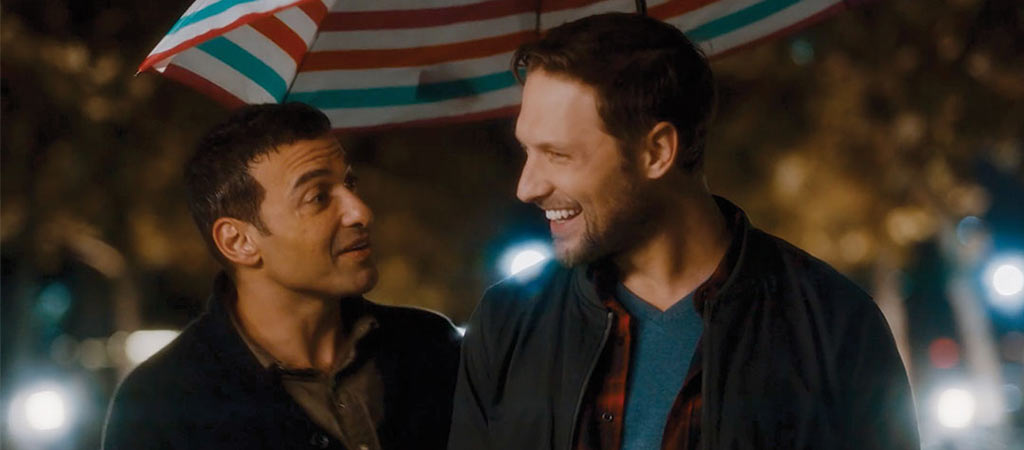 A charming romantic comedy centred on the adorably sweet love story of two gay men from wildly different cultures, Breaking Fast is a bold statement that challenges many misconstrued notions surrounding the Islamic faith. Expanding on his 2015 short of the same name, writer/director Mike Mosallam delivers a refreshing gay romance that earnestly offers a fascinating modern exploration of religion and sexuality.
Neurotic doctor Mo (Haaz Sleiman) is a devote Muslim living in West Hollywood who's recovering from his ex-boyfriend's (Patrick Sabongui) decision to kowtow to pressure from his homophobic parents and marry a woman. As the holy month of Ramadan approaches, a new boyfriend is the last thing on Mo's mind. That all changes when he meets all-American aspiring actor Kal (Michael Cassidy), who sweeps Mo off his feet with his charming nature, surprising knowledge of Islam, and proficiency in Arabic.
The timing clearly couldn't be worse, as impure thoughts and sexual interaction are haram (forbidden) during Ramadan, but this allows the pair to fall for each other without sex clouding their judgement. It's rare to find a piece of queer cinema where sex doesn't form some aspect of a love story narrative, so it's wonderful to see Mosallam offer an entirely chaste depiction of a same-sex relationship.
While the film can't help but hit many familiar romantic comedy tropes and the dialogue occasionally strays into stilted territory, Breaking Fast is still enormously entertaining. It's an entirely pertinent tale in a world that still struggles with the idea that a man can be gay and Muslim without feeling torn between the two. The gorgeous chemistry between Sleiman and Cassidy is divine and Amin El Gamal is a hoot as Mo's flamboyant best friend, Sam, whose differing views on their shared religion causes plenty of compelling drama.





Cicada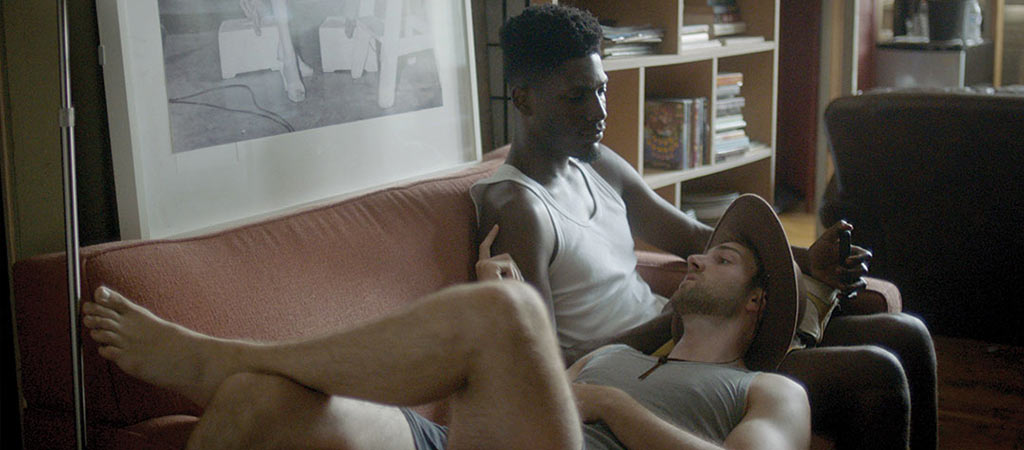 Living with repressed trauma is an unfortunate fact of life for so many gay men. Whether that trauma results from experiencing homophobia, dealing with difficult journey of accepting one's sexuality, or, at worst, suffering sexual abuse at a young age, it's something many queer filmmakers have frequently cathartically injected into their work. Such is the case with Matthew Fifer's powerful feature film debut Cicada, which draws from his own experiences to craft one of the year's best films.
Fifer (who serves as the film's lead actor, co-writer, co-director, and co-editor) plays Ben, a bisexual twenty-something New Yorker who has recently ended his engagement to his female fiance and, as his sister so eloquently puts it, gets "back on the dick." After numerous random sexual encounters with any man (and the occasional woman) with a pulse, Ben meets Sam (Sheldon D. Brown) and their initial one-night stand soon becomes something far deeper.
As their connection grows, both men battle obstacles that consistently threaten to derail their relationship. Sam is still bearing the physical and mental scars from a recent violent incident, while Ben is carrying the buried baggage of childhood abuse that manifests into bouts of unexplained nausea. Complicating matters further are Sam's religious father (Michael Potts), who has no idea his son is gay; Ben's mother (Sandra Bauleo), who is completely in the dark about the abuse her son suffered while he was a child; and the inherent issues facing any interracial couple.
Cicada left such a mighty impression on this film critic that a full review will be published in the coming days. For now, I will say it is one of the most beautifully crafted pieces of queer cinema of recent times. Honest, raw, occasionally funny, and deeply moving, it's a remarkable portrait of trauma that refuses to shy away from the difficult journey faced by those confronting the pain of the past. Fifer makes his mark as both a filmmaker and actor to watch and I can't wait to see what he does next.





Gossamer Folds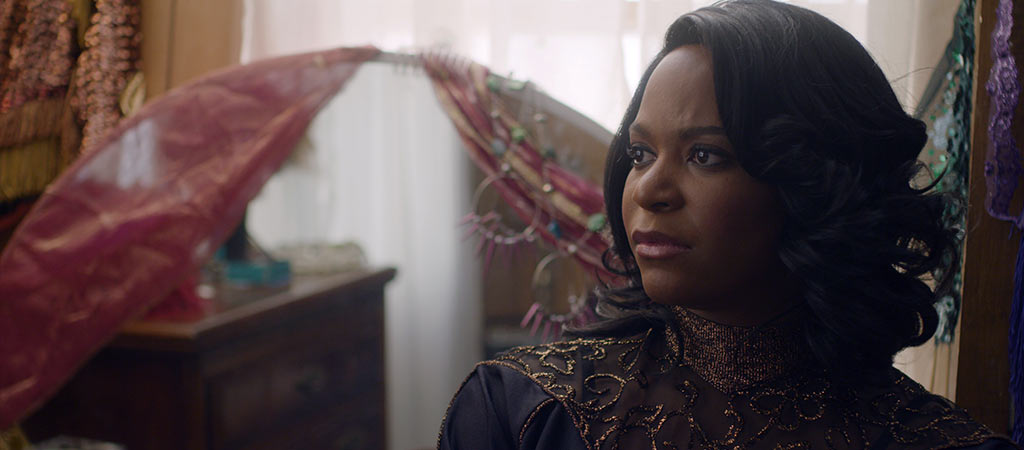 A tender, honest, and heartwarming tale, Gossamer Folds is an absolute gem of a film. Cemented by a stellar performance from Alexandra Grey, it's a deeply nuanced examination of identity, friendship, and family in any form. A gorgeous story of bravery and self-discovery, Gossamer Folds is a beautiful portrait of a trans woman finding her strength and forging her own path in life in a film that's precisely the uplifting piece of cinema we need right now.
In the summer of 1986, ten-year-old Tate (Jackson Robert Scott) moves to a small suburban town outside Kansas City with his parents, Frannie (Sprague Grayden) and Billy (Shane West). Living next door is a retired English professor Edward (Franklin Ojeda Smith) and his transgender daughter, Gossamer (Grey), a talented seamstress who dreams of becoming a New York City fashion designer.
Despite his father's warning to stay away from Gossamer, Tate soon bonds with the wannabe designer, who takes the young lad under her wing. Those around Tate see him as a child, yet Gossamer treats him as her equal. While most treat Gossamer as an outcast or a "deviant", Tate's innocence and unprejudiced eyes see her as nothing more than a new friend. As their friendship grows, Gossamer begins to discover her hidden force to finally become the woman she's longed to be.
In a remarkable performance, Grey deftly leads a wonderful ensemble cast in this moving portrayal of the trans experience in the mid-80s. For all it's glorious light, there's darkness dotted throughout this narrative, particularly as Gossamer struggles with her father's insistence on misgendering her and stories of bashings of trans women occurring in nearby neighbourhoods. Authentic trans cinema is still sadly in the minority, so it's refreshing to see such a genuine and touching tale led by a trans actress who innately understands her character's difficult journey to happiness.





Song Lang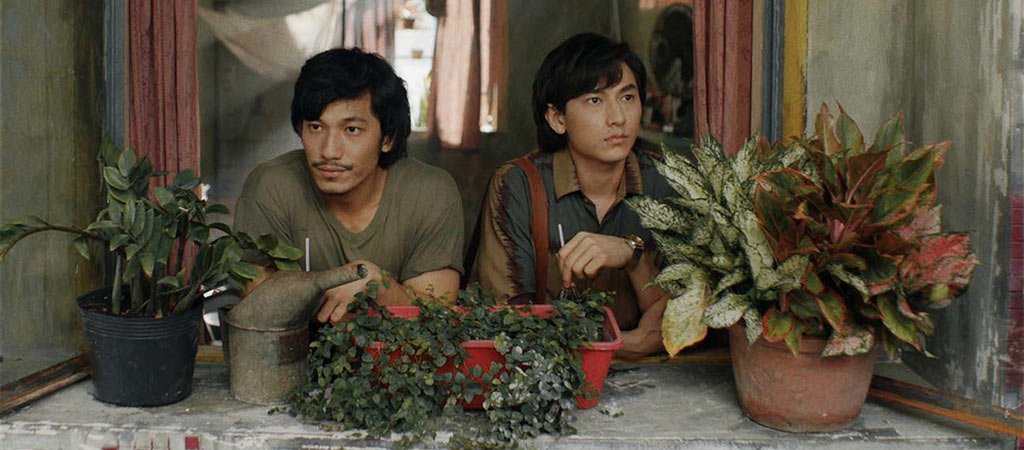 A visually captivating Vietnamese gem, Song Lang takes its name from a percussion instrument often used in Vietnamese music to keep the beat, particularly in traditional folk opera known as cai luong. But there's a deeper meaning to the instrument, with many believing it can "guide artists down the moral path." It's this interpretation which forms the crux of Leon Le's dazzling feature film debut, set in the world of his beloved cai luong.
Set in 1980s Ho Chi Minh City, Linh Phung (Vietnamese pop star Isaac) is the star of a travelling cai luong troupe who has found himself deeply in debt with a local loan shark. When unruly debt collector Dung (Lien Binh Phat) is sent to collect that debt, the two form an unlikely bond neither could have foreseen. As Dung's stern exterior begins to break, Linh starts to see there's far more to this violent brute than meets the eye.
A gentle love story told with delicacy by Le, Song Lang slowly unravels its narrative without falling into the gooey tropes that often beset such an unlikely romance. Isaac and Phat are perfectly cast and their chemistry is beautifully authentic, crafting an unlikely connection that's wonderfully restrained and deeply effective. In a visual sense, Song Lang is simply stunning, with a rich colour palette and beautifully composed shots that give the film a wonderful vintage feel. A spectacular debut from Le, he's stamped his claim as a filmmaker to watch.





Stage Mother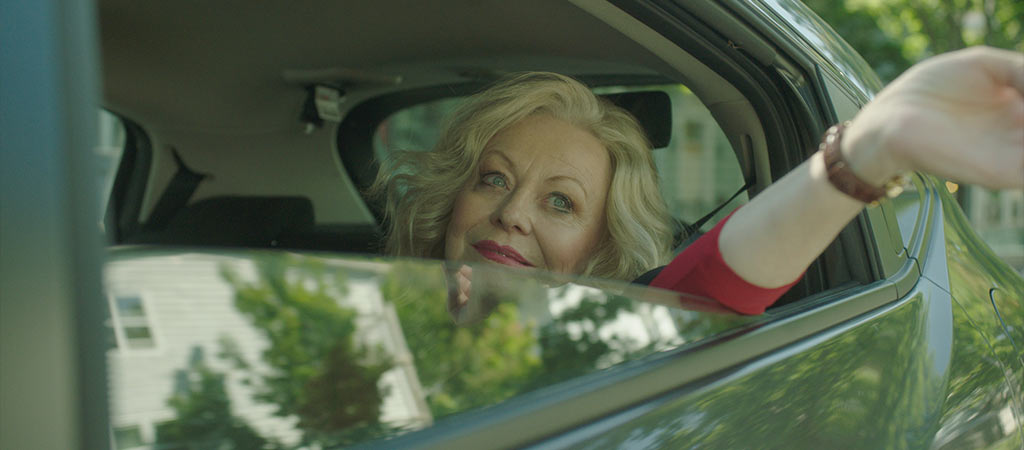 After two Oscar nominations and a veritable swarm of American films, the renaissance of Jackie Weaver's career has been nothing short of spectacular. While it's true practically all of those films have failed to capture the magic of Animal Kingdom and Silver Linings Playbook, Weaver has quickly become one of the most reliable performers in Hollywood. In Stage Mother, Weaver is again tasked with the unenviable task of elevating a formulaic and outdated narrative. Unsurprisingly, she succeeds.
Weaver plays Maybelline Metcalf, an ultra-conservative church choir director who journeys to San Francisco for the funeral of her estranged son, Rickey (Elon Thiele), a drag performer who died from a drug overdose. After turning her back on Rickey for the past ten years, Maybelline faces immediate animosity from her son's grieving partner, Nathan (Adrien Grenier), but finds an ally in Rickey's best friend Sienna (Lucy Liu).
When Maybelline learns she is the sole beneficiary of Rickey's will, she inherits control of Pandora's Box, a lagging drag bar in desperate need of a makeover. Much to Nathan's chagrin, Maybelline decides to stay in San Francisco and freshen up Pandora's Box with a new act for Rickey's drag sisters, Joan (Allister MacDonald), Cherry (Mya Taylor) and Tequila (Oscar Moreno). In the process, Maybelline may have finally found her true calling in life.
As the narrative crosses familiar territory and hits all the beats you're likely expecting, Weaver's luminous performance saves this film from itself. As a mother mourning the loss of her son and living with crushing regret, Weaver digs deep in a film lacking any real depth. Weaver's effervescent spirit is a constant delight and Maybelline's optimism is charming enough to spin this generic fish-out-of-water comedy into something breezily enjoyable.





Queer Screen Film Fest runs 17-27 September 2020. For more information, visit https://queerscreen.org.au/