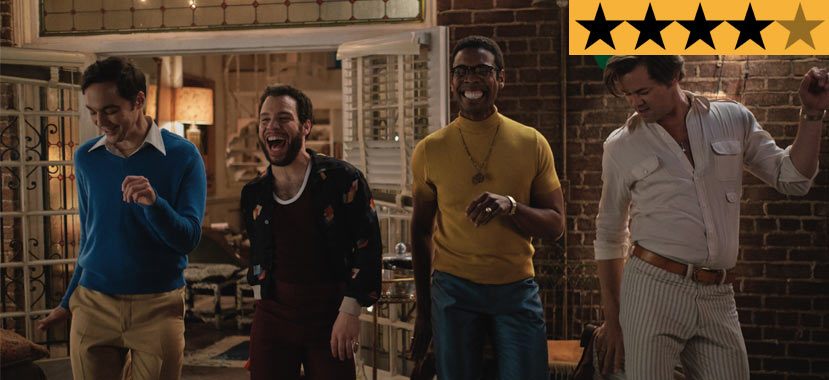 27 Sep

REVIEW – 'The Boys in the Band' is unashamedly camp, deliciously entertaining, and deceptively compelling

Earlier this year, we were given the rare treat of experiencing a moment in Broadway history in our living rooms with the Disney+ release of Lin Manuel Miranda's miraculous musical Hamilton. In many ways, Joe Mantello's The Boys in the Band seeks to offer something similar. While not a live stage recording of the Tony Award-winning 2018 Broadway revival of Mart Crowley's seminal 1968 play, Mantello reassembles the entire sublime ensemble cast of openly gay actors to reprise their stage roles and deliver this divisive work to a new generation through the medium of Netflix.

For better or worse, The Boys in the Band doesn't attempt to reinvent its source material, which may seem somewhat redundant to those familiar with either the play or William Friedkin's iconic 1970 film adaptation. However, for those experiencing Crowley's work for the first time, the film will likely feel like a breath of fresh air, even with its vintage late-60s setting. A snapshot of queer culture and the perils of internalised homophobia that's just as relevant today as it was in '68, The Boys in the Band is unashamedly camp, deliciously entertaining, and deceptively compelling.

Set over the course of one turbulent evening within an Upper East Side apartment, The Boys in the Band introduces us to the neurotic Michael (a terrific Jim Parsons), a semi-employed writer who bemoans his aging looks ("That's one thing you can say for masturbation: you don't have to look your best.") while living a champagne lifestyle on a beer budget by virtue of being a master of dodging the debt collectors. Michael is preparing to hold a birthday party for his dearest frenemy, Harold (a perfectly sauntering Zachary Quinto) with a guest list consisting of "six tired screaming fairy queens and one anxious queer."

Arriving at the swanky Manhattan abode are Michael's lover-turned-emotional-support-animal Donald (Matt Bomer); promiscuous party boy Larry (Andrew Rannells) and his ultra-masc maths teacher partner, Hank (Tuc Watkins), who seem to be in a constant state of sparring; wildly flamboyant interior decorator Emory (a fabulous Robin de Jesús reprising his Tony-nominated role), who's happy to be the self-appointed "nelly" of the gang; sophisticated librarian Bernard (Michael Benjamin Washington), who appears to be completely detached from the silliness of the soiree; and lastly, a rent boy known as "Cowboy" (Charlie Carver), a dimwitted street hustler clad in a t-shirt two sizes too small who's been hired by Emory as a birthday gift for Harold.

In the midst of plenty of playfully bitchy banter and a rainstorm that forces the entire gang to abandon Michael's terrace (subsequently leaving his cake out in the rain *ba dum tsh*) and gather in his loungeroom, the party is interrupted by the unannounced arrival of Alan (Brian Hutchinson), an ambiguously heterosexual married father of two who roomed with Michael at college and had called his former roommate earlier in the day on the verge of an emotional breakdown. As the alcohol begins to flow and Michael suggests a rather sadistic game that opens many an old wound, this merry band of men are all forced to confront their past, their present, and, of course, each other.

It's a curious move by Mantello to ignore the temptation to transplant Crowley's characters into a 21st-century setting to explore how times have changed and the ways a modern retelling affects the original play. It soon becomes abundantly apparent this was a conscious decision, as the issues these characters are facing (homophobia, bigotry, hate crimes, monogamy, and the quest to meet the impossible beauty standards of gay society) are still painfully pertinent to gay men of any era, especially at a time where we thought society had turned a corner but now everything appears to be moving backwards.

Internalised homophobia inherently develops in practically every gay man from an early age. The Boys in the Band deftly highlights how that internal hatred can still haunt those who seemingly accepted and/or embraced their sexuality long ago. It manifests in numerous ways, particularly by the need to "act straight" around heterosexual men, which is personified by Michael's rising dread by the arrival of an outsider into his exclusive club of fellow queers. It creates a contradiction whereby Michael appears to both celebrate and resent his sexuality, often flipping between the two in the blink of an eye.

Each of Crowley's characters is grappling with their own unique issue created by their sexuality, with the film charting their first tentative steps to freeing themselves of their crippling self-hatred. Michael is struggling with his Catholic faith that deems homosexuality a sin. Donald has fled New York City and sought help from a psychiatrist to break his addiction to everything "the scene" offers. Emory both adores and despises his effeminacy. Bernard is dealing with racism and the way society treats him as an "Uncle Tom." Larry is fighting against Hank's insistence on monogamy. And Harold describes himself as a "32-year-old, ugly, pock-marked Jew fairy."

Crowley's original play was a landmark moment for queer representation in popular culture. As was Friedkin's 1970 film. While both have their fervent critics who insist the narrative did little but perpetuate the stereotype of self-loathing gay men, it broke new ground by placing an entire ensemble of openly gay characters at the forefront of their own story. Over 50 years later, that's staggeringly still a rarity on both stage and screen, so it's a giddy thrill to see Mantello and Netflix bring this story to mainstream audiences, headed by an entire cast of openly gay male actors.

As one of the year's finest ensemble casts, there's not a weak link to be found in this group of actors whose earnest, warm chemistry was forged two years ago on the Broadway stage. Rannells is essentially tasked with playing a retro reinterpretation of his scene-stealing character Elijah from HBO's Girls, but it's a role that fits the actor like a glove. His connection to Watkins is entirely believable, with the two crafting a bickering relationship that will feel familiar to viewers of any sexual orientation. Washington brings elegance to his role and his moment in the sun leaves a mighty impact.

Carver is endearingly sweet as the hunky dullard who hasn't quite reached the point of self-introspection of his new comrades. Let's be honest; he likely never will. You may think it's a stretch to cast someone like Quinto as a character who deems themselves hideously ugly, but even the most beautiful of humans can grapple with self-doubt and Quinto sells it incredibly well. Bomer isn't giving all that much to do, but his natural charisma oozes throughout the quietest performance of the bunch. But the real scene-stealer proves to be the glorious de Jesús who chews the scenery in a riotously over-the-top performance that adds plenty of levity and energy to the film.

But The Boys in the Band ultimately belongs to Parsons, who delivers his finest performance to date that demands to be amongst discussion for Best Actor come awards season. It's a performance that constantly threatens to spiral out of control, but Parsons consistently remains in tight command of Michael, suggesting a strong kinship between actor and character. As Michael becomes increasingly inebriated, his cruel streak begins to show and Parsons' performance becomes something entirely menacing as Michael's self-loathing causes him to lash out against every one of his guests. This all leads to a gut-wrenching breakdown, with Michael sobbing, "If we could just learn to not hate ourselves so very much." Amen to that.

While the film is aided by impeccable vintage production design by Judy Becker and the perfectly retro costume designs of Lou Eyrich, the action is mostly contained to Michael's apartment, creating the unavoidable feeling you are still indeed watching a play. This creates a chaotic, claustrophobic aura akin to something like Mike Nichol's Who's Afraid of Virginia Wolf?, especially with alcohol fuelling much of the ensuing conflict and Crowley's penchant for acid-laced dialogue, which hasn't lost any of its potency over the last five decades. As the guests turn on each other, it all becomes strangely exhilarating to watch these intelligent gay men in a fiery battle of the wits that's equal parts entertaining and unsettling.

With Crowley's sudden death in March, The Boys in the Band stands as the ultimate bittersweet swansong to a man who crafted one of the most significant pieces of queer literature in history. His play arrived a year before the Stonewall riots and long before the AIDS pandemic decimated an entire generation of gay men and sparked waves of terrifying homophobia. It's a snapshot of a more innocent time that focuses on the human condition and the resilient strength inherently found in gay men.

Rejecting self-hatred was ultimately the first step in the path towards gay rights and even the notion of something now commonplace like gay pride. As RuPaul wises preaches, "If you can't love yourself, how in the hell you gonna love somebody else?" The film demands we take accountability for our own lives and shines a light on the struggles of our gay forefathers that still holds strong relevance today. It's a must-see piece of gay history for the next queer generation that's now easily accessible in their own homes. Both uproariously hilarious and crushingly heartbreaking, The Boys in the Band is a gorgeous work that showcases the impressive results when gay actors are given the rare opportunity to tell our stories.





Cast: Jim Parsons, Zachary Quinto, Matt Bomer, Andrew Rannells, Charlie Carver, Robin de Jesús, Brian Hutchison, Michael Benjamin Washington, Tuc Watkins
Director: Joe Mantello
Producers: Ryan Murphy, David Stone, Joe Mantello, Ned Martel, Alexis Martin Woodall
Screenplay: Mart Crowley, Ned Martel
Cinematography: Bill Pope
Production Design: Judy Becker
Costume Design: Lou Eyrich
Editing: Adriaan van Zyl
Running Time: 121 minutes
Release Date: 30th September 2020 (Australia)