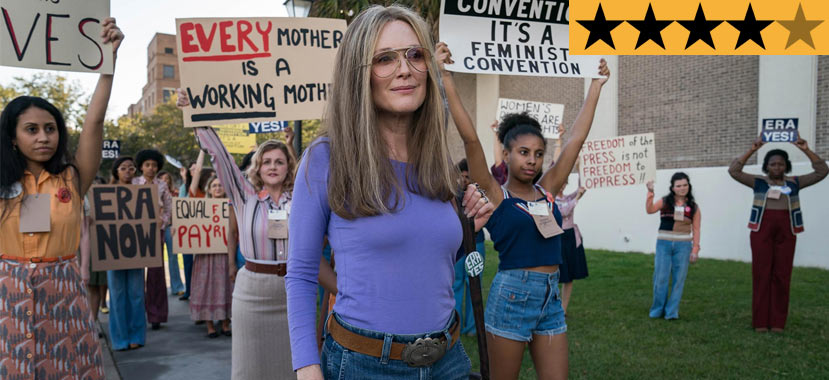 29 Sep

REVIEW – 'The Glorias' is arriving at just the right time

For better or worse, Julie Taymor is a stage director willing to take tremendous risks that either pay off handsomely (her Tony Award-winning work on The Lion King) or fall flat on their face (the unmitigated nightmare that was Spider-Man: Turn Off the Dark). With her background in spectacle-infused theatre, Taymor has a knack for crafting visuals that don't always translate to the screen in her divisive dalliances with filmmaking.

Thankfully, Taymor only occasionally digs into her bag of stylistic tricks with her celebration of one of the most iconic figures in the history of feminism. A perfect companion piece to FX's sublime limited series Mrs. America and a film that takes on even more relevance with the recent passing of trailblazer Ruth Bader Ginsberg, The Glorias is arriving at just the right time.

Covering practically the entire life of feminist heroine Gloria Steinem, Taymor is once again tackling an ambitious project in a style all of her own. A wildly nontraditional biopic that plays with the chronological order of key events in Steinem's life with intermittent injections of Taymor's flair for fantastical elements, The Glorias easily could have been a giant mess. Aided by a wonderful ensemble cast and Steinem's captivating life story, the film ultimately shines when it pulls back and allows its subject to take centre stage.

Based on Steinem's 2015 autobiography My Life on the Road, Taymor takes that title quite literally by framing the entire film around a fantastical Greyhound bus trip through Steinem's memories, all shot in black and white, while the world outside streams by in colour. Onboard are four incarnations of Steinem at various ages throughout her life, who interact with one another to reflect on the many challenges each has faced. It's a touch jarring at first, especially with Taymor jumping between timelines at the blink of an eye, but it's easy enough to follow.

As a child, Steinem (Ryan Kiera Armstrong) gets her first taste for life on the road, courtesy of her travelling-salesman father, Leo (a charming Timothy Hutton), who teaches his young daughter, "Travel is the best education." As a teenager, Steinem (Lulu Wilson) is left to care for her ailing mother, Ruth (Enid Graham), who suffered a nervous breakdown leading to crippling bouts of depression, anxiety, and paranoid delusions. Before her mental decline, Ruth was once a journalist who was forced to write under a male pseudonym.

Her mother's tragic path in life was Steinem's first experience with the perils of being a woman in a man's world and ultimately strengthen her resolve to avoid such a life of disappointment. We first meet twentysomething Steinem (a terrific Alicia Vikander) on her two-year journey around India, where she visits rural villages and hears horrifying stories of brutal violence against women of the lower class.

Upon her return to New York City, Steinem dives into the misogynistic world of journalism, where her sexist editors insist she covers frivolous issues like fashion and glamour. After we follow her early career as a gutsy journalist, including making waves with an infamous article exposing the treatment of women working at the Playboy Club and co-founding the feminist magazine Ms., we jump forward to an elder Steinem (the ever-reliable Julianne Moore), who becomes a key figure in the women's liberation movement of the 1970s and 80s.

It's refreshing to find a biopic that refuses to follow a typical linear structure, with Taymor jumbling Steinem's history to thematically connect various events to each other. It may sound horrendously confusing, but the four actresses landmark each timeline, making it easy for Taymor to effortlessly slip in and out of eras without the need for nauseating title cards. The film can't entirely avoid the need to hit typical biography film tropes, like a silly origin story of Steinem's iconic aviator sunglasses that pointlessly gives deeper meaning to what was clearly just a fashion statement or an inauthentic discussion around the naming of Ms. magazine.

Despite its non-linear composition, The Glorias is a fairly conventional biopic, which means Taymor's insistence on adding her flair for kooky stylistic flourishes will likely divide audiences. At one point, all four Glorias transform into vengeful witches and suck a sexist television interviewer into a Wizard of Oz-style tornado in a sequence that genuinely appears from nowhere. The creation of the first Ms. magazine cover is crafted in an extended animation featuring the Hindu goddess Kali that ignores the actual artist who brought the famous image to life.

These moments often seem at odds with everything surrounding them and it's hard to say what they really bring to the final product. Still, you have to admire Taymor's confidence in creating such outlandish moments and they certainly add some spice to an otherwise traditional film. For all of Taymor's love of visual arts, it's her obvious adoration for Steinem that steers this project away from veering too far off course. She's seeking to showcase Steinem's commitment to the advancement of women and that's entirely achieved through the impressive ensemble cast Taymor has constructed.

Oscar winners Vikander and Moore are perfectly cast, both expertly capturing Steinem's unique cadence and mannerisms without ever falling into caricature. Their performances flawlessly complement each other, with Vikander tackling Steinem at an age where she was still discovering her voice and Moore joining at the point where that voice as now at its loudest. Vikander's Steinem highlights her ability to connect with women of any creed, while Moore's Gloria is a fierce warrior who's determined to make the world a better place for the next generation of females.

Taymor innately understands Steinem's respect of intersectionality was a key factor in her journey to the forefront of the women's rights movement. It was her earnest connection to women of all races that helped push her forward as a key figure of 70s activism. It's impressive to see a biopic refuse to entire deify its subject and pay deserving kudos to those surrounding her. Through a stellar cast of supporting characters, we see Steinem's rise to prominence and how each played a key role in her evolution as a leader.

Activist Dorothy Pitman Hughes (Janelle Monáe) helps Steinem vanquish her crippling fear of public speaking. Wilma Mankiller (Kimberly Guerrero), the first woman elected to serve as Principal Chief of the Cherokee Nation, opens Steinem's eyes to the treatment of Native American women. Streetwise activist lawyer Flo Kennedy (a scene-stealing Lorraine Toussaint) encourages Steinem to add some soul to her speeches. And Steinem joins forces with firecracker Congresswoman Bella Abzug (a fabulous Bette Midler) to establish the National Women's Political Caucus, leading to the film's marquee moment at the 1977 National Women's Conference.

With a running time close to two-and-a-half hours, The Glorias may be criticised for attempting to cover too much of Steinem's life and rushing to cram it all in. There are moments where you wish Taymor had paused to explore key events a touch more deeply, but she is clearly determined to offer Steinem's life as a whole to create a rich tapestry of everything this inspiring woman experienced during her fight for women's liberation; a fight that still goes on to this day, as evidenced by the film including archival footage of Steinem's powerful appearance at the 2017 Women's March in Washington D.C.

In a year where Steinem appeared as a supporting character in a limited series that barely scratched the surface of her persona, The Glorias delivers a fully rounded perspective of who she was, what she achieved, and why she remains a central figure of feminism. At a time when the fight for women's liberation is once again in the spotlight, there's a fiery potency to something like The Glorias that makes this film incredibly important.

The film's title may seem like a reference to the fact four actors are simultaneously playing Steinem, and, sure, that's one way of looking at it. But it's ultimately a nod to the swarm of "Glorias" created over the course of Steinem's decades spent as a leading activist in the battle for women's rights. With the loss of RBG and an upcoming election that could change the course of America for a generation to come, we need those Glorias more than ever.





Distributor: Roadside Attractions
Cast: Julianne Moore, Alicia Vikander, Janelle Monáe, Bette Midler, Timothy Hutton, Lulu Wilson, Lorraine Toussaint, Enid Graham, Ryan Kiera Armstrong, Kimberly Guerrero, Monica Sanchez
Director: Julie Taymor
Producers: Alex Saks, Julie Taymor, Lynn Hendee
Screenplay: Julie Taymor, Sarah Ruhl
Cinematography: Rodrigo Prieto
Production Design: Kim Jennings
Costume Design: Sandy Powell
Music: Elliot Goldenthal
Editing: Sabine Hoffman
Running Time: 147 minutes
Release Date: 30th September 2020 (U.S)