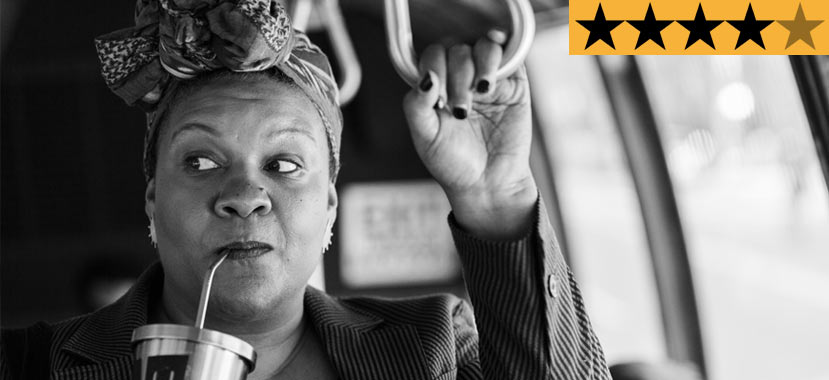 08 Oct

REVIEW – 'The Forty-Year-Old Version' is one of the year's strongest debut works

A wise man once said, "A wizard is never late, nor is he early, he arrives precisely when he means to." That may have been true in Middle Earth, but it doesn't quite work that way in the film industry. To see a screenwriter, director, producer, and star make her feature film debut at the ripe age of 40 is hardly a typical occurrence in the film industry, especially for a woman of colour. What an absolute delight it is to see this occur in such a dumpster fire of a year.

With her deeply personal and wildly endearing debut The Forty-Year-Old Version, Radha Blank boldly announces the arrival of an intelligent, fresh new voice who may not be arriving precisely when she meant to, but it's a case of better late than never. A smart introspection on the perils of middle age and a sharp exploration of the sacrifices one must endure to make it in the entertainment industry, the film is a breath of fresh air and easily one of the year's strongest debut works.

Working from Blank's semi-autobiographical screenplay, the filmmaker reimagines herself as Radha, a New York-based playwright who is "three months shy of forty" and struggling with the lack of progress and success in her life. After winning a "30 Under 30 Award" for playwrighting at the age of 29, Radha has spent the last ten years failing to live up to this title. Desperate to see her stage play, Harlem Ave., produced, Radha is making ends meet by teaching an after-school theatre class at a local high school.

While Radha longs to see her play produced by a Black theatre group without the funds to properly remunerate the playwright, she reluctantly agrees to her best friend/agent Archie (Peter Kim), who persuades Radha to collaborate with wealthy white producer Josh Whitman (Reed Birney). An insufferable fop who proudly boasts of his female reimagining of 12 Angry Men and his plans for a Harriet Tubman musical, Whitman immediately begins reworking Radha's exploration of the gentrification of Harlem.

Forced to helplessly watch as a white director takes control of Harlem Ave. and ironically gentrifies everything from the dialogue to the characterisations, Radha begins to channel her frustration into her other love in life – rap music. Teaming up with up-and-coming twenty-something DJ and music producer, D (Oswin Benjamin), Radha adopts the persona of RadhaMUSPrime and unleashes her anger with biting lyrics ripped from her daily strife. As she begins to find confidence in both her writing and her music, Radha finally starts to find her own voice.

Gorgeously filmed on location in New York in black-and-white on 35mm by cinematographer Eric Branco, The Forty-Year-Old Version feels like the love child of the early work of Greta Gerwig, Noah Baumbach, and Spike Lee, yet still entirely something sparkling new by virtue of Blank's infectious spirit and unmistakable style. As a leading lady, she's sublimely charming to watch. As a writer, she delivers a brilliant screenplay filled with astute observations and firecracker dialogue. And, as a filmmaker, she has a keen eye for crafting something visually beautiful. This is Blank's moment, and she's determined to seize it with everything she's got.

Blank knows it's still a rarity we get to see a woman of her age, size, and skin colour as a leading lady and she's steadfastly determined to highlight why that's a problem. Given command to tell her own narrative in her own unique voice, Blank wastes no time establishing her indomitable presence on the screen, delivering the semi-fictionised version of herself as a woman at the crossroads of her life and, much like many of us, with no clue which path to take.

It's clear Blank has cathartically injected the frustrations with her own life into this screenplay, particularly her attempts to break into the entertainment industry. It's a raw, honest, and often infuriating depiction of the painful journey artists face just to get one toe in the door, especially the exacerbation Radha feels at being required to kowtow to her white "superiors" who force her to compromise her vision and culture in every conceivable way. As Harlem Ave. becomes something almost unrecognisable, we feel Radha's pain at watching her baby destroyed by the industry she so desperately longs to be a part of.

As a Black playwright, Radha is already pigeonholed with the opportunities available to her, as typified by Whitman nauseatingly suggesting she help him write a slave play he's working on. You just know every Black writer has faced this situation at least once in their career. In a year that gave us something as horrendously misguided as Antebellum, it's a joy to see Blank essentially satirise Hollywood's obsession with one type of Black narrative by delivering something entirely the opposite.

Her blistering attack on the industry appears in the form of the track "Poverty Porn," a scathing indictment of the clichés the woke gatekeepers of art demand appear in works bumblingly attempting to showcase the Black experience. When Radha spits, "No happy blacks in the plotlines, please / But a crane shot of Big Momma crying on her knees / for her dead son, the b-ball star, who almost made it out. / Sounds fucked up enough to gain my film some capital.", you just want to stand and cheer. Netflix would be wise to push the track for a much-deserved Oscar nomination for Best Original Song.

For all its serious reflections on the state of both the world and the arts industry, The Forty-Year-Old Version is inherently a comedy, loaded with Blank's dry humour and razor-sharp wit. She uses a Greek Chorus of diverse New York residents who happily bark out advice to Radha in hilarious direct-to-camera pieces peppered throughout the film. Kim proves to be a scene-stealer as Radha's beleaguered agent who humorously tip-toes around his friend's anxieties in an exhausting bid to see her succeed. There's even a dash of romance thrown in, as Radha forges an unlikely connection with D, with Benjamin offering a surprisingly warm performance that takes full advantage of his gorgeous chemistry with Blank.

The only flaw with The Forty-Year-Old Version is its running time, which, at over two hours long, seems unnecessarily excessive. Certain scenes drag from a lack of editing finesse and there's just a touch too many narrative strands that needlessly divert attention away from Radha's journey. Still, you can't judge Blank too heavily for cramming so much of her life story into her debut film. This is the opportunity of a lifetime, and she may have been thinking it might never happen again.

There's little doubt of that being the case, given Blank's breathtaking debut will undoubtedly leave you eager to see what she does next. It's a true moment of a star being born and it's a genuine pleasure to watch Blank deliver such an exciting film that's clearly been permeating in her mind for decades. People often say forty is the new twenty, and Blank is testament to how true that statement can be. I don't want to use a cliché word like "inspirative" to describe what she's achieved, but I can't grasp a better adjective for what she's delivered here.

By shining a light on the compromises artists are forced to make to have their voice heard, Blank is deftly challenging that very notion by bluntly refusing to do so. It's a risky venture, but one she handles with aplomb. An authentic depiction of one woman's journey to artistic freedom and a genuine portrait of the struggles of being on the cusp of middle age, The Forty-Year-Old Version is an endearing delight that will capture your heart and brighten your spirits. Lord knows we need cinema like this right now.





Distributor: Netflix
Cast: Radha Blank, Reed Birney, Oswin Benjamin, Peter Kim, Imani Lewis, Jacob Ming-Trent, Antonio Ortiz
Director: Radha Blank
Producers: Lena Waithe, Jordan Fudge, Radha Blank, Inuka Bacote-Capiga, Jennifer Semler, Rishi Rajani
Screenplay: Radha Blank
Cinematography: Eric Branco
Production Design: Valeria De Felice
Costume Design: Sarah Williams
Editing: Robert Grigsby Wilson
Running Time: 129 minutes
Release Date: 9th October 2020 (Worldwide)