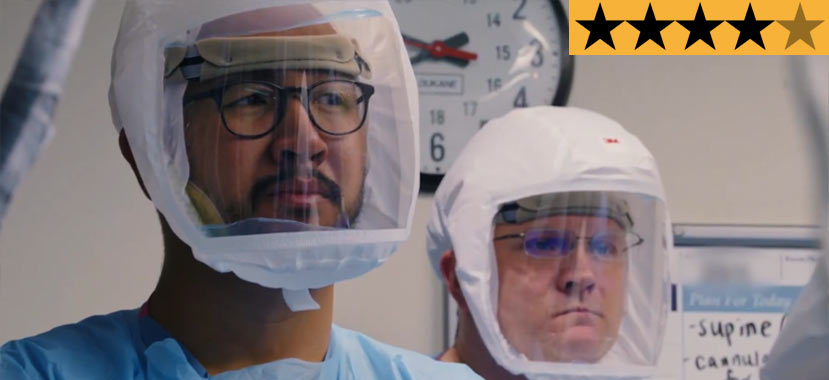 09 Oct

REVIEW – 'Totally Under Control' is methodical in its execution and infuriating with its content

The word coronavirus has been dominating our lives since the early days of the hellscape that is 2020. Between rolling anxiety-inducing news coverage, daily press briefings that consistently struck fear and dread in our hearts, and the restrictions on once innocuous activities we may never take for granted again, there's been no escaping the pandemic that has completely upended our lives. The idea of watching a documentary recounting how the hell we got here may not sound like the most appealing proposition right now.

However, with the U.S. election looming and coronavirus beginning to ride its second wave of outbreaks across America, Totally Under Control is essential viewing to understand why it didn't necessarily need to be this way. Oscar-winning documentarian Alex Gibney delivers a scathing indictment of America's bungled response to a deadly pandemic that's methodical in its execution and infuriating with its content. A documentary that rightly lays the blame right at the feet of a president completely out of his depth, Totally Under Control has a point to prove and the receipts to make it.

Directed and produced by Gibney, Ophelia Harutyunyan, and Suzanne Hillinger and filmed in total secrecy over the last four months through the use of remarkable socially distanced and COVID-safe camera work around the globe, Totally Under Control has seemingly dropped from nowhere at precisely the right time. And, given the trailer has received over 6 million views since its launch one week ago, the general public is clearly ready to lap up this documentary.

After spending months in lockdown with nothing to do but be transfixed by the news, it's highly likely you've seen or heard much of the damning information presented here. But to see it brutally laid out in a clear, concise timeline detailing Donald Trump's inept response to a growing crisis is a different experience altogether, especially as we're still nowhere close to seeing a light at the end of the tunnel of this dark pandemic.

Given the fact the crisis is still ongoing, it comes as little surprise Totally Under Control couldn't secure the testimonials of any current White House officials, nor anyone from the numerous federal agencies under Trump's thumb. As the former director of the Biomedical Advanced Research and Development Authority Dr. Rick Bright damningly puts it, "It's not easy to come forward in this administration," which rings especially true for Bright, who was ousted from his role after filing a whistleblower complaint alleging his early warnings about the coronavirus pandemic were ignored by the Trump administration.

In providing his experience for the documentary, there's a quiver in Bright's voice and tears in his eyes, which sharply relays both the fear he clearly feels at coming forward and the personal guilt he feels over his role in America's disastrous response to the threat and spread of coronavirus. As the film explores the course of the pandemic's timeline, we see several damning examples of the inaction, ineptitude, and downright failings of the Trump administration to take the virus seriously.

We also hear from 26-year-old Max Kennedy, Jr., grandson of Robert F. Kennedy, who happily volunteered to join a supply-chain task force, run by Trump's incompetent son-in-law, Jared Kushner. While Kennedy naively initially assumed he'd be joining a team of experienced public servants, he was soon stunned to realise the task forced was made entirely of young unpaid volunteers who genuinely had no idea what they were doing. Tasked with bargaining with the private business sector for desperately needed PPE and medical equipment (spoiler alert: they never procured a single item), Kennedy was ultimately slapped with a non-disclosure agreement to avoid exposing Kushner's horrendous failings.

And then there's one-time Trump voter Michael Bowen, a Texan manufacturer of medical supplies, who pleaded with the Trump administration to commission an order of millions of N95 masks and other equipment before it was too late. Unsurprisingly, Bowen's pleas were ignored and we're instead subjected to watching archival footage of beleaguered medical workers being forced to reuse contaminated masks or hastily cobble together homemade protective gear in a desperate effort to protect themselves from contracting the virus from the dozens of patients lining the halls of their overrun hospitals.

Gibney peppers the documentary with familiar archival clips of Trump calling the pandemic a Democratic hoax, foolishly claiming it will miraculously disappear with the heat of the summer, and continually lying that his administration has the virus "totally under control." We've all seen them numerous times before, but when stitched together here, they paint a stunning portrait of a president whose focus on avoiding a nationwide panic and keeping Wall Street humming ultimately came at the expense of 200,000 American lives (and counting) and a devastated economy that will take years to recover.

The most infuriating element of Totally Under Control centres on the inescapable fact America could have avoided such a catastrophe, which the documentary sharply proves by contrasting the response of the South Korean government, who began tackling coronavirus cases at the same time as America. By making quick, smart, and decisive public health measures, South Korea had essentially contained the pandemic before the Trump administration had even developed a testing plan. It's hard not to imagine what America might look like today if only it had a leader capable of handling a crisis.

We know America was one of the few nations on this planet who turned the coronavirus into a game of politics that played with people's lives. And it's a game they lost and continue to lose. As Totally Under Control blisteringly highlights, the opportunities to avoid such a disaster were there, yet, thanks to the Trump administration's confounding choice to favour corporate sycophants over seasoned scientists, America was doomed from the start of this outbreak.

An urgent wake-up call for a nation about to head to the voting booth (or, more likely, about to pop their ballot in the mail to avoid contracting a deadly disease), Totally Under Control is a time capsule of the baffling decisions that led America down a tragic path it easily could have evaded. As the pandemic is far from over and the tally of dead Americans continues to rise by the hour, it's a documentary that will almost be outdated by the end of this sentence. But that makes it no less important or potent. Quite the opposite, actually. In an ironic twist, the film concludes with a tacked-on postscript stating Donald Trump tested positive to COVID-19 just one day after the documentary was completed. That says it all really.





Distributor: NEON
Director: Alex Gibney, Suzanne Hillinger, Ophelia Harutyunyan
Producers: Alex Gibney, Suzanne Hillinger, Ophelia Harutyunyan
Cinematography: Ben Bloodwell
Editing: Lindy Jankura, Alex Keipper
Music: Brian Deming, Peter Nashel
Running Time: 129 minutes
Release Date: 13th October 2020 (U.S.)