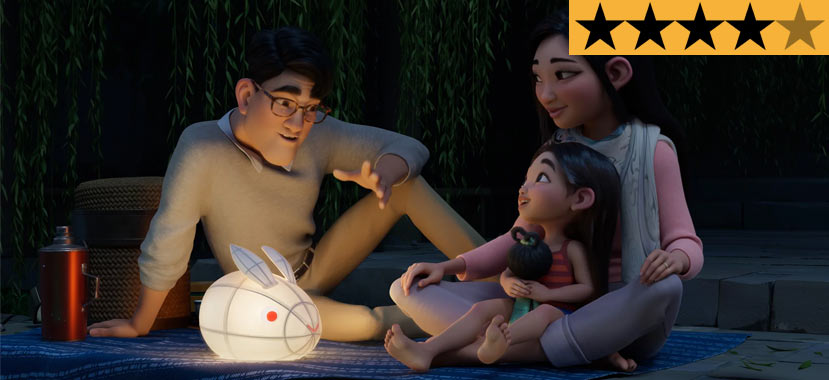 10 Oct

REVIEW – 'Over the Moon' is a gorgeously animated and incredibly entertaining delight

The coveted moniker of Disney Legend isn't a title the studio bestows lightly, but there are few animators more deserving of this honour than the icon that is Glen Keane. A veteran of Disney animation who played a key role in the studio's dazzling renaissance period of the late 1980s and early 1990s, Keane was the man responsible for designing numerous iconic characters including Ariel, Beast, Aladdin, and Pocahontas, to name just a few.

For all his staggering achievements in animation, Keane hadn't followed many of his Disney contemporaries in making the organic jump from animator to director, though he was due to co-direct 2008's Tangled before a heart attack forced him to step aside from the passion project he'd spent almost a decade workshopping. After scoring a richly deserved Academy Award for directing the late Kobe Bryant's animated short Dear Basketball, Keane is finally making his feature-length directorial debut. The wait was worth it.

While it's naturally curious to see Keane ditch the House of Mouse and team up with Netflix to distribute his spectacular debut film, the director brings a hefty dose of classic Disney magic to Over the Moon. A gorgeously animated and incredibly entertaining delight, the film bursts to life with a cavalcade of wonderful original songs, charming characters, and a familiar, yet heartwarming story of family that knows exactly how to play with your heartstrings.

Written by the late Audrey Wells before her untimely death in 2018, Over the Moon introduces us to the plucky Fei Fei (a delightful Cathy Ang), a young Chinese girl whose blissful childhood days are spent watching her mother (Ruthie Ann Miles) bake delicious mooncakes and being regaled by the mythical stories her Ba Ba (John Cho) tells her each night. Fei Fei's favourite tale is that of Chang'e (Phillipa Soo), a beautiful goddess who finds herself stranded on the moon and pining for her earthbound mortal lover Houyi.

After a prologue that may just be the most tragic opening to an animated film since Up, we jump forward four years to find Fei Fei still mourning the loss of her mother, which is only compounded by her father introducing his daughter to her potential new mother, Mrs. Zhong (Sandra Oh) and her rambunctious son, Chin (Robert G. Chiu). Determined to remind her father that true love never dies, Fei Fei puts her passion for science and physics to good use ("Magnetic levitation is the coolest!") by building a rocket to the moon in a bid to prove Chang'e is real.

Much to her astonishment, the rocket (which, unbeknownst to Fei Fei, also contains Chin as a stowaway) is swept up by a magical portal that takes Fei Fei to Lunaria, the colourful mythological kingdom presided over by Chang'e, who has evolved into a beloved singing diva with hundreds of adoring fans. When Fei Fei begs Chang'e for a photo to prove the goddess' existence, she's instead sent on a quest that will ultimately teach her about love, grief, and the difficult journey of moving forward.

For those who've long felt disappointed by Disney's animated whitewashing of Mulan, it's beyond thrilling to see Over the Moon heavily weave Chinese culture and traditions into this narrative. Mulan may have paved the way for Asian representation in animated cinema, but Over the Moon shatters that glass ceiling with an authentic and earnest depiction of Chinese culture that will undoubtedly prove enormously special for Asian audiences.

Over the Moon ultimately feels like the Asian cultural equivalent of something like Pixar's Coco, particularly by virtue of both films similarly tackling a narrative rooted in death and grief. From Bambi to The Lion King, the death of a loved one is a topic the animated genre often tackles. Over the Moon differentiates itself by focusing more heavily on the notion that grieving family members must learn to live on and potentially even find a new love. Wells wrote the film during her cancer treatment as a farewell letter to her husband and daughter, essentially giving her blessing for them to move on after her death.

This adds a tremendous level of poignancy to Fei Fei's journey, with Wells clearly reimagining her own daughter in her protagonist's place. She knew the difficulties they'd both be facing and obviously made the decision to leave behind a gift that will provide comfort to her family and audiences around the globe. While the film tackles some heavy topics, it deals with grief with a delicacy that will assist anyone grappling with a devastating loss, especially younger viewers.

Much like its animated counterparts who've dealt with similarly dark subject matters, Over the Moon succeeds by wrapping its deeper message in an explosion of colourful animated sequences and lavish musical numbers, echoing the greatest works of both Disney and Pixar. Keane takes the lessons he learned during his tenure at Disney and applies them to his debut directorial effort. While this may mean much of the film's visual aesthetic bears a strong resemblance to other animated films (bar one glorious sequence told through hand-drawn animation utilising traditional Chinese watercolour techniques), it's no less magnificent to behold Keane's phenomenal creations.

Lunaria is a fluorescent wonderland with a central castle that pays homage (or maybe even satirises) Disney's iconic logo and a cornucopia of anthropomorphic mooncakes and green and blue blobs (including Gobi, a dog-like creature voiced charmingly by Ken Jeong, who quickly becomes the film's obligatory comedic sidekick) who swoon and scream at the sight of their treasured goddess Chang'e. Her entrance into the film arrives with the dazzling musical number "Ultraluminary," which is an absolute smash, dripping with k-pop sensibilities and effortlessly belted out by the luminous Soo, who is perfectly cast as the potentially benevolent lunar goddess whose fame has clearly gone to her head.

Written by Christopher Curtis, Marjorie Duffield, and Helen Park, the soundtrack features nine original songs that form part of the overall narrative. The standout track is Fei Fei's show-stopping "I Want" number, "Rocket to the Moon," which Netflix will undoubtedly heavily push for a Best Original Song nomination come awards season. With influences from Broadway, pop, k-pop, and EDM, the musical numbers are a supreme and diverse delight, particularly as the film moves towards more emotionally resonant songs in the third act. Whether it's Chang'e and Chin's epic rap battle "Hey Boy" (set during an energetic, anime-esque table tennis game, no less) or Gobi's surprisingly touching ballad "Wonderful," Curtis, Duffield, and Park have crafted a marvellous soundtrack that will make Disney green with envy.

The all-Asian voice cast adds a further level of authenticity to Over the Moon, particularly the phenomenal Ang, who blesses Fei Fei with the feisty, precocious qualities needed to craft an endearing protagonist grappling with her difficult journey through grief. It's wonderful to see an intelligent, self-sufficient young girl leading an animated film with both strength and vulnerability, offering young audiences a three-dimensional new heroine to emulate and idolise. Much like Ariel or Rapunzel, Fei Fei is another Keane creation that proves he deftly knows how to craft gutsy female characters that continue to break the mould of the tired damsel in distress trope we thankfully sad goodbye to many years ago.

It's inescapable many elements of Over the Moon inherently feel familiar to ground covered in numerous other animated films, especially those Keane has been a part of. But there's a gorgeous sentimentality to this film that's impossible to resist. It's an old school animated treasure only someone like Keane could craft. Elevated by Well's deeply personal screenplay, a terrific voice cast, and numerous spectacular animated sequences, it's easy to be swept away by the magic of this grand, mythological adventure.





Distributor: Netflix
Cast: Cathy Ang, Phillipa Soo, Robert G. Chiu, Ken Jeong, John Cho, Ruthie Ann Miles, Margaret Cho, Sandra Oh
Director: Glen Keane
Producer: Peilin Chou
Screenplay: Audrey Wells
Production Design: Celine Desrumaux
Costume Design: Guo Pei
Music: Steven Price
Editing: Edie Ichioka
Running Time: 94 minutes
Release Date: 23rd October 2020 (Worldwide)