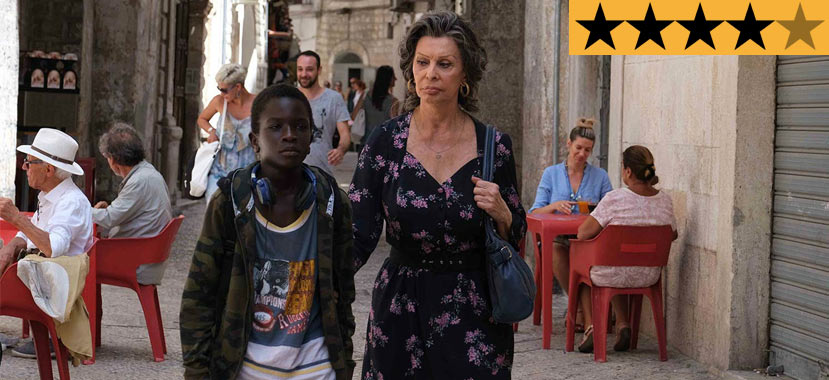 30 Oct

REVIEW – 'The Life Ahead' is the perfect vehicle for Sophia Loren's long-awaited return

After 10 long years, the radiant legend that is Sophia Loren is finally back on our screens. At the age of 86, Loren ably proves time hasn't diminished her star quality one bit, as she effortlessly delivers one of the year's best leading female performances. Directed and co-written (with Ugo Chiti) by her son, Edoardo Ponti, the captivating The Life Ahead stands as the perfect vehicle for Loren's long-awaited return. As a fiercely independent woman with a heart of absolute gold, Loren dazzles like only she can, reminding audiences that true film stars only get better with age.

A simple, yet heartbreaking drama that will likely leave you in a puddle of tears, The Life Ahead captures the burgeoning connection between an odd couple of lost souls who find each other at just the right time. Cemented by Loren's exceptional performance and the terrific debut of newcomer Ibrahima Gueye, Ponti weaves a sentimental tale that could easily have fallen into a heap without the right actors to elevate a narrative we've seen numerous times before.

Set in the gorgeous Italian port city of Bari, The Life Ahead introduces us to 12-year-old Sengalese Muslim orphan Momò (a remarkable debut from Gueye), a streetwise rogue with ambitions of making his fortune in the town's shady alleyways. In a bid to elicit some quick cash, Momò steals a bag of silver candlesticks from the arm of the elderly Madame Rosa (Loren, in fine form), a weathered Auschwitz survivor and former prostitute who makes a meagre living by caring for the children of her former colleagues.

When Rosa's close friend and personal physician Dr. Coen (Renato Carpentieri) catches Momò attempting to sell the candlesticks to a local crime boss, he forces the orphan to apologise to Rosa. Sensing the matriarch may be the firm taskmaster Momò needs to set him straight, he begs Rosa to take the orphan under her wing. After Dr. Coen offers Rosa €750 for her services, she reluctantly agrees to take Momò in for a period of two months.

At first, the stubborn Momò seems completely unruly, fueled by anger and grief from "the tragedy" that befell his parents when he was just 3. He talks back to Rosa, picks fights with the other children under her roof, and begins selling drugs to local schoolchildren. But the fierce Rosa quickly proves to be a worthy opponent, and the two soon form an unconventional bond that will ultimately change both their lives.

The narrative setup of The Life Ahead is far from the most original. It's purposely sentimental and wistful, with Ponti and Chiti's screenplay hitting all the predictable beats you can see coming a mile away. But the growing connection between two vastly different individuals is endlessly charming and it's all but impossible not to get swept away by the majesty of this beautiful film. While Ponti occasionally touches on the immigrant experience and notions of connection via shared human tragedy, he is keenly aware his film is ultimately a star vehicle for the big screen return of his luminous mother.

In a performance that firmly places the screen legend in strong contention for her third Best Actress Oscar nomination, Loren sparkles in a commanding turn that proves she hasn't lost her ability to deftly lead a film with glorious grace and humility. Madame Rosa is a role she was clearly born to play. She slips into this character with such ease, it's as if she's been inhabiting Rosa for years. Loren effortlessly creates a fierce presence whose tough exterior slowly evaporates to unveil a vulnerability born of PTSD from her experiences during the Holocaust and affected by a brain illness that's causing her to occasionally fall into terrifying catatonic episodes of aberration.

It takes an actor completely in control of their skills to create an affecting character who's equal parts strong and fragile. Loren crafts the endearing Rosa as a wonderful mix of intelligence that fuels her quick wit and jaded experience that means she has no patience for Momò's tempestuous attitude. Despite his initial bratty behaviour, it's abundantly clear Momò is both intrigued and intimidated by Rosa, which is a testament to everything Loren is delivering. She wisely never allows Rosa to become a victim of her circumstances, offering Momò the influential figurehead in his life the lost orphan so desperately needs.

In his acting debut, Gueye proves to be a terrific discovery who consistently steals focus at every turn. A broken soul grappling with emotions he's far too young to truly understand, Momò needs direction in life and naturally resists the attempts of anyone who endeavours to provide it. He could easily be an unlikeable protagonist, but young Gueye finds the deep pathos in the character, creating an empathetic figure well beyond his years. The captivating connection between Loren and Gueye cements this film and elevates the screenplay beyond its by-the-numbers sensibilities. The pair spent the duration of filming living together in the same house, and it's clear this created the organic chemistry we see on screen.

Surrounding Loren and Gueye are a delightful group of supporting characters who aide Madame Rosa in her quest to settle Momò's tumultuous behaviour. Trans actor Abril Zamora is terrific as Lola, a prostitute whose young child is babysat by Rosa during the evenings while she's on the job. She's Lola's closest confidante and fiercest protector, and the enigmatic Zamora is a delight to watch. It's sadly still a rarity to see a trans character played by an actual trans actor, but Ponti refreshingly refuses to exploit Lola's sexuality or gender for dramatic conflict, which is an even greater rarity in cinema.

Babak Karimi pops in as Mr. Hamil, a Muslim carpet merchant who agrees to allow Momò to assist in his shop and attempts to teach him the culture and religion the young orphan has never been exposed to. Strangely, this subplot is left mostly unexplored and Momò's Islamic faith is an undeveloped character trait that ultimately serves little purpose. As Momò starts to assist Mr. Hamil in restoring an antique Persian rug featuring a lion motif, Momò begins seeing a photorealistic CGI lioness in both his dreams and daily life. It appears this may be a manifestation of his mother and symbolise her continual protection over her troubled son, but it's a clunky narrative thread that adds little to the film.

While The Life Ahead may not fully explore its possible themes, Ponti delivers a beautiful snapshot of an unlikely friendship born of mutual pain. It's the unique bond between two unexpected allies that elevates this film to something truly special. There's so much warmth radiating from this film, making it easy to forgive its simplistic plot and sentimental nature. Loren is one of the last great movie stars and her sublime performance reminds us why audiences fell in love with her seven decades ago. If this is to be her swan song, she's going out on an incredible high.





Distributor: Netflix
Cast: Sophia Loren, Ibrahima Gueye, Abril Zamora, Renato Carpentieri, Babak Karimi
Director: Edoardo Ponti
Producers: Carlo Degli Esposti, Nicola Serra
Screenplay: Edoardo Ponti, Ugo Chiti
Cinematography: Angus Hudson
Production Design: Maurizio Sabatini
Costume Design: Emanuela Naccarati
Editor: Jacopo Quadri
Music: Gabriel Yared
Running Time: 96 minutes
Release Date: 13th November 2020 (Worldwide)