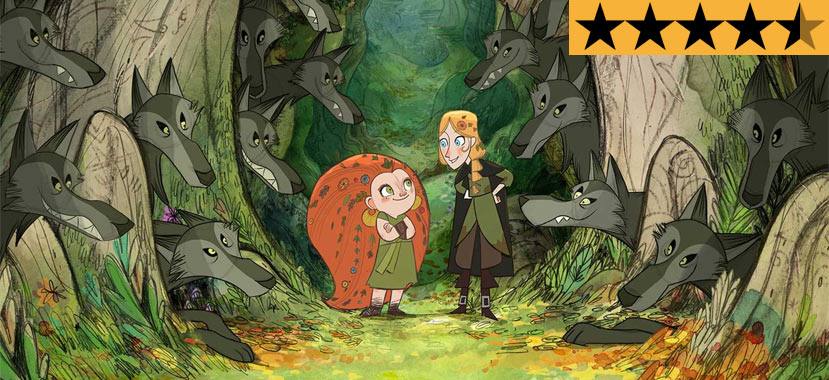 12 Nov

REVIEW – 'Wolfwalkers' is a stunningly animated work of art

The animated genre has been dominated by the work of Pixar and Disney for years now. All you have to do is look at the Academy Award for Best Animated Feature where these two juggernaut studios have only lost this award five times in 18 years. For just over a decade, independent Irish animation studio Cartoon Saloon has quietly delivered three spectacular 2D traditional animated treasures that have each deservedly received a nomination by the Academy. With their latest offering, they just might finally snatch that elusive Oscar from Pixar's hands.

With yet another dazzling display of gorgeous hand-drawn animation mixed with a vibrant narrative centred on magic, family, friendship, and environmentalism, the tremendously impressive Wolfwalkers completes Tomm Moore's Irish folklore trilogy in magnificent fashion. A visually sumptuous marvel with an emotionally resonant core that's hard to resist, Wolfwalkers is an exquisite creation that stands tall as not only the best animated film of the year thus far, but one of 2020's best films overall.

Set in the late 17th century during Oliver Cromwell's brutal colonisation of Ireland, Wolfwalkers introduces us to free-spirited Robyn Goodfellowe (Honor Kneafsey), a young English apprentice hunter who's arrived in Ireland with her widowed father, Bill (Sean Bean). Under the orders of the nefarious Lord Protector (Simon McBurney), Bill has been instructed to wipe out the last wolf pack in the woods on the outskirts of the county of Kilkenny.

While mischievously exploring the forbidden forest outside the city walls, Robyn befriends the ethereal Mebh (Eva Whittaker), an audacious ginger-haired flower child who belongs to a mysterious tribe long-rumoured to possess the ability to transform into wolves by night. When Robyn learns Mebh's mother, Moll (Maria Doyle Kennedy) is missing, she helps her new friend search the woods and inadvertently uncovers a secret that draws her close to the very creatures her father is tasked with destroying.

Back in 1959, Walt Disney sought to craft Sleeping Beauty as a "moving tapestry," and one could easily say the same has been deftly achieved by Moore and co-director Ross Stewart with Wolfwalkers. You could pause practically any frame of this beautiful film and it would be something you'd proudly display on your wall. A stunningly animated work of art, Wolfwalkers utilises classic Celtic designs with a warm, autumnal colour palette that practically leaps off the screen.

Whether it's the intricately detailed backgrounds or the evocative character designs, Wolfwalkers is a cavalcade of traditionally animated wonders we rarely see these days. The entire production feels like we're witnessing lush watercolour art bursting to life rather than viewing an animated film. It's often an overwhelming experience, particularly for fans of the history of the style of 2D animation that once defined this genre of cinema. The characters move with a sweeping fluidity amongst the flat backgrounds, while occasionally Moore and Stewart place us directly in the wolf's point-of-view in several exhilaratingly breathtaking sequences.

Thankfully, Moore and Stewart wisely understand an animated film cannot succeed on dazzling visuals alone, with Wolfwalkers further elevated by Will Collins' remarkable screenplay that equally deserves acknowledgement come awards season. Hidden beneath the mythical nature of its narrative are layers of wonderfully fascinating subtext and symbolism that touch on pertinent topics like colonialism, environmentalism, female empowerment, and the bond of sisterhood. Collins has cleverly woven these thematic intentions in a way that never feels preachy or "woke," allowing younger viewers to be slyly educated while being effortlessly entertained.

Like the absolute best of Pixar, Wolfwalkers has something important to say, yet is wise enough to avoid brandishing its message in an audience's face. While there's little subtlety to its depiction of humankind's damaging impact on the environment, it's ingeniously wrapped in a storyline focused on its heroic, cunning, and regal wolf characters to elicit your empathy for these creatures who sadly no longer exist in Ireland. Collins even has the confidence to insert shrewd commentary on evangelical religion and how its leaders can twist biblical teachings to evoke absolute fear from their followers.

But the true heart of Wolfwalkers lies with its endlessly charming characters, particularly Robyn and Mebh, who form a dynamic sister-like duo with an endearing connection that takes both youngsters by surprise. Robyn is a plucky heroine who refuses to follow the path unfairly laid out for females in this era of history. Mebh is a free-spirit wild child who encourages Robyn to blaze her own trail in life. Given the two are from completely different worlds, there's plenty of captivating conflict to be mined from their unexpected friendship, particularly as Bill finds himself torn between his daughter's newfound woodland friends and his obligation to his duties.

The complicated relationship between a stoic, straight-laced father and his precocious, rule-breaking daughter may be a tried and true conceit of the animated genre (Brave, Inside Out, The Little Mermaid, Aladdin, Mulan, to name just a few), but it's ultimately the touching emotional core of Wolfwalkers. While one bends to the orders of a harsh ruler, the other consistently defies control. This creates deeper layers to this narrative and adds resonant conflict to the larger storyline, while the charming voice work of Kneafsey and Bean provides the necessary familial chemistry to truly sell this father-daughter saga.

If there's the slightest of flaws to be found in Wolfwalkers, it runs just a touch longer than it really needs to. At 105 minutes, the film occasionally suffers from a lagging pace due to several scenes requiring tighter editing. This running time may push the tolerance of younger viewers, particularly as some narrative concepts are oddly (and unnecessarily) repeated. It's the most minor of quibbles and it pains me to even reference it, especially given a longer running time ultimately means we're blessed with more of Cartoon Saloon's visual wizardry.

Elevated by a soaring, eloquent score by French composer Bruno Coulais and Irish folk group Kila, Wolfwalkers is a magical masterpiece you'll be rewatching for years to come. Like the previous work of this unassuming Irish animation studio, it's a film steeped in Celtic history that may just be Cartoon Saloon's best film yet. A beautiful, rousing fairy tale adventure with lashings of mythology, oodles of fun, and an abundance of heart, Wolfwalkers is a deeply special film that rightfully takes its place as one of the finest films of the year.





Distributor: GKIDS, Apple TV+
Cast: Honor Kneafsey, Eva Whittaker, Sean Bean, Simon McBurney, Tommy Tiernan, Maria Doyle Kennedy
Directors: Tomm Moore, Ross Stewart
Producers: Paul Young, Nora Twomey, Tomm Moore, Stephan Roelants
Screenplay: Will Collins
Music: Bruno Coulais, Kila
Editing: Richie Cody, Darren Holmes, Darragh Byrne
Running Time: 103 minutes
Release Date: 11th December 2020 (Worldwide)