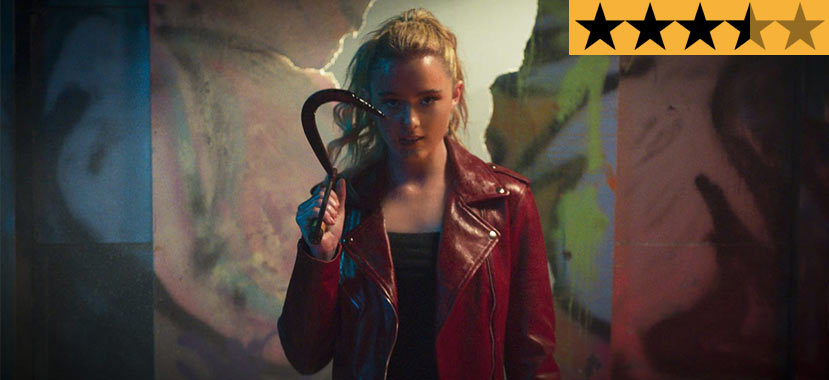 15 Nov

REVIEW – 'Freaky' is a giddily entertaining love letter to 80s horror flicks

From Freaky Friday to The Hot Chick, the body-swap conceit has been an occasional favourite of the comedy genre for decades now. But what if the concept of two people magically switching bodies happened to occur in the midst of an 80s slasher film? That's the refreshing premise of Freaky, the latest Blumhouse experimental film that blends a body-swap comedy and a gory slasher horror to create one of the year's most deliciously good times.

While the concept is far from the most original, director/co-writer Christopher Landon delivers equal lashings of laughs and blood in his giddily entertaining love letter to 80s horror flicks. Much like Landon twisted the Groundhog Day concept into the underrated horror blast Happy Death Day (and, to a lesser extent, its sci-fi sequel, Happy Death Day 2 U), Landon has a ball both satirising and paying homage to the two genres his film drifts between.

Elevated by a terrific ensemble cast who gleefully embrace the absurdity of this film's ridiculous premise, Freaky doesn't exactly reinvent the wheel of the body-swap concept, but it's such a bloody good time that you'll hardly care. With enough outlandishly gory death scenes to satisfy the most bloodthirsty of horror fans, occasionally sharp and meta-aware humour, and a surprisingly charming message at its core, Freaky is an impressive little surprise package.

Opening with the kind of brutally violent sequence that will send horror fans into a frenzy, Freaky begins with a gang of disposable teenagers being unmercifully despatched by Barney Garris (a spectacular Vince Vaughn), aka The Blissfield Butcher, a masked serial killer with an urban legend stretching back generations. After doing away with his latest group of victims, The Butcher snatches an ancient Aztecan ritual dagger from the mansion of his rampage. Big mistake, pal.

We're then introduced to our horror heroine Millie Kessler (Kathryn Newton), a typically insecure high schooler who's still grappling with the grief of losing her beloved father one year earlier. While Millie has her two best friends, the fabulously flamboyant Josh (Misha Osherovich) and social justice warrior Nyla (Celeste O'Connor) for support, she suffers relentless bullying from the mean girls and the misogynistic jocks, al while swooning for her unrequited love, Booker (Uriah Shelton), who's seemingly the only popular kid refusing to join in on Millie's harassment.

As fate would have it, The Butcher and Millie cross paths when her mildly alcoholic mother, Coral (Katie Finneran) leaves her daughter stranded at a school football field one dark evening. Aztecan dagger in hand, The Butcher pursues Millie across the field where an awkward struggle leads to Millie being stabbed in the shoulder. Upon awaking the next morning (which, of course, just happens to be Friday the 13th), Millie is horrified to discover she has somehow swapped bodies with The Butcher.

With only 24 hours until the mystical switcheroo becomes permanent, "Millie" must somehow navigate around Blissfield undetected by the police and convince Josh and Nyla the murderer in front of them is actually their best friend. To complicate matters, "The Butcher" is enjoying his newfound residency inside Millie's body and proceeds to go on a bloody rampage through anyone who crosses his path.

Originally titled Freaky Friday the 13th (but likely altered to avoid the wrath of Disney), the plot and situational comedy of Freaky are actually far closer to that of 2002's goofy comedy The Hot Chick, where Rob Schneider and a pre-Mean Girls Rachel McAdams switched bodies. For those familiar with that film, you'll instantly recognise much of the same schtick of a middle-aged man walking, talking, and acting like a teenage girl. It would be easy to cry foul over mild plagiarism, but Vaughn's shamelessly hammy performance is so damn brilliant, it's easily forgivable.

In his best performance in years (especially in the comedy genre), Vaughn effortlessly captures Millie's femininity by virtue of her subtle facial expressions, soft cadence, unique mannerisms, and sleek body movements. Somehow, Vaughn's adolescent chemistry with Osherovich and O'Connor is remarkably authentic and his connection to Shelton's Booker leads to a surprisingly tender moment that absolutely should not work, yet somehow does. Vaughn's line delivery is pitch-perfect in what is easily one of the funniest performances of the year.

Once Millie's body is taken over by The Butcher, Newton isn't given all that much to do but stalk numerous victims and scour at everyone around her, but she proves rather adept at tackling a villainous role and evokes the soul of a serial killer tremendously well. With icy glances and Vaughn's distinctive booming gait, Newton is clearly having a ball playing The Butcher in a quirky role that's a major departure for the young actor.

Free from the constraints of a PG-13 rating, Freaky offers horror fans everything they could ask for. If you came for blood and violence, you will not be disappointed. The opening stanza effectively sets the tone by virtue of several graphic deaths by all manner of random objects (they shall remain unspoiled, but you may never look at a few household items the same ever again) that boldly declare this film is not for the squeamish.

Landon takes deft delight in serving up graphic, over-the-top murder scenes that are equal parts ridiculous and satisfying. One sequence inside a high school woodshop will either have you recoiling in horror or devilishly smiling. To be honest, I believe I was doing both at the same time. This is Landon's loving tribute to films like Friday the 13th, Halloween, and Nightmare on Elm Street, with all the old school bloody mayhem that made those films such guilty pleasures.

Hiding beneath all the blood and humour is an unexpected sweet message centred on the notion of a person being more than their exterior portrays. By inhabiting an imposing masculine figure, Millie finds the hidden strength to take charge of her life and even summon the courage to declare her not-so-secret love for the endlessly charming Booker. To instil a horror movie with a deeper core could easily have blown up in Landon's face, but he successfully injects a few touching moments into an otherwise absurd movie, making Freaky far more rounded than it has any business being.

Naturally, Landon can't avoid the usual horror movie clichés that beset this genre, like cheap jump scares, creepy locations, and woeful character decisions. But he wisely leans into these tropes to craft something entirely meta-aware and satirical to stand in the same class as something like Wes Craven's Scream. Landon knows what this film is, so do his players, making it blissfully easy to be taken along for the ride when everyone appears to be in on the joke.

While Freaky stumbles at the finish line with an extended epilogue that's grossly unnecessary and it's inescapable how much of this film feels terribly familiar, it's all crafted with its tongue firmly planted in its cheek. It's hard to argue with a film that just wants its audience to have a damn good time, which is easy to achieve with a final product that's such a total blast. It's campy as hell and ludicrously silly, but that's entirely the point.





Distributor: Universal Pictures
Cast: Vince Vaughn, Kathryn Newton, Celeste O'Connor, Misha Osherovich, Katie Finneran, Uriah Shelton, Dana Drori, Alan Ruck
Director: Christopher Landon
Producer: Jason Blum
Screenplay: Michael Kennedy, Christopher Landon
Cinematography: Laurie Rose
Production Design: Hillary Andujar
Costume Design: Whitney Anne Adams
Editor: Ben Baudhuin
Music: Bear McCreary
Running Time: 102 minutes
Release Date: 12th November 2020 (Australia)