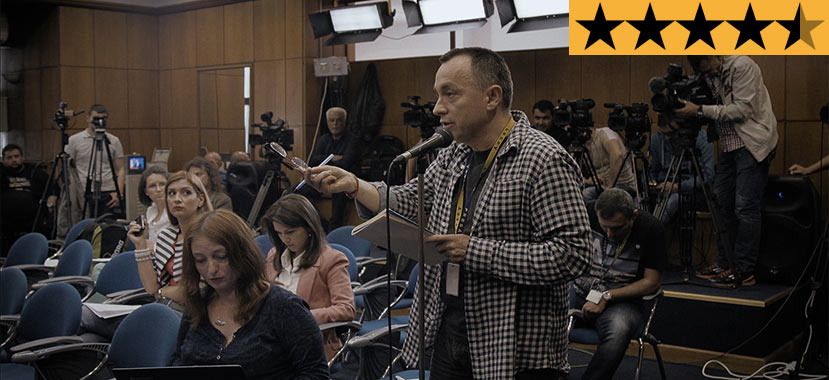 16 Nov

REVIEW – 'Collective' is essential, eye-opening viewing that's as raw as documentaries come

From Woodward and Bernstein exposing the Watergate scandal in All the President's Men to The Boston Globe's damning investigation into systemic child sex abuse by Roman Catholic priests in Spotlight, narrative cinema loves to adapt a true story centred on investigative journalism any chance it gets. While these films give audiences an intimate look at the exhaustive work undertaken by journalists to uncover a headline-grabbing story, they can't hold a candle to the raw power of a documentary seeking to do the same.

Such is the case with Alexander Nanau's explosive documentary Collective, which stands as both a testament to the power of investigative journalism and a furious, compelling exposé of government corruption and a health care system in free-fall. A riveting masterpiece that's as infuriating as it is gripping, it's little wonder Romania has selected the film as their official submission for Best International Feature Film at this year's Academy Awards.

The best documentaries succeed when their filmmakers take a voyeuristic, observational style and know better than to get in the way of the true story they're attempting to capture. Nanau clearly realises he's stumbled upon an important story and delivers a meticulously crafted documentary that rightly allows its narrative to unfold organically before our eyes. By following one story thread down a rabbit hole, Nanau uncovers a shocking case of malfeasance that demands to be seen and heard.

Collective takes its title from the Bucharest nightclub Colectiv, the site of a deadly fire on 30th October 2015 that left 27 dead and over 180 injured. While the fire itself had already claimed so many young lives, the aftermath was even more tragic, with dozens of survivors dying in Romanian hospitals from easily preventable bacterial infections. The final death toll stood at a staggering 64.

Given many had entered the hospitals with relatively minor injuries, the wave of unexpected additional deaths sparked the interest of journalist Cătălin Tolontan, the editor-in-chief of Bucharest newspaper Gazeta Sporturilor (Sports Gazette). Tolontan began questioning the stories being spun by the Romanian government, who consistently denied suggestions the country's hospitals were to blame for dozens of avoidable deaths.

As Tolontan and his team of investigative journalists soon discover, the "specialised burn units" weren't just completely unequipped to handle an event of this magnitude (they even refused to allow patients to be transferred to more advanced hospitals in Germany and Austria), but the disinfectant used in the medical facilities was shockingly diluted, rending it entirely useless at killing bacteria.

The team also uncover systemic corruption within the health care industry, from the manufacturer of the disinfectant knowingly diluting their products before passing them on to the hospitals (who then watered down the sanitising products even further) to medical professionals accepting bribes to look the other way. After Gazeta Sporturilor publishes its shocking findings, the resulting scandal and public outcry lead to the collapse of the Social Democrats and the appointment of an interim government of experts who attempt to fix this colossal mess.

It's here Collective evolves into something else completely, with Nanau granted unprecedented access to the closed-door meetings of newly appointed Minister of Health, Vlad Voiculescu, a former patients' rights advocate determined to prompt political change. Nanau captures Voiculescu's complicated and frustrating battle against his opponents and lackadaisical bureaucrats who seem to block his every attempt to instigate the reform the country so desperately needs.

This provides the viewer with the rare opportunity to take a glimpse at just how difficult it is to bring about a political revolution in a country so beset in its corrupt ways. Nanau intimately captures months of damning inquiries that reveal the horrifying extent to which Romania's medical professionals were knowingly turning a blind eye to the mistreatment of its citizens who put their faith in a health care system infested with corruption, greed, and criminality.

While Nanau is committed to portraying a tale of centred on the dishonest government of his native Romania, it's impossible not to draw unsettling parallels with leaders around the globe who've blatantly lied to their citizens regarding a health crisis. For a documentary filmed years ago, it's startling how pertinent Collective feels to the varying ways countries have dealt with the coronavirus pandemic, particularly America's bungled response where its president downplayed a deadly crisis for his own political gain. There's a total lack of empathy from the Romanian government over their role in the death of countless innocent lives, which mirrors the lack of compassion President Trump has shown to the 240,000 (and counting) American lives lost to COVID-19.

For all its shocking revelations surrounding the Romanian government and the widespread corruption permeating throughout the country's broken health care system, Collective is ultimately a remarkable tribute to journalists and the immense societal change good journalism can enact. We're on the frontlines with reporters who ruthlessly search for answers and possess the courage and determination to find them. In an age of biased journalism that often panders to either side of politics, it's a refreshing reminder there are still great journalists out there working entirely for the people.

While you may be familiar with the heartbreaking tragedy at the Colectiv nightclub, it's clearly only half the story, making this essential, eye-opening viewing that's as raw as documentaries come. Nanau has crafted a documentary pulsing with an urgency that's impossible to ignore and a furious sense of anger that's genuinely palpable. It's necessary horrifying when it needs to be, yet balanced with a dash of hope that suggests change can be achieved when the truth finally comes to light.





Distributor: Magnolia Pictures
Director: Alexander Nanau
Producers: Alexander Nanau, Bianca Oana, Bernard Michaux, Hanka Kastelicova
Cinematography: Alexander Nanau
Editing: Alexander Nanau, George Cragg, Dana Bunescu
Music: Kyan Bayani
Running Time: 109 minutes
Release Date: 20th November 2020 (U.S.), 8th April 2021 (Australia – Exclusively at Dendy Cinemas)