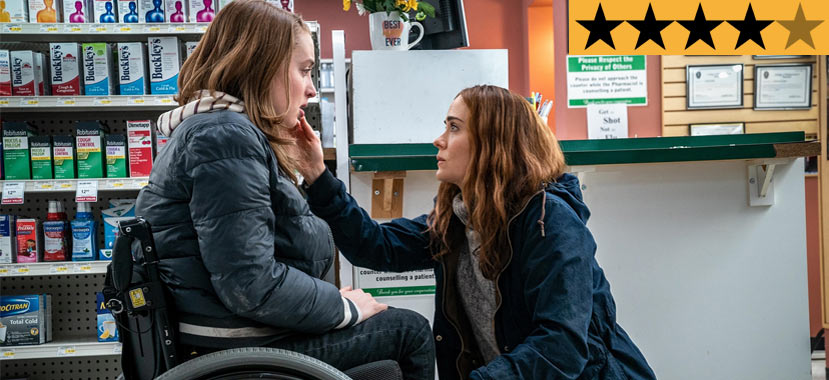 17 Nov

REVIEW – 'Run' is taut little thriller that would make Alfred Hitchcock proud

With his terrific 2018 debut feature film Searching, former Google employee turned film director Aneesh Chaganty deftly announced the arrival of an exciting young talent to keep an eye on. His equally impressive sophomore effort, Run, further strengthens Chaganty's standing as a filmmaker capable of crafting tension-driven thrillers brimming with a palpable helping of anxiety and suspense.

A taut little thriller that would make Alfred Hitchcock proud, Run plays like a wicked cross between Misery and Whatever Happened to Baby Jane? with its twist-filled cat-and-mouse game that consistently keeps its audience on their toes. With a brisk running time of just under 90 minutes, Run wastes little time pitting the ever-reliable Sarah Paul and excellent newcomer Kiera Allen against each other in a thrilling, entertaining rollercoaster of a film.

Run begins with a prologue that sees the birth of a premature baby, with a gaggle of doctors swarmed around her tiny body inside an incubator. As her frantic mother, Diane (a wonderfully deranged Paulson) looks on, we cut to 17 years later where we find Diane living alone with her wheelchair-bound teenage daughter, Chloe (Allen). Paralysed from the waist down and suffering from all manner of ailments (diabetes, asthma, heart and skin problems, to name just a few), Chloe has been dutifully cared for by her mother from day one.

The overprotective Diane homeschools Chloe, keeps her on a strict regimen of an exhaustive number of prescription medications, and essentially restricts her daughter from any connection to the outside world. While Chloe shows no sign of resentment towards her mother's tight control, she eagerly awaits an acceptance letter to the University of Washington, sensing college is finally her chance to escape the home she's been stuck in for 17 years.

While snooping for some forbidden chocolate, Chloe stumbles upon a discovery that suggests something isn't quite right and her doting mother could be up to something rather sinister. While Diane is quite adept at pulling lies from thin air, Chloe's suspicions about her mother are blazingly aroused. As Diane's web of deception starts to unravel, she'll do anything to keep her daughter from uncovering the darkest of secrets she's been hiding from the day Chloe was born.

Another victim of coronavirus-induced release date changes, Run was originally scheduled to be shrewdly released in cinemas back in May to coincide with Mother's Day weekend. Instead, the film has been wisely gobbled up by Hulu to be released on their streaming platform. While it's a shame such an edge-of-your-seat thriller can't be enjoyed as a shared viewing experience, there's something rather ironic about watching a film centred on someone trapped inside their house while we're all experiencing something shockingly similar. After months of lockdown, perhaps you'll empathise with Chloe's plight just a tad more deeply.

Much like Searching, Chaganty moves Run at a refreshingly brisk pace. Several big twists are surprisingly revealed in the first 30 minutes, setting up a tremendously thrilling second act with plenty of shocks and surprises of its own. After introducing his key players in the opening stanza, Chaganty throws open the gates of his wickedly devilish plot that keeps the tension incredibly tight throughout, aided by wonderfully sharp editing by Nick Johnson and Will Merrick.

Co-written with the film's co-producer Sev Ohanian, the plot of Chaganty's screenplay has a tendency to spin into trashy melodrama, but it's all kept in perfect balance by the sensational co-lead performances of Paulson and Allen, who combine to create a terrific sparring mother and daughter duo. The marquee star her is obviously Paulson, who is perfectly cast as the scheming mother from hell. We know Paulson handles these unhinged performances with aplomb and she's downright terrifying here, particularly when Dianne's true maniacal nature is finally revealed. Paulson crafts Dianne as both maternally sweet and chillingly menacing in a villainous performance you never stop underestimating.
As mother and daughter battle their way through a highly entertaining game of cat and mouse, Paulson and Allen are such a genuine joy to watch. Sure, there's a familiarity to much of what Chaganty is serving up, but it's so tightly crafted and wonderfully exhilarating that it's hard to lament such narrative quibbles. Chaganty knows how to deliver Hitchcockian levels of tension and suspense and seems to be having an absolute ball paying homage to this classic film genre. Gripping, engaging, incredibly gratifying, and led by two magnificent performances, Run is the perfect cinematic treat to devour during lockdown.





Distributor: Hulu
Cast: Sarah Paulson, Kiera Allen, Pat Healy, Sara Sohn
Director: Aneesh Chaganty
Producer: Sev Ohanian, Natalie Qasabian
Screenplay: Aneesh Chaganty, Sev Ohanian
Cinematography: Hillary Spera
Production Design: Jean-Andre Carriere
Costume Design: Heather Neale
Editors: Nick Johnson, Will Merrick
Music: Torin Borrowdale
Running Time: 89 minutes
Release Date: 20th November 2020 (U.S)