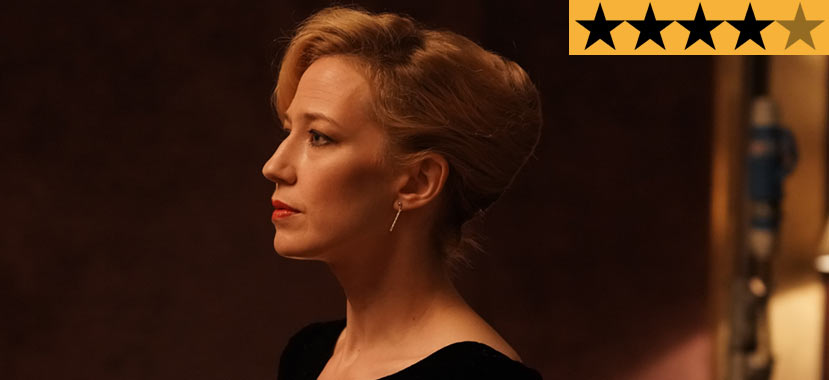 18 Nov

REVIEW – 'The Nest' blends elegance and ugliness in captivating fashion

It's been nine years of painful waiting for writer/director Sean Durkin to deliver his sophomore effort. The wait was well worth it. After dazzling with his chilling psychological drama Martha Marcy May Marlene (which introduced the world to the other Olsen sister, Elizabeth), Durkin finally returns with a mesmerising slow-burn portrait of a marriage and a family on the verge of complete collapse.

Blending elegance and ugliness in captivating fashion, The Nest feels almost like a bloodless Gothic horror movie playing in slow motion, particularly with the bulk of its action taking place in a creepy old English mansion. But the true horrors of The Nest centre on the decaying of a family dynamic crumbling under the weight of a father's ruthless ambition and a mother finally beginning to realise who her husband truly is.

In the midst of the Reagan-era 1980s, the O'Hara family are seemingly the perfect portrait of the American dream. Smooth-talking English entrepreneur Rory (a sensational Jude Law) is providing a comfortable life for his family through his job selling commodities on Wall Street. His beautiful wife, Allison (an award-worthy Carrie Coon) runs a horse riding school at a nearby stable. They reside in a beautiful home with their young son, Benjamin (Charlie Shotwell) and Allison's teenage daughter, Sam (Oona Roche).

But Rory feels the New York City finance game has seen better days and wants to seize on an opportunity back at the firm where he first achieved success in his hometown of London. Despite Allison's apprehension, Rory moves the entire family to an expansive, 19th-century mansion in the country suburb of Surrey. Determined to settle his wife's trepidation, Rory has even shipped Allison's beloved black thoroughbred stallion Richmond over from Manhattan and promised to build her a stable and practice area.

It's not long before the move to Surrey begins to prove troublesome for the entire O'Hara clan. Allison struggles with the miserable isolation of their country manor and she starts to realise the much-touted business opportunity her husband has been gushing about isn't at all what it seemed. Sam falls in with the wrong crowd at school and quickly becomes a rebellious teenager full of contempt for her mother. Benjamin is being mercilessly bullied at the upper-class private school Rory has dumped him in. And Rory becomes so increasingly obsessed with chasing an unlikely deal with his former boss, Arthur (Michael Culkin) that he overlooks the growing needs of his family.

The Nest won't be everyone's cup of tea. Durkin knows how to build tension, meticulously taking his time to unfurl his dread-filled narrative while purposely keeping his audience at a distance for much of this film. This won't sit well with every viewer, but for fans of slow-moving melodramas, it proves to be strangely intoxicating, echoing the recent horror work of Ari Aster and Robert Eggers. Durkin proves to be a master at crafting elegant scenes that are juxtaposed by moments of utter ugliness and traumatic anguish, creating an unsettling viewing experience where you're never quite sure what lies around the next corner.

The sharp, striking cinematography of Mátyás Erdély prefers long-distance takes, creating an almost voyeuristic viewing experience that is eventually shattered in the final act when Erdély's camera moves in for tighter shots. The stark, string-filled score from Arcade Fire's Richard Reed Parry shrouds the film in a constant state of melancholy, which is occasionally broken by a curious choice of classic 80s pop tunes from Thompson Twins, The Cute, and Bronski Beat.

If none of this sounds particularly appealing as yet, The Nest is worth the watch to behold the fabulous acting masterclass of Law and Coon, who both deliver career-best performances that play off each other in spectacular harmony. When Rory and Allison eventually verbally trash one another with white-hot vitriol, it's like something out of Who's Afraid of Virginia Woolf?. Law is perfectly cast as an endlessly charming pathological liar who's beginning to realise his rugged good looks and gift of the gab aren't the magical keys to the success he's so desperate to achieve. We've seen Law play these kinds of smarmy characters before (The Talented Mr. Ripley, Closer, Alfie), but there's an inherent darkness to Rory that makes this performance so much more compelling.

But this film belongs to the superb Coon, whose initially understated, poised performance slowly morphs into a woman on the verge of a total breakdown that's really quite terrifying to watch. Coon is often able to convey an entire cavalcade of emotions without uttering a single word, typified by the moment she realises the staggering extent of her husband's insipid web of lies and exaggerations. Her facial expressions are utterly marvellous. When Allison finally cracks, Coon is simply breathtaking, deftly delivering one of the year's finest lead female performance that demands attention from the Academy.

It's clear Durkin has purposely set The Nest in the mid-80s to tap into America's obsession with materialism that dominated that era of history. Rory's pathetic pursuit of excess is a breeding ground for a level of greed that threatens to rip his family apart. He's a character so wrapped up in his own lies, he can't see the destruction his actions are causing or the inescapable fact his dishonesty is spreading throughout his family. As the observer to all this chaos, it's like watching a slow, meandering car heading towards a cliff. We know what's coming, yet we can't look away.

Durkin's penchant for an ambiguous conclusion may not satisfy everyone, and it's hard not to wish The Nest had stretched on just a touch longer to see more of this captivating cast of characters. It's a minor quibble in a film that's so wonderfully engaging and atmospheric, especially one featuring two of the year's most explosive lead performances. An intriguing look at a family in freefall, The Nest is a striking enchantress of a film that will dance in your mind for days to come.





Distributor: IFC Films
Cast: Jude Law, Carrie Coon, Charlie Shotwell, Oona Roche, Adeel Akhtar, Wendy Crewson, Anne Reid, Michael Culkin, James Nelson-Joyce
Director: Sean Durkin
Producers: Ed Guiney, Derrin Schlesinger, Rose Garnett, Sean Durkin, Amy Jackson, Christina Piovesan
Screenplay: Sean Durkin
Cinematography: Matyas Erdely
Production Design: James Price
Costume Design: Matthew Price
Editor: Matthew Hannam
Music: Richard Reed Parry
Running Time: 107 minutes
Release Date: 17th November 2020 (U.S)