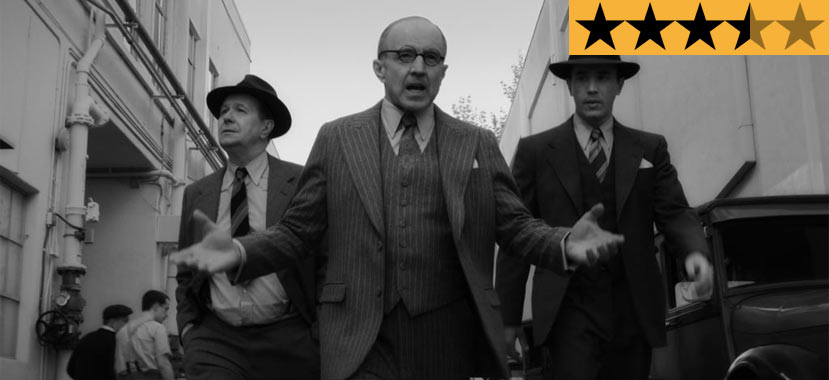 20 Nov

REVIEW – 'Mank' is easy to admire, but difficult to truly love

In the six long years since his last feature film, Gone Girl, modern-day auteur filmmaker David Fincher has been more intently focusing on the medium of television than the big screen. Fincher helped produce and direct Netflix's masterful serial killer drama Mindhunter (which is now infuriatingly on indefinite hiatus) and dabbled in animation with Deadpool director Tim Miller on the cyberpunk anthology series Love Death + Robots. In an ironic twist of fate, it's highly likely his latest film will be seen by more people on a television screen than in a cinema.

A passion project Fincher has been wanting to tackle for almost 15 years, the visually magnificent Mank is the filmmaker's most dazzling technical achievement to date. An astonishingly crafted masterwork with a sublime ensemble cast, it's easily the most gorgeous film you will see this year. Yet, for all the glitz and glamour Fincher has put on the screen, Mank lacks any semblance of emotional resonance, making it a film that's easy to admire, but difficult to truly love.

Perhaps it's all completely intentional and Fincher wants to keep his audience at a distance to showcase the immense wizardry of the terrific menagerie of film artisans he's assembled. For this reason, Mank feels like the kind of film that's likely going to sweep the technical categories at the Oscars and perhaps even net Fincher his long-overdue win for Best Director. But it's such a cold, sterile end product without any true heart, drowning in an offputting smugness that's hard to ignore. And films like that simply do not win Best Picture.

Written by the director's late father, Jack Fincher before his passing in 2003, Mank follows washed-up, alcoholic screenwriter Herman J. Mankiewicz (a typically impressive Gary Oldman), who's recuperating at the North Verde Ranch in Victorville, California after surviving a car crash. While bedbound with a leg cast, Mank has been hired by 24-year-old theatre and radio wunderkind Orson Welles (Tom Burke) to write his first feature film, Citizen Kane, in just 60 days.

With the assistance of his uppity British secretary Rita Alexander (Lily Collins) and hard-nosed German nurse Fraulein Freda (Monika Grossman), Mank begins cranking out page after page of what will become his master screenplay. As he writes, Mank reflects on his glory days in Hollywood, with Fincher echoing the non-linear structure of Citizen Kane by flipping between past and present, with typewriter title cards guiding our way as to what timeline we find ourselves in.

Mank's checkered history with the studio system includes run-ins with MGM bigwig Louis B. Mayer (a scene-stealing Arliss Howard), his right-hand man, Irving J. Thalberg (Ferdinand Kingsley), and powerful media magnate William Randolph Hearst (Charles Dance), who would eventually form the inspiration for lead Citizen Kane character Charles Foster Kane. Mank also forms an unexpected kinship with Heart's mistress, Marion Davies (a spectacularly sparkling Amanda Seyfried), who longs to be taken seriously as an actress and seen as more than just Hearst's bimbo concubine.

While Rita and Freda battle to keep Mank sober enough to complete Welles' screenplay, the writer also recalls Hearst and Mayer's ruthless campaign to manipulate the 1934 California gubernatorial election. The two powerful Hollywood figures sought to destroy the chances of Democratic candidate Upton Sinclair and reelect incumbent Republican Governor Frank Merriam, with Mank and Marion caught right in the middle.

You're possibly going to hear many describe Mank as Fincher's love letter to the golden age of Hollywood, which simply couldn't be further from the truth. That term is apt for films like Quentin Tarantino's Once Upon a Time in Hollywood or Michel Hazanavicius's The Artist that looked back on the history of Tinsel Town with fond sentimentality. If anything, Mank is Jack Fincher's love letter to the art of screenwriting, and, in turn, David Fincher's love letter to his late father. If you're after a gooey, gushing Hollywood fantasy, this ain't it. And that's another reason it may not play well with older members of the Academy.

Fincher has indeed meticulously crafted an ode to 1930s Hollywood that film history buffs are going to eat up. But Mank echoes Fincher's typically cynical style by refusing to sugarcoat history. For all the meticulous work that's gone into recreating Hollywood circa 1930-something, Mank should ultimately be viewed as a rather scathing critique of an era of filmmaking too many look back on with rose-coloured glasses.

Sure, Fincher dots his film with gloriously nostalgic moments like a walk-and-talk with Mayer, Mank and his brother, Joseph (Tom Pelphrey) around the MGM studio lot, with all manner of vintage moviemaking ruckus occurring in the background, or a rapid-fire meeting where Mank and his writing crew pitch a horror film to iconic producer David O. Selznick (Toby Leonard Moore), but his film is far from a tribute to Hollywood of the past. Fincher is more concerned with highlighting the darker side of Tinsel Town where manipulation, greed, and excess reign supreme.

This is an era in which Hollywood was edging towards total collapse and everyone working within the studio system was entirely miserable. The Great Depression saw ticket sales plummet, forcing studios to ponder how to get people to return to the cinema (sounds familiar, huh?) and slash production costs anywhere they could. Fincher typifies these cost-cutting measures with a scene in which the smooth-talking Mayer somehow manages to convince his "family" of MGM stars that a pay cut is in their best interest to save the studio that we know would cast them out the second their popularity wains.

In a curious move, Mank also captures the amalgam of the film industry and politics with pertinent parallels that are as subtle as a sledgehammer. As Mayer and Hearst lead their unscrupulous campaign to destroy the election chances of the "socialist" Democrats with fake newsreels and misleading radio broadcasts, you half expect one of them to spout lines about making America great again. It's rather unfathomable a screenplay written almost two decades ago that portrays events from the 30s could be so disturbingly familiar.

If Fincher had focused more heavily on the inner workings of the corrupt Hollywood system, Mank may have been a far more interesting film. But it's so blindly determined to deify Mankiewicz and give the screenwriter his overdue moment in the spotlight that it forgets to provide an audience anything to latch onto on an emotional level. When you break Mank down, it's ultimately just a character study of a drunk writer who (often literally) stumbles from scene to scene and barks out his often uncomfortable opinions on, well, anything.

We know Fincher has a penchant for headlining his films with unlikeable protagonists, but he's trying something different here by sympathetically portraying Mank as a talented writer whose inability to play by Hollywood's rules stopped the screenwriter from achieving god-like status in the film industry. Oldman disappears into the character with an unsurprisingly solid performance as the tragic court jester who wisely stuck to his guns and created one of the greatest screenplays ever written. Oldman captures Mank's dry sense of humour and sporadic bursts of energy with aplomb.

But it's Seyfried who consistently steals focus with a career-best performance that genuinely brightens every scene she's given. Davies is a fascinating, layered character who unexpectedly becomes the film's true heart. With a thick Brooklyn accent and an array of dazzling costume and hair designs, Davies instantly captures attention anytime she's on-screen. But the underrated talents of Seyfried find pathos as a woman who's completely in command of her persona and far more intelligent than at first glance. Seyfried more than holds her own against both Oldman and Dance in a performance deserving of the awards season adoration that's surely on its way.

While Mank is a film I may not have "loved" as much as I achingly wished to, you'll still notice a relatively high star score at the conclusion of this review. That's simply because it's impossible not to be entirely blown away by the technical feats achieved here. It's a ravishing piece of cinema that will leave you swooning in your seat. Fincher has sought to craft a film that looks, sounds, and feels like something straight out of 1940. And he's succeeded in absolute spades.

From the stunning black-and-white cinematography of Erik Messerschmidt (complete with 'cigarette burns,' which feels like a deliberate, playful nod to Fincher's Fight Club), the elegant, gorgeous gown and costume design of Trish Summerville, and the crisp pacing of Kirk Baxter's editing, Mank is flawless in its technical execution. The vintage strings and drum-heavy score of Trent Reznor and Atticus Ross perfectly compliments the mood of this piece, leading the narrative through both its bright and dark moments. Even the sound design has been purposely manipulated by Ren Klyce to bless it with a retro vibe.

Fincher is in total command of every element of this production and delivers a technical masterpiece that will be studied by film students for years to come. Maybe that will be enough to earn him the Oscar he should have received for The Social Network. It's just a mighty shame Mank is a beautiful beast without a true soul. It feels more like touring a lavish, meticulous museum recreation of Hollywood in the 1930s than a fully rounded cinematic work of art.

It's stunning to view and appreciate, but you yearn for more. It's something you respect and admire, but the cold mannequins within the exhibit keep your heart from connecting with the story they're retelling. Fincher has pushed his audience to such a distance from this film that he makes it genuinely difficult to adore. Maybe that's entirely how he wanted it. Regardless, Mank is a stunning achievement that needs to be seen.





Distributor: Netflix
Cast: Gary Oldman, Amanda Seyfried, Lily Collins, Arliss Howard, Tom Pelphrey, Sam Troughton, Ferdinand Kingsley, Tuppence Middleton, Tom Burke, Joseph Cross, Jamie McShane, Tony Leonard Moore, Monika Gossmann, Charles Dance
Director: David Fincher
Producers: Ceán Chaffin, Eric Roth, Douglas Urbanski
Screenplay: Jack Fincher
Cinematography: Erik Messerschmidt
Production Design: Donald Graham Burt
Gown and Costume Design: Trish Summerville
Editor: Kirk Baxter
Music: Trent Reznor, Atticus Ross
Running Time: 132 minutes
Release Date: 4th December 2020 (Worldwide)