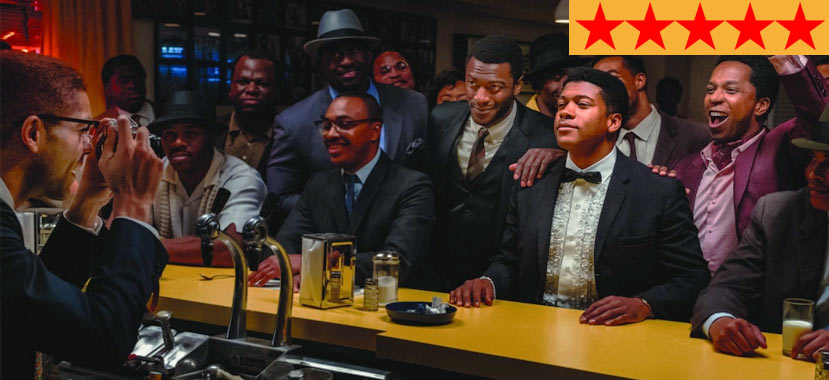 27 Nov

REVIEW – 'One Night in Miami' is simply magnificent

Fresh off an Oscar win in 2018 for If Beale Street Could Talk and her recent Emmy win for Watchmen, the legend that is Regina King wraps up 2020 by proving there's seemingly nothing she can't do. Taking a seat behind the camera for her auspicious feature directorial debut, One Night in Miami, King delivers a remarkable piece of cinema that's equal parts enlightening and entertaining. And, just quietly, it's one of the finest films you'll see all year.

Crafted with an assured confidence well beyond her directorial experience and aided by a firecracker of a screenplay from Kemp Powers, King elicits four knock-out performances from her terrific ensemble cast like only a fellow actor can. Endlessly engaging and inescapably relevant, One Night in Miami is simply magnificent. King and Powers effortlessly draw parallels between past and present to create one of the most inadvertently pertinent films of 2020.

Based on Powers' 2013 play of the same name, One Night in Miami is the fictional story of four African-American icons gathering in a hotel room one evening in 1964 at the height of the civil rights movement. Before we get to our scene at the Hampton House Motel & Villas, King introduces our four Black legends via an extended prologue that finds our central players at a decidedly low moment in their life.

Civil rights activist Malcolm X (a revelatory Kingsley Ben-Adir) is finding himself disillusioned with the Nation of Islam and beginning to contemplate leaving the religious movement to blaze his own path; charismatic young boxer Cassius Clay (Eli Goree) has just been unceremoniously thumped at a bout in London after too much cocky showboating in the ring; NFL star Jim Brown (Aldis Hodge) is brutally reminded of his place in the world after being racistly rejected from entering a fan's home; and R&B crooner Sam Cooke (a sensational Leslie Odom Jr.) has just suffered through a humiliating performance at the all-white Copacabana that suggests his career is starting to wane.

Several months later, Clay is back in the winner's circle after an unexpected victory over Sonny Liston in Miami to become the heavyweight champion of the world. To celebrate Clay's win, the four friends gather at Malcolm's hotel room. While the evening begins cordially, their conversation soon turns tense when Malcolm raises the topic of the civil rights movement and the responsibility his friends should feel to the Black community and not their celebrity status.

Powers' dialogue-rich screenplay deftly explores the complicated notion that celebrities of colour should use their status for the greater good, no matter the potential impact on careers they already face an uphill battle to succeed in by virtue of the colour of their skin. Is silence equal to complacency? Or, even worse, complicity? It's an issue King has likely faced herself, particularly in the midst of the year of social uprising we've just experienced.

For a film set in the 1960s, the inescapable pertinency of One Night in Miami flows throughout every frame, especially in an era where someone like Colin Kaepernick saw himself targeted for daring to use his platform to speak out on police brutality. Over five decades later, Black sports stars and musicians like Clay, Brown, and Cooke are still grappling with the impossible balancing act of success and activism and the expectation that comes with being a person of colour in the media spotlight. If you speak out, you risk damaging your career. Yet, if you stay silent, you're missing the chance to potentially make a difference.

It's fascinating to watch how the four characters approach the idea of responsibility in wildly different ways. As the activist in the room, Malcolm naturally constantly pushes his three friends to take their status more seriously in the hopes of becoming the allies he needs to further his cause. Ignoring the damage it may (and will) do to his career, Clay is already on the verge of announcing his conversion to Islam. Brown is considering pursuing a career in acting, which could be jeopardised if he doesn't keep his mouth shut.

But it's Cooke who Malcolm criticises the most, labelling the singer a sellout for making breezy, inoffensive music for white audiences while a white artist like Bob Dylan is releasing a powerful, socially-relevant song like "Blowin' in the Wind." The tension Powers creates between Malcolm and Cooke is electrically palpable. Cooke believes he's inspiring a new group of Black musicians to control and own their music as he does, and Odom Jr. presents the singer as someone who's blisteringly unapologetic of his decision to fly under the political and social radar to achieve success.

A film of this nature lives and dies by its actors, and King has cast four exceptional talents to bring these four icons to life without ever falling into farcical caricatures. It may be a cliché of this genre, but each actor completely disappears into their character and inhabit these infamous figures like a second skin. Even with many narrative threads to juggle, Powers' screenplay gives all four leads (which is how awards season should have seen them) equal time in the spotlight, creating a pseudo biopic that sheds more like on each figure than films that have focussed solely on one person.

As the endlessly confident Clay, Goree brings some much-needed levity to the piece with scenes of the young boxer boasting how "pretty" he is and posing in front of any mirror in sight. He effortlessly captures Clay's infamous bravado without it ever feeling trite, but also wisely presents the sportsman's vulnerability hidden beneath all that boisterous attitude. Hodge is handed the most understated role, but instils plenty of intensity and dignity in a character sceptical of everything Malcolm is laying down.

The boundless talent that is Grammy and Tony winner Odom is perfectly cast as the swaggering music legend Cooke. In a performance that could (and should) see the performer add an Oscar to his shelf of trophies, Odom absolutely shines in the role he was born to play. King wisely puts Odom's heavenly vocals to good use, particularly during a rousing finale performance of Cooke's iconic track, "A Change is Gonna Come." But Odom showcases his dramatic chops with Cooke delivering several fiery monologues in response to Malcolm's criticisms.

The exchanges between Malcolm and Cooke are sublime cinema, elevated by the commanding performance of Ben-Adir, who delivers his own unique spin on a character cinematically defined by Denzel Washington in 1992's Malcolm X. Ben-Adir delivers a breakthrough performance that stamps the actor as a star on the rise, offering the iconic activist as a man of true integrity whose every word feels like something from a sermon.

For all his outwardly obvious confidence, Ben-Adir finds the hesistence and uncertainty in a civil rights leader who seems to somehow inherently know his time is limited. There's a tenderness to his performance that's so incredibly endearing. The actor is required to match wits and energy with each of his fellow ensemble members, which Ben-Adir handles with aplomb. In an ensemble piece, Ben-Adir steals the show and delivers one of the best performances of the year.

One Night in Miami leaves you richly satisfied, yet still yearning for more. That's not a criticism in the slightest, rather, these four men are so genuinely engrossing and compelling, they could have sat talking for four more hours, and I still would have begged them to keep going. Someone would be wise to develop full spin-off biopics for the four phenomenal actors to reprise these roles again in the future. As an actor herself, King clearly knows how to assuredly extract performances of this magnitude, suggesting a great directorial career ahead of the first-time filmmaker.

This is material King clearly connected with and the proof is up there on the screen. While shrewdly retaining and often embracing much of the claustrophobic intimacy of Powers' stage play, she wisely expands the action outside the hotel room to avoid the film feeling too "stagey." Working with cinematographer Tami Reiker, King shows her keen sensibility for camerawork by keeping the frame moving when stuck inside the confines of the hotel room. But she understands the power of the performances in front of her to move in close when the moment calls for it. This is the kind of vehicle for an acting showcase only a fellow actor could craft. King boldly proves her ability as a director and could very well land herself an Oscar nomination with just her first attempt.

For all its deep dramatic power, One Night in Miami provides lashings of joyous entertainment to balance its heavier intentions. King has an important message to convey, but still desires to provide her audience with a great time along the way, which creates a film that's so incredibly rewatchable. There's much joy in watching four icons of American history join forces for one chaotic evening of extended conversation, but everything here is elevated higher by its undeniable significance to everything that has occurred in America in 2020.

King and Powers tackle the difficult subject of how Black icons deal with the inherent responsibility that comes with their fame. One Night in Miami is a film that's wise enough to understand there's no easy decision to be found for those who find themselves struggling with which path to take. Led by one of the best ensemble casts of the year and confidently directed by a woman who can do no wrong, One Night in Miami meets this moment in history at just the right time.





Distributor: Amazon Studios
Cast: Kingsley Ben-Adir, Eli Goree, Aldis Hodge, Leslie Odom Jr., Lance Reddick, Christian Magby, Joaquina Kalukango, Nicolette Robinson, Michael Imperioli, Lawrence Gillard Jr., Beau Bridges, Aaron D. Alexander, Jeremy Pope, Chris Gorham
Director: Regina King
Producers: Jess Wu Calder, Keith Calder, Jody Klein
Screenplay: Kemp Powers
Cinematography: Tami Reiker
Production Design: Barry Robison
Costume Design: Francine Jamison-Tanchuck
Editor: Tariq Anwar
Music: Terence Blanchard
Running Time: 114 minutes
Release Date: 15th January 2021 (Worldwide)