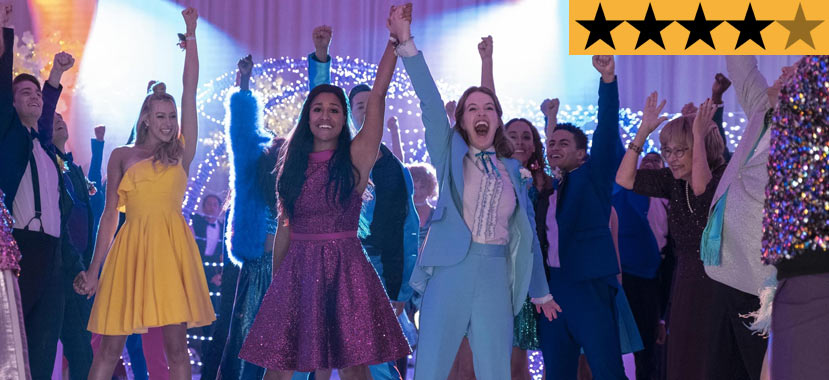 02 Dec

REVIEW – 'The Prom' is a big, glitzy dose of Broadway musical magic

We're drawing closer to the end of a year we'd all rather forget, and what better way to say farewell to the flaming garbage pile that was 2020 than with a big, glitzy dose of Broadway musical magic. Alright, so that's not going to be everyone's answer to brightening up such a dark period of history, but, for those who love their musicals loud, proud, and extra-extravagant, The Prom is everything you need right now.

Unapologetically campy and infectiously joyous, The Prom wears its enormous heart on its sleeve in a lavish musical loaded with witty dialogue, catchy tunes, and a gorgeous, pertinent message of acceptance. Much like everything director Ryan Murphy lays his hands on, there are quibbles to be found. But when the party is this much fun, engaging, and heartwarming, you'll leave with a giant grin on your face and maybe even a tear in your eye.

It's opening night for the garish Broadway musical biopic Eleanor!: The Eleanor Roosevelt Story, starring legendary, two-time Tony Award-winning diva Dee Dee Allen (a fabulously vampy Meryl Streep) and her "gay as a bucket of wigs" co-star Barry Glickman (James Corden). Unsurprisingly, the critics savage the show to pieces, leaving Dee Dee and Barry to drown their sorrows at Sardi's with life-long Chicago chorus girl Angie Dickinson (a luminous Nicole Kidman) and down on his luck Juilliard School graduate and former 90s sitcom star Trent Oliver (a typically scene-stealing Andrew Rannells).

Desperate to improve their unlikeable, narcissistic images, the four actors decide to find a cause to help resurrect their flatlining careers. Enter small-town Indiana high school student Emma Nolan (Jo Ellen Pellman, in a fabulous debut performance), whose prom was just cancelled by the small-minded head of the PTA Mrs. Greene (Kerry Washington) after Emma announced she wanted to bring her secret girlfriend, Alyssa (Ariana DeBose) as her date.

Despite Emma receiving the full support of Principal Tom Hawkins (Keegan-Michael Key), Mrs. Greene won't be swayed, and news of the prom cancellation has spread all over Twitter, making it the perfect political cause for our four actors to champion. Hitching a bus ride with a non-Equity tour of Godspell, Dee Dee, Barry, Angie, and Trent arrive in Indiana to fight for Emma's right to the prom she's always dreamed of. Or, as Barry so eloquently puts it, "We're gonna help that little lesbian, whether she likes it or not."

On one hand, The Prom is a sharp satire taking a white-hot poker to self-absorbed celebrities whose "activism" is often little more than a shameless grab at much-needed PR. On the other, it's a relevant introspection of the homophobia that still runs rampant in rural USA. For all America's supposed progress of the last few decades, Mrs. Green pointedly remarks, "This isn't America. This is Indiana," making it clear the 21st-century message of tolerance is still being opposed by those who fear the unknown.

Inspired by several real-life cases of LGBTQ students facing similar obstacles to those in the musical, The Prom shrewdly acknowledges there's still a deep divide between somewhere as liberal as New York City and somewhere as conservative as rural Indiana. We like to believe the next generation is far more accepting of the LGBTQ community. And, for the most part, they absolutely are. But Emma's cruel classmates stand as an example of how even fresh minds can be corrupted by the misguided rhetoric they hear in the school halls and the local church.

Caught in the middle of this brewing storm is unassuming activist Emma, who clearly never wanted all this attention and merely wished to have her adoring girlfriend on her arm at the prom like all the other loved-up students. In her feature film debut, Pellman proves to be a real find, bringing such unabashed warmth and vulnerability to an endearing protagonist you can't help but cheer for. It's a star-making performance, anchored by her sublime chemistry with the charming DeBose. These two are an absolute joy to watch and create the greatest queer love story of the year. In a cast of huge names and larger-than-life performances, Pellman more than holds her own, as she effortlessly steals a film that should belong to her.

In a performance that's part Patti LuPone, part Judy Garland, and maybe even a dash of the actress herself, Streep absolutely shines in her most endearing role in years. It's a deliciously grandiose turn that could easily fall into farce, but Streep handles it effortlessly. As the shallow, vein fading Broadway starlet, Streep shows her deft knack for comic timing, chewing the scenery whenever she can and bringing down the house with her show-stopping, belter of a number, "The Lady's Improving." As always, Streep is simply transcendent as another character she was born to play, and she could be looking at adding yet another Oscar nomination to her already-enormous total.

Kidman appears to be having the time of her life playing the bubbly Angie. She slinks around every scene with the Fosse grace of a perennial ensemble dancer, but her performance truly comes alive in the jazz-infused romp "Zazz" and in several tender moments with Emma where Angie's unexpected wisdom breaks through. Rennells is a hoot and a half as the cater-waiter who can't help but mention he went to Julliard at the drop of a hat. Rennells' roaring vocals take us to church in the lively number "Love Thy Neighbor," where the endlessly charming actor proves he's one of the best song-and-dance men in the business.

And then there's Corden, whose performance will undoubtedly prove to be the most divisive of the film. After his disastrous turn in 2019's Cats, Corden is given the opportunity to redeem himself with another big-budget movie musical. There will be plenty who take exception with a straight actor portraying such a flamboyant gay male role, and Corden does have a tendency to push the line between queer realism and borderline offensive parody. The writing is what ultimately fails Barry. By the time the film attempts to add depth to his character with an estranged parent backstory, it's too late to save Corden from himself and his disappointing performance detracts more than it adds.

Love him or hate him, Murphy knows how to craft sensational musical numbers that genuinely leap off the screen. With all the colour and pizzazz that made Glee such a phenomenon over ten (!) years ago, Murphy delivers numerous glorious musical delights that retain the magic of the Broadway stage that's been dark for months now. Completely inadvertently, The Prom now stands a tribute to an industry gutted by the effects of COVID-19 lockdowns and will likely remind theatre lovers of everything they're missing right now.

Yet, as with most of his work, Murphy starts proceedings at an 11 and lacks the understanding of how to create a fully-rounded final product with light and shade. It will frustrate audiences who prefer their musicals with subtlety and nuance. For those familiar with his work, you would know these words have never been in Murphy's vocabulary. At this point in his career, we should come to expect a film that unashamedly embraces extravagance and excess, so consider yourself warned.

For all its poignant moments of timely teen drama, The Prom is also a hilarious romp that sharply satirises the Broadway theatre community as only a Broadway musical can. The screenplay is swimming in theatre-based in-jokes and gags that show this film understands its intended audience incredibly well. Like the love child of Hairspray and The Producers, it's juggling an urgent message with pointed satirical humour, while also providing endless entertainment and an abundance of joy.

The Prom will not be everyone's cup of tea, but I found myself grinning like a fool right from the opening number, "Changing Lives" all the way through to the glorious finale, "It's Time to Dance." Elevated by a fully committed ensemble cast, electrifying musical numbers, and a gorgeous queer love story that melts your heart, it's precisely the musical comedy we need this year. It's bombastically silly fun with equal lashings of warmth and charm. Let it win you over. You'll be glad you did.





Distributor: Netflix
Cast: Meryl Streep, James Corden, Nicole Kidman, Keegan-Michael Key, Andrew Rannells, Ariana DeBose, Kerry Washington, Jo Ellen Pellman
Director: Ryan Murphy
Producers: Adam Anders, Dori Berinstein, Chad Beguelin, Bill Damaschke, Bob Martin, Ryan Murphy, Scott Robertson, Matthew Sklar, Alexis Martin Woodall
Screenplay: Chad Beguelin, Bob Martin
Cinematography: Matthew Libatique
Production Design: Jamie Walker McCall
Costume Design: Lou Eyrich
Editor: Peggy Tachdjian, Danielle Wang
Music: Matthew Sklar
Running Time: 131 minutes
Release Date: 11th December 2020 (Worldwide)