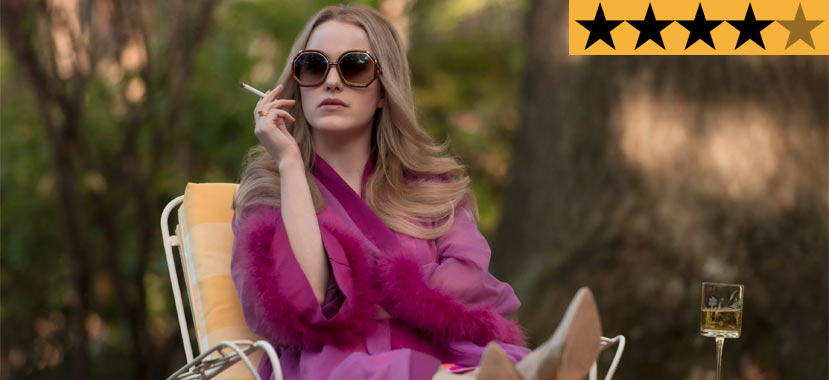 10 Dec

REVIEW – 'I'm Your Woman' is a sharp, sophisticated, and thoroughly engaging little gem

When an actor creates an iconic and award-winning television character, their persona on the small screen inevitably becomes intrinsically linked to the performer themself. It's why we often see television actors seek wildly different film roles to the one they play on a weekly basis. Such is the case with the luminous Rachel Brosnahan, who has been dazzling television viewers for the past three years with her Emmy-winning performance on The Marvelous Mrs. Maisel.

Effortlessly making the transition from breakout television star to big-screen leading lady and shattering her Mrs. Maisel image in the process, Brosnahan dazzles in co-writer/director Julia Hart's sharp, sophisticated, and thoroughly engaging little gem, I'm Your Woman. A tight noir thriller that consistently keeps you guessing, Hart refreshingly flips the script on the mob drama conceit by placing a female protagonist in the lead to tell her story from the perspective of the often-ignored mob-wife. The result is one of the most enjoyable films of the year.

Set in the 1970s, we first meet lonely housewife Jean (Brosnahan, who also co-produced the film) as she sips champagne on her patio deck chair, dressed in a pink, fur-trimmed chiffon robe and adorned with oversized sunglasses. Stuck in the monotonous routine of suburban life, Jean spends her days alone at home while her husband, Eddie (Bill Heck) works long hours at his mysterious, unscrupulous job.

Jean's blissful life is completely upended when Eddie arrives home one day with a baby (who is easily the most adorable bub you will see on a screen this year), which he claims is the answer to the couple's infertility problems. After years of turning a blind eye to her husband's shady dealings, Jean knows better than to ask questions and merely accepts the child as her own. As Jean struggles to adjust to her newfound maternal role, she's awoken in the middle of the night by one of Eddie's partners who frantically forces Jean to pack up and flee with her young child.

Placed in the care of Cal (Arinzé Kene), a kindly former associate of Eddie's, Jean and her baby are hidden in a safe house to lay low until whatever heat Eddie has cooked up dies down. But when the safety of the secret sanctuary is compromised, Cal leaves Jean in the care of his wife, Teri (Marsha Stephanie Blake), her young son, Paul (Da'Mauri Parks), and her father, Art (Frankie Faison) at a secluded cabin in the woods. Rather than sit and wait to be whacked, Jean decides it's time to get to the truth of who her husband really is.

Brosnahan is handed an absolute gift of a role and it's instantly clear Hart has found the right actor to essentially carry the entire weight of this film. Much like her work on Mrs Maisel, Brosnahan perfectly plays the transformation of a woman whose entire world has been spun upside down in an instant. Watching the endlessly talented actor organically evolve Jean from a helpless victim into a strong, crafty, and occasionally deceptive heroine is genuinely breathtaking. Hart wisely takes her time to allow Jean to really come into her own. When she does, the power of Brosnahan's performance truly takes hold.

Hart's screenplay (co-written with producer Jordan Horowitz) puts a fresh twist on the well-worn mob drama by highlighting the effect of a gangster's cycle of violence has on those closest to them. We rarely see the female perspective in this style of narrative, especially a female who breaks the damsel in distress or unfortunate victim mould and becomes her own saviour. In the film's second act, Jean forges a complex friendship with Teri, borne of a maternal familiarity and a mother's fierce determination to protect her child. These aren't desperate ploys at depicting feminism. This is an earnest tribute to the strength of sisterhood and the power of women taking charge of their own destiny.

Practically every scene of I'm Your Woman is shrouded in an inescapable aura of tension, which Hart slowly intensifies as this thriller truly takes flight. Jean is a woman in a constant state of unsafety and the effect on the audience is palpable. There are moments of calm respite, but Hart is often quick to shatter the serenity with scenes of utter chaos, typified by a nightclub scene that turns into absolute anarchy when shots start ringing out. Hart also proves adept at crafting occasional thrilling set-pieces, particularly a heart-racing car chase sequence that's one of the best of the year.

Drenched in an Autumnal colour palette, the vintage 70s aesthetic shines through in Natalie O'Brien's vibrant costumes (Jean's evolving wardrobe perfectly matches her character arc), Gae Buckley's spot-on production design, and Bryce Fortner's gorgeously gritty cinematography. And bonus points have to be given for one of the best retro soundtracks you will hear this year, with an array of brilliantly timed needle drops throughout. Despite sharp editing from Shayar Bhansali and Tracey Wadmore-Smith, the film occasionally lags through its meandering plot, but never too long to lose your interest.

I'm Your Woman had me in its grasp right from the opening scene and didn't let go until its richly satisfying conclusion. It's a deliciously entertaining thriller that will keep you on your toes for two hours. There's an inconspicuous dark streak hiding in every frame. When it rears its head, the result is wickedly wonderful. Led by a commanding performance from Brosnahan and crafted with deft care by Hart, it's an invigorating new take on a style of film we've seen a hundred times before. And one that boldly declares Brosnahan as a movie star in the making.





Distributor: Amazon Studios
Cast: Rachel Brosnahan, Marsha Stephanie Blake, Arinzé Kene, James McMenamin, Marceline Hugot, Frankie Faison, Bill Heck, Da'Mauri Parks, Jameson Charles, Justin Charles, Barrett Shaffer, Jarrod DiGiorgi, Lynda Marnoni
Director: Julia Hart
Producers: Jordan Horowitz, Rachel Brosnahan
Screenplay: Julia Hart, Jordan Horowitz
Cinematography: Bryce Fortner
Production Design: Gae Buckley
Costume Design: Natalie O'Brien
Editors: Tracey Wadmore-Smith, Shayar Bhansali
Music: Aska Matsumiya
Running Time: 120 minutes
Release Date: 11th December 2020 (U.S.)