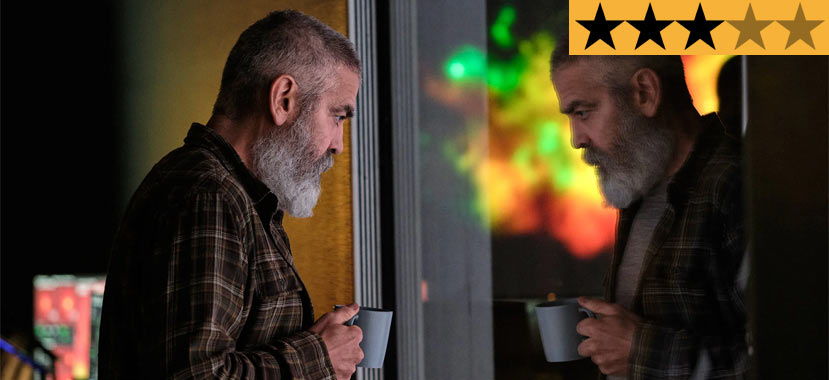 10 Dec

REVIEW – 'The Midnight Sky' is visually stunning but narratively ghastly

Last year, it was Brad Pitt in Ad Astra. One year earlier, it was Ryan Gosling in First Man. And who could forget Matt Damon in 2015's The Martian and Matthew McConaughey in 2014's Interstellar? In 2020, it's George Clooney. Yes, we've finally reached the year's obligatory "sad man in space" movie. Alright, so Clooney actually remains completely earthbound in The Midnight Sky, but it's a space-themed film with a huge A-list star playing a miserable astronomer, so Clooney's latest directorial effort joins this club as an honorary member.

Returning to the screen for the first time in four years, Clooney and a committed ensemble cast lead a film that so desperately wants to be the sci-fi version of The Revenant, they hired the same screenwriter, Mark L. Smith. Much like Alejandro G. Iñárritu's sweeping epic, The Midnight Sky is a film that's visually stunning but narratively ghastly. While the productions values and visual effects are some of the year's absolute best, the film is undone by a horribly predictable narrative, flat characterisations, and derivative plot points we've seen dozens of times before.

Set in February 2049, The Midnight Sky follows Augustine Lofthouse (Clooney), a 60-something, bushy-bearded astronomer living in isolation at the Barbeau Observatory somewhere in the Arctic Circle. Three weeks earlier, an apocalyptic emergency known only as "the event" caused a mass evacuation of those living remotely in the arctic outpost, with Augustine making the decision to remain behind.

Suffering from a form of cancer that requires daily blood dialysis treatment, Augustine has chosen to spend his remaining days hunkered down at the observatory while whatever is destroying the planet slowly creeps its way north. However, Augustine's solitude is unexpectedly shattered when a young girl named Iris (Caoilinn Springall) appears at the observatory after being left behind by the exodus.

Meanwhile, somewhere deep in space, the Ether spaceship is returning from its mission to Jupiter to explore K-23, an Earth-like moon that could be civilisation's salvation for a new life. With no communication from Earth in three weeks, husband-and-wife team Tom Adewole (David Oyelowo) and Sully Rembshire (Felicity Jones) and their crew Mitchell Rembshire (Kyle Chandler), Sanchez (Demián Bichir) and Maya Peters (Tiffany Boone) are completely unaware of Earth's apparent apocalypse.

In a bid to stop the Ether crew from returning home, Augustus and Iris must travel across the icy tundra in the middle of an arctic windstorm to reach a northern weather station that will allow communication to the spaceship. As you'd expect, it's a perilous journey, filled with all manner of chaos and dangers, which also besets the Ether crew who run off course and straight into a minefield of meteor showers.

Filmed on location in Iceland in the dead of winter and utilising a cavalcade of special effects for the space sequences, The Midnight Sky is a technical marvel that should have been experienced in a cinema. Even the best home entertainment systems won't do this film justice, particularly Martin Ruhe's sumptuous cinematography and the booming sound design. As director, it's easily Clooney's most ambitious project to date. Clooney proves himself more than capable of crafting spectacular set-pieces, but lacks the experience to know when to draw the line or how to create something we've never before.

There's little originality in many of the reductive moments Smith and Clooney have created, which robs the film of any genuine element of surprise. When the Ether crew head outside their ship to make repairs, it's all but preordained this will be the exact unfortunate moment the vessel comes under fire from a spray of deadly meteors. While the growing connection between Augustus and Iris is wonderfully endearing, the big mystery surrounding her identity is painfully obvious right from the get-go, leaving the eye-rolling finale twist to fall flat on its face.

Smith's screenplay consistently flips the action between Augustus' storyline on Earth and the plight of the Ether crew, but there's a notable lack of narrative finesse between the two settings. While everything occurring in outer space offers the visual effects team and production designer Jim Bissell the chance to truly shine (both will likely feature prominently during awards season), the astronaut characters all suffer from shallow characterisations that never allow an audience to find any semblance of connection.

Even great actors like Oyelowo, Chandler, and Oscar nominees Jones and Bashir can't elevate these thinly-drawn characters. They're left with little to do but robotically plod through the motions of each scene, leaving you longing for the action to hurry up and return us to the more interesting Earth storyline. Clooney is perfectly cast as the weathered, gruff astronomer whose dedication to his work has robbed him of a life outside the laboratory. He's a fascinating character study and Clooney delivers another solid performance, but the film suffers considerably when it drifts outside his narrative.

As the inquisitive, silent young girl, Springall is a terrific discovery with a wildly expressive face and beaming eyes that sell her charming performance in the absence of almost any dialogue. Springall threatens to steal the entire film and Clooney seems entirely at ease with this fact, allowing her to shine in every moment possible. The burgeoning kinship between Augustus and Iris is the film's true heart, typified by a delightful interaction involving peas that echoes the classic dinner table scene between Chief Brody and his young son, Michael in Jaws.

One of the film's fatal flaws is the insertion of flashback moments featuring Ethan Peck as a young Augustus, yet spoken with Clooney's actual voice. It's a confounding decision on Clooney's behalf, with the director seemingly not trusting his audience's intelligence to understand Peck is playing a younger version of the lead character without the need to jarringly spell it out to them with this bizarre vocal alteration choice. Not only do these scenes add little to the overall narrative (the storyline would genuinely work cohesively without them), they halt the film's pacing considerably.

Clooney's ambition here has to be admired. On a technical level, he's delivered a meticulously crafted epic that's further elevated by a typically magnificent, stirring score from Alexandre Desplat that will undoubtedly net the composer his 12th Oscar nomination. It's just a shame the flat screenplay can't match the wonders of the film's visuals. The Midnight Sky stands as a reminder spectacular imagery feels entirely hollow without engaging characters and a well-constructed plot. Clooney has delivered a final product that feels like two different, competing movies rolled into one, yet neither lands the impact the filmmaker intended.





Distributor: Netflix
Cast: George Clooney, Felicity Jones, David Oyelowo, Tiffany Boone, Demián Bichir, Kyle Chandler, Caoilinn Springall
Director: George Clooney
Producers: Grant Heslov, George Clooney, Keith Redmon, Bard Dorros, Cliff Roberts
Screenplay: Mark L. Smith
Cinematography: Martin Ruhe
Production Design: Jim Bissell
Costume Design: Jenny Eagan
Editor: Stephen Mirrione
Music: Alexandre Desplat
Running Time: 122 minutes
Release Date: 23rd December 2020 (Worldwide)