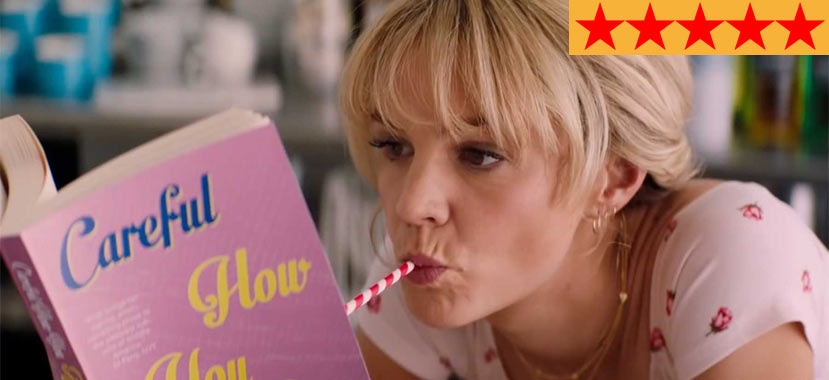 15 Dec

REVIEW – 'Promising Young Woman' will blow your damn socks off

From Regina King and Natalie Erika James to Radha Blank and Autumn de Wilde, one of the few redeeming qualities of 2020 has been the confident directorial debuts of numerous female filmmakers. In a year of such darkness, their stellar work has been a bright light of hope for the future of the film industry. As 2020 finally draws to a close, it's time to add another name to that list. And she has delivered one of the year's most deliciously enjoyable treats.

Provocative, stylish, and sardonically dark, Promising Young Woman is the explosive debut from writer/director Emerald Fennell, who you may also recognise from the recent season of The Crown where she stole focus as the unscrupulous "other woman," Camilla Shand. Led by a fierce, award-worthy performance from Carey Mulligan that will blow your damn socks off, Promising Young Woman is sharply relevant, endlessly entertaining, and simply breathtaking.

Revenge is a dish best served cold and it's equally advisable to head into Promising Young Woman as cold on details as possible, so I'll do my best to remain ambiguous here. Mulligan plays Cassie, a 30-year-old med school dropout who works at a coffee shop with her only gal pal Gail (Laverne Cox) while still living at home with her disappointed parents (Clancy Brown and Jennifer Coolidge). With her once-promising future in tatters, we soon learn Cassie is still reeling from the traumatic event that caused her to flee college.

To deal with her pain, Cassie is secretly living a double life, as she routinely heads to local nightclubs and pretends to be wildly intoxicated to attract the attention of a "nice guy" to see her home safely. And, of course, that seemingly always leads to Cassie's latest patsy (including Adam Brody and Christopher Mintz-Plasse) taking her back to their place to take advantage of the practically unconscious girl on the couch. Little do these pathetic creeps realise Cassie is about to teach them a life lesson they'll not soon forget.

Hell hath no fury like a woman scorned. And Carrie's fury is a sight to be seen. However, Cassie's wrath of vengeance is soon disrupted by a reunion with the adorkable Ryan (a terribly charming Bo Burnham), a former med school classmate who's been harbouring a crush on the blonde barista for years. While Cassie has shunned relationships since she dropped out of school, she can't help but start to let her guard down around Ryan, which only complicates her nighttime routine and her unfolding mission that's best left unspoiled.

After taking Sundance by storm in January and suffering through several pandemic-related release date changes, Promising Young Woman finally arrives this Christmas with the level of hype that's more of a curse than a blessing. Thankfully, the hype is real on this one. Fennell has crafted an absolute firecracker of a film that's sure to provoke much conversation once it's more widely seen. A scathing indictment of toxic masculinity and the perpetual cycle of violence against women that rarely sees any punishment, Promising Young Woman meets this moment in history with a pervasive anger that's genuinely palpable.

In a post-#MeToo world, the immense pertinency of Fennell's screenplay is inescapable. The trauma at the root of Cassie's complicated journey of revenge will sadly be all too familiar to far too many women and perhaps observing such a narrative will prove mildly cathartic for some viewers. You would be wise to also seek out the reviews of female critics, as this film will hit (or possibly miss) differently from a female perspective. That being said, if this film hit this male critic in such a way, one can only imagine how it will land with a female audience.

Echoing Bong Joon-ho's masterful and ever-evolving Parasite, Fennell giddily drives Promising Young Woman through different genres to consistently keep an audience on its toes and completely mess with your expectations. Don't ever assume you know where this film is heading, as you will likely be entirely incorrect. What begins as revenge fantasy dotted with splashes of black humour soon spins into a surprisingly endearing romantic comedy that deviates Cassie into a narrative even she didn't see coming.

But Fennell saves her biggest shocks for the volatile finale that will undoubtedly prove particularly divisive with audiences. It left me with legitimate goosebumps, my jaw on the floor, and, eventually, a huge grin on my face, but one could easily see how it will frustrate and disappoint others. To see a filmmaker take such ambitious risks in only her first feature film is wildly impressive. But Fennell trusts her instincts and knows how to create a surprising conclusion that will catch you completely off-guard and linger in your mind for days.

At the centre of Fennell's wicked creation is a commanding, career-best performance from Mulligan that demands attention this awards season. Mulligan is in sensational form here as she effortlessly portrays Cassie as one of the most complex characters of the year. In the process, Mulligan creates an anti-heroine for the ages. Fueled by anger and rage, yet crippled by guilt and trauma, she's a fascinating character study that easily could have fallen apart in the hands of a lesser actor.

Mulligan is tasked with portraying Cassie in the numerous different personas she adopts to fit the moment, which she handles with aplomb. As the innocent, sloppy drunk, she's terribly sympathetic, but when the fake inhibition fades, Cassie is a menacing force of nature. She's a protagonist you cannot help but root for, even as her moral compass starts to wobble significantly. It's a performance you cannot take your eyes off, as Mulligan slowly navigates Carrie's engaging character arc that builds to a furious crescendo that explodes across the screen. If the members of the Academy ignore this performance, we riot.

After dazzling with his brilliant directorial debut Eighth Grade in 2018, Burnham returns to acting in a role that fits him like a glove. As the doe-eyed pediatrician with a heart of gold, Burnham's Ryan challenges Cassie's view on men and muddles her mission of revenge. Their chemistry is charming, as is their playful banter that showcases Fennell's deft talent for comedic dialogue. She even blesses Mulligan and Burnham with an out-of-left-field pseudo-musical number that offers a much-needed moment of pure levity.

Elsewhere, Fennell fills her film with a wonderful supporting cast including Alison Brie as a former classmate of Cassie's with a shocking case of internalised misogyny; Alfred Molina as a remorseful lawyer who seems to be the only one feeling any semblance of guilt; Max Greenfield and Chris Lowell as a couple of chauvinist slimeballs aching to be taken down; and Connie Britton as Cassie's former Dean who represents everything wrong with college administration departments.

Drenched in a candy-coloured palette of bubblegum purples, neon pinks, and an endless array of pastels, Fennell clearly has a knack as a visual filmmaker, especially given the bright colours work in total juxtaposition to the darker elements of her narrative. She's also supercharged Promising Young Woman with inspired music choices that create one of the best soundtracks of the year. From Charli XCX's "Boys" playing over stylised shots of male torsos dancing in a club to a supermarket sing-a-long to Paris Hilton's "Stars Are Blind" that finally gives overdue credit to an underrated pop classic (yes, you heard me correctly), it's a cavalcade of perfectly-placed needle drops that reaches pure perfection with the use of Juice Newton's "Angel of the Morning" during the unforgettable final moments.

A raucous, fresh riot that leaves an indelible mark, Promising Young Woman taps into female rage in blistering fashion. Fennell serves up a veritable feast of delights in both her acerbic writing and her stylish direction to present a stunning directorial debut that boldly declares she's a filmmaker to keep an eye on. Mulligan is a damn revelation in a sublime performance we'll be talking about for years. With Fennell's determination to bring an issue into the light many would prefer remain in the shadows, she's delivered one of 2020's most relevant pieces of cinema. Do not miss this film.





Distributor: Focus Features
Cast: Carey Mulligan, Bo Burnham, Alison Brie, Connie Britton, Adam Brody, Jennifer Coolidge, Laverne Cox, Max Greenfield, Christopher Mintz-Plasse, Chris Lowell, Sam Richardson, Molly Shannon, Clancy Brown, Alfred Molina
Director: Emerald Fennell
Producers: Margot Robbie, Josey McNamara, Tom Ackerley, Ben Browning, Ashley Fox
Screenplay: Emerald Fennell
Cinematography: Benjamin Kracun
Production Design: Michael T. Perry
Costume Design: Nancy Steiner
Editor: Frederic Thoraval
Music: Anthony Willis
Running Time: 113 minutes
Release Date: 25th December 2020 (U.S.), 7th January 2021 (Australia)